Lavish Fusion Bakery on Victoria Street, Penang Launches Minilicious Menu
Lavish Fusion Bakery on Victoria Street, Penang Launches Minilicious Menu
Located in the heart of George Town, Penang, Lavish Fusion Bakery offers customers a gourmet delight with the launch of its new Minilicious Menu. In its launching party recently, this non-halal bakery cum cafe stormed the social media with members of press and media posting their visits on the day along with the inventive and joyful offerings.
On top of its menu which I reviewed during its grand opening in November 2016, this time I was introduced to new items which comprises of pastries, ice cream, smoothies, creamy concoction and few other savory creations.
There is the Snowy Ice Cream Croissant, packed with tempting ice cream flavors, like boysen berry, passion fruit, honey pokey, cookies n cream, swirly caramel, peaches ripple, goody goody gumdrops, and mandarin chocolate.
The faintly buttery pastry is flaky, and a favorite ice cream flavor is the swirly caramel.
Snowy Ice Cream Croissant – RM3.80 each, RM7 for two
Guests can choose from a diverse selection of Volcanic Lava Cubes, with this square bread version of molten lava cake offering eight choices of lava filling. You can choose from a list including the mushroom spinach, miso katsuobushi, pepperoni cream cheese, garlic cheese, seaweed mentaiko, tiramisu, pandan kaya or the flossy salted egg. Don't miss out on the garlic cheese lava filling. It will get you agog with its gooey mild cheese.
There is an on-going Volcanic Lava Cube promo – Buy One at RM5.80 or Get Two at RM10. For the convenience of many, a Lavish Minilicious corner is set up at the back alley of the shop.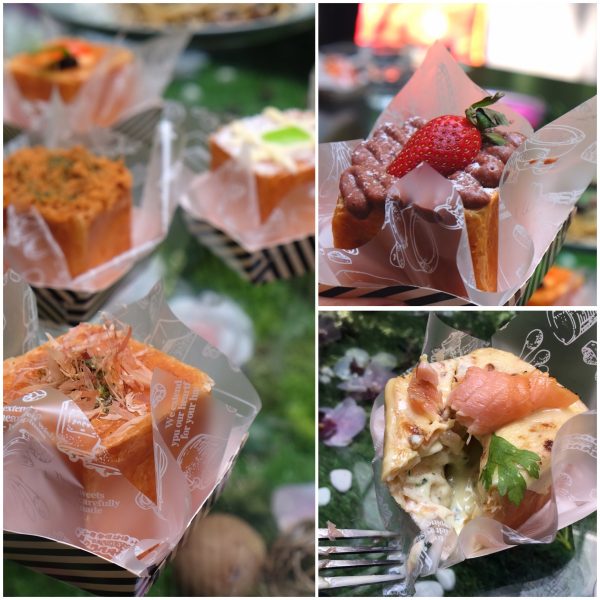 The smoothie bowls with significant difference in taste and flavor will please just about anyone.
The Berries Story (chia seed, banana blueberry, strawberry, granola and almond strip), Super Dragonfruit (pumpkin seed, blueberry granola, banana and coconut) and the Avocado Bash (chia seed, granola, quinoa pop, coconut flax seed, blueberry and strawberry) are priced at RM19.50 each.
Guests can walk in to their inventive Unicorn drinks, with the Baby Pony (blue lagoon white chocolate) priced at RM15.50 a glass. These creamy concoctions also come in a variety of other flavors – Eve (mango strawberry milk vanilla), and Adam (passion fruit berries).
Adam, Eve & Baby Pony
In addition to the list of Unicorn drinks, the menu also offers a list of fruit based and milk based cold drinks. The White Mocha Frappe and the refreshing Berry Pomegranate Ice Tea are among the more interesting ones.
White Mocha Frappe RM17.50
Berry Pomegranate Ice Tea RM17.50
While there are the sweet treats, the menu is also "brighten up" with hot savory chicken, pork and seafood dishes. Order the Hawaiian Chicken Addiction, packed with a good kick of pineapple salsa and puree besides cilantro and green pea mushy.
Aside from the chicken dish, diners can also tuck into the Pork Cheek, served with a combination of rosemary popcorn celery root, candied walnut, apple, and maple apple puree.
The kitchen also had seafood lovers in mind. The Saba Fish In Ocean is light and fresh, and comes with rosemary hummus, honey yuzu puree, pickled beet, basil crumb and arugula.
Saba Fish In Ocean RM29.50
Hawaiian Chicken Addiction RM29.50
Pork Cheek RM25.50
New pasta dishes ranging from RM23.50 to RM31.50 are now also on the menu. Choices awaiting visitors include Mushroom In The Jungle, Seafood Squid Ink, Carbonara and Vongole. For something with a hint of heat, try the The Chorizo, prepared with chili flakes and bell pepper.
The Vongole
Mushroom In The Jungle
The Chorizo
Business is bustling in this cafe ever since its inception, coupled with the fact that the kitchen constantly innovates with new delights every now and then. The cafe is open daily from 10am to 11.30pm from Monday to Thursday, while operating hours are extended to 12midnight on Friday and Saturday.
Lavish Fusion Bakery
214 Lebuh Victoria
10300 Georgetown
Pulau Pinang
(Beside Container Hotel & Former Guang Hwa Building)
Tel: 04-2610107
* Many thanks to Lavish for laying on this invitation.