Culinary Exploration 食途老马, Campbell Street, Penang
Culinary Exploration 食途老马, Campbell Street, Penang
Culinary Exploration 食途老马, Campbell Street, Penang catches the eye from the street with its red signboard. Located in two shoplots facing the adjacent Jalan Kuala Kangsar, the outlet brings Chinese cuisine and a great range of Chinese tea to the neighborhood.
At the entrance, you'll find a modest space featuring the kitchen which serves up selections of mains and snacks.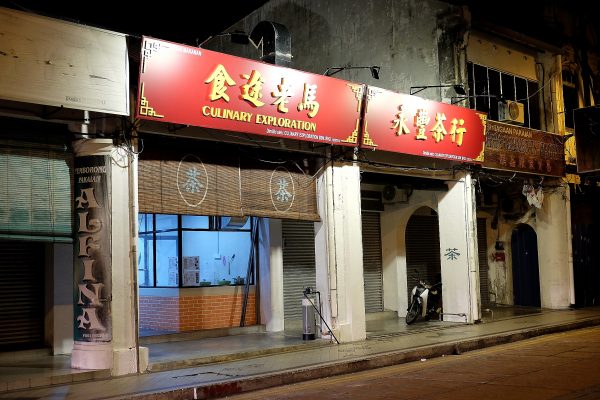 The owner recommended we try the stew beef tenderloin 秘制焖牛筋腩江西 and Hong Shao pork 红烧肉干捞江西. Both meat dishes comes in a bowl of Chiang Xi vermicelli or Thai fragrance rice 泰国香米, accompanied with a bowl of soup with homemade fish cake 鱼丸 (inspiration from Hong Kong street stalls). The deep-fried fish cake made using mackerel fish and eggs is not the bouncy type but with a soft texture. Rich with flavor, you may be tempted to have another piece.
For those who are a big fan of beef, the stew beef tenderloin 秘制焖牛筋腩江西 is the dish to go for. Chunks of tenderloin combined with housemade rice wine, light and dark soy sauce, spices, and hours of stewing offers gorgeous melding of texture and rich complex flavors.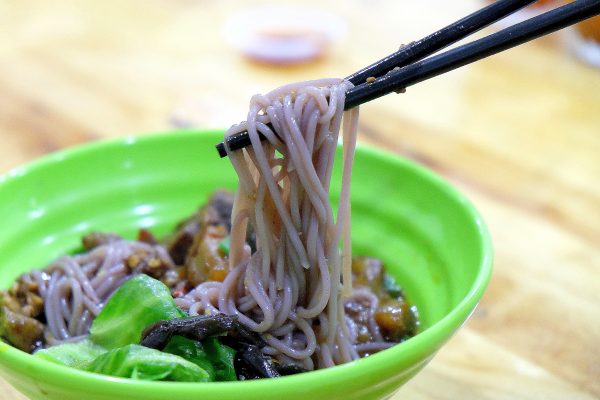 Stew Beef Tenderloin with buckwheat vermicelli 秘制焖牛筋腩江西米粉 RM14.90 

Apart from the stew beef, there is the Hong Shao Pork 红烧肉干捞江西. The pieces of meat (pork belly) offer layers of salty sweet flavors imparted from hua tiao wine 花雕酒 and rice wine, light and dark soy sauce, and aromatic spices.

Hong Shao Pork with spinach vermicelli 红烧肉干捞江西米粉 RM10.90

For the vermicelli, choosing the type is hard enough when there are seven different choices to choose from – wheat, corn, buckwheat, purple potato, black oats, spinach, sorghum (大米,玉米,荞麦,紫薯,黑米,菠菜,高粱).
In addition to the hearty rice and noodles, the outlet also serves a range of snacks. Signature handmade pan-fried dumplings, deep-fried chicken wings, deep-fried fish, braised chicken wings and vegetable with soy sauce are on the menu.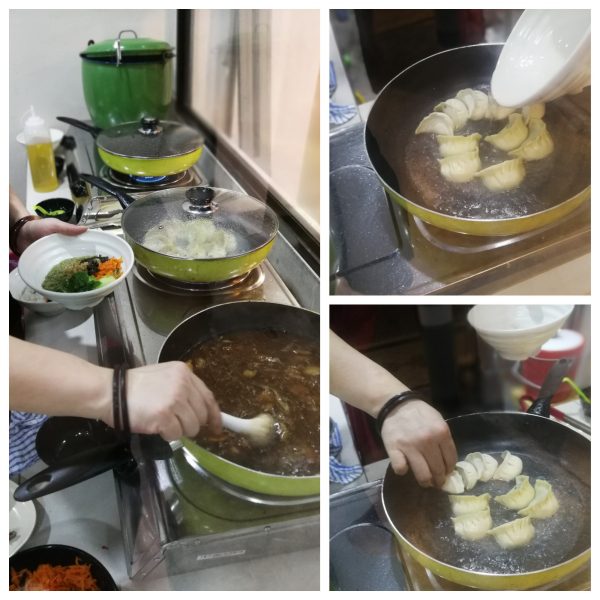 An order of the signature handmade pan-fried dumpling comes with five pieces (RM9.80). There are three types of fillings – pork and mushroom and cloud ear fungus 猪肉冬菇木耳, vegetarian 素饺 and the pork and leek 猪肉韭菜.
We liked the ones packed with pork, mushroom and cloud ear fungus. Cooked with a touch crisp on the bottom, the dumplings are comforting with a dip in the accompanying sourish sauce with fine ginger strips.
The meal is complete with hot and cold beverages. While we liked the the hawthorn tea 山楂茶, the dark brown sugar with red dates 黑糖红枣and dark brown sugar with jasmine 黑糖茉莉 are not to be missed.
Culinary Exploration 食途老马 is now serving lunch and dinner. Its opening hours are from 9am till 3pm, and continues on from 6pm till 9pm. The restaurant is open daily.
Culinary Exploration 食途老马
142 Lebuh Campbell
10100 George Town
Penang
Tel: 04 2642892