Khao Tom Pla Kimpo, Bangkok – Place for Boiled Rice Soup with Seafood
PHOTO STORIES OF KHAO TOM PLA KIMPO, BANGKOK

Khao Tom Pla Kimpo  (ข้าวต้มปลา กิมโป้), Bangkok, is a dinner and supper place much talked about for its boiled rice soup with seafood. The shop located in Charoen Krung area made an impressive statement, with a whole big fish hanging in front of the eatery.
The small menu work wonders – offering a read of seafood dishes in two styles of preparation: Rice Soup & Spicy Salad. For seafood, the selection features an array of butter fish, red grouper, sea bass, squid, shrimp, and oysters. As for the soup boiled with fish bones and pork, it is fragrant, peppery, and sweet.
The piping hot bowl of rice soup with a variety of seafood and garnishing can be savored on its own, or with the dipping chili sauce, or pickled red chili. The seafood can also be ordered as a salad – with mild spiciness and garnishing of Chinese parsley.
Boiled rice soup with seafood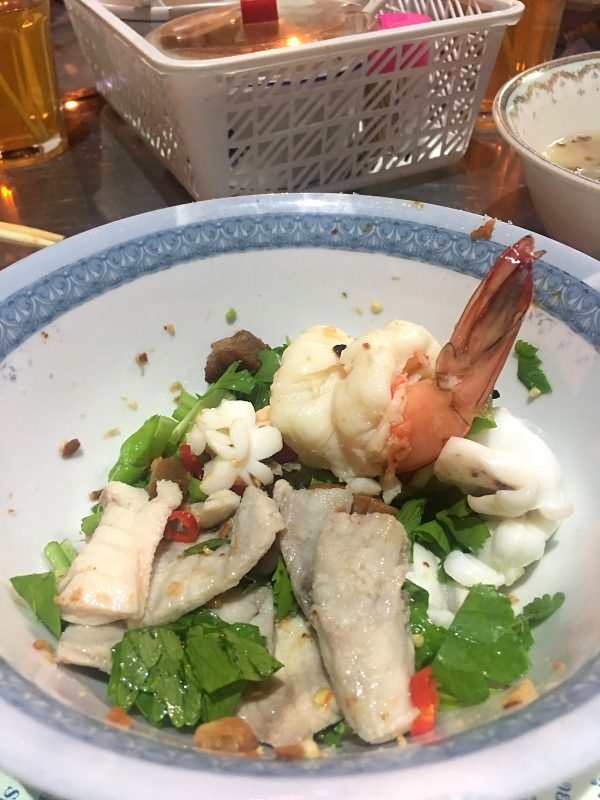 Seafood salad
Khao Tom Pla Kimpo (opposite Chatrium Hotel)
1897 Soi Charoen Krung 73
Charoen Krung Road
Wat Phraya Krai
Bang Kho Laem
10120 Bangkok
Tel: 0-2675-2598 & 08-4010-324
Daily Business Hours:  6pm to 12midnight