Celebrate Chinese New Year Reunion Dinner at Hotel Jen Penang By Shangri-La
Celebrate Chinese New Year Reunion Dinner at Hotel Jen Penang By Shangri-La
Located in the heart of George Town, Hotel Jen Penang which has recently completed refurbishment is kicking off its 2018 Chinese New Year festive celebration with many promotions and events. The hotel is offering Chinese Set Menus, Reunion Buffet Dinner besides buffet lunch and dinner from 15 to 17 February, 2018.
There are two Chinese Set Menus for 10 persons. The first is the Auspicious Reunion Dinner Menu priced at RM1,398nett. It comprised of nine-courses and comes with a complimentary bottle of red wine, Mandarin oranges and endless cups of Chinese tea.
The Harmonious Prosperity Dinner Menu on the other hand, tempts with an additional luxury dish – baked lobster. Priced at RM1,888nett, it offers a complimentary bottle of whisky, Mandarin oranges and free flow of Chinese tea.
If you decide to dine in, do book in advance as there is a 15% early bird offer – simply pay by February 1, 2018 to save more than RM200 per table!
On my visit, I savored the Harmonious Prosperity Dinner set, starting off with the salmon prosperity yu sheng. The dish with a medley of colorful pickled ingredients, fruits and fresh thick slices of salmon charms with notes of sweetness and tanginess.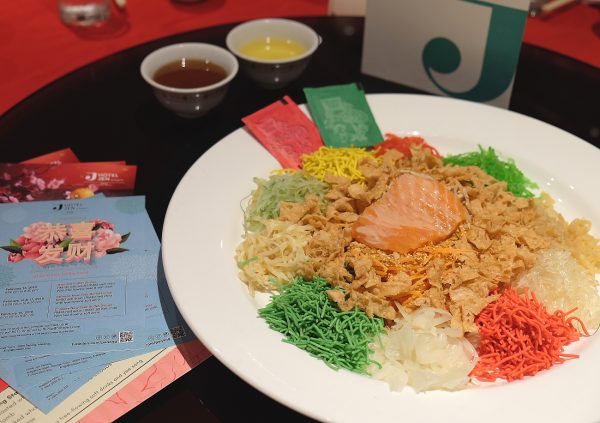 Salmon prosperity yu sheng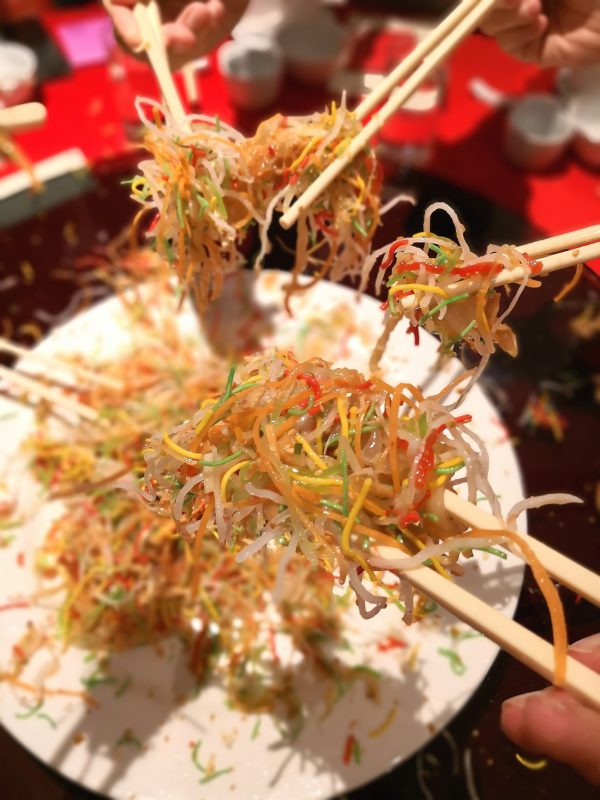 Tossing of the yu sheng
The dish of baked lobster makes the menu even more special. Swathed in salted egg yolk sauce, cheese and baked with a golden crust, the rich, creamy crustacean is especially addictive. It would be welcoming to have a larger plate of green salad to serve alongside the dish.
Baked lobster
The menu continues off with a piping hot bowl of double boiled chicken consomme prepared with young coconut, dried scallop, black mushroom, and snow fungus. The nourishing soup complemented by the natural sweetness of young coconut is paired with a side of deep-fried spring roll.
Next, the empress signature roast duck with passion fruit and pine nuts was served. The tropical fruit and crunchy pine nuts together with the tender duck make for an interesting and tasty interplay of textures and flavors.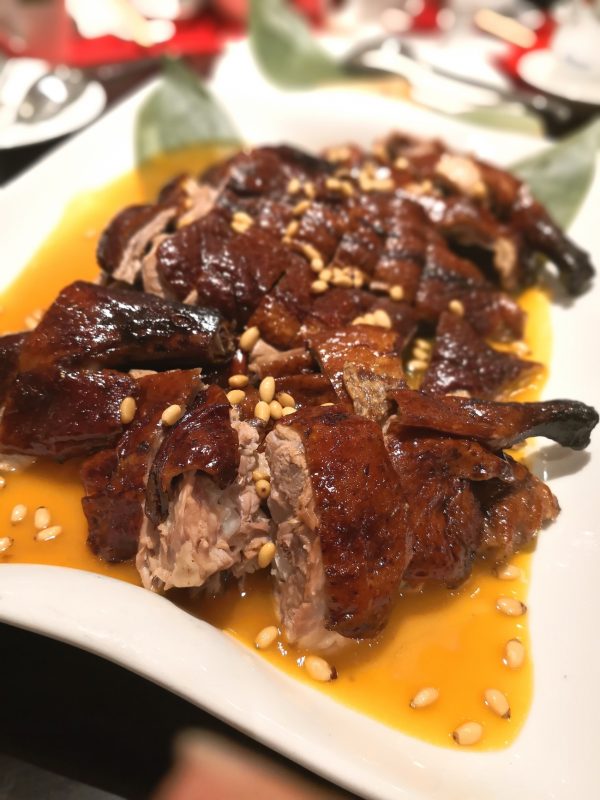 Some of the inviting seafood dishes include wok-fried sea prawns in nice savory XO sauce, and steamed live tiger garoupa. The live tiger garoupa steamed with meticulous care seamlessly combined with the superior soy sauce and ginger.
Wok-fried sea prawns in XO sauce
Steamed live tiger garoupa with superior soy sauce and ginger
The course is complemented by a refreshing wild berries sherbet and a dish with a combination of steamed bean curd skin, assorted mushroom, and poached broccoli.
Aside from all the seafood, poultry and vegetable dishes, there is also the signature longevity noodles with seafood, mushrooms, and vegetables added on.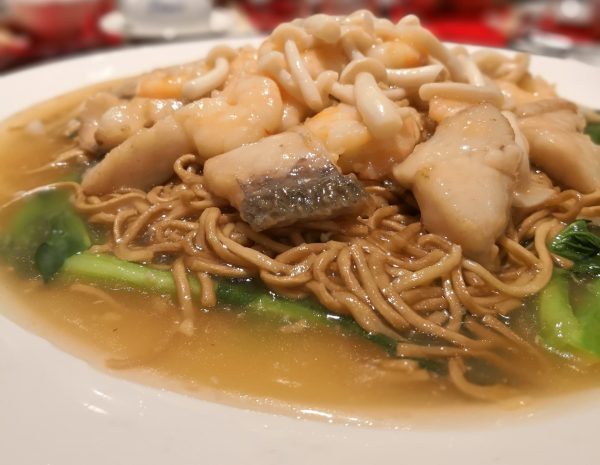 Dessert finished off with something unusual – eight treasure rice pudding prepared with glutinous rice, gingko nuts, wolf berries, red dates, lotus seed and red bean paste. I have to admit that this is a pleasant surprise.
Served up with deep-fried sesame balls embracing lotus seed paste, the combination work well. Guaranteed to give a delightful ending to the meal.
If buffet meal is what you are seeking instead, consider the Reunion Buffet Dinner at Cafe Jen on 15 February, 2018. Priced at RM130nett (adults) and RM65nett (child), the buffet comes with free-flowing beer and soft drinks.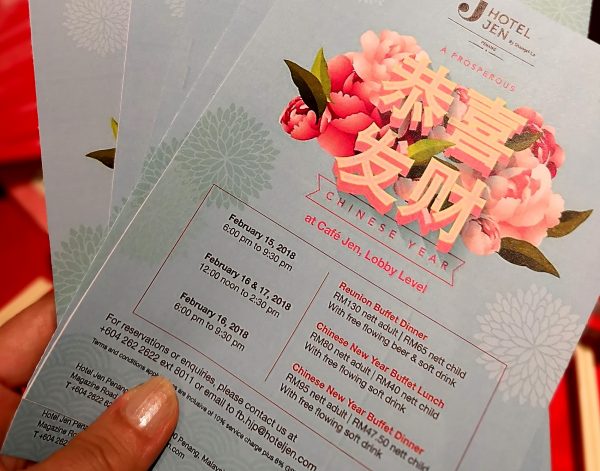 With a combination of menus to usher in Chinese New Year, Hotel Jen Penang is a very nice place indeed to visit if you are seeking to dine in George Town area.
Hotel Jen Penang
Magazine Road
George Town
10300 Penang
Tel: 04 2622622
* Many thanks to Hotel Jen Penang for extending this invitation.