Sou Omakase Dining at The Gardens Mall, Kuala Lumpur
Sou Omakase Dining at The Gardens Mall, Kuala Lumpur
What better way to experience the Japanese New Year traditions than to sample the new year limited lunch menu "SOU AZUMINO IKEDA" at Sou Omakase Dining, in Gardens Mall, Kuala Lumpur.
The restaurant is known for its Omakase, which means diners will dine on a parade of dishes created by the chef for that day.
The "SOU AZUMINO IKEDA" menu priced at RM88++ is about meticulously selected special new year dishes which symbolize prosperity, health, and happiness. Guests can enjoy the "SOU AZUMINO IKEDA" menu, starting from 9th January 2018 till stock last.
Dishes are prepared with ingredients such as miso, shio-koji, and shiawase-suke from Azumino Ikeda, Nagano, one of the leading rice-producing areas in Japan and home to two sake (rice wine) breweries. Ikeda Town, listed as one of the most beautiful villages in Japan, is located in the north-central of Nagano Prefecture with views of the Northern Alps Mountains and beautiful landscape.
Dining omakase paves the way for many surprises. For the first dish, the chef serves the Amazake jelly, made with komekoji and chia seeds. Yuzu skin is added in for a tangy kick. Paired with umezuke (pickled mini plums), the dish was a nutritious start.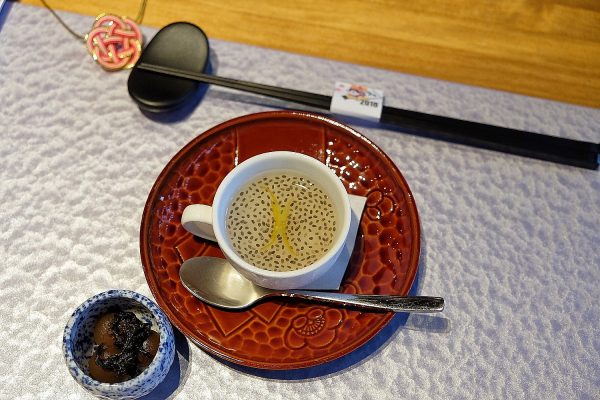 The next dish is the New Year's Mix Appetizer "Osechi" Plate. Artistically arranged, the dish is a juxtaposition of textures and colors. It centers around traditional delicacies such as Datemaki (sweet omelet roll), Kamaboko (colored fishcake), Kazunoko (cured herring roe), Kuromame (black soy beans), ebi (prawns), subasu (seasoned lotus root) and more.
Another highlight is the Special Limited "Azumino Ikeda" Course. It was elaborate, featuring a salmon soup, crispy prawn and vegetable tempura, sashimi with ikura, braised daikon with Gin No Miso (from Azumino Ikeda), grilled cod, and steamed rice (Tsuya-gohan from Nagano). Many of us were raving about that tasty piece of grilled cod marinated with shiawase-zuke, kin no miso and shio-koji.
The course also included soba & udon, eaten with a dipping sauce. Be sure to add on some condiments – dried seaweed, scallions, and grated wasabi. It was mentioned that Azumino in Nagano produces the best wasabi in the world, thanks to its abundance of sparkling clean spring water.
For dessert, we were treated to a Sake-Kasu pudding. The mildly sweet pudding with kuwanomi (mulberry fruit) toppings was served along-side an apple sherbet made with fresh apple juice (with apples from Nagano). The meal ended with a hot kuwa cha (dried mulberry leaf tea) too.
The "SOU AZUMINO IKEDA" menu is complimented with Special "KITA-ALPS" Daiginjyou sake and Special gift "MIZUHIKI" art craft pin or key-chain. The auspicious and good luck Mizuhiki souvenir (decorative Japanese cord made from twisted paper), is made by Aya Nomura. For those interested, you may check the handy-craft at her website.
Sou Omakase Dining at The Gardens Mall, Kuala Lumpur is open for lunch and dinner from 11.30am till 2.30pm, and from 6pm till 9.30pm daily. It's a nice place to take someone out for a memorable omakase meal. If you decide to visit, do call in advance to make a reservation.
The entrance to the restaurant is located outside Gardens Mall.
Sou Omakase Dining
Lot G247 Ground Floor
The Gardens Mid Valley City
Lingkaran Syed Putra
Kuala Lumpur 59200