Penang Assam Laksa, Thai Laksa & Nasi Ulam @Swee Kong Coffee Shop, Penang
Penang Assam Laksa, Thai Laksa & Nasi Ulam @Swee Kong Coffee Shop, Penang
For your next lunch and teatime, treat yourself to simple-but-goodie Nasi Ulam, Penang Assam Laksa, and Thai Laksa at Swee Kong coffee shop 瑞江茶室 on Burma Road, Penang. Inside the coffee shop located opposite the Pulau Tikus Police Station, you will find a hawker stall offering a simple menu of Nyonya and Thai favorites.
The Thai lady owner steadily keeps regulars satisfied and returning with its offerings of Penang Assam Laksa, Thai Laksa and Nasi Ulam, all prepared with many local ingredients.
There is the sour Penang Assam Laksa, with rice noodles in a tangy fish broth made of serai (lemongrass), chillies, tamarind and fish flakes. It is best eaten with a hearty spoonful of accompanying hae koe (shrimp paste).
On top of that, there is the Thai Laksa with a creamy welcome of coconut milk-based fish broth. The lightly spiced fragrant broth together with a refreshing mix of bunga kantan (pink ginger torch flower bud) and daun pudina (mint leaves) offer addictive rich flavors.
Thai Laksa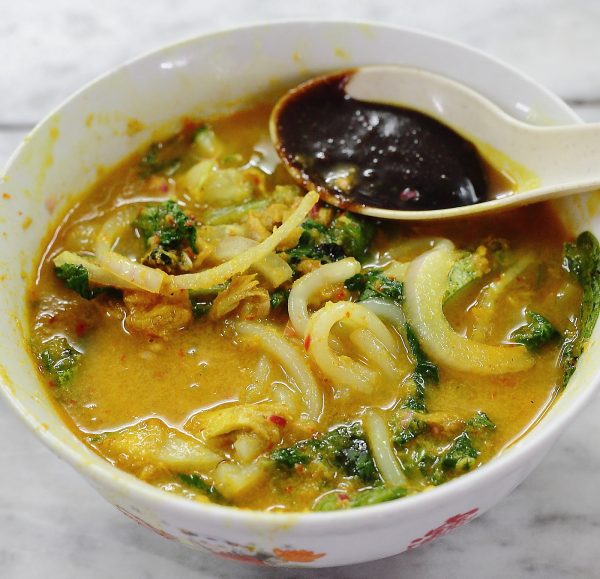 Despite all the laksa attention, the stall also offers Nasi Ulam. On the plate is white rice tossed with plenty of herbs – ranging from bunga kantan (pink ginger torch flower bud), daun kaduk (wild pepper leaves), daun limau purut (kaffir lime leaves), onions, salted fish and hae bee (dried shrimps).
The owner complemented the robust flavor of the Nasi Ulam with a side dish (depending on the day) and Thai Laksa soup. The dish is a steal at just RM5.
Nasi Ulam comes with a bowl of assam lemak soup
The stall is open daily except for Thursday. Its typical business hours begin at 12.30pm and closes at around 4pm.
Swee Kong Coffee Shop
232 Jalan Burma
Pulau Tikus
10350 Penang