Vino Vino Bistro, Penang – Affordable Japanese Bento Set Lunch Menu
Vino Vino Bistro, Penang – Affordable Japanese Bento Set Lunch Menu
If you're looking for hearty and comfort lunch offerings in Penang, Vino Vino Bistro would be a good choice to consider. Its location in Bay Avenue is just a short walk from the nearby bustling Queensbay Mall and Eastin Hotel.
Menu-wise, there's an a la carte option that offers both starters and mains. The kitchen constantly innovates by adding new dishes to their menu, and it recently expanded it with  a listing of bento lunch sets.
Diners can look forward to the affordable bento boxes offering a choice between a fish dish, a meat dish, or a chicken dish option. All the six bento boxes are nicely balanced by dishes such as pickles, vegetable stew, potato salad and good quality Japanese white rice. Patrons may also choose to have garlic fried rice (add on RM3) to accompany the bento boxes. These bento boxes with prices ranging from RM17.50nett to RM39.65nett are available from Monday to Friday.
You might choose to start with the comforting Yakiniku Bento Stir-Fried Pork or the Kara Age Bento 唐揚げ弁当 with succulent white chicken meat ensconced in an almost-caramelised brown skin prepared with You Lin Ji Sauce. The tender chicken is enveloped with sweet flavors of green onions and a pleasant tinge of ginger.
Kara Age Bento 唐揚げ弁当 RM22nett
The Yakiniku Bento 焼肉弁当, on the other hand, had slices of pork sauteed with a colorful array of vegetables and yakiniku sauce. The pleasant sweet taste of the sauce made good accompaniment for the meat.
Yakiniku Bento 焼肉弁当 RM23.35nett
The Salmon Teriyaki Bento 鮭照り焼き弁当 (RM37.30nett) and the Yakizakana Bento 焼き魚弁当 (RM25.65nett) are two of their seafood bento options. The former offers grilled salmon with teriyaki sauce while the latter has grilled mackerel or pike with depth of smoky flavor, accompanied by garlic fried rice.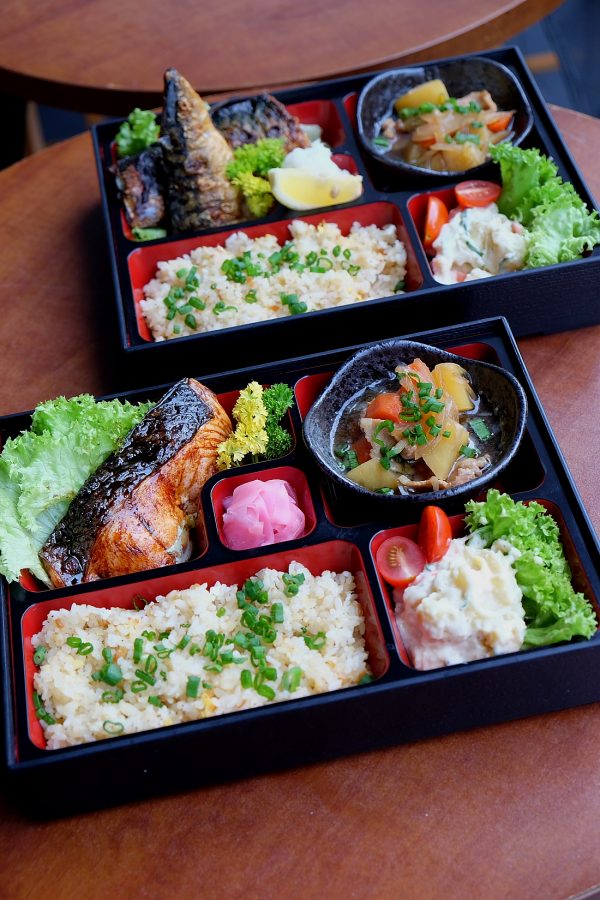 There are two more types of bento boxes to choose from: Demi Hamberg Bento デミハンバーグ弁当 a chunky Hamburg steak with demi sauce (RM21nett) and the Higawari Bento 日替わり弁当. The latter is made up of many small portions of daily specials. Priced at just only RM17.50nett, it gives you much fun tasting the many different flavors of vegetables and meat at a very affordable price.
Patrons could also choose to delight in their Sushi Soba Bento 寿司そば弁当 which comes with freshly made sushi alongside cold noodles. Besides that, Vino Vino also pleases both sashimi and yakitori lovers with its Sashimi Yakitori Bento 刺身やきとり弁当. The box presents its signature yakitori perfectly cooked over charcoal grill paired with raw fish.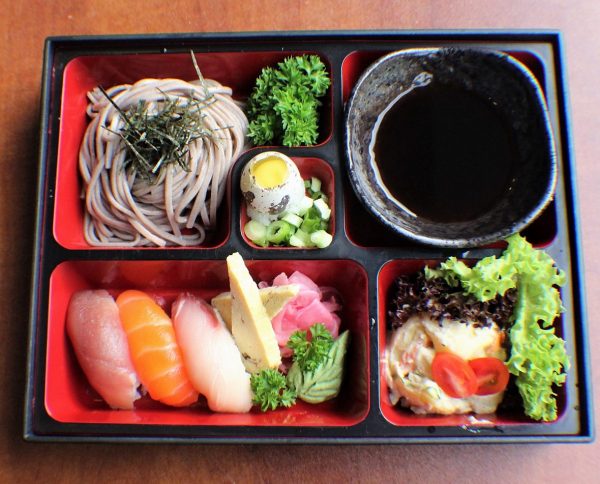 Sushi Soba Bento 寿司そば弁当 RM37.30nett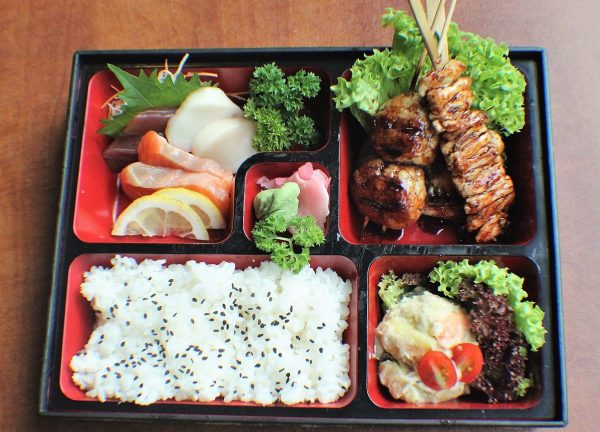 Sashimi Yakitori Bento 刺身やきとり弁当 RM39.65nett
You can pair your meal with a range of non-alcoholic and alcoholic beverages, with choices of premium whisky, sake and sochu. Prices for all bottles have been slashed, with a12-year-old whiskies for as low as RM398 or three bottles of quality wines for just RM150. The promotional bin with selected labels marked down by 33% is an absolute steal.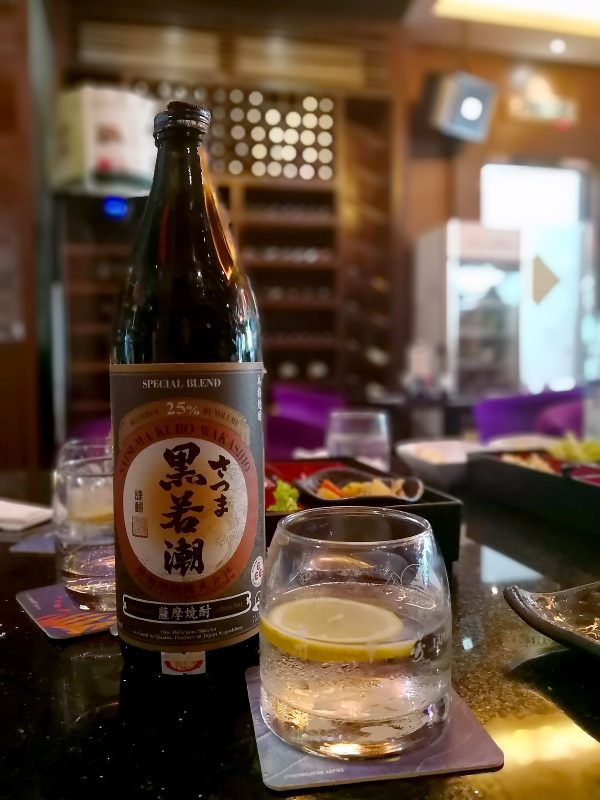 A glass of sochu to pair with the meal

Vino Vino Bistro is open from 12 noon to 12midnight. It is closed on Sundays.
Vino Vino Bistro
Block H-10-3
Lorong Bayan Indah 2
Bay Avenue
11900 Bayan Lepas
Penang
Tel: 04-6451188
* Many thanks to Vino Vino Bistro for laying on this invitation.