Hinode Seimen Udon @Automall, Karpal Singh Drive, Penang
Japanese Ramen Shop – Hinode Seimen Udon @Automall, Karpal Singh Drive, Penang
Karpal Singh Drive is one of Penang's vibrant food scene with its number of restaurants and cafes. If you wish to have a casual Japanese fare, definitely worth checking out is Hinode Seimen Udon. Located inside Automall, the eatery is making waves for its  Japanese noodles with variations and selection of broth.
The theme revolves around the power of full customization, and it starts off with the selection of noodles and soup. There are four types of noodles available, namely udon, ramen, pumpkin ramen and green tea ramen.
Next is the soup, and the menu has three choices – miso, kelp bonito, and spicy. Every order of udon or ramen comes with two slices of Aburaage (Japanese beancurd) and spring onions. For fans of spicy condiments, slightly sourish spicy green chili sauce and chili powder are provided at the counter.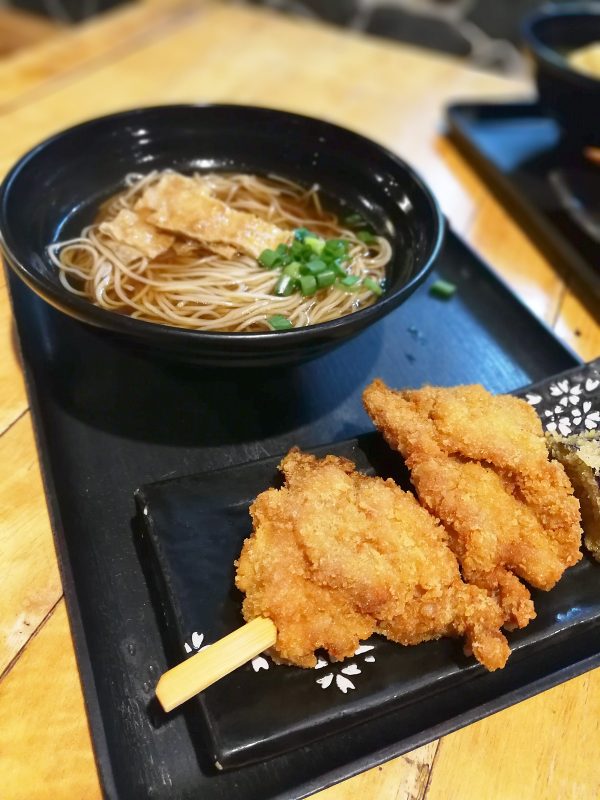 Ramen in light and tasty kelp bonito broth
A bowl of ramen in miso broth with added hard-boiled egg
After choosing your noodle and soup, next up will definitely be choosing from the plethora of oden and tempura.
Tempura, all freshly made on the spot offer choices of seafood: prawn, soft shell crab, fish, and calamari. Besides seafood, other tempting choices include chicken, eryngii mushroom, lotus root, sweet potato, and eggplant.
Tempura prawn and mushroom
Fried chicken and karaage chicken
Assorted vegetables
Oden in light soy-flavored broth comes in a variety of choices – Japanese fish cakes, tofu cakes, and skewered dried beancurd, a fantasy of "intestines". The latter is one of my favorite ingredients, offering a nice chewy texture and strong flavor from the seasoning used. Eaten with a dab of green chili sauce definitely enhances the taste.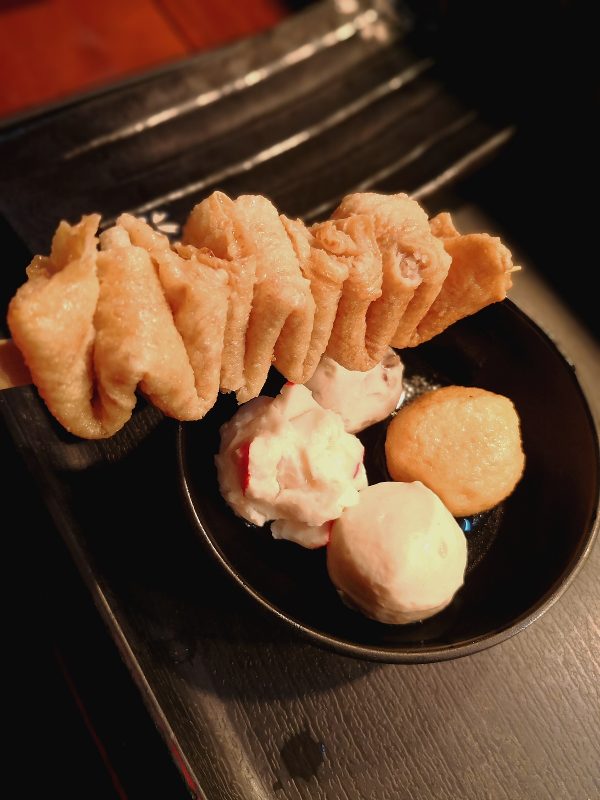 The pork-free restaurant is operating in a self-service mode, and to ease customers, a pot of tea (free flow) is placed in the central spot of the shop.
Hinode Seimen Udon daily business hours are from 12pm till 3pm and from 6pm till 11pm, making it a place to kick back for a late night meal too.
Hinode Seimen Udon 日の出製麺うどん
29C-01-10 Maritime Piazza
Lebuh Sungai Pinang 5
Penang
Tel: 04 – 2917448