Lagenda Cafe on Campbell Street, Penang
Campbell Street in Georgetown, Penang has heaps of eateries where you can find a wide range of delights. One interesting place is Lagenda Cafe, located several doors from Yee Heong Restaurant, Hong Kee Wan Thun Mee and The Safe Room.
Lagenda Cafe housed in a heritage old building is truly something to write about. The thing that strikes one upon entering the cafe is the mural of the legendary Tan Sri P Ramlee, Malaysia's icon to the film and music industry.
The welcoming warmth of the cosy cafe with eclectic decoration and brightly colored cushions offers brunch, teatime, and dinner accompanied by nostalgic music by the legendary singer.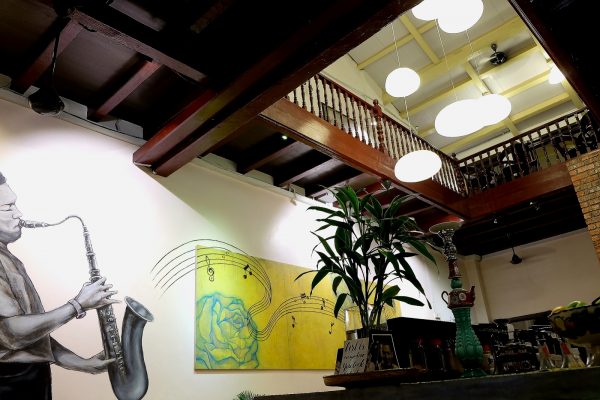 The main attraction is the casual menu that focuses on Asian kitchen favorites – and it does has an extensive variety of Malay dishes. For those who revel in appetizers, there are varieties to choose from. The Gado Gado (platter of deep-fried snacks and blanched vegetables) comes with kuah kacang  (spicy peanut sauce) with rich flavors of roasted peanuts.
Gado Gado RM22
Another appetizer option is the Keluarga 69′ Platter. The platter provides one-dish of deep-fried and grilled items to be shared. Among the ingredients are crunchy spring roll, mini samosa, chicken satay, corn tortilla, fried chicken, and begedil (potato patty). The accompanying trio of sauces bring enough creaminess, spiciness and sourness to accent the ingredients.
Keluarga 69′ Platter RM30
Among the mains, an interesting choice is the beef bakar, served along with an array of condiments in a wooden congkak set. One will be able to sample a ton of elements: marinated sirloin beef, blue pea rice,  kawah curry, homemade kerabu and condiments of local ulam. The dish is richly flavored in local spices but the beef needed slightly more tenderness.
Another fulfilling choice is the Ayam Percik Madu Tiga, where grilled marinated chicken with peanut sauce is served with nasi kuning (yellow rice), jelatah, kerabu taugeh and keropok.
Beef bakar and kawah curry RM24 with blue pea rice wrapped in banana leaf
For beverages, there is a lengthy menu of fresh juices, mocktails, local delights, soft drinks, ice tea specialty, and coffee.
One can be easily tempted by the soursop with lime, and the lagenda colours which is a combo of apple, pineapple, and pomegranate. For something more local, the menu offers ice bandung, ice batu campur, nutmeg juice, and pandan sarabat which is a mixture of pandan leaves juice and rose syrup.
Nothing goes better with the meal than home-made desserts. The  offerings at Lagenda Cafe are quite a change from the usual fare, and the portion is easily enough to share between two people.
Banana Bakar and Sago 'Do Re Mi' make an appearance on the menu. The Sago 'Do Re Mi' with three round scoops of sago pearls (tapioca jelly), pungent sugar syrup made of palm sugar, and coconut cream offers a punch of color and sweetness.
The Banana Bakar featured a squarish plate lined with grilled banana, freshly grated coconut, palm sugar and a huge scoop of vanilla ice cream. With a combination of creaminess and banana sweetness, it is thoroughly enjoyable with a hot glass of Malaysian specialty Teh Tarik.
Banana Bakar RM9
Sago 'Do Re Mi'
Teh Tarik RM7
If you happen to be around Campbell Street and feel like having some Asian kitchen favorites, the Lagenda Cafe is hard to beat. Daily business hours are from 11am till 11pm.
Lagenda Cafe
43 Lebuh Campbell
10450 George Town
Penang
Tel: 04-2612293