Relau 88 Assam Laksa & Ice Kacang, Penang
Relau 88 Assam Laksa & Ice Kacang, Penang
For food lovers who intend to savor local delights in around Bayan Lepas area, do head to Relau 88 妈妈味(古早味)Assam Laksa & Ice Kacang. As the name suggests, the focus is on assam laksa, the 'iconic dish' of Penang.
The outlet brilliantly located along Jalan Paya Terubong, just steps away from the traffic light junction is on many food lover's list.
Locals gather over light lunch and teatime at this outlet. Tables are laid in the covered seating area with atmosphere of a garden.
We ordered bowls of assam laksa along with a side of deep-fried spring roll which is full of savory sengkuang within a thin crunchy pastry.
Their assam laksa, with lai fen (laksa noodles) in a piquant fish broth boiled with mackerel, tamarind and local spices comes with a heirloom of vegetables and a spoonful of thick prawn paste 'hae ko' (蝦羔). Drizzled with the prawn paste, the sour, tangy and spicy flavors of the assam laksa really hit the spot.
Assam laksa RM5.50 (B), & RM4.50 (S)
Deep-fried spring roll at RM0.80 each
In addition to the savory delights, the outlet also offers variety of shaved ice to cool down. One can enjoy ice kacang, and cendol. Both are icy cold and tasty, and best of all is the pricing: at only RM3 each.
The later which is creamy with coconut milk and sweeten with dark palm sugar, comes with plenty of soft sweetened red beans and green cendol.
The ice kacang is quite a popular delight, with sweetened red beans, creamed corn and shaved ice topped with red and brown sugar syrup, evaporated milk and strips of dried nutmeg. I loved how the acidity of the dried nutmeg complemented the creaminess and sweetness of the icy dessert.
Cendol  RM3, ice kacang RM3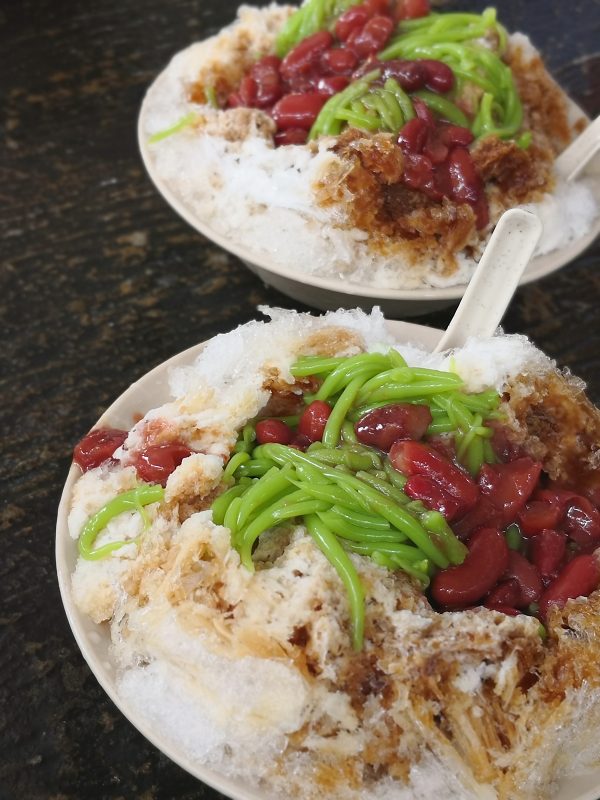 Business hours begin at 12noon and ends around till 5.30pm.
Relau 88 Asam Laksa & Ice Kacang
Persiaran Paya Terubong 2 (traffic light corner)
11900 Bayan Lepas
Pulau Pinang
Tel: 012-4444227
Closed on Monday