Kim's Mart @The Vantage, Tanjung Tokong, Penang
The vibe at Kim's Mart in The Vantage in Tanjung Tokong, Penang is not that of your usual Korean mart. In fact, it is one mart with a casual eatery for the neighborhood to shop and savor Korean food too.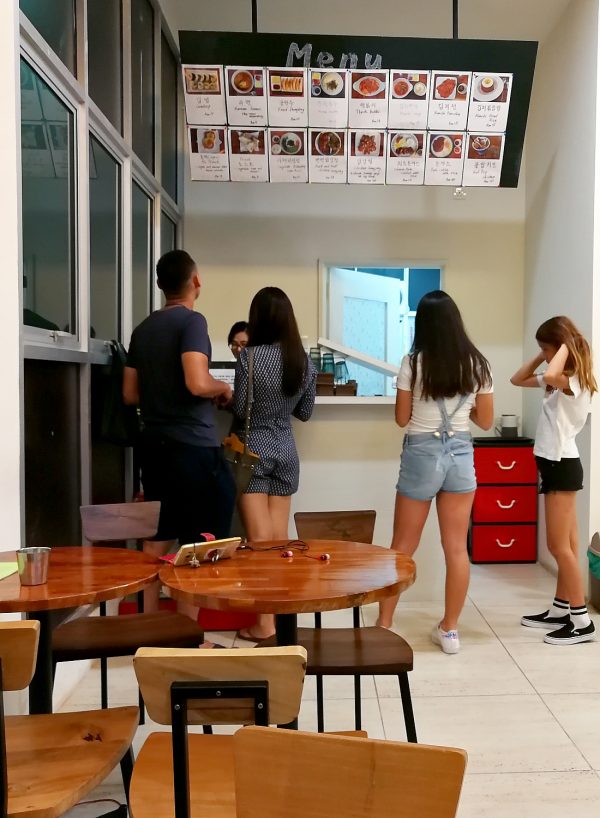 Walk into the mart and discover the small eatery at the rear part of the mart. Expect to find a small menu with dishes that Korea is renowned for. There is even a set menu that comes with free green tea.
You can find anything from Korean Ramen to Tteok Bokki, Kimchi Fried Rice, Chicken Gangjung and even snacks like Korean Ho Tteok. 
For ramen lovers, you can purchase a packet of instant ramen of your choice from the mart and have it freshly cooked by their kitchen for a fee of RM5. Prepared within minutes with an egg and some scallions, the bowl of ramen is served with a side of kimchi.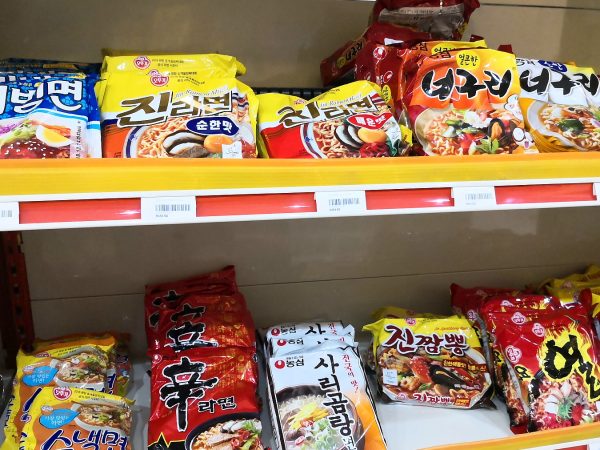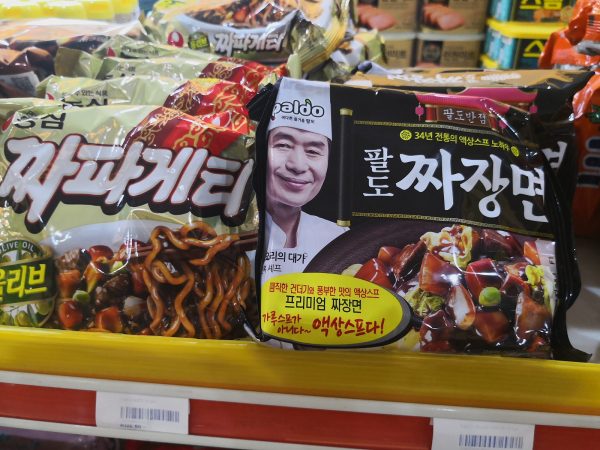 The mart has a huge selection of instant ramen

Jin Jiambbong hot & spicy seafood ramen with dehydrated cabbage, carrot and seaweed
If you love surprises, the Kol Pop Chicken is just the perfect choice. A tray of bite-sized deep-fried chicken is served along with fizzy Coca-Cola in a disposable drink cup and food container. This makes a great grab and go snack too.
Kol Pop Chicken RM10
Gimbap is a rice roll with colorful ingredients wrapped in cooked rice and gim (dried sheets of laver seaweed). The layers of flavor from the fresh and pickled vegetables and meat combined together with the gim offer a light blend of flavor.
Gimbap RM11
For one hearty and tasty dish, go for the Kimchi Soup with slices of meat and vermicelli. You can have the dish with a bowl of rice topped with a fried egg, accompanied by sides of pickled radish and seaweed for only RM15.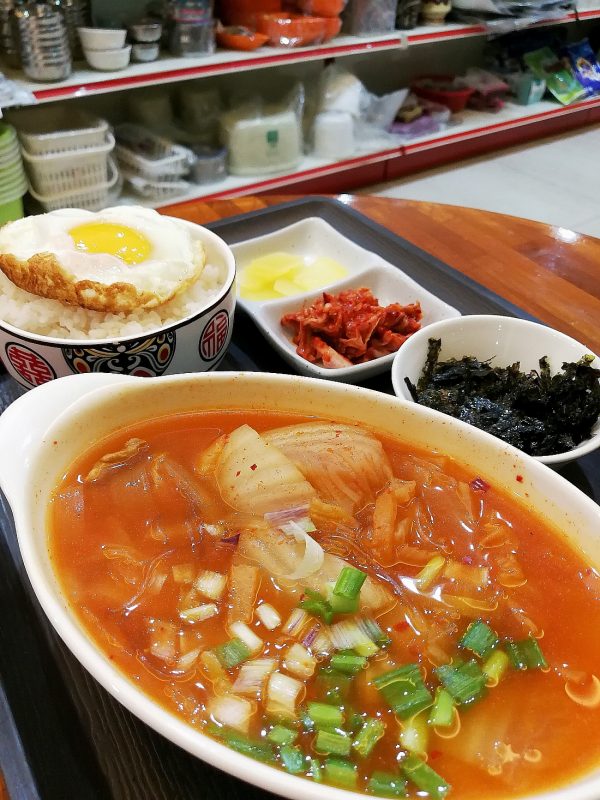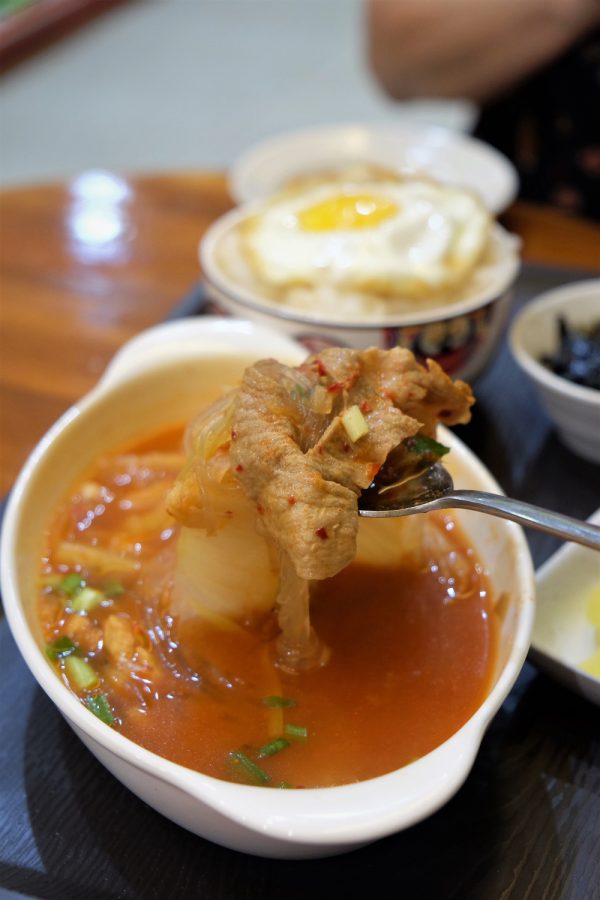 Kimchi Soup RM15
For a sweet ending, fill the tummy with the one and only choice – Ho Tteok. This is a popular street snack in Korea. With a filling of brown sugar, chopped peanuts, and hint of cinnamon, the fried pancake is best eaten hot. If that is not your choice, you can also pick up a variety of Korean ice creams displayed in the freezer.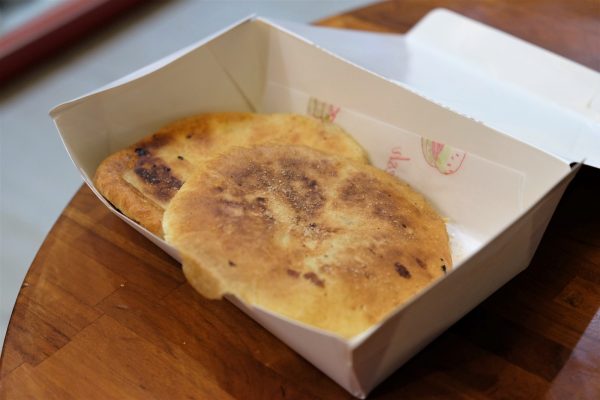 Deep-fried Ho Tteok RM7
Chocolate Papico RM3.50 & Waffle Red Bean RM5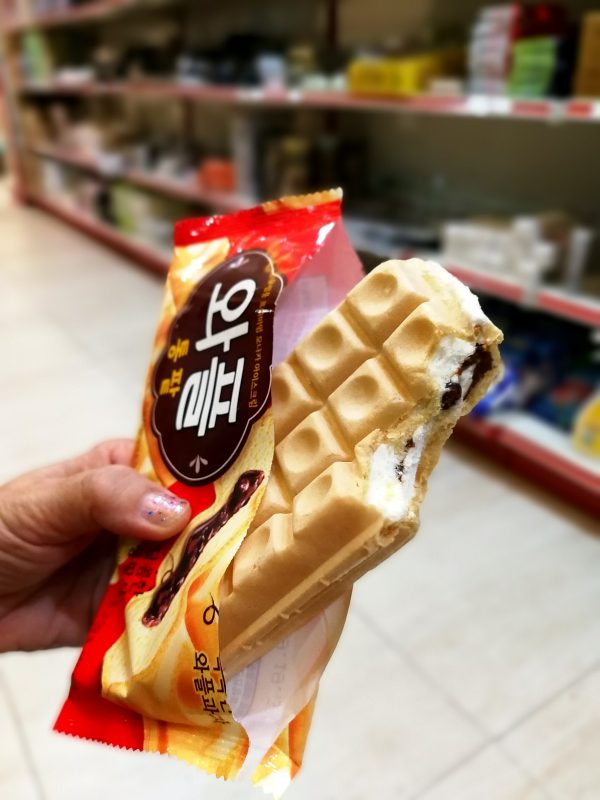 As for beverages, there are only four to be discovered – Plum Tea, Green Tea besides Americano and Korean Maxim Coffee.
Cool down with a glass of Plum Tea RM4
Sitting and dining in the casual atmosphere of Kim's Mart is a nice way to eat and unwind without the usual frills of a restaurant. The great part is that the food are moderately priced too!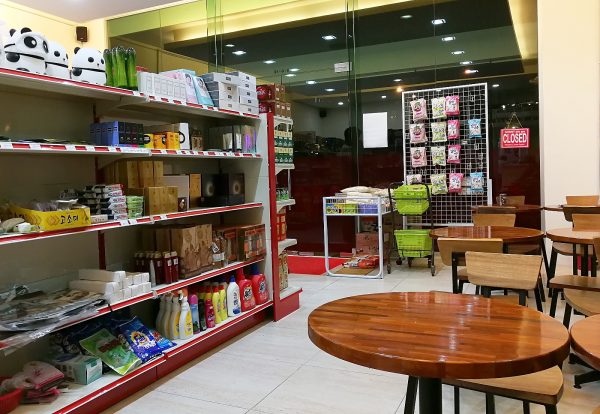 Kim's Mart
The Vantage
B-G-10 Jalan Desiran Tanjung Vantage
10470 Tanjong Tokong
Pulau Pinang
Tel: 016-4355465
Business Hours 9:30am – 10:30pm