Kuih Culture Cafe. Gallery. Kitchen @Kimberley Street, Penang
If you are looking for a simple place with Nyonya kuih and snacks in Georgetown, Penang, then Kuih Culture Cafe. Gallery. Kitchen is the place to visit. The pork-free cafe tucked among the many eateries along Kimberley Street is located in a space that formerly was Goh Huat Seng Restaurant.
The relatively new cafe opened in August 2018 brings diners on a heritage & culture journey with servings of local kuih, dessert, and delicacies prepared using traditional recipes.
Customers have to look over the menus posted on the walls behind the counter before placing their orders. The menu is separated into sections – kuihs, mains, snacks, toast, and drinks.
The selection of kuih is wide, with choices ranging from abok-abok, kuih lapis, ang koo, ubi sago, onde-onde, kuih talam, pulut tai tai, seri muka and bengka ubi. Each individual piece of kuih varies from RM1.20 to RM1.50.
For those who need to organize birthday parties, weddings, and full-moon festivals, the team is happy to craft kuih platter with sets for five (RM38), ten (RM68) and fifty pax (RM380).
To delight your taste buds, there is the pulut tai tai with glutinous rice marbled in blue pea flower juice. This kuih is comfort choice for its firm and chewy texture enhanced by a topping of sweet kaya.

Not to be missed is the new creation of Chendul Talam, a kuih version of the icy Chendul treat which is unique to the state. The kuih with combination layers of fragrant brown palm sugar and cendul in coconut milk will win you over at first bite!
If you're hungry or looking to share some dishes, the menu also features several mains. The cafe puts a spin on classics of asam laksa, kerabu bihun, nasi ulam, nasi lemak curry chicken, nasi kunyit curry chicken and nasi lemak Nyonya. Besides, the menu also has options for finger food such as popiah chee, and pai tee.
On the icy treats, various are available: chendul, ice kacang, red bean freeze, together with offerings of local kopi, cham, milo, bandung, sirap limau, calamansi, patpo, herbal drink and soya milk.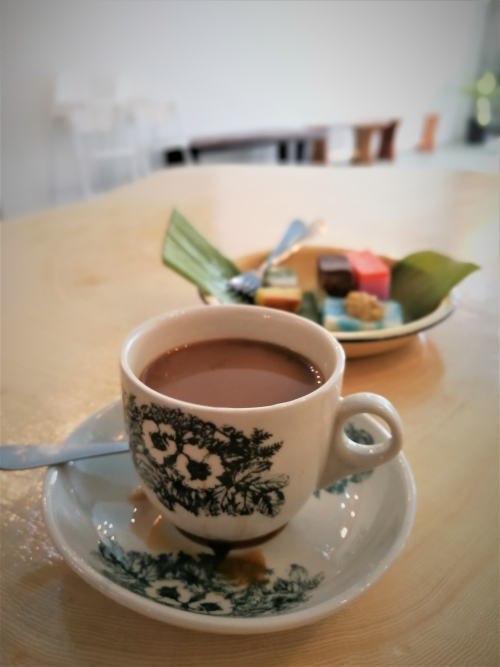 Pair a plate of kuih with a cup of hot Cham (coffee and tea)
The cendul prepared with shaved ice, creamy coconut milk, small sized red beans, aromatic palm sugar syrup and homemade soft green chendul is absolutely worth trying.    
Kuih Culture Cafe's menu offers breakfast, lunch and tea-time options with its business hours from 9am till 6pm daily. The fully air-conditioned place is on the same row as the Kimberley Street Koay Chiap, Thai Shop, and the many street food stalls.
Kuih Culture Cafe. Gallery. Kitchen
59A Lebuh Kimberley
Georgetown
Penang
Tel: 011-56282889