Tapestry Malaysia Dining Experience @Enfin by James Won
It is a wonderful collaboration that speaks wonders – the trifecta of brilliance by MasterChef James Won of Enfin by James Won combining with Tapestry Malaysia and Hennessy Malaysia to produce a never-before-seen dining experience. The distinctive dining experience has a creative five-course menu presented along with multi-sensory interactive technology and a 360° immersive projection.
The event is running in Enfin by James Won in Menara Hap Seng, Kuala Lumpur from 10th July through 9th November 2018. This showcase will be available for lunch every Saturday and Sunday, and for dinner every Tuesday to Sunday. Limited to a maximum of 16 people per session, the five-course degustation menu is priced at RM999+ with alcohol pairing and RM790+ without alcohol pairing. Visa cardholders will be entitled to an exclusive 10% discount when bookings payments are made.
I was blessed with a seat at this table and experienced the five-course menu.
"The immersive dining experience is a truly Malaysian experience," said Chef James Won. The five-course degustation menu curated by Won reflects the chefs' advocacy in supporting locally sourced ingredients and home-grown techniques.
Designed to awaken all the six senses – sight, scent, taste, sound, touch and emotion, the dishes are paired with a selection of chardonnay, shiraz, cognac and Krug Champagne.
The dining experience is set within a private room surrounded by a 360° projection of different landscapes around Malaysia – from tropical rainforest to oceans and highlands. Attentive staffs ensure that the food comes at a pace that is time perfectly with each scene.
Scene One – The Forest
Journey began with canape inspired by farm Enfin in Cameron Highlands, and the dish is carefully crafted with combination of mushroom tartare (a signature dish of Enfin) and 'forest' whimsical edibles.
The mushroom tartare teams up flavor combinations, namely truffle egg yolk, mushroom distillate gelée, roasted quinoa, sesame, pickled shallots, cornichons and chives. The silky truffle egg yolk gives a welcome creaminess to the textured quinao.  Also attractively plated are whimsical edibles of colorful red cap foie gras mushroom, baby baguette stick, apple sorrel, sambal olek a la enfin, chicken skin and flowers.
All the ingredients of the dish are a delightful pairing with the fine bubbles of Krug Champagne, Reims Champagne, France.

Mushroom tartare paired with whimsical edibles
Serving of the canape with a glass of Krug Champagne
Scene Two – The Palace
This little dish in a form of a citrus kumquat decorated with fresh kaffir leaves definitely captures the attention. Driven by the traditional Malay assam laksa dish, the yellow orange kumquat had all the treasures of the herb-driven Malaysian delight.
Prepared with components of smoked mackerel (local ikan kembung), rendang confetti, ginger torch flower, and laksa emulsion; the kumquat made an interesting textural difference with slightly sweet, tangy, and spicy flavors. Each forkful of it is a discovery, and highlights the continuation to awaken all the six senses.
Traditional music and a royal Istana scene, together with a glass of Terrazas de los Andes Reserva Chardonnay, accompanied the serving of the kumquat with a side of rye bread made freshly by Enfin Boulangerie.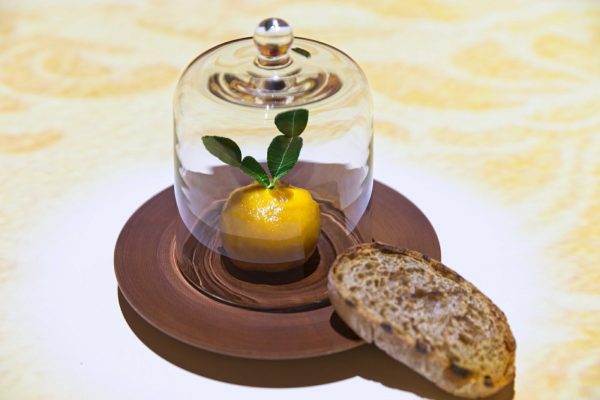 Scene Three – The Sea
Scene Three had the taste buds tantalized with a lobster bisque, with great depth of flavor boiled with lobster shells and eggs. The dish had slow poached and hand torched lobster tail sitting on a roulade of chargrilled vegetables. This is enhanced with a captivating pan-roasted cauliflower that looks the part of a coral. A lace of caviar punctuates the cauliflower florets with a refreshing salty pop. With balance of ingredients, the flavours really work together to excite. 
A glass of Terrazas de los Andes Reserva Chardonnay is served with the dish.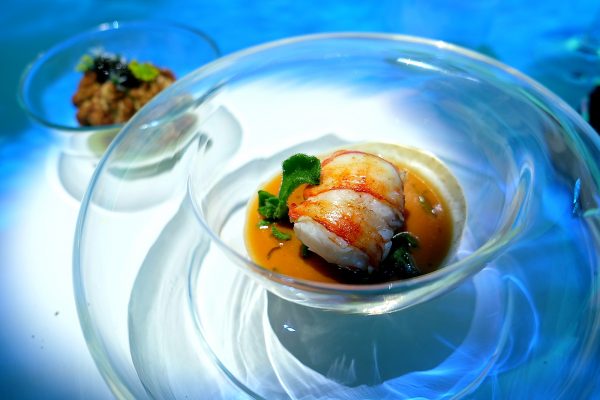 Lobster bisque, caviar, ice plant, vegetable roulade, pan-roast cauliflower, fennel frond and fennel gelée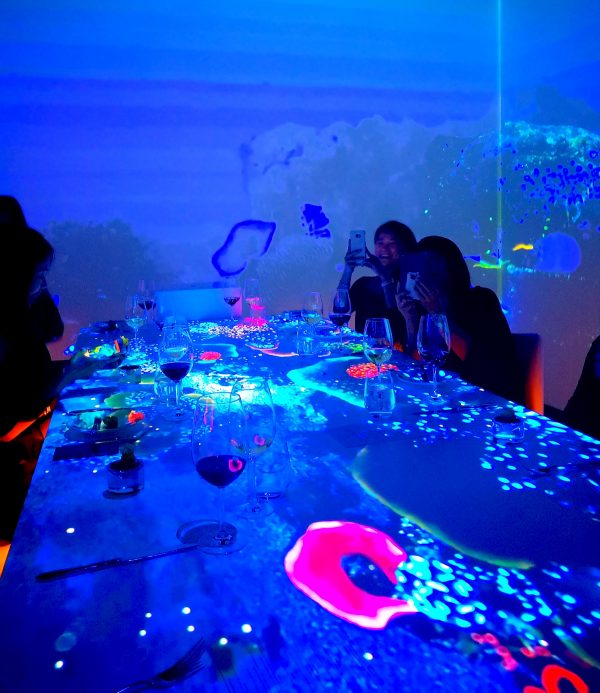 A palate cleanser in a form of a cape berry also finds its way onto the menu. The sorbet made of yogurt and olive oil ice cream with citrus kumquat, cranberry and gentle touch of wasabi is a tiny presentation with huge fruity and refreshing notes.
Scene Four – Main Plates
For this scene, the chef have curated two tempting choices for diners – fish or beef paired with a glass of Cape Mentelle, Shiraz, Margaret River, Australia.
I opted for the giant garoupa, crowned with squid ink tuile in a light green broth of nasturtium, parsley chlorophyll and bonito. The deep-sea fish is beautifully cooked and shine on the plate with opaque flesh and natural flavors, while its skin gave a crispy crunch.
The fish is served together with truffle mousse, and a side of beautiful looking coral made of pickled radish and salmon roe. The combination of all the ingredients had the taste buds experiencing soft, warm flavors with lingering finishes.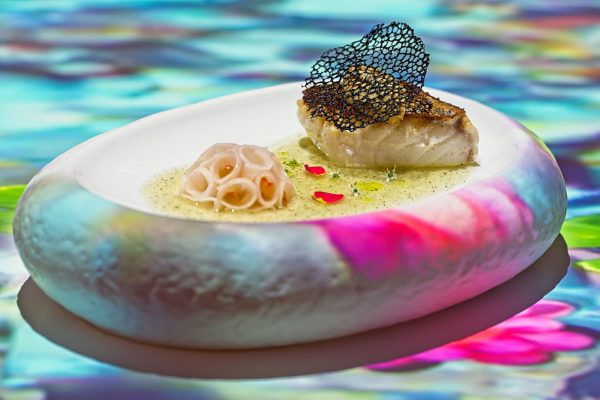 The alternative beef option is a dish for beef admirers to look forward to as wagyu beef is chargrilled with Chinese spices and served with a veil of aromatic Sarawak peppercorn. Done medium rare with a delectable char, diners savored the meat with all the nuances of its flavors along with pomme de terre ala chinoise (crunch light russel potato), charred Enfin farm-grown broccoli, capeberry mustard and wild fermented chili olek.
Scene Five – Dessert
Soon after, dessert was served  – in the form of a Coconut Bombe Alaska which resembles the durian fruit, famously known as the 'king of fruits' in Malaysia.
Constructed with a spiky coating of durian parfait glace (using Musang King durian) and 70% single origin dark cacao sponge filling; the aromatic dessert flambeed with Hennessy X.O. is wonderfully rich and creamy.
Coconut Bombe Alaska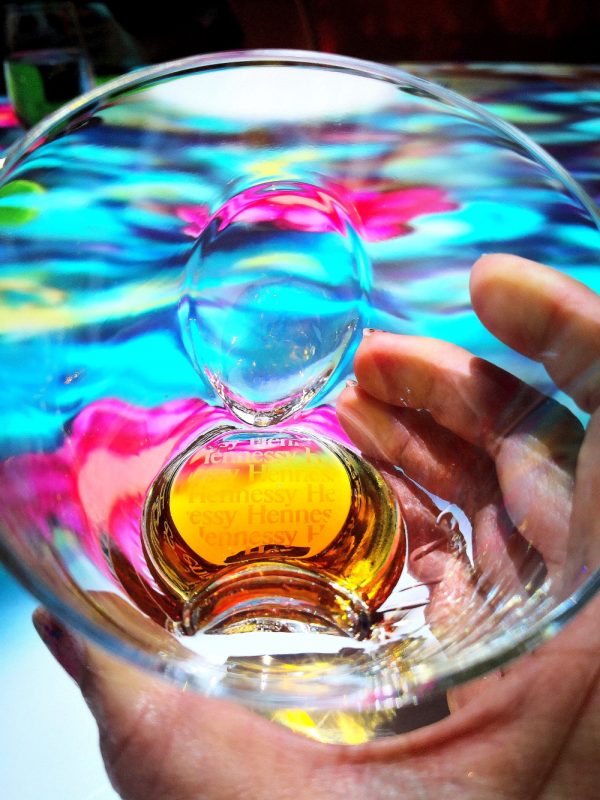 Petit Fours provided a sweet comfortable end to the evening
Tapestry Malaysia at Enfin by James Won is a culinary journey to be pampered in. Offering an exceptional dining experience with dishes refreshing in complexity of flavors and textures, it is truly an awakening of all senses curated by a true pioneer, Chef James Won.
Reservations for the exquisite experience can be made at TABLEAPP. 
Enfin by James Won
Lot 2.05, Level 2
Menara Hap Seng 1
Jalan P.Ramlee
50250 Kuala Lumpur
Wilayah Persekutuan
Kuala Lumpur
Tel: +60 10 288 7920