Le Petit Four Patisserie- French Cafe & Bakery, Beach Street, Penang
Le Petit Four Patisserie which shifted out of Hutton Lane has now returned to the food scene with a new cafe. Housed in an airy heritage house on Beach Street, George Town, Penang, the French cafe cum bakery is one of the places to go for Instagrammable patisserie.
The decor of the airy new space is simple, with white walls softened by brown and black colors on the table and chairs. The counter is dotted with a cake display glass shelf showcasing the cafe's daily fresh baked French patisserie style desserts. All these are great for takeaway too.
The space opens further into a kitchen area with glass paneling that allows visitors to gaze at how the desserts and pastries are being made.
Dessert lovers will appreciate the selection of colorful desserts. Choices are varied and range from Matcha Chiffon Cake to Strawberry Shortcake, Opera Cake, Almond Joconde and Lemon Tart. For matcha fans,  the matcha chiffon cake with matcha chantilly is a comforting choice.
The selection also features French Butter Croissants, Scones and more. The crusty buttery croissant is very popular with regular customers while the citrus-inspired Lemon Tart with crunchy, crumbly base is deliciously tart.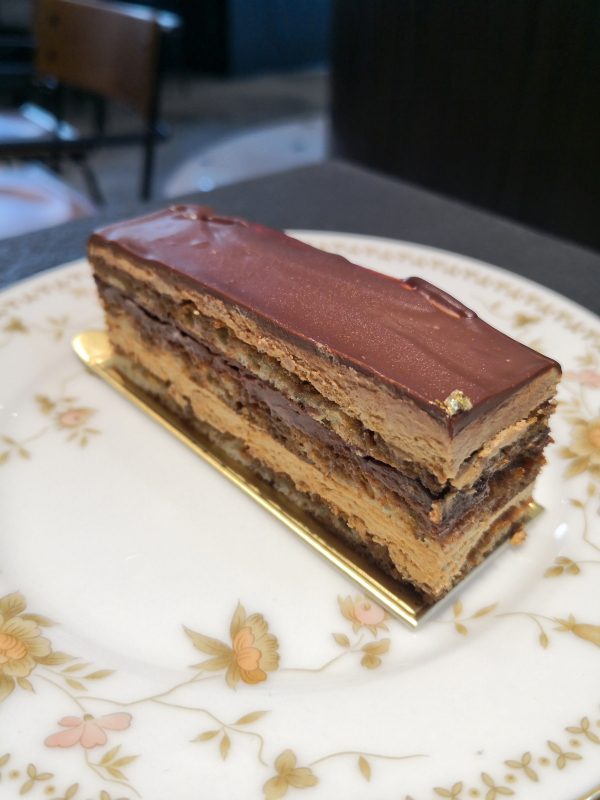 Opera Cake RM18
Lemon Tart RM16
For a caffeine fix, there is a selection of coffee. A warm cup of Long Black, and Latte with creamy, smooth mouth feel, are the perfect afternoon pick-me-up.
Latte RM12 & Long Black RM9
If you intend to spend an hour or two in the city, Le Petit Four Patisserie is one of the coffee and cake cafes to relax and refuel. Business hours are from 9am till 6pm, and they are closed on Wednesdays and Thursdays.
From the street, you can't miss the French cafe and bakery distinctive dark-colored facade. It is located diagonally across the street from The Book Sandwich Cafe.
Le Petit Four Patisserie
310 Beach street
10300 George Town
Penang
Tel: 012- 4941858