Golden Spoon Charcoal Steamboat Restaurant, Precinct 10, Penang
Precinct 10 in Tanjung Tokong, Penang is home to several restaurants and cafes, from those serving Western cuisine to Japanese, Chinese and Indian.
Tucked away two doors from Corner Keng Cafe is Golden Spoon Charcoal Steamboat 金汤匙火炭炉店, a simple restaurant focusing on pots of treasure heated up with charcoal fire. Served in a traditional hot pot, the Teo-chew style steamboat comes with a choice of comforting clear or milky soup. The latter with added pleasant smoothness and creaminess is immensely popular with diners.
The menu has lots of options for add-ons and condiments. The self-serve condiment counter offers choices of chili pastes besides parsley, garlic, fresh chilies, and minced ginger.
Diners can have a delightful meal with the Fried Fish Fillet Charcoal Steamboat which comes with pieces of deep-fried fish fillet, Chinese cabbage, seaweed, homemade meatball, abalone mushroom, fish ball, enoki mushroom, and deep-fried tofu.
The steamboat is great when paired with add-on ingredients. Highlights include the deep-fried fish, Fuzhou fish balls, minced pork, and nicely marbled pork belly. The minced pork is leveled up by adding on an egg and a bit of pepper powder. As for vegetables, there are the leaves of lettuce and tong oh (茼蒿), alongside local tofu, sweet corn, and yam.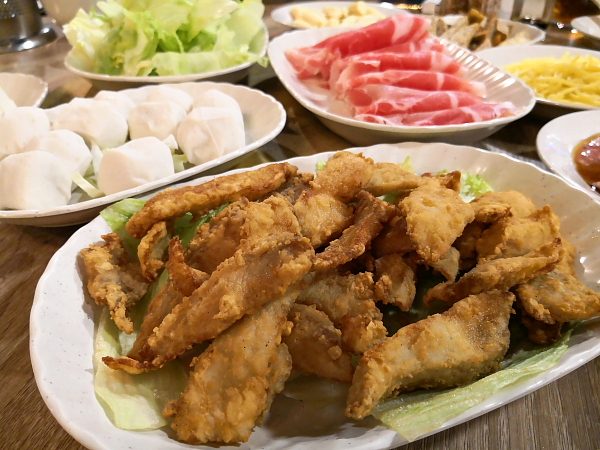 Minced pork enhanced with pepper and egg
If you are around the area, Golden Spoon Charcoal Steamboat Restaurant is a decent place for a hot pot. The pleasing menu is worth trying, with the Fish Head Charcoal Steamboat priced at RM80, Fried Fish Fillet Charcoal Steamboat at RM75, and the Traditional Soup Base Charcoal Steamboat (without fish) at RM55.
Delightful morsels bubbling away in the soup
The air-conditioned restaurant offers dinner seven days a week, from 5pm to 10pm. Currently, there is a 10% discount offer promotion from Monday to Thursday (with terms and conditions). For more info, contact 04-8901334.
Golden Spoon Charcoal Steamboat Restaurant
10-B-05 & 06
Precinct 10
Jalan Tanjung Tokong
10470 Tanjong Tokong
Penang