PUTIEN Oysters & Chinese New Year Phoon Choi @Gurney Paragon, Penang
PUTIEN 莆田, with a One-Michelin Starred Restaurant status in the Michelin Guide Singapore 2016 & 2017 arrived in the shores of Penang in April 2018 with its 6th outlet overall in Gurney Paragon Mall. Located on the 6th floor of the shopping mall, PUTIEN has its menu dedicated to a stable of authentic Fujian cuisine.
With its newly introduced menu, guests can tuck into several specialties including the Pot of Goodies 盆菜 (Phoon Choi) and dishes made with PUTIEN Oysters.
The Pot of Goodies 盆菜 is available for dine in and also takeaway, at RM418 (4pax), RM698 (6 pax), and RM898 (10pax).  Reservation of three days is needed before the dining date and collection.
Eleven top-grade ingredients such as sea cucumber, dried scallops, fish maw, tiger prawns, roasted pork, razor shells, and many more are featured in this wholesome dish. The ingredients all individually cooked are then layered in the claypot and simmered in stock for eight hours before serving.
For those who really like to add-on abalone into the Pot of Goodies, each piece is priced at RM39.80. Some might be inclined to take four abalones or more at a promotional price of RM28.80 each.
As Chinese New Year 2019 is less than two months away, it is timely to plan for the festival with the Pot of Goodies. Order ahead before 5th January 2019 to enjoy a 20% early bird discount. All Pot of Goodies can be collected starting 16th January 2019.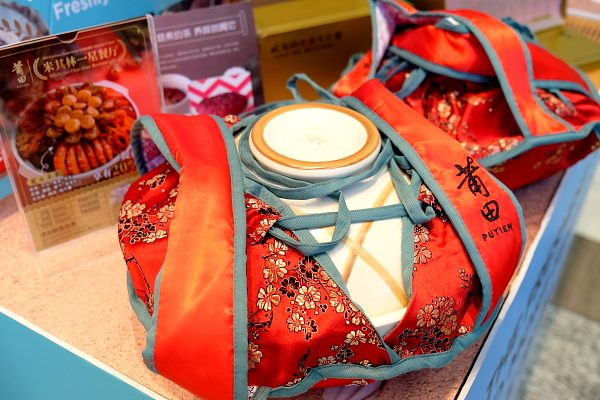 Pot of Goodies 盆菜 available for takeaway in a claypot
Besides the Pot of Goodies 盆菜, there is also the promotional PUTIEN Oyster, made available from now until 31st March 2019. PUTIEN offers diners a detailed write-up about the oysters which are brought in from Xinghua Bay of Putian and the way they are raised. To ensure absolute freshness of ingredients, every single oyster is harvested, shucked and distributed by freezing only on the same day.
The menu had the succulent delights prepared in seven different flavors. The choices on our visit was the Seaweed with Crispy Oysters, Seaweed Oysters with Fried Eggs, Fujian Extraordinary Fried Oysters, and Salt & Pepper Crispy Oysters.
The Seaweed Oysters with Fried Eggs stir taste buds as its thick layer of omelette with huge oysters is enhanced with "First Harvest Seaweed".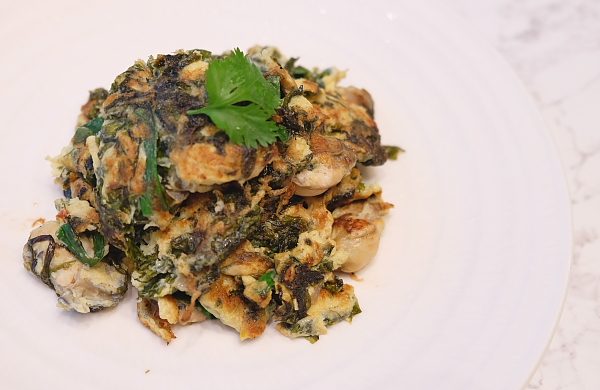 Seaweed Oysters with Fried Eggs RM29.90 
Fujian Extraordinary Fried Oysters RM29.90

Seaweed with Crispy Oysters
To complement the meal is a selection of ala carte dishes, with choices of Drunken Cockles, Deep-Fried Chicken with Garlic, Stir-Fried Green Dragon Chives, and Putien Cabbage Rice.
The Drunken Cockles dish with each cockle served on an open shell is make for easy eating. Topped with garlic flakes, chilies and drizzled with a blend of garlic sauce, each cockle is bursting with sweet, savory and mildly spicy taste.

For something lighter, try the Stir-Fried Green Dragon Vegetable (ching loong choy). Cooked with garlic and black fungus, this dish does wonders in perking up the meal.
Drunken Cockles RM16.90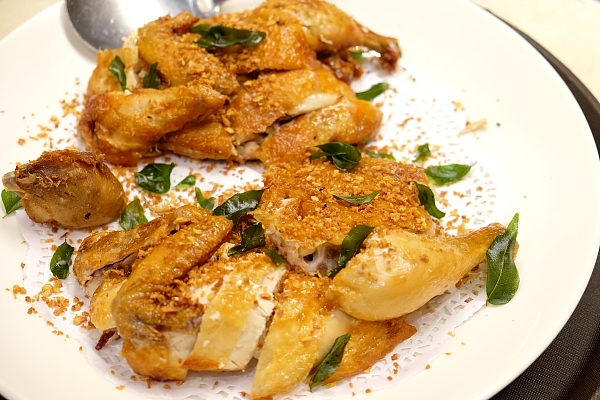 Deep-fried chicken with garlic RM58.90 (whole bird)
Stir-Fried Green Dragon Vegetable RM21.90
PUTIEN Cabbage Rice RM20.90
PUTIEN daily business hours are from 11.30am to10pm, and there is a break between lunch and dinner service (3.30pm to 5.30pm).
PUTIEN 莆田
Level 6 Gurney Paragon Mall
163D Gurney Drive
10250 Georgetown
Penang
Tel: 04 – 2260828