Naja Concept Book House, Bukit Mertajam, Penang
Naja Concept Book House in Bukit Mertajam, Penang centers around browsing books, pausing for a sip and a bite. The bookstore cum cafe housed in an old building with a homey atmosphere and character is stocked with books mostly in Chinese language.
The book house along Jalan Asmara has several rooms, with the walls lined with densely packed brown bookshelves. Table and chairs are placed amid the bookshelves for guests to enjoy their books.
Equipment and nostalgic toy from the old days
For reading pleasure, one can engross oneself in an escapist world of fantasy, fiction, reality, or politics.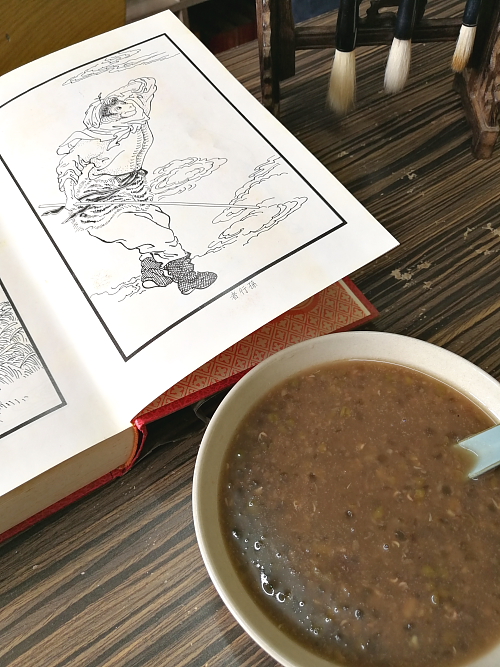 Enjoying the Chinese novel 西遊記 while sipping tong-sui
Guests can wind down with beverages and food while enjoying the books. What could the book house possibly offer in its menu? Well, Naja offers a long list of homecooked local fare, from appetizers right up to mains and desserts. On certain weekdays, there is a special meatless dish for healthy eating.
One of the simplest preparation from the menu is the steamed dumpling 锅贴. A condiment of black vinegar and strips of ginger magnify the charms of this savory healthy dumpling.
Desserts look simple, with homely offerings of tong-sui, and blue pea flower agar-agar jelly. The agar-agar jelly in blue color which is derived from blue pea flowers, is refreshing, cooling and importantly healthy with additional kei chee 枸杞 (wolfberries). It suits the palate with its firm texture and without being too sweet.
Blue pea flower agar-agar jelly
If you prefer a more filling bite, nibble your way through the pulut inti 椰丝蝶豆花糯米. This Nyonya kuih with the combination of blue pea glutinous rice and palm sugar desiccated coconut is one alluringly choice.
Blue pea glutinous rice pulut inti (photo by Naja)
As for the tong-sui, the kitchen offers rotating warm choices of red bean, barley, sweet potatoes, gandum, and black glutinous rice.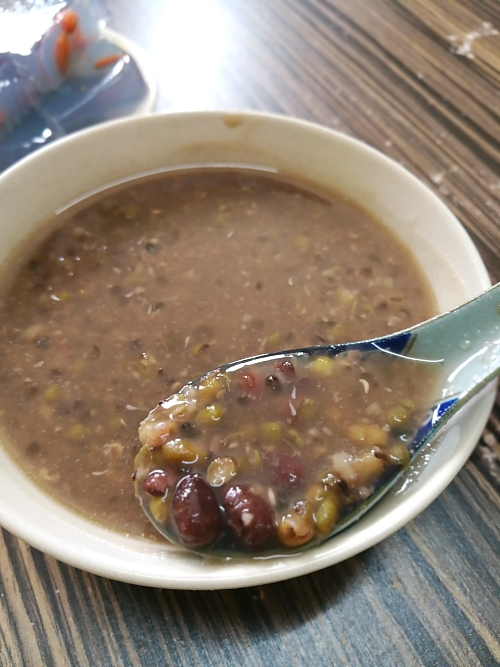 Red and green bean tong-sui
For drinks, the outlet doesn't go over the top on high-end coffee but instead offers a variety of local kopi in which case is made using sachets. If you are not a coffee person, don't miss Naja's freshly prepared cold-pressed juices.
The combined book house and cafe work well and one can spend hours with the books coupled with food. Be sure to stop by while they're open from Monday to Sunday except for Wednesdays. Business hours are from 10.30am to 9pm.
Naja Concept Book House
17 Jalan Asmara
14000 Bukit Mertajam
Penang
Tel: 010 – 4642182