International Buffet Dinner at SPOON, G Hotel Kelawai, Penang
In G Hotel Kelawai, Penang, one can enjoy the best of things – accommodation and food. For culinary delights, there is a variety of flavors at the cozy environment of SPOON Cafe, where newly installed Executive Sous Chef, Chef Jack Yap Soon Cheong, has created a thoughtfully-composed menu along with his culinary team.
Chef Jack is backed with more than 12 years of cooking experience, having worked as a chef in L'Angelus French Restaurant, 1-Twentysix at East Coast Park, Au Petit Salut, SQUE Rotisserie & Alehouse, Club Street Social and even opened his own eatery – Artichoke Café in Penang.
Smoked duck canapes and pie tee by Chef Jack
Chef Jack had the daily buffet breakfast and dinner menus, as well as the menus in the Executive Lounge, updated with his cooking style. At SPOON Cafe, the International Buffet Dinner is served from Sunday to Thursday at RM75 per person.
The International Buffet Dinner offers appetizers, seafood on ice, cheese section, soup, carving station, live action station, chafing dishes and desserts.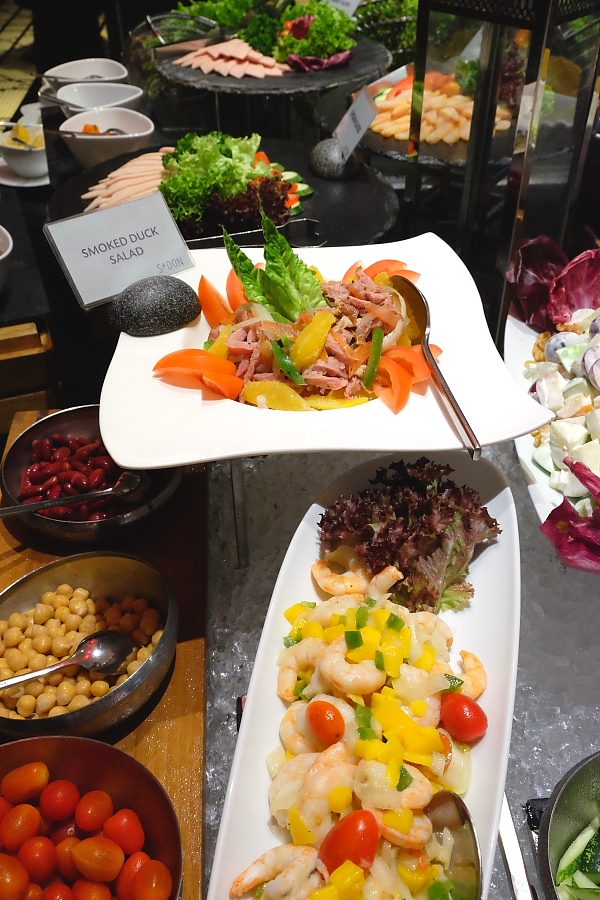 The chef has put together several signature dishes, and the Baked Fish Fillet, and Roasted Duck with Orange Sauce and Rocket Salad are centers of attraction.
His special Baked Fish Fillet with Coconut Lemon Turmeric sauce has the fish fillet served in unique coconut milk, lemon juice, and turmeric cream sauce. Roasted Duck with Orange Sauce and Rocket Salad, on the other hand, has flavors popping in the mouth with tender slow-cooked duck confit infused with fresh citrus. 
Roasted Duck with Orange Sauce and Rocket Salad
Baked Fish Fillet with Coconut Lemon Turmeric sauce
Expect to also find some novelty main dishes which include home-made Beef Meatball with Potato Mousseline, Sambal Black Mussels, Mutton Redang, and the Chicken Casserole. Feast your eyes on the chicken casserole with potato, carrot, fresh vegetables, thyme and shimeiji mushroom cooked in a cream based sauce.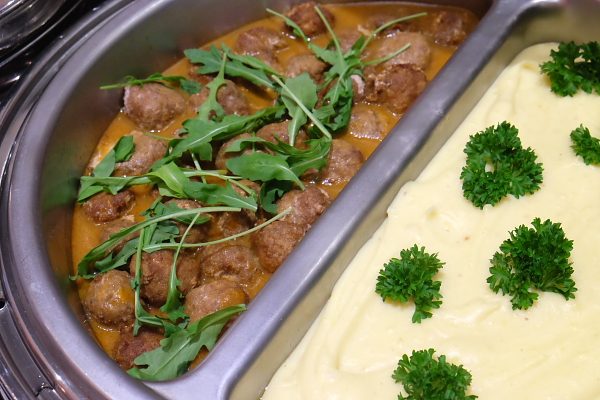 Beef Meatball with Potato Mousseline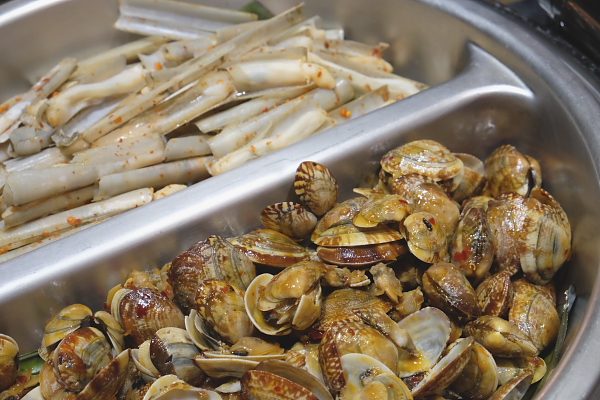 Over at the Carving Station, there will be the Roasted Cumin Lamb Shoulder with Mint Yoghurt. The imported lamb is well seasoned and flavoured by the house-made marination of cumin, paprika and chef's special spices. It needs little else in terms of sauce, but if you do, there is the house-made mint yogurt.

At the Live Action Station be pampered with noodles dishes of stir-fried Char Koay Teow and the tangy spicy soupy Penang Assam Laksa. These are popular local fare, and diners get to customize their liking with the ingredients.
Roasted Cumin Lamb Shoulder with Mint Yoghurt
It is always good to have desserts to round off the meal. There is a large selection of cakes, fresh fruits, ice cream, and chocolate fondue. The cakes featured are the six-layered Mango Opera, Pandan Kaya Cake, Red Velvet, Forbidden Cheesecake, Blueberry Cafe, and Hazelnut Chocolate Cake.
Locally inspired choices are the Black Rice Cheesecake and the feather-light Pandan Kaya Cake layered with pandan kaya custard. For the Black Rice Cheesecake, Chef Jack updates the creamy cake with boiled black glutinous rice. The flavors and chewy texture of the rice made it special and unique.
Black Rice Cheesecake
Aside from the International Buffet Dinner, Chef Jack also cooked up the Hot Wok & Grill Buffet Dinner. Available exclusively on Fridays and Saturdays, expect to savor the best of land and sea cooked based on your preferences. Priced at RM105 per person, it is excellent for a hearty dinner with family and friends.
Reservations can be made at 04 – 2190000.
G Hotel Kelawai
2 Persiaran Maktab
10250 Penang
* Many thanks to G Hotel Kelawai for extending this invitation