Lobster & Beef Steamboat @Precinct 10, Tanjung Tokong, Penang
Calling all hotpot lovers! Lobster & Beef Steamboat is now open at Precinct 10, Tanjung Tokong, Penang!
Lobster & Beef Steamboat is one of the few Chinese restaurants in Precinct 10, Tanjung Tokong, Penang where one can savor a bubbling pot of steamboat with unique soups. Conveniently located around Corner Keng Cafe, the newly opened restaurant specializes in steamboat and lobster dishes.
We wandered in the neighborhood outlet on a weekday. With a modern look, the spacious restaurant has an inviting seating area and  private rooms on its ground floor. On the upper floor is a dedicated space for private events.
For those craving crunchy bites before the meal, check out the abundance of items to munch on. Some of the fun bites include fried white bait fish, fried fish skin, and fried prawn dumplings.
To appeal to the varied tastes of soup lovers, a selection of collagen soup, beef soup, and old hen herbal soup is available at RM30 each. Our choice was the collagen soup, creamy smooth and subtly flavored with meat sweetness.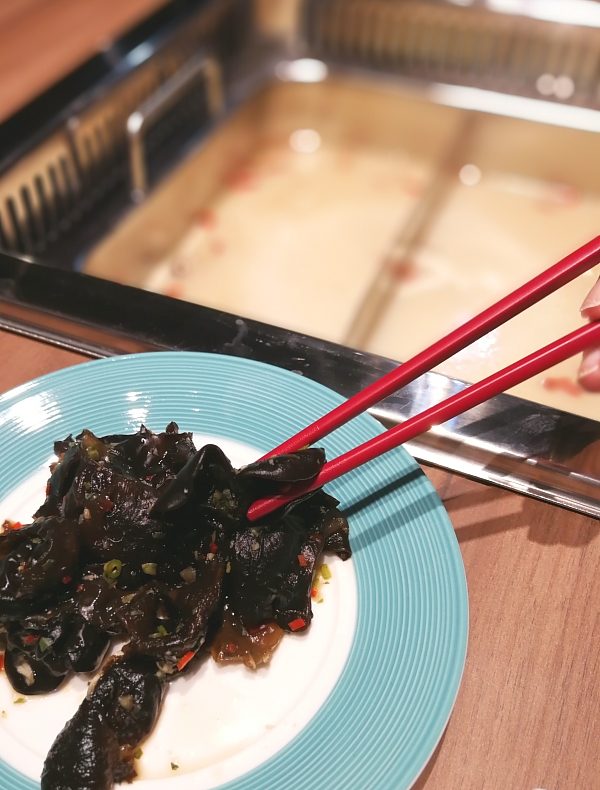 Black fungus appetizer to start the steamboat with collagen soup
Diners can enjoy a serving of meat, including Spanish Iberico meat, Australia wagyu ribeye beef slice, tripe, tendon, and beef ball. As for seafood, check out the grouper fish fillet, prawn, fish maw, and sea cucumber. Premium choices are the whole abalone (canned), green lobster, and live Boston lobster.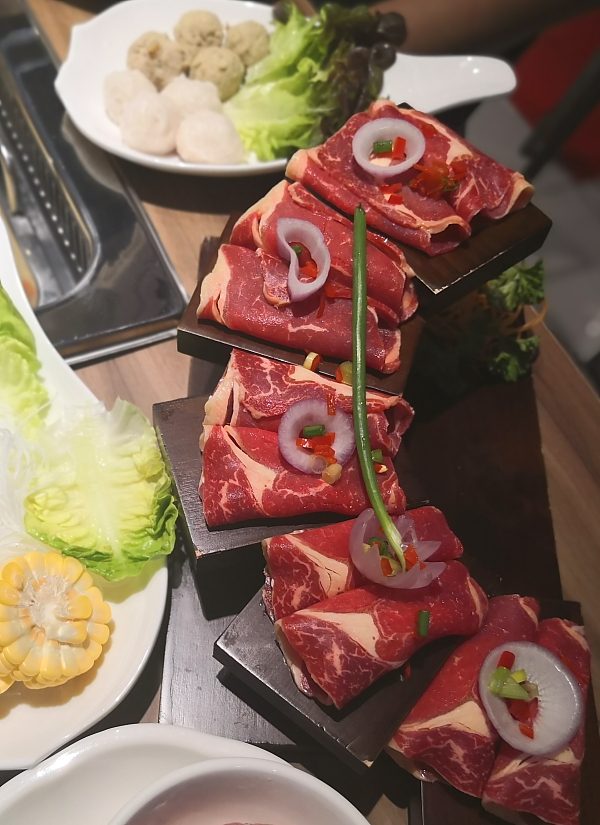 Australian wagyu ribeye beef
We had the Australia wagyu ribeye beef slice, prawns, fishballs, tendon, pork slice, and fish along with beancurd, abalone mushroom, sweet corn, slices of lotus root and Chinese yam. Besides ordering our own vegetables, we also enjoy the free flow vegetables (notably fresh) – Chinese cabbage, lettuce, kangkung, and corn.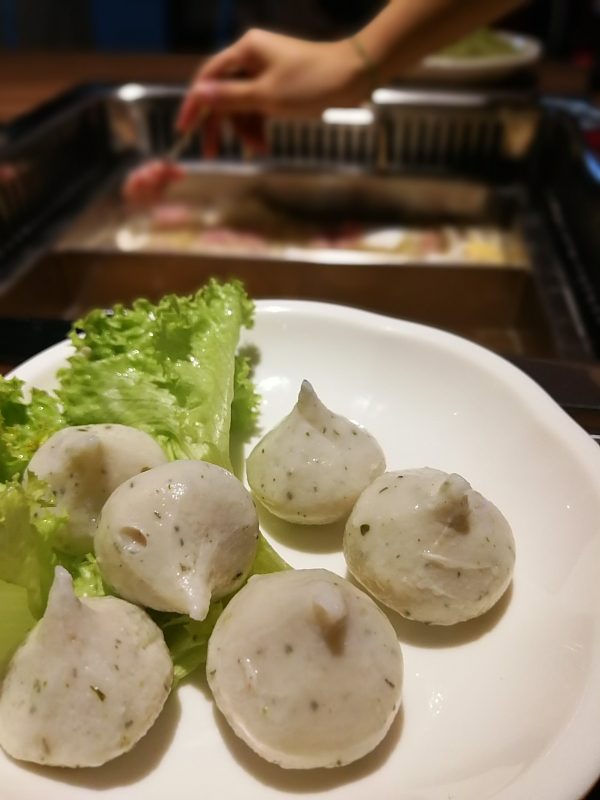 Fish roe fish ball RM7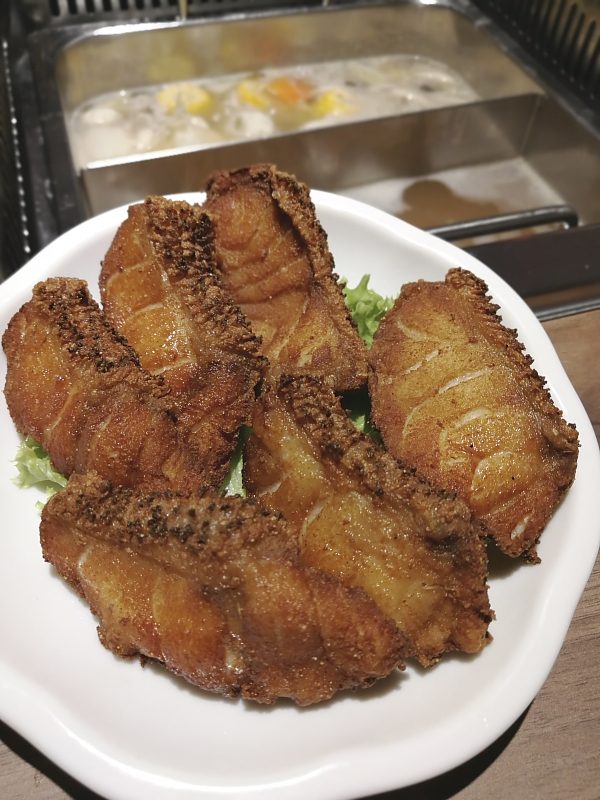 Deep-fried tiger grouper fish fillet RM26
Beancurd skin roll RM9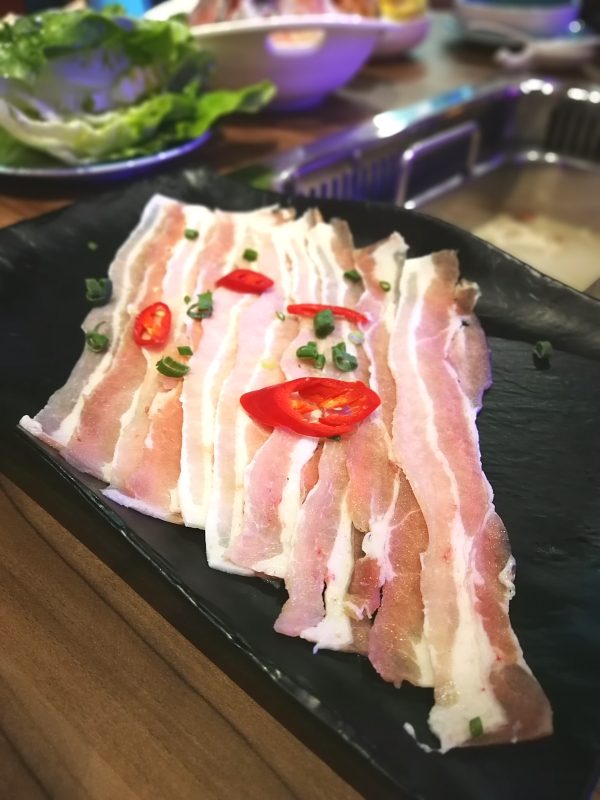 Pork Slice
Fresh prawns and grouper fish fillet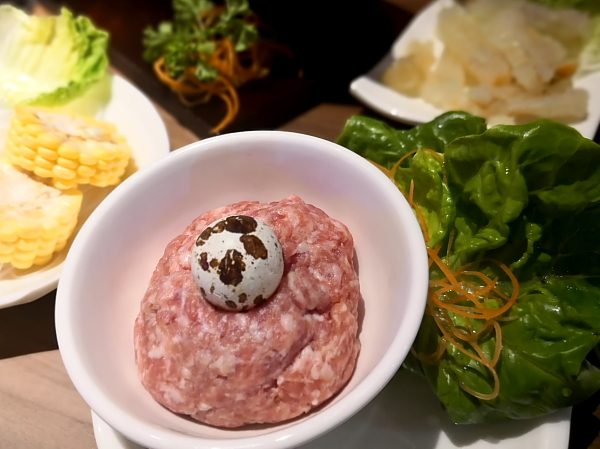 Minced pork paste RM8
For a complete meal, most tables will have a serving of noodles. There are many to choose from, with choices of glass noodles, spinach, Nissin, pumpkin, butterfly pea, or dry koay teow.
The meal goes with the many dipping sauces available at the self-serve sauce counter. Refillable at RM2 per person, there is a myriad of choices – shallot oil, basil oil, black vinegar, in-house chilli sauce and more. In addition, there is also the simple combo of soy sauce with cut red chilies.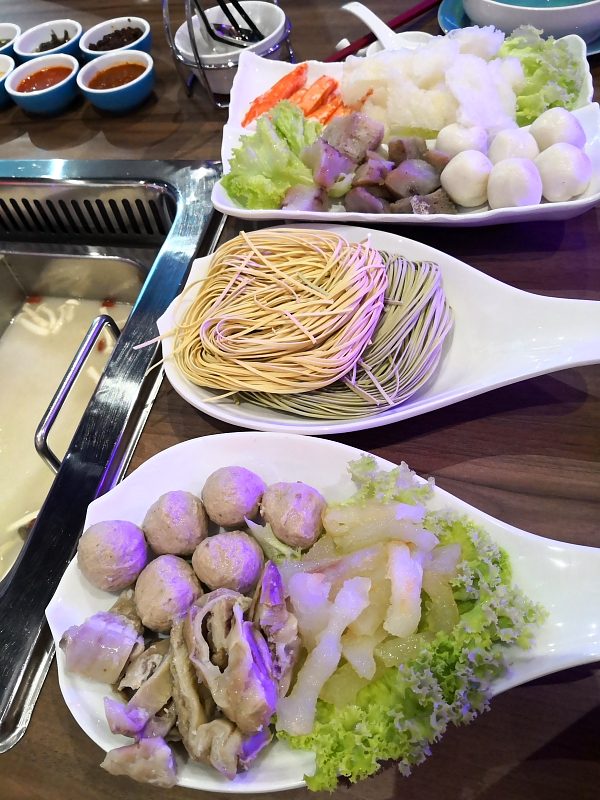 Spinach and pumpkin noodles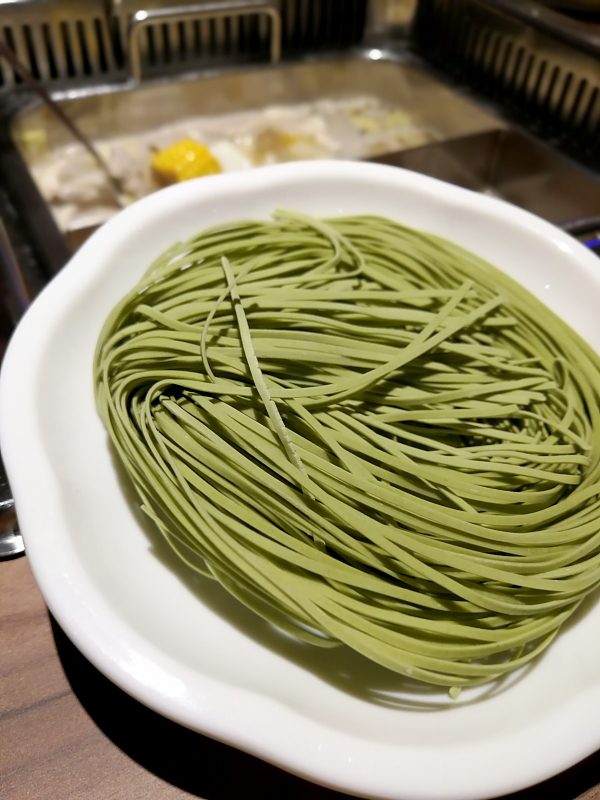 Spinach noodle RM2
The steamboat with a wide selection of seafood, meat, fried items and vegetables makes a delicious and nutritious meal. For those who like convenience in ordering, there are also set menus to choose from, for 2 pax to 8 pax with prices ranging from RM128, RM188 and RM288.
Aside from the steamboat, the restaurant also serves spicy chili lobster dishes. As we left, we spotted plates of chili green lobster and chili Boston lobster. Served with Benggali bread, both of the dishes will certainly make our next visit even more interesting.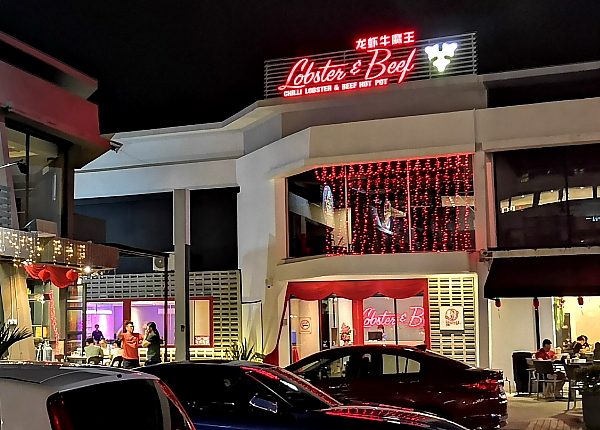 Lobster & Beef Steamboat is open daily (except Wednesday) for lunch and dinner, with business hours from 12pm till 2:30pm and from 6pm till 10.30pm.
Lobster & Beef Steamboat
10-A 07 & 08 Precinct 10
10470 Tanjung Tokong
Penang
Mobile: 014 – 6335995