Sky Bar @The Banjaran Hotsprings Retreat, Ipoh, Perak
They say dining and chilling out is all about location, location, location. When it comes to an ideal bar spot, nothing beats the newly opened Sky Bar at The Banjaran Hotsprings Retreat in Ipoh, Perak.
The bar is located nearby Jeff's Cellar which offers a limestone cave dining experience.
Set on top of the limestone hills with a backdrop of breathtaking view overlooking the geothermal hotsprings lake, there is hardly a better bar destination than this in Malaysia.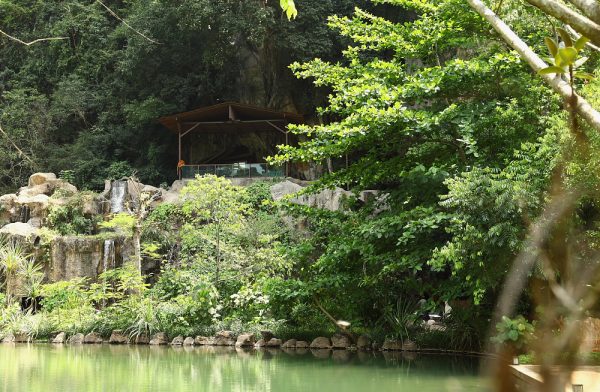 Climbing up the stairs to the upper level of Sky Bar will pass by the lower deck which offers an exclusive whiskey lounge. Whiskey is a global phenomenon, so it makes sense that an international renowned destination like The Banjaran is not short on places to explore the spirit.
There is a superb range to suit any palate, from the Glengoyne 35 year old (RM11298 per bottle) to the Highland Park 30 year old (RM12298 per bottle) and the Remy Martin Louis XIII (RM27560 per bottle).
Whiskey lounge
Wind up onto the upper level of the bar and be mesmerized with the lake and hills in the distance. Take time to soak up the scenery while you peruse the menu. A wide range of drinks is available; champagnes, vintage champagne, sparkling wine, white & red wines, craft beers, signature cocktails, and coffee cocktails in addition to fresh squeezed fruit or vegetable juice.
The wine list also highlights attractively priced white and red wines from Italy, France, and New Zealand.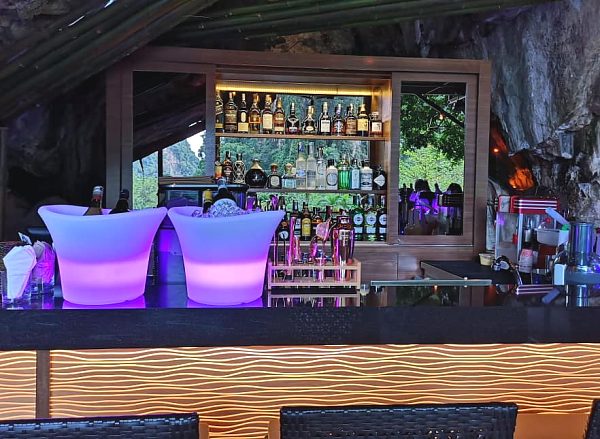 Upper level of Sky Bar
Sky Bar serves the signature cocktails and beverages with a fine and delightful light bites dressed up with foie gras, caviar and truffles. I find myself nibbling the food in between sips of my cocktail. The Dr Fish is a signature cocktail with Blue Curacao, Don Julio Reposado Tequila, and Havana Club 7 year old.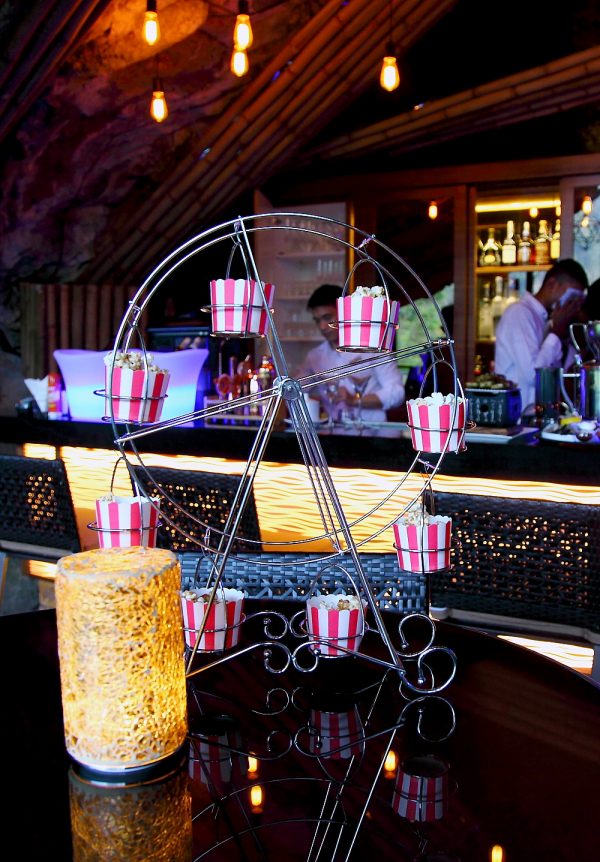 Snacking on freshly made popcorn
Enjoying cocktails along with Alex Castaldi, GM of The Banjaran
Dr Fish cocktail
Under The Roof
For bubbly, the Sky Bar offers a collection of champagnes – Krug, Moet Chandon, Nicolas Feulliatte, Bollinger to name a few. The bubbly marries well with most types of food, especially with the Kaviari French Caviar selection of Oscetra, Seruga, Kristal and Beluga. The caviar is served with blinis, along with garnishes of hard-boiled eggs, onions cornichon, sour cream, and lemon wedges.
From there, you might want to take on the Oyster On Ice (available on every Saturday and Sunday). French fine de claire oysters are shucked to order and served with lemon wedges, and two condiments – cocktail sauce and mignonette sauce. The much smaller in shaped fine de claire oysters were pure pleasure with just droplets of lemon juice.  Half a dozen fresh fine de claire oysters costs RM150.
French fine de claire oysters
Prawns Lollipops is a simple rendition of deep-fried beer battered tiger prawns. Tartar sauce and harissa mayo are part of the condiments for the dish.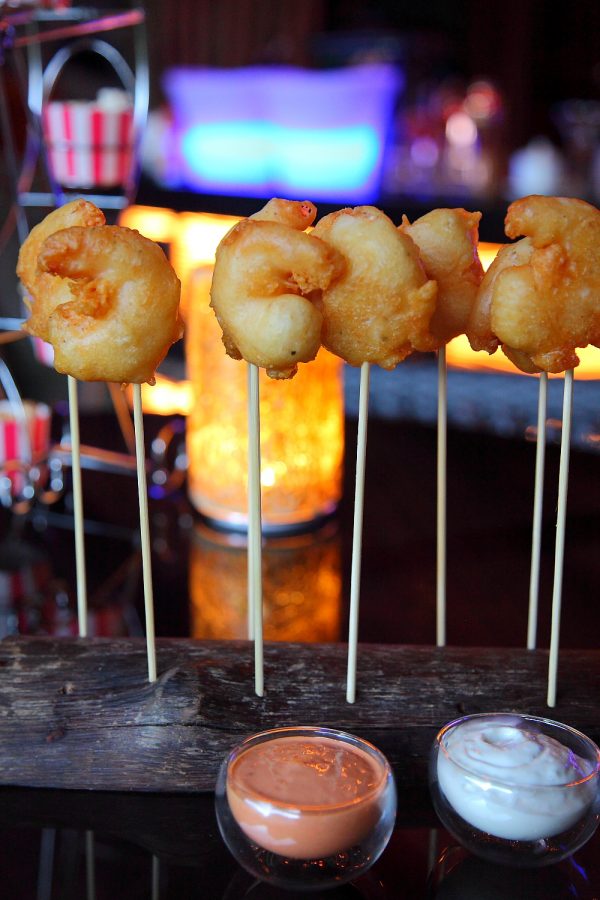 Tiger Prawns Lollipops
The Japanese A5-grade Wagyu Beef Kushiyaki is made with luxurious wagyu beef. Skewered and glazed with unagi sauce, the meat is grilled on a table-top charcoal grill. You might want to match the skewers of tender meat with a fruity pinot noir.
Another good dish to go with the drinks is the Foie Gras Macaroon – where you will find assorted sea salt macaroon showcasing delectable foie gras mousse.
 Japanese A5-grade Wagyu Beef Kushiyaki
It goes without saying that this newly launched Sky Bar places itself on the pinnacle of top lounges and bars in the country. Overlooking the pristine lake, Sky Bar is open from 5.30pm till 12 midnight. Be sure to be there before the sun makes its descent.
For reservation, call +605-210 7777.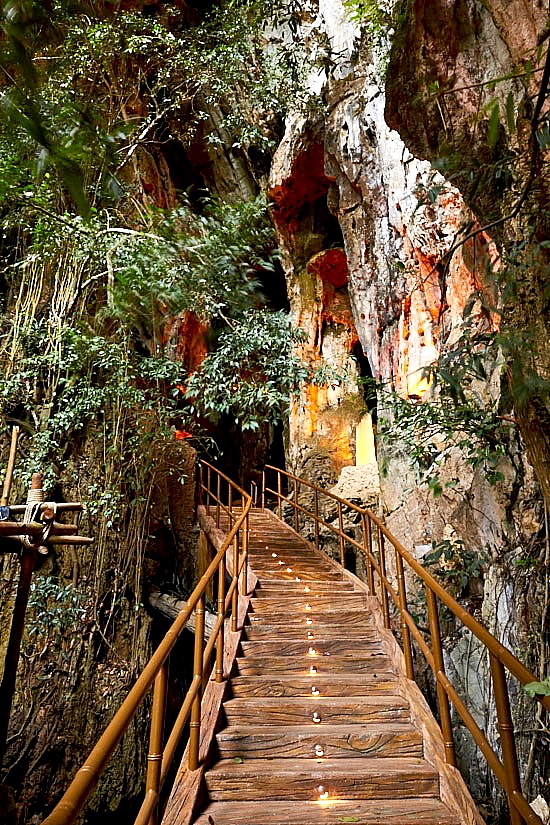 Stairs leading to the Sky Bar
The Banjaran Hotsprings Retreat
1 Persiaran Lagun Sunway 3
31150 Ipoh
Perak