SYST Penang Dessert Cafe @Cubo Park, Tanjung Tokong, Penang
For those who love exploring cafe culture in Penang, SYST Penang 深夜食糖 located at Cubo Park in Tanjung Tokong, Penang is the place to be. The name SYST stands for Shen Ye Shi Tang, which means "Late Night Desserts" in Chinese. The establishment, an 80's-themed cafe specialising in Hong Kong tong-sui, desserts and snacks had its soft launching recently.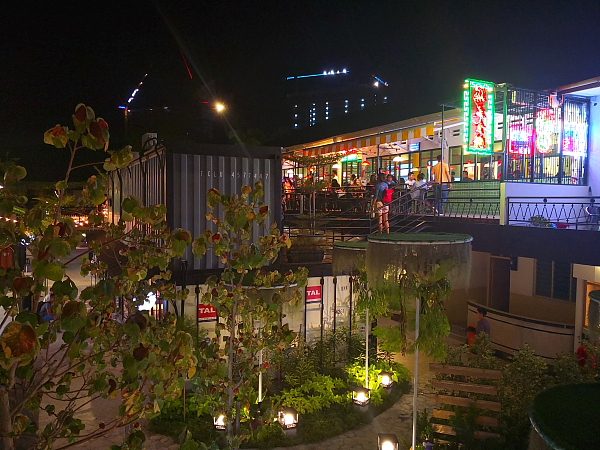 SYST Penang with bright neon signs
A brief walk from the entrance of Cubo Park will lead you to SYST Penang. Its bright neon signs easily attract the eye. Climbing up the stairs to the the upper level of the cafe, you won't miss the wall adorned with many colorful post boxes.
Walk onto the cafe, grab a seat, order at the counter, and tuck in under the sounds of Hong Kong cantopop songs!
The staircase to the entrance of SYST Penang
For those with a sweet tooth, you will be happy to see the wide varieties of tong-sui. The tong-sui menu is divided into four categories, with bowls of sweetness that will transport you into the world of memories.
The rock melon sago (ha mat gua sai mai lo), and the avocado sago (ngau jau gwo sai mai lo) fall right into the first category with most items served chilled.
The second category offers bowls of ginger milk pudding (giong chap jong nai), orange peel-infused red bean soup with glutinous balls (chan pei tong yuen hong dao sa), and the mango pomelo sago (yeung ji kam lo) which comes with fresh mango, citrusy pomelo, and sago beads.
Kitchen set against a glass wall overlooking the dining area
The chilled avocado sago priced at RM10 is definitely one to consider. The flavor of the creamy and smooth treat is balanced with right sweetness. It's addictive and keeps one feeling full!
Avocado sago
On another category, there is nutritious offerings of water chestnut soup (ma tai lo), green bean soup with kelp (hoi tai mou lok dao), and snow pear soup with peach gum and ginseng (pao sam tou gao dan shuet lei). What could be a simpler pleasure than a bowl of water chestnut soup with slices of chestnut and egg flower? Available warm or chilled, the dessert is delicately sweet with a hint of 'egginess'. Priced at RM9, it is a cooling and soothing choice to beat the hot weather.
The final category on the other hand offers black sesame soup (ji ma woo), nutty sweet walnut soup (hup tol woo), almond soup (hung yan woo), and sweet potato & ginger soup with glutinous rice balls (keung jap fan shu tong yuen).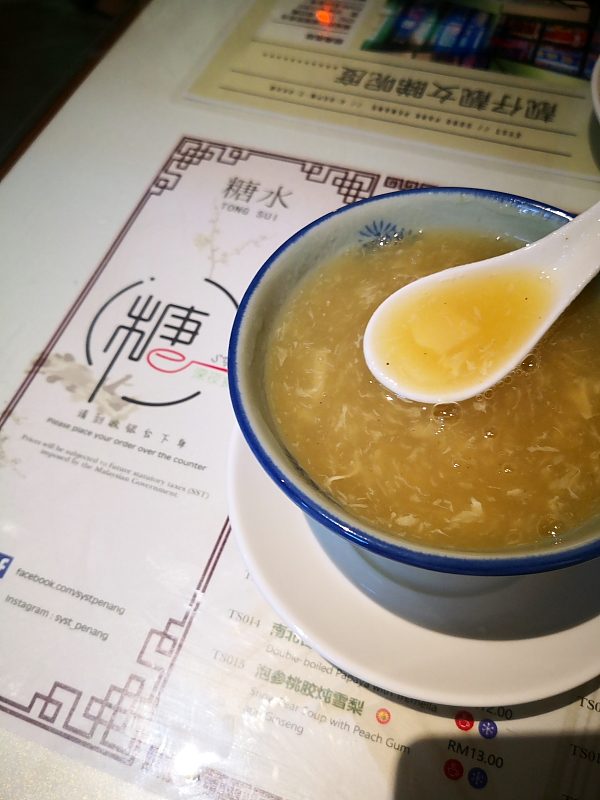 Water chestnut soup (ma tai lo)
For diners looking for something substantial for dinner, the cafe offers a short menu. Items available at the moment include sandwich, light snacks, and Hong Kong-style macaroni.
The macaroni is a traditional Hong Kong breakfast pasta dish and is a big attraction at SYST. This comfort simple dish comes with the standard fried egg and greens, and a choice of either ham, sausage, or fried chicken. 
Macaroni with ham (RM11.50) is a chef recommendation.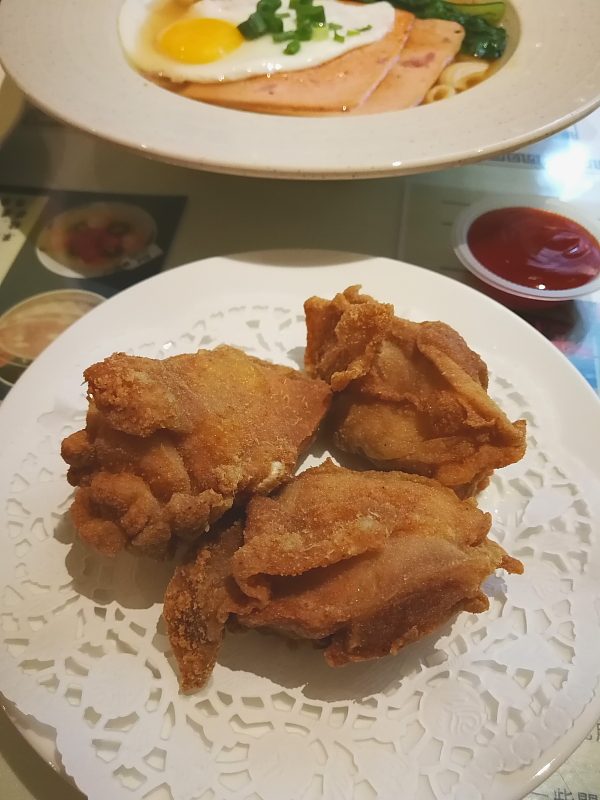 Juicy, and tender fried chicken (3pcs at RM6.50)
     Two egg tarts (RM6)
SYST Penang stays open the latest, from 4pm till 2am daily, making it a suitable place to get a light meal and snack for dinner and supper. Go with a large group so that you'll have a chance to sample a little bit of everything.
Diners can sit in the air-conditioned dining area, as well as grabbing a seat outside on the balcony.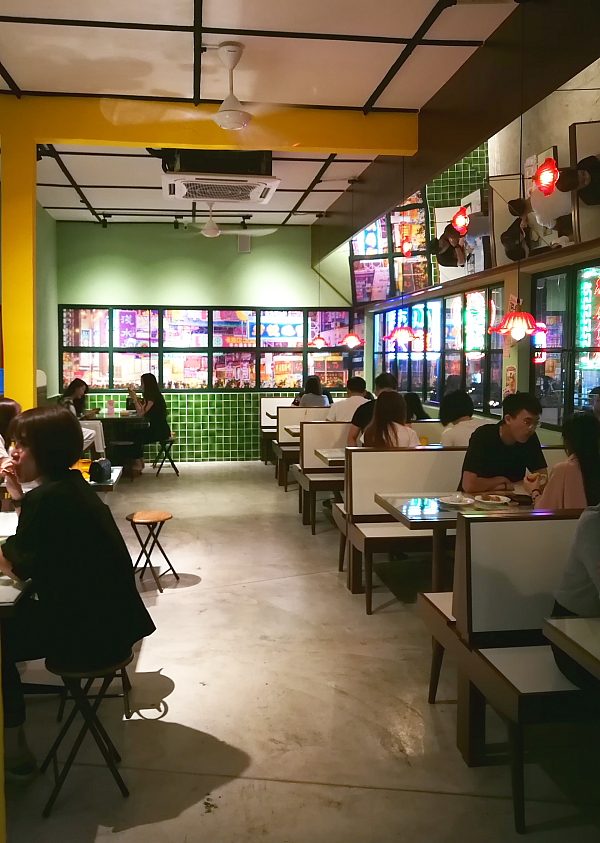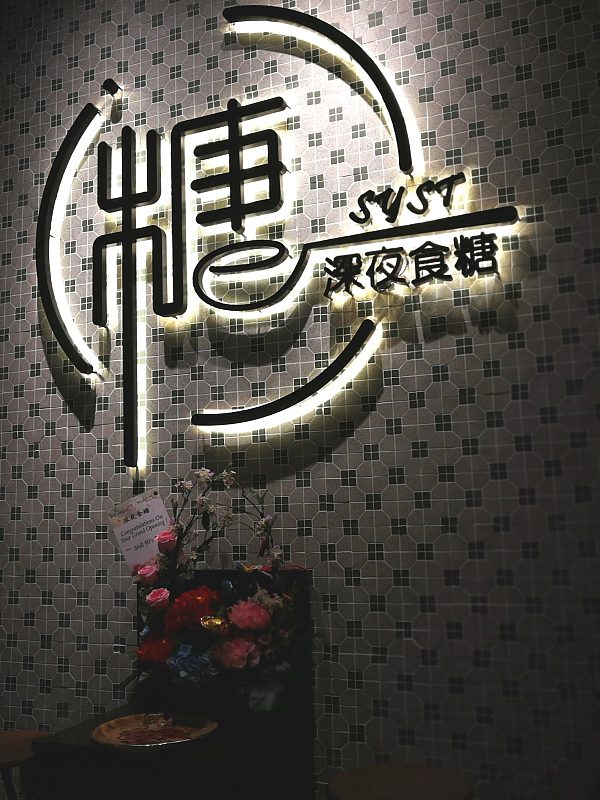 A tiled wall facing the entrance of the cafe
SYST Penang 深夜食糖
Cubo Park Penang
6 Mukim 18
Tanjung Tokong
10470 George Town
Penang