Enfin by James Won – Dinner Degustation Menu
You will find it tough to find many dining establishments in the heart of the ever-bustling Kuala Lumpur fine dining scene that is as elegant as Enfin by James Won. Located in Menara Hap Seng, Enfin by James Won is widely recognized as the crown jewel in Kuala Lumpur to experience contemporary French cuisine.
Seated at a long table on a recent evening at Enfin by James Won, I was privileged to savor the masterful culinary touches of Chef James Won – dishes prepared with love, creativity and dedication. The fine restaurant took me through the new Dinner Degustation Menu, which unveiled the establishment's evolution in food philosophy as well as encourages dialogue with food photography.
The dining experience was paired with Hennessy X.O Cognac, Krug Grande Cuvée Champagne and Cheval des Andes 2012 poured from magnums. Magnificently, Chef Won hoist the Malaysia flag strong in the culinary scene with the Enfin by James Won being home to Asia's only Krug Chef's Table!
Chef Won created a number of amuse-bouches for the evening, very creative and beautifully presented. The Aloe Nigiri provided a delightfully fresh start. The recipe of this sushi uses a combination of Sabah and Sarawak bario puff rice flavored with lacto fermented tomato juice and aloe vera cured with fermented fish. With the beetroot lending a deep reddish blood line, the sushi was served crowned with white sturgeon caviar. "These ingredients are sourced locally except for that bit of white sturgeon caviar topping," said Chef Won.
At a single bite, it was inspiring and zesty, and one can experience more amazing magic with a sip of Krug Grande Cuvée.
Aloe Nigiri
For the next amuse bouche, Chef Won has curated what he calls the Malaysia breakfast dish – soft boiled egg and curry laksa. Don't let your eyes deceive you with The Egg, presented in a hollowed-out egg shell. What may look like an ordinary egg is actually served with the absence of egg!
Chef Won has elevated the modest soft boiled egg to haute cuisine. The secret: egg white of parmesan tofu, golden egg yolk of sea urchin, and a touch of mandarin curry. A teaspoon of The Egg gave a moment of melt-in-the-mouth soft boiled egg satisfaction packed with flavors of sea urchin, hints of citrus and warm aroma of spices.
A toast was made to the luxurious creation with a glass of Krug Grande Cuvée. The richness of the bubbly further seduce the senses – a lovely mouthfeel with plenty of fruity bouquet.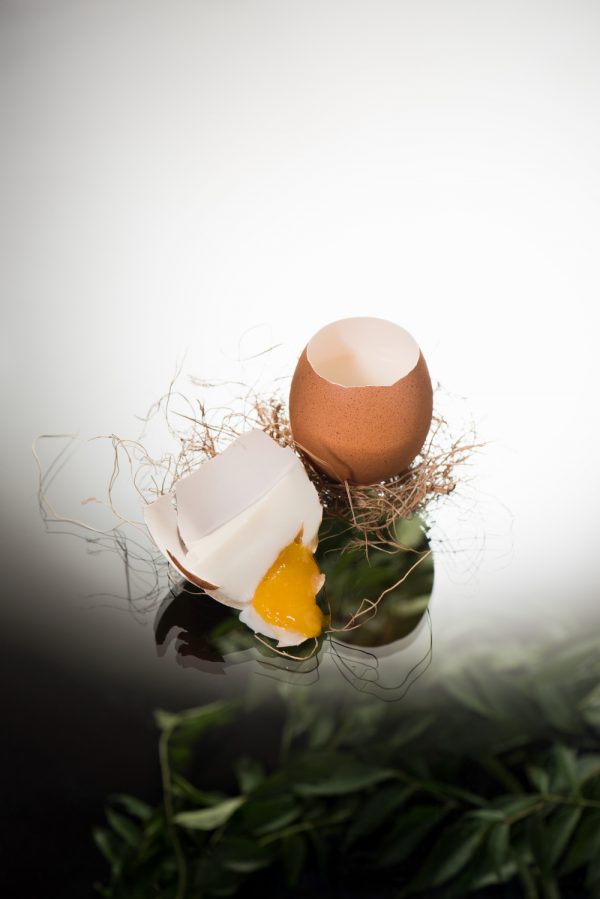 The Egg
Up next was Scallop Cracker, a dish inspired by the prawn cracker (keropok) – a street snack in Malaysia. This final amuse bouche is ultimately Malaysia in a bite.
Fresh chopped toasted hazelnut, crème fraiche, bits of Szechuan peppercorn, cress and flowers (from Farm Enfin) were set fancily in a light and crispy pastry case made of scallop meat. One little jewel of ikura added a touch of saltiness. Picked up with the fingers and eaten in one bite, the dish elicited a wow.
Scallop Cracker
Just as interesting is the entree of Yong Tau Foo. With an attractive presentation, the dish was introduced with pride by Chef Won as it truly celebrates the riches of his Hakka heritage.
The craftsmanship of this Hakka dish is elevated to a totally different level. To temper the heat of the chili, the chili has to be deseeded and the skin removed  before stuffed with farci of mushroom, taufu and truffle. The chili cooked confit in duck fat was served in a vibrant flavored green mole made with juices extracted from green vegetables (think of celery, parsley, and leek). The dish was further elevated with toppings of white sturgeon caviar and chive flowers.
A sip of Krug Grande Cuvée brought out fruity, sweet, and umami flavors of the dish.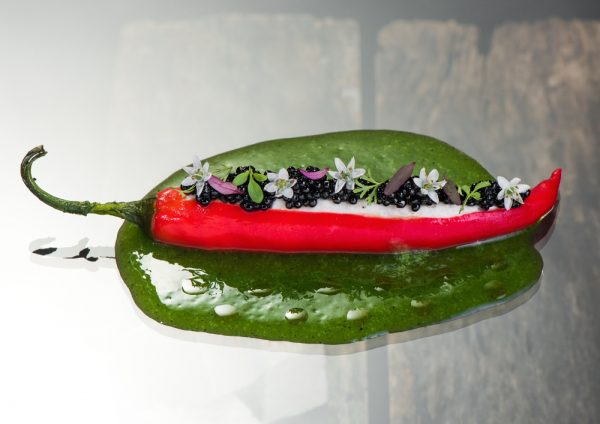 Yong Tau Foo – The Chili
The second entree was the Hokkaido Scallop Cerviche, a seafood dish with delightful play of texture and flavor. Plated on one side of the plate was scallops topped with red confetti, another side with cucumber and radish, and the center lined with cauliflower couscous, burnt cauliflower and bario puff. Chef Won kept the dish simple and refreshing with aromatic oil brimmed with copious Malaysian herbs; with a combination of lemongrass, kaffir lime, ginger touch flower and more.
Going through the dish and have a bit of everything in one spoon, one can experience the subtle crunchiness from the thickness of the fresh raw ingredients. It is indeed a remarkable display of the prowess of the kitchen on how they immaculately slice and dice the ingredients.
It was sensational with a sip of Krug!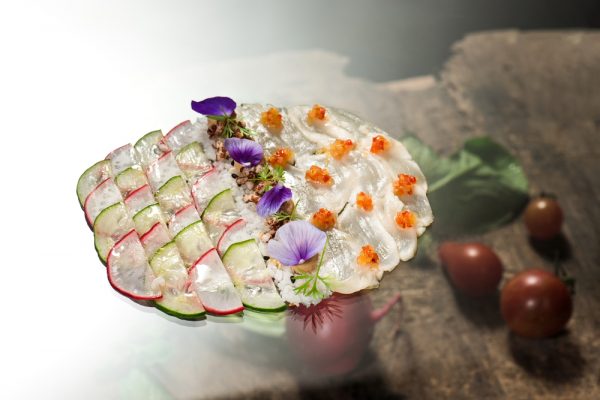 Hokkaido Scallop Cerviche
The next dish described as Terroir of Malaysia speaks of something light and delicate, again with surprising ingredients. The beautifully presented dish featuring Malaysian & French heritage had baby gem lettuce, buah keluak (truffle of the East), toasted seaweed, cordycep mushroom tuile, truffle crème fraiche, cress & blossoms along with oyster and charred chicken glace.
The buah keluak which has a place in the Peranakan cuisine, not only gave this dish a wonderful light spicy zap but also created a talking point for some guests.
Terroir of Malaysia
After all that, a tiny palate cleanser was served. In the form of a kumquat, it refreshes the palate before the serving of mains.
Palate cleanser
It was difficult choosing the main course. I ended tasting two, namely the Hawker Risotto, as well as the Bidor Duck – both paired with the Cheval des Andes red.
First out was the Hawker Risotto executed flawlessly with Highland bario rice, Brittany blue lobster, Sabah prawn coral bisque, seasonal truffle, mushroom and kerisik, and burnt shallot dust. The rich and flavorful dish was presented with a duet of risotto. It was beautifully unique with everything mixed together – offering spoonful of creamy pleasures.
Hawker Risotto paired with Cheval des Andes

The Hawker Risotto was followed up with the next main course – Bidor Duck. Served with bario rice puff, and yam gnocchi with hint of five spice, the duck is sensational with Teochew and Hakka all in one dish.
"If I were to pick a dish to represent Malaysia – that uses 100 percent Malaysian ingredient and cooking techniques, it would be this duck dish. There are no shortcuts in preparation here but laborious in terms of technique and work. The method of preparing one duck breast takes at least four days. The meat is firstly separated from the skin, followed by the removal of excess fat and tendons, then binded back together again, giving the meat a new textural dimension. The duck meat is then braised in braising liquid enhanced with white coffee," said Chef Won.
With its method of cooking, it was duck breast perfection – succulent meat with super light crispy skin. A side of pickled beetroot, radish, and ikura accompanied the meat equally well.
Bidor Duck paired with Cheval des Andes
Rounding up the meal was the Le Dôme à la Enfin – a chocolate lover's heaven. Prepared with Valhorna Single Origin dark cocoa multi-layer mousse, sponge, sauce, vanilla crème, and raspberries stuffed with milk chocolate ganache, (chocolate and raspberry layer dome), the dessert was paired with a glass of Hennessy X.O cognac. The pairing of sweets and sips was pleasing to the palette.
Le Dôme à la Enfin
Dining at Enfin is amazing with dishes representing the rich diversity of Malaysian cuisine presented in a modern way. Chef Won holds true to the adage that the food imbued with hours and days of meticulous preparation not only taste delicious but also visually appealing. The meal leaves us with not only with tastes to remember but also an understanding of food preparation that Enfin uniquely calls their own.
The fine establishment offers lunch and dinner service. There is an a la carte as well as the degustation menus with optional wine pairing.
The LUNCH DEGUSTATION MENU is priced at RM298 for 3 courses and RM398 for the four courses, while the DINNER DEGUSTATION MENU is priced at RM488 for four courses and RM578 for five courses.
Reservations can be made at www.tableapp.com/partner/enfin-by-james-won
Enfin by James Won
Lot 2.05, Level 2
Menara Hap Seng 1
Jalan P.Ramlee
50250 Kuala Lumpur
Wilayah Persekutuan
Kuala Lumpur
Tel: +60 10 2887920
Photo credits to: ZINQ Studio