Penang Assam Laksa Food Truck @Jelutong, Penang
Penang Assam Laksa is a large part of the street food offerings in Penang. There's no shortage of assam laksa stalls, and you will find quite a number of stalls located throughout the city.     
When you are in Jelutong area, make a stop at a food truck that serves up Penang assam laksa. Parked along Lorong Ipoh, a residential area behind the Jelutong Post Office and food court, the family-owned food truck has been dishing up bowl after bowl and packet after packet of assam laksa for dine-in and takeaway.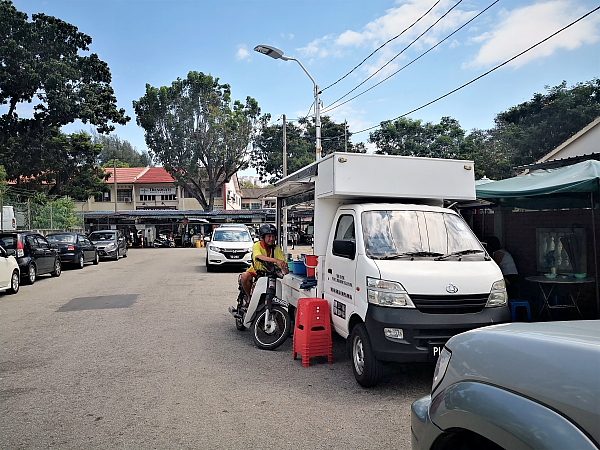 Crowds can be spotted packing around the food truck in the late afternoon. Be sure to expect a wait time for a table as there are only three sets up along the curb of the road. If the queue for a table is too long, you may place your order and consume your assam laksa in the car.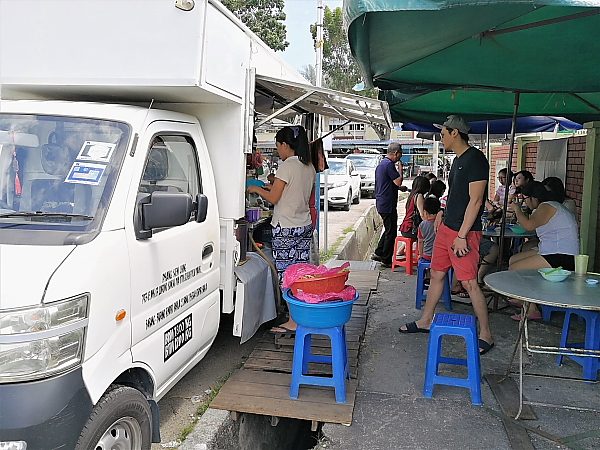 The bowl of assam laksa – comprising of thick laksa noodles with raw onion, shredded lettuce, cucumber, pineapple pieces, and red chilli – is served in a spicy sourish mackerel fish-based broth with chunky pieces of mackerel goodness.
The dish garnished with toppings of fresh mint leaves and torch ginger flower is enlivened with a spoonful of thick shrimp paste (hae ko) – lending the dish a salty-sweet pungent kick.
Here you will also find snacks like deep-fried popiah and kwan jiang (vegetable bean curd roll) which are certainly good to go with the assam laksa. Toss in the deep-fried popiah to soak up the broth – it makes for a tasty interplay of textures and flavors.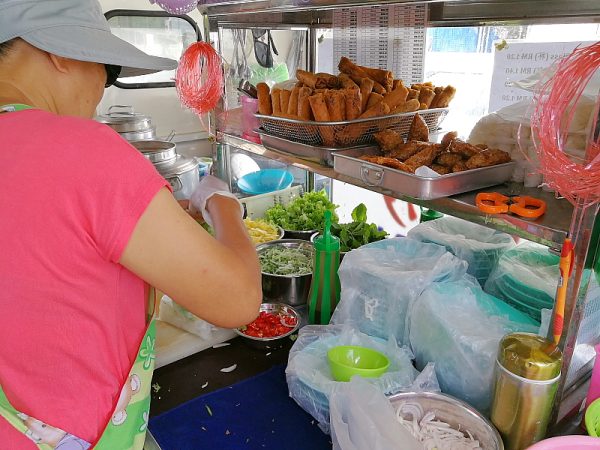 Light and crispy deep-fried popiah and kwan jiang
Spicy sourish mackerel fish broth
For RM4.50 you get a small bowl of assam laksa but when you are very hungry, the big bowl RM5.00 would be your pick with its hefty helping.
The food truck with a blending of the assam laksa with the deep-fried snack continues to attract the locals, rain or shine, six days a week. The opening hours are from 2.30pm till around 6.30pm (closed on Wednesdays).
Penang Assam Laksa Food Truck
93 Lorong Ipoh
Taman Jelutong
11600 George Town
Penang