Hong Kee Restaurant @Campbell Street, George Town, Penang
Smacked right in the heart of George Town, Penang, Campbell Street holds rows of heritage buildings housing a mix of restaurants, cafes, and bars. It is indeed a food galore, with the area famous for its Chinese, Indian, Malay, and Italian cuisine.
The area has since become livelier with several new Chinese restaurants, namely Gou Lou Hong Kee Chao Hor Fun 高佬鸿记, and Hong Kee Restaurant 鴻記飯館.
The Chinese restaurant, Hong Kee Restaurant 鴻記飯館 (started out by the folks of nearby Hong Kee Wan Thun Mee 鴻记廣式竹昇运吞麵) offers chu char dishes. Sitting in the air-conditioned, no-frills restaurant, one can go through the Chinese menu, and if you need help ordering, the wait staff is on hand to assist.
Start off the meal with some sampling bites like a plate of appetizer, with exciting deep-fried rolls, crepes and Shanghai pancakes.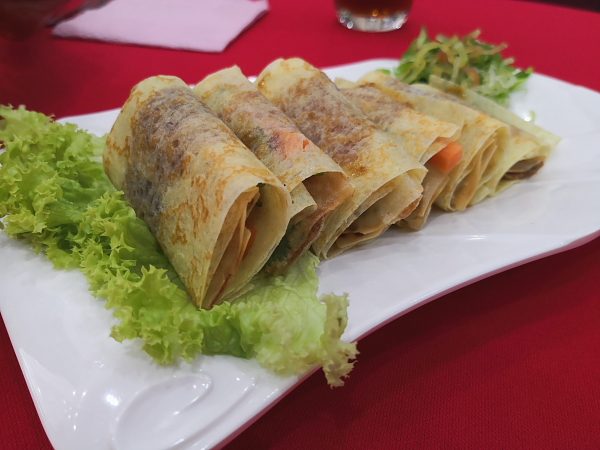 Various appetizers
Cantonese cuisines are exceptionally unique with its myriad of slow-cooked soup, and Hong Kee is no different. Pair up the meal with a choice of soup such as the Choy Gon Tong (Dried Preserved Vegetable Soup).
Choy Gon Tong 菜干汤
Onward with the other dishes – there is plenty to choose from in the poultry, meat and vegetable categories! The dishes allow you to sample different spectrum of styles in cooking complemented by boiled white rice.
Roast Duck
Another popular choice is dong po ru 东坡肉, braised pork belly in a flavorful sauce. If stir-fried kai lan 芥蓝 is not your choice of vegetable, go for the seong toong yuen choy prepared with century egg and salted egg. Aside from vegetables, you can also order fried omelette with prawns or tofu garnished with golden needle mushrooms 金针菇.
Dong Po Ru 东坡肉
Seong Tong Yuen Choy
Stir-fried Kai Lan
Tofu with Golden Needle Mushroom
The next time you find yourself looking for a new place in the Campbell Street area for lunch or dinner, make a visit to Hong Kee Restaurant. On another note, the location of this eatery makes it very convenient to proceed for an after-meal coffee or nitrogen ice cream at nearby Lagenda Cafe, and The Safe Room.
Hong Kee Restaurant 鴻記飯館
64 Campbell Street
10100 George Town
Penang
Tel: 04-2639875
Business Hour: 11.30am – 3pm & 5.30pm – 9.30pm
Closed on Wednesday