Kin Kao @Victoria Garden Hotel, George Town, Penang
Located on the ground floor of Victoria Garden Hotel on Lebuh Victoria, Kin Kao is a pork-free Thai restaurant. This outlet serving Kin Kao urban Thai cuisine is perfect for a business lunch, casual catch up with friends or just a relaxing dinner after work.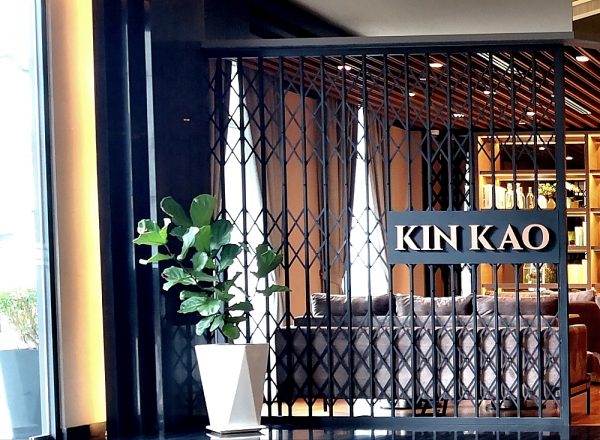 On our first visit, we indulged not only in their food but also their variety of beverages. The menu has a selection of creatively designed mocktails and herbal drinks said to offer health benefits.
The mocktails come in an assortment of choices: the Golden Age of Pink, Red Carpet, and Secretly. The latter had a unique name and it brings out a combination of Thai tea with coconut water, honey, salted caramel syrup, lime, winter melon, and soda.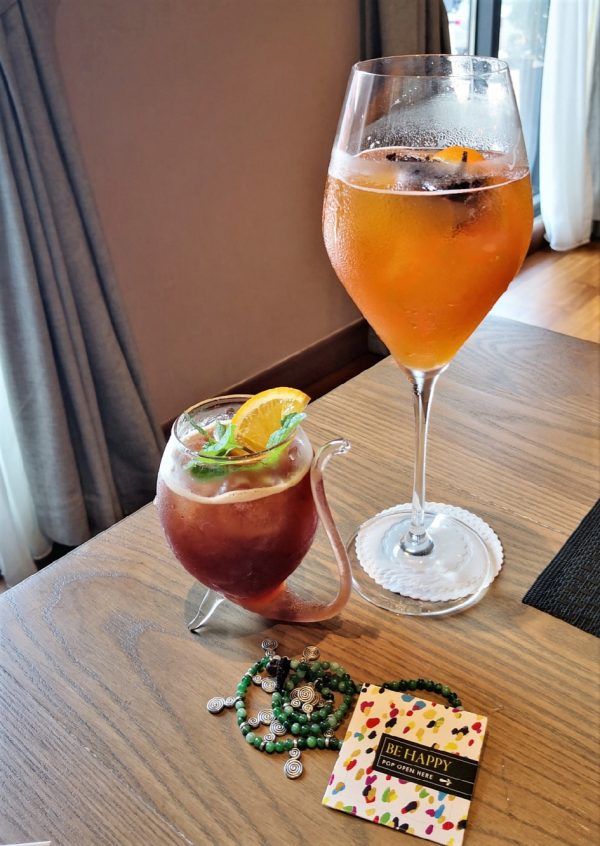 Refreshing mocktails of Red Carpet, and Secretly (right)
For the meal, one can fill the tummy with several different salad dishes – soft shell crab, grilled beef salad or the grilled eggplant salad. Our choice was the grilled eggplant salad prepared with seasonal herbs and served with a calamansi dressing. We were definitely comforted, with my dining companion commenting that the eggplant (with soft textures and smokiness) was lovely alone even without the dressing.
Grilled Eggplant Salad RM12.80
No visit at Kin Kao is complete without ordering the specialty baked seabass dish:  fresh seabass baked in banana leaf with chili paste and herbs served garnished with local vegetables. Priced at RM58.80, the fish exuded the distinct taste of lemongrass and turmeric. It was enticing and we particularly enjoyed the fish wrapped in the accompanying vegetables.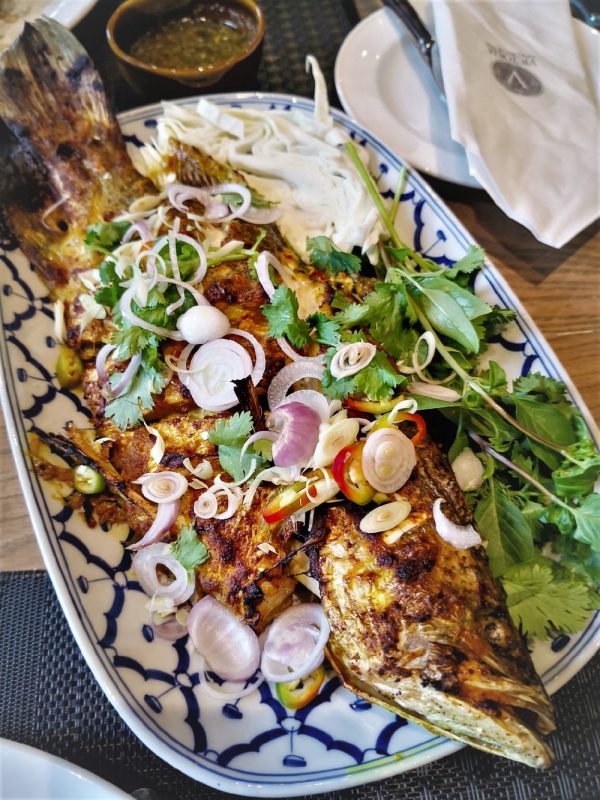 Baked Seabass
How to enjoy the fish: add lime to the fish, and place a piece of fish on the leaf, followed by fresh basil. Wrap it up and then take a bite!
How to enjoy the seabass…
Apart from the baked fish, fans of seafood can sample the stir-fried tamarind tiger prawns, squids with crispy Thai herbs, and the deep-fried snapper.
A green vegetable dish concluded our meal. The stir-fried Chinese kale dish has pieces of crunchy salted mackerel finished with oyster sauce. With saltiness and crunchiness of the fish, the dish whetted our palates.
Chinese Kale with Salted Mackerel RM18.80
We never fail to order dessert but for this outing, we have plans to seek sweet treats in a cafe that serves customers with a delicious burnt cheesecake.
Kin Kao Restaurant is a cozy comfortable venue for a Thai meal. If you are heading over for a meal, the business hours are from 12noon – 10.30pm. Set lunches, however, are only available till 2.30pm.
A glass of Secretly
Victoria Garden Hotel
280 Lebuh Victoria
10300 George Town
Penang
Tel: 04 – 2170900