Myarte Cafe @Bishop Street, George Town, Penang
With a stunning green door, Myarte Cafe is a simple coffee spot in George Town, Penang. Located at Bishop Street adjoining the busy financial district, the cafe has a very minimalistic look to it, with several tables and colorful chairs.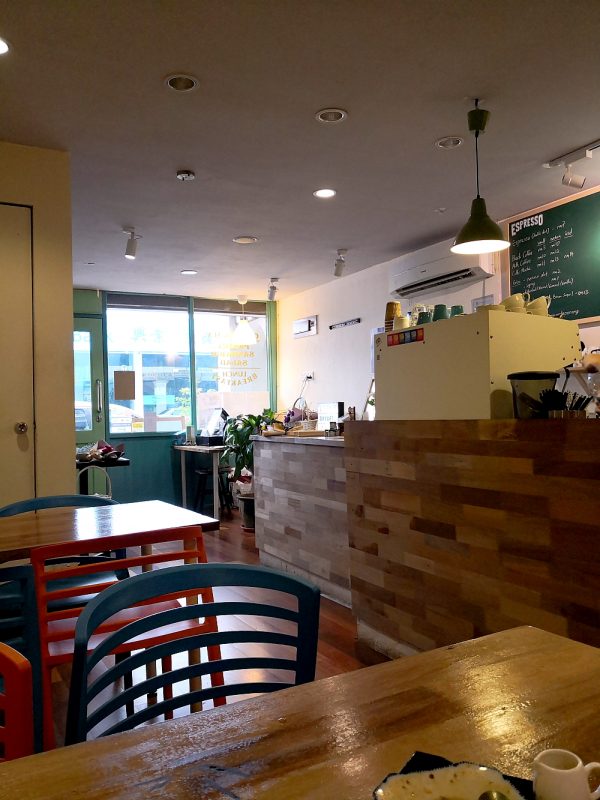 The menu deserves the mention for its offerings of Japanese desserts and poke bowls.
A perennial dessert favorite among the customers is the Raindrop Mochi, served on a plate with roasted soybean powder and a side of black sugar syrup. The clear jelly in a shape of a large raindrop has a soft and bouncy texture and the combination with the powder and pungent black sugar worked well.
Mizu Shingen Mochi (Raindrop Mochi) RM6
You simply got to try the Strawberry Daifuku. Freshly made by hand, it is probably the coolest mochi, with soft and chewy texture made with glutinous rice flour. A filling of sweet red bean paste and a whole fresh strawberry gave the dessert a depth  of sweetness and fruity acidity.
Strawberry Daifuku RM10
There are many savory dishes – favorites are the teriyaki chicken donburi and the Hawaiian classic poke bowl served with a base of either white rice, brown rice or salad.
Keep things light with the Tofu Poke bowl prepared with a base of salad and a combination of Japanese cucumber, cherry tomato, beans, and Sriracha aioli. It makes for a simple no carb meal! A new item to look out for on the menu is the Shakodon, a bowl of Japanese rice with mantis shrimp, ebiko and nori.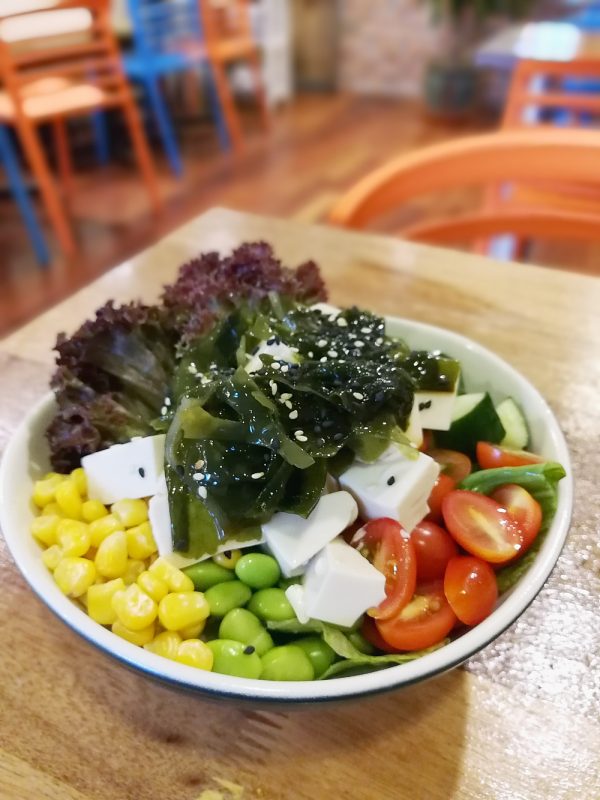 Tofu Poke (salad) RM15
Finally for drinks, there are an assortment of coffee, tea and milkshake to to choose from. For tea lovers, you might want to consider the Tea Forté – pyramid-shape bag of black, white, and oolong tea.
Tea Forté
Salted Caramel Shake
Myarte Cafe business hour is running Monday to Thursday from the morning 9 am till 10pm. For Friday and Saturday, it will be from 9am till 12 midnight. If you are dropping by on Sunday, do note that the cafe is open from 8am till 6pm. 
Myarte Cafe
75 Lebuh Bishop
10200 George Town
Penang
Tel: 017 – 5435688