Gou Lou Hong Kee Chao Sar Hor Fun & Noodles at Campbell Street, Penang
Gou Lou Hong Kee Chao Sar Hor Fun & Noodles 高佬(鸿记)炭炒沙河粉面食 at Campbell Street in George Town, Penang is a casual air-conditioned, no-frills restaurant. This outlet in connection with nearby Hong Kee Restaurant 鴻記飯館 and Hong Kee Wan Thun Mee 鴻记廣式竹昇运吞麵 has steadily kept regulars satisfied with its selection of stir-fried noodles.
As its name suggests, stir-fried noodles are served in the restaurant. The compact one-page menu is a straightforward collection of noodles and sides of fried chicken wings, and oyster choy sum. Prepared using charcoal fire, this is comfort noodles powered by strong wok hei.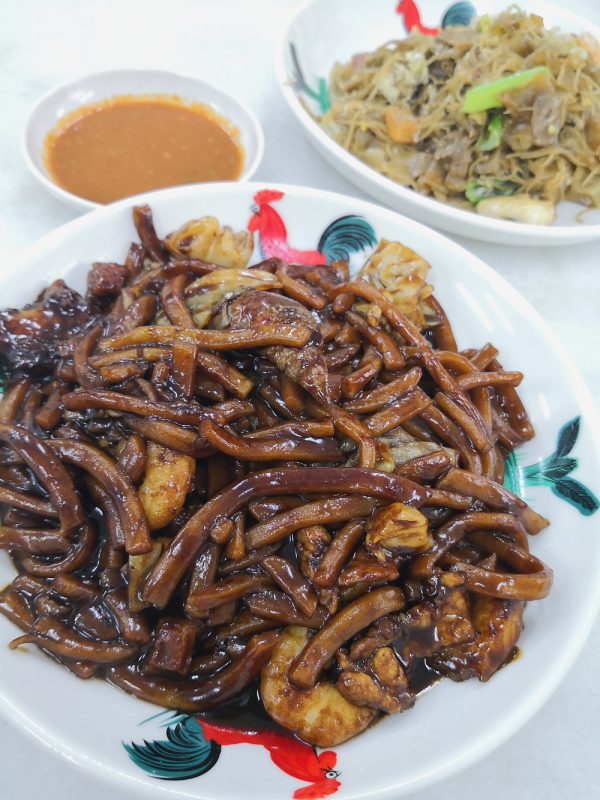 They serve dishes such as Hokkien Char, Char Hor Fun, Fried Glass Noodles, Dried Char Hor Fun as well as the lesser-known specialties such as Tai Loke Mee KL Hokkien Char, and Singapore Fried Beehoon.
One can enjoy a piping hot plate of Tai Loke Mee KL Hokkien Char at RM9. Stir-fried in black sauce with crispy pork lard, seafood, and cabbage; the noodle dish comes very close to those sold in KL. The thick noodle has just the right softness making it enjoyable with the accompanying red chili sauce.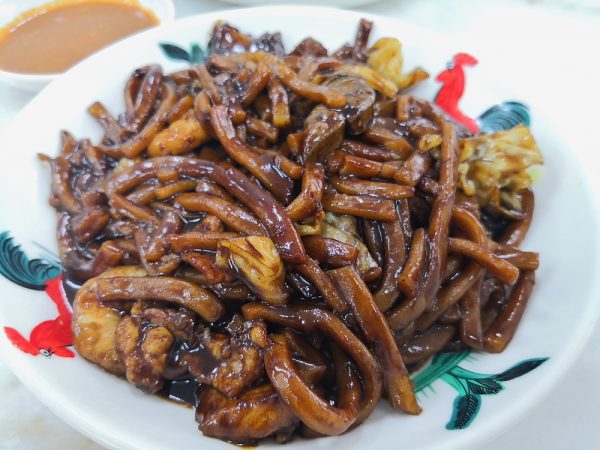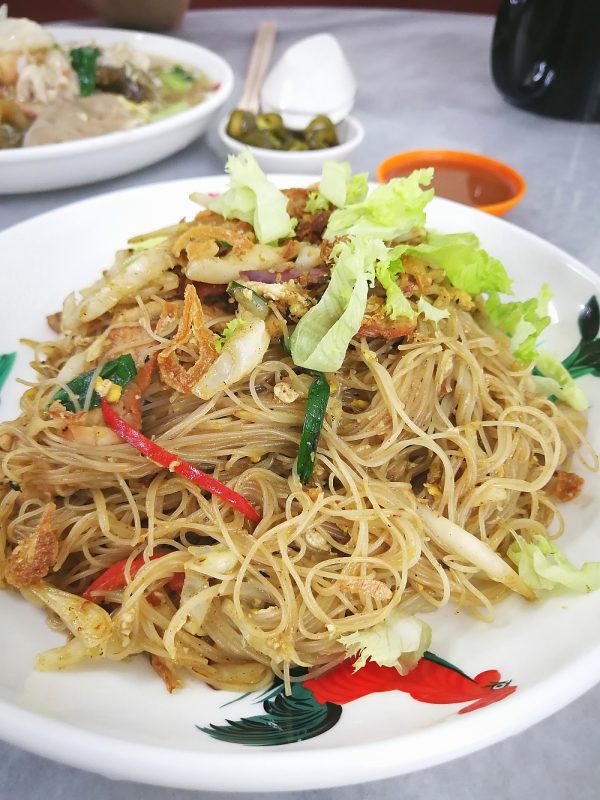 Apart from the Tai Loke Mee, they also serve two versions of Char Hor Fun (flat rice noodles) with pickled green chilies in soy sauce. Diners who like the noodles dry may opt for the Dried Char Hor Fun, while the Char Hor Fun (Wat Tan Hor) is drenched with soothing egg gravy. The latter proved to be a tasty choice with the charred flavors of noodles balanced by the egg gravy that is rich and full of flavor.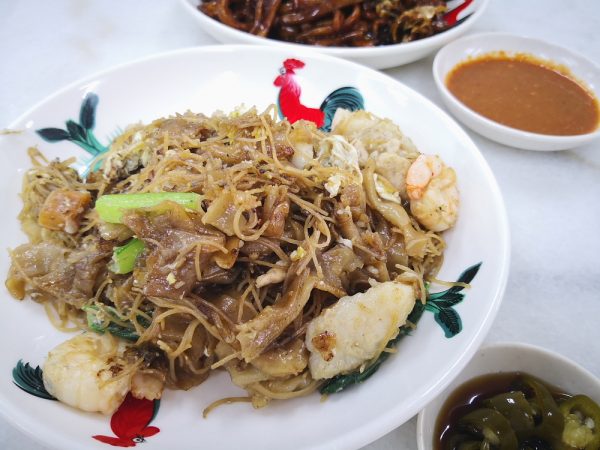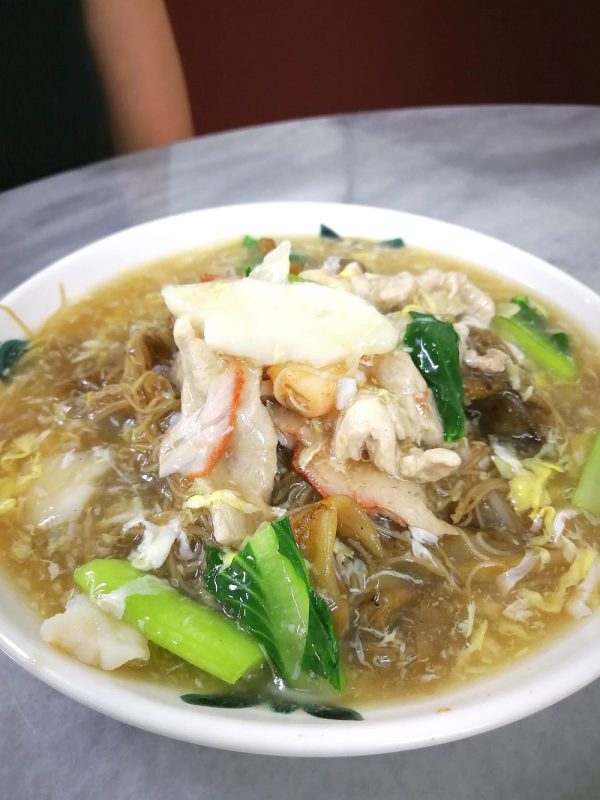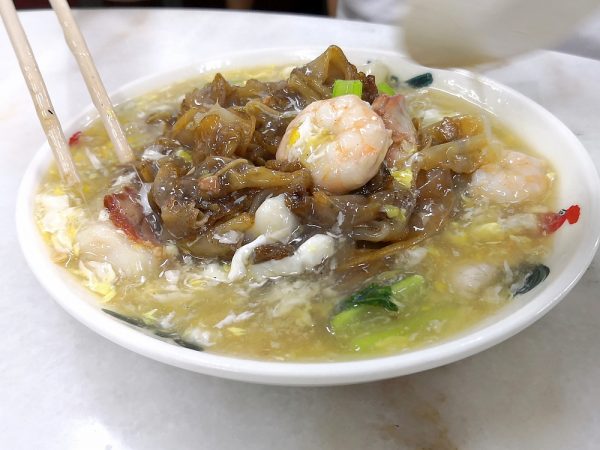 For those looking for a place for simple stir-fried noodles, do pop by this noodle spot. The outlet gets the day started from 12noon till 10 pm daily, and it is closed on Sundays.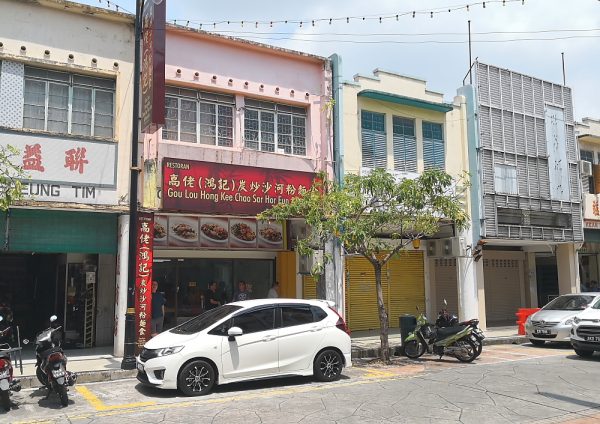 Gou Lou Hong Kee Chao Sar Hor Fun & Noodles 高佬(鸿记)炭炒沙河粉面食
89 Campbell Street
10100 George Town
Penang
Tel: 017-5630419