Shokudō Niban – Japanese Tapas Bar/Canteen at Hin Bus Depot, Jalan Gurdwara, Penang
Shokudō Niban is a great new addition to the Penang dining scene! The outlet which is very much a casual Japanese tapas bar/canteen is where diners can lounge over a variety of Japanese street food fare. Located in the touristy Hin Bus Depot, this cafeteria comes to fruition based on a collaboration by the team of Restaurant au Jardin and Basil, le bistrot.
With its simple and relaxed decor, this cozy air-conditioned place seats 16 persons. The two window seats are excellent places to people-watch.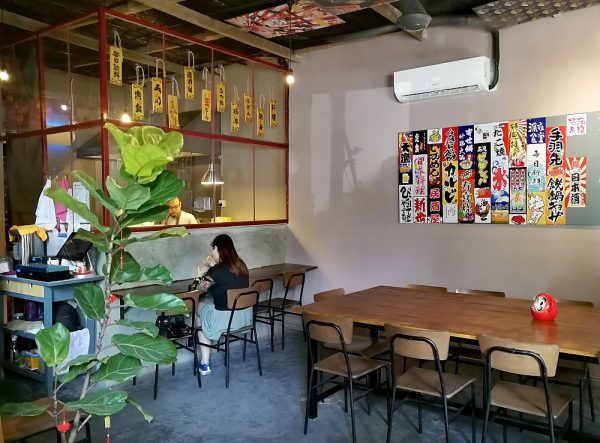 The one-page pork-free menu printed in Japanese and English offers a number of options. Tsukune (minced chicken skewers) grilled over charcoal fire are served, and original, mentaiko and soy & yuzu flavors are yours to choose.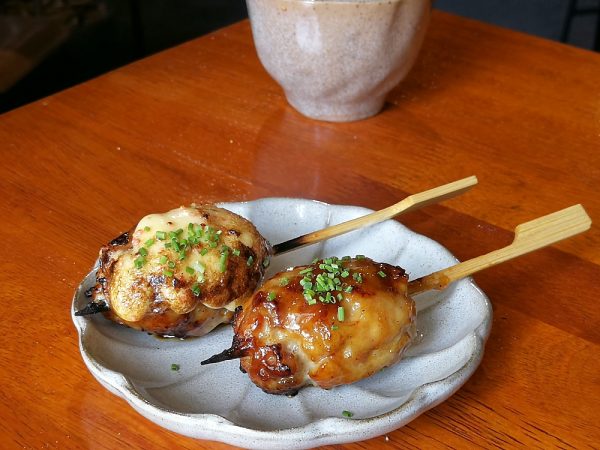 We fully enjoyed both the soy & yuzu, and the mentaiko tsukune, which were delightfully succulent. The mentaiko tsukune popped in the mouth with briny creaminess while the savory-sweet soy & yuzu tsukune gets more comfortable when dipped in raw egg yolk with sauce.
We could not keep away from ordering the Chicken Karaage Bao Burger. The pillowy bao had a lovely combination – packed with juicy chicken karaage with airy crisp coating, salty punch of mentaiyaki and sharp flavors of home pickled kyuri. Accompanying chili paste provides a spicy kick to the bao however we recommend to enjoy simply on its own!
If you fancy a heavier option why not try the Okonomi 'rice' yaki. This savory Japanese pancake with a soft custardy interior loaded with seafood and shredded cabbage comes drizzled with a variety of creamy sauces and toppings of bonito shavings. Presented with a tart, creamy and smoky flavor, this comfort food is best for sharing.
We completed our meal with Yaki Dango which comes with an assortment of flavors such as matcha and soy caramel. The chewy glutinous rice cake ball skewered in bunches of three is prepared charcoal-grilled. A skewer of Soy Caramel Yaki Dango is priced at RM5.
Shokudō Niban is holding a small selection of beverages to accompany your meal – cold can drinks, beers, and Japanese green tea. The Genmai Cha (Japanese brown rice green tea ) is available at RM4.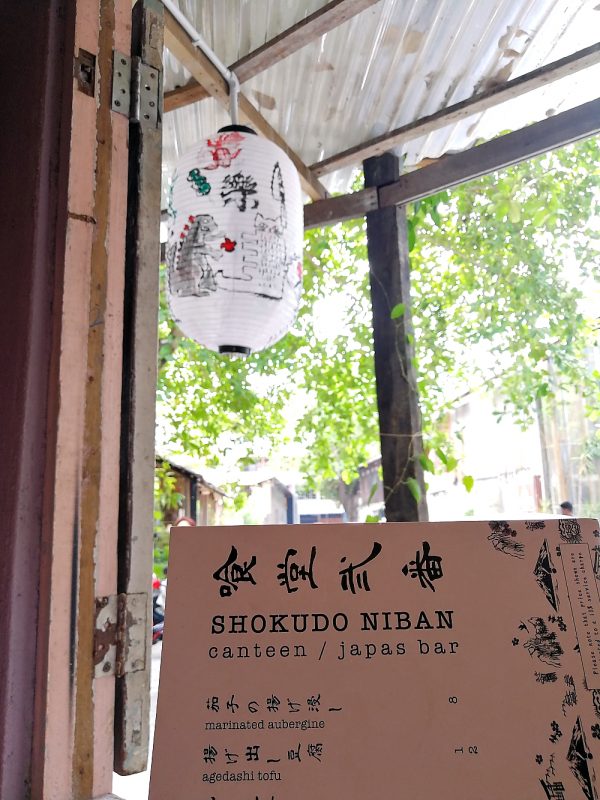 Shokudō Niban is open from Wednesday to Sunday, from 12noon to 10pm.
Shokudō Niban
Hin Bus Depot
31A Jalan Gurdwara
10300 George Town
Penang
Mobile: +6012 – 4297591