Bao Teck Tea House 包德馆 at Lebuh Melayu, George Town, Penang
Bao Teck Tea House 包德馆 on Lebuh Melayu in George Town, Penang is a welcome find for those craving for dim sum. Operated by the people at Ming Xiang Tai 名香泰, this tea house located in a refurbished double-storey heritage building is the place to yum cha ('drink tea' in Cantonese) with attentive service, and quality bites in a relaxed ambiance.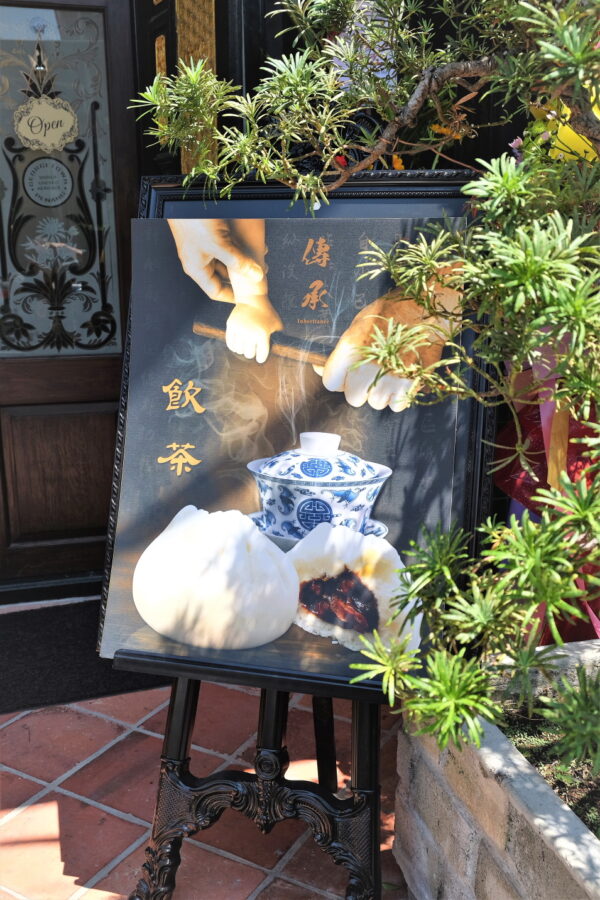 Bao Teck Tea House is charming and inviting. Seating is spacious with dining sections on both the lower and upper floors decorated with furniture and accessories from yesteryear.
At the air-well area, diners will be greeted with a lush moss garden consisting different shades of green which creates a sense of serenity and beauty to the surrounding architecture. With tranquil sound of running water, small fishes swimming around, and clear panes bringing in sunlight, this garden space feels like the outdoors.
There is plenty to love about the dim sum prepared using recipes passed down from one generation to the next. The menu available in both Chinese and English offers steamed and deep-fried dim sum items alongside traditional Chinese dessert. Though the selection is not as extensive as the conventional dim sum spots, the upside is that the dim sum dishes are made-to-order, which means the freshly prepared dim sum will be served piping hot!
A complimentary cup of hot Chinese tea is served the moment you sit down. Enjoy it while you peruse the menu to pick your preferred delicacies.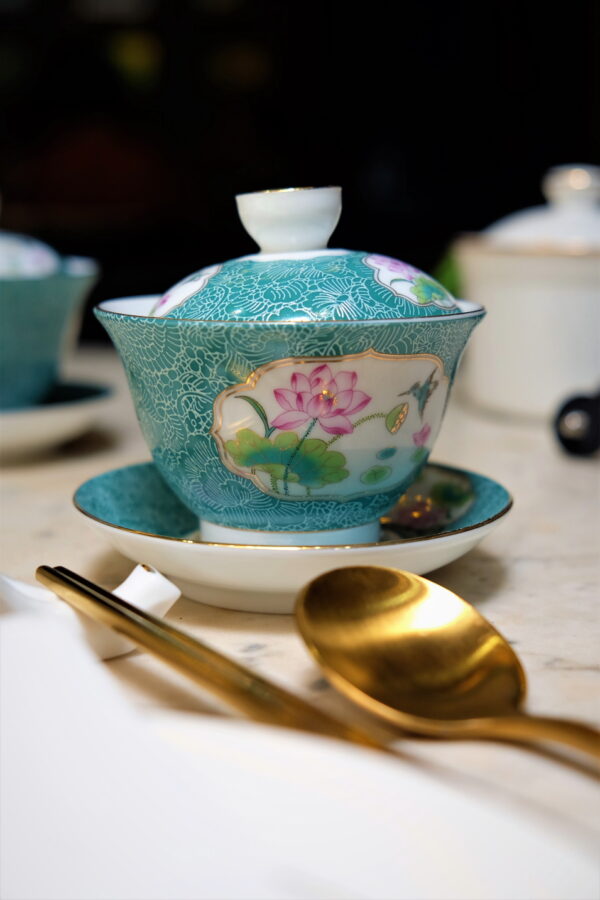 Diners not only have a spread of dim sum to look forward to but also quality Chinese tea. Upon a closer look, the Chinese tea menu has many varieties. Options include Big Red Robe (Yan Cha), Big Leaf Tea (Gu Yun) reserve year of 2018, White Tea (Shou Mei), Oolong Tea (Yan Yun), and Liu Bao Tea reserve year of 2008. We enjoyed the deep rich flavor of the Big Red Robe 大红袍 (Yan Cha).
Guests may also choose to bring their own Chinese tea leaves, and a fee is charged according to per pax.
THE BAO
A good way to start the yum cha session is with steamed baos. We had a duet of bao with soft and fluffy texture: a Steamed Stuffed Bun 怀旧大包 and a tray of Snowy Char Siew Bun with barbeque pork filling 雪绵叉燒包.
The Steamed Stuffed Bun 怀旧大包 (also known as tai bao) is served on a board with sides of greens, slices of crunchy cucumber and chili sauce. The stuffing with generous amounts of pork belly, Chinese black mushroom, chicken, egg, Chinese sausage, and one whole abalone turn the bun into one delicious delicacy.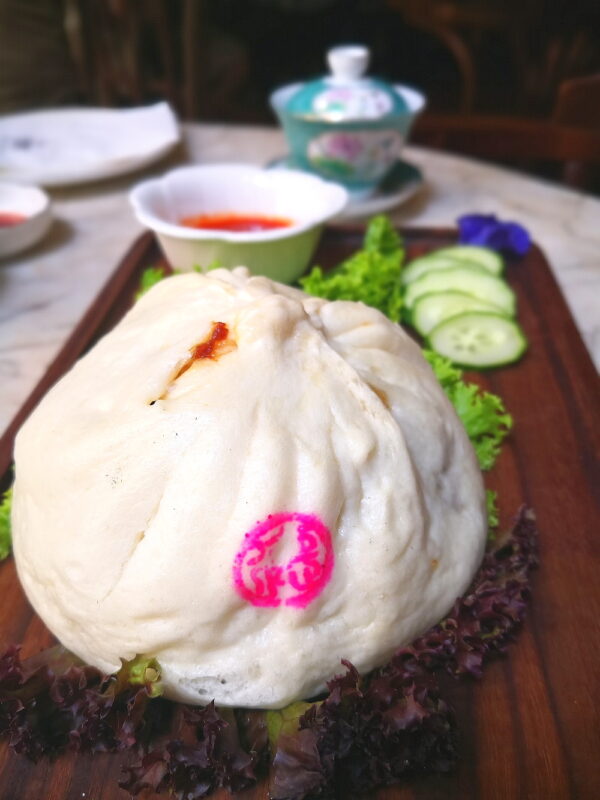 STEAMED DISHES
From the list of steamed items, we were recommended the Beancurd Sheet Roll 鲜足卷, and the Spinach & Prawn Dumpling 波菜鲜虾蛟. The beancurd sheet with pork marinated with spices comes with an orangy sauce with intermingling flavors of sweetness, sourness, and saltiness.
FRIED DISHES
The deep-fried items began to arrive and there is a trio of freshly fried savory and sweet bites – crispy Prawn Rolls 沙律虾卷, Phoenix Ball 鳳凰球, and Jian Dui 煎堆. The latter is a deep-fried glutinous rice ball coated with white sesame seeds, and a filling of lava textured salted egg.
Special merit goes to the bread crumbs coated Phoenix Ball prepared with finely chopped pork and salted egg. This rather huge ball is served on a bed of crispy deep-fried noodles with egg-based gravy.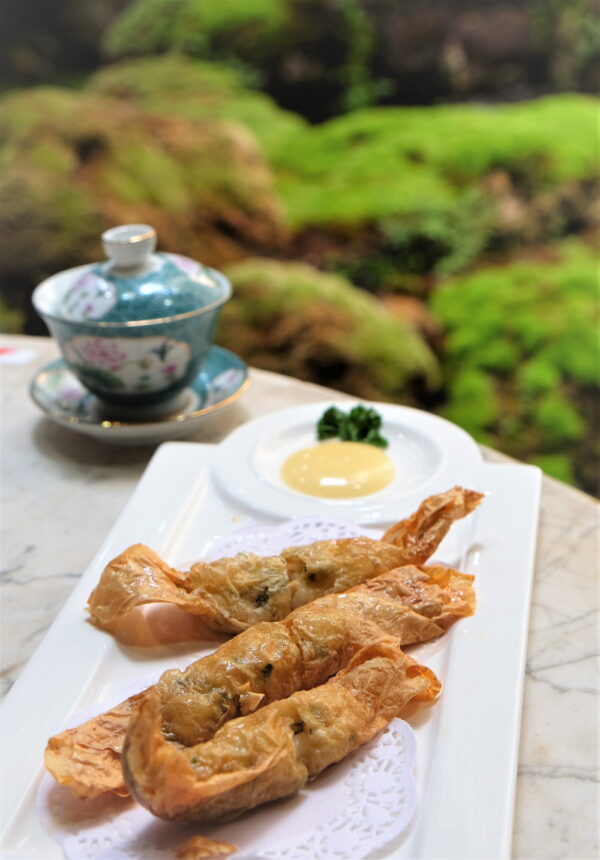 Besides dim sum, they also pride themselves in serving high tea. At a comfortable price of RM34 nett per person, the Grand High Tea Set served between 2pm till 5pm includes a three-tier stand filled with savories and sweet treats, and a pot of tea of your choice.
For tea lovers and dim sum lovers who wish to enjoy the varied selection Bao Teck Tea House has to offer, do note that business hours start from eight in the morning and stays open till eight at night. It is open daily except for Wednesdays.
Bao Teck Tea House 包德馆
25 Lebuh Melayu
10100 Georgetown
Penang
Tel: 04 – 2631100