Gēn 根 at The Prestige Hotel, George Town, Penang
My visit at Gēn 根 was a feast for the eyes, mind and palate!
It was a pleasure once again to be wrapping my taste buds around the fine culinary innovations at Gēn 根. Located at The Prestige Hotel in George Town, Penang, this latest outlet by chef Johnson Wong is less than a year old. The outlet emphasizes on tasting menus unlike its sister restaurant, the Communal Table by Gēn 根 on Lebuh Presgrave that focuses on communal dining and share plates.
The menu by chef Johnson delights with its Lunch Tasting Menu and Dinner Tasting Menu, priced at RM180+ and RM300+ per person. The culinary focus is on the abundance of quality local produce, and the chef glorifies the ingredients with simple techniques.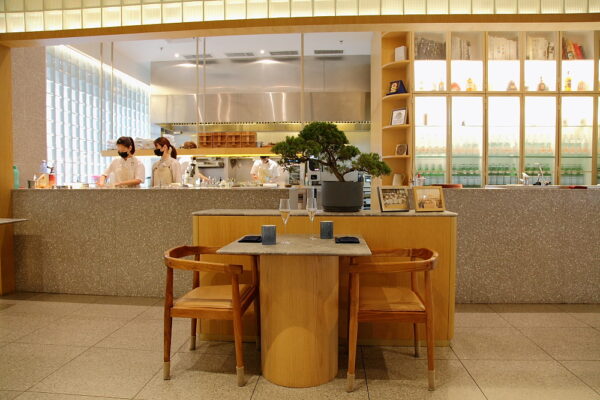 On a recent evening visit, we sampled the Dinner Tasting Menu which gave us the chance to sample the range of Johnson's creations with Malaysian flavors.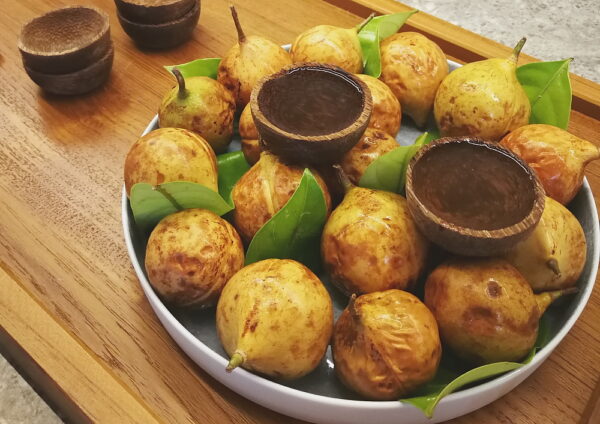 STARTERS
The meal began with bowls and plates of starters. The Ginger Flower was the first starter to arrive at the table. Ginger flower itself is known for its subtle piquancy and the chef incorporates it in a trio of dishes – namely ginger flower sorbet, ginger flower cracker, and warm ginger flower broth. We enjoyed the spoonful of sorbet and the fact that the combo of flavors showcases the Penang Assam Laksa, a noodle dish that is enormously popular in Penang.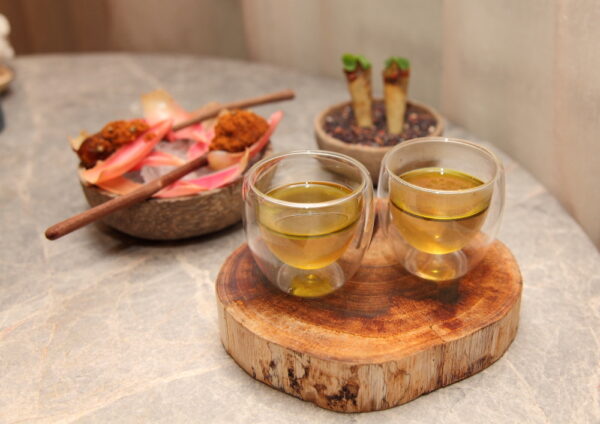 The second starter was the Deboned Chicken Wing. Decorated with chives flower, the petite mantou stuffed with fried rice was emboldened with slight spiciness of sambal.
After we finished the mantou, the third starter was laid on the table. It was Salted Duck Egg, a crispy-flaky prata with a filling of egg white, sprinkled with salted duck egg yolk crumbs, and drizzled with salted duck egg yolk sauce. This dish will definitely pique your interest if you're a fan of salted egg.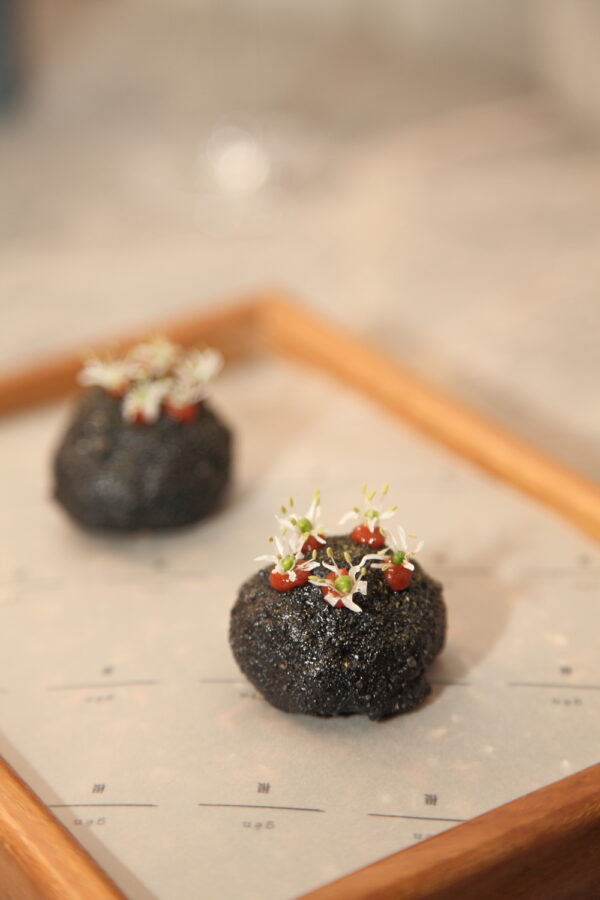 Next in-store was ​​Aged Prawn & Papaya, an experimental dish by the chef. Newly launched this month, the dish has slices of pickled papaya topped over tomatoes and torched aged prawns. Served with the juices of pineapple and tomato, the dish is light and refreshing with tangy sweet and sour flavors. This creation has beaming smiles of satisfaction spread across our faces.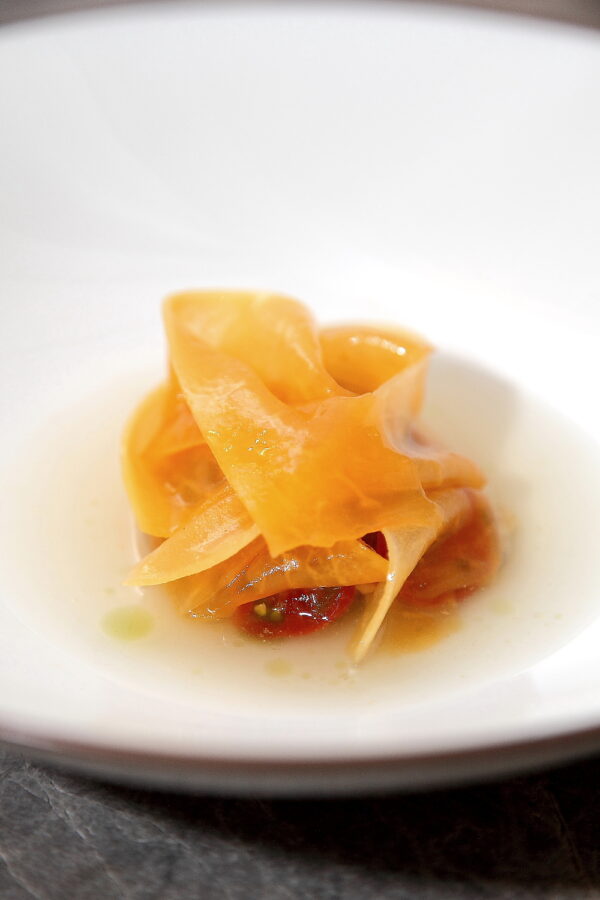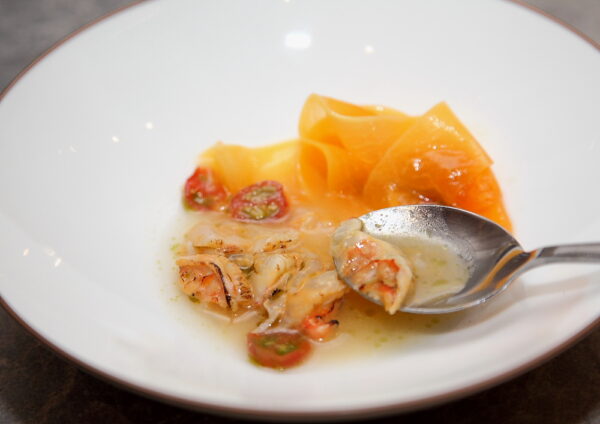 From the experimental prawn dish, we moved on to the final starter, an interesting salad where one gets the fun to create one's favorite flavor by matching and mixing the ingredients together. The Ulam-Ulam, a bowl of fresh greens, herbs, and edible flowers made its appearance with homemade condiments, along with torched Spanish mackerel and two types of homemade vinegar made from flowers. For the mackerel fish, chef Johnson uses sourish sweet juices of torched calamansi to enchance its flavors.
For condiments, there was a wide selection – kerisik (fish floss), tamarind sauce, budu (fermented fish sauce), fermented cempedak, kicap sambal, and anchovy cream. It is so easy to fall in love with the mixture of aromatic flavors and interesting textures, especially the fermented cempedak and budu.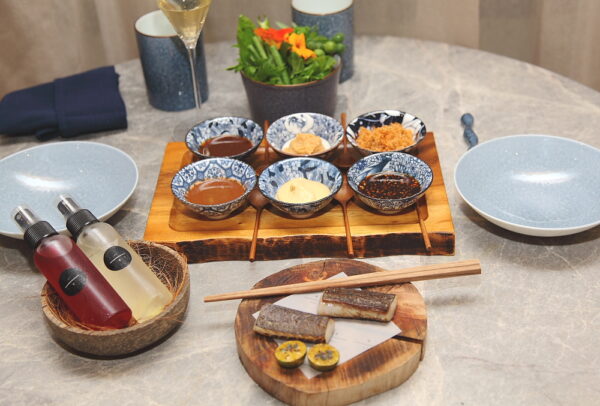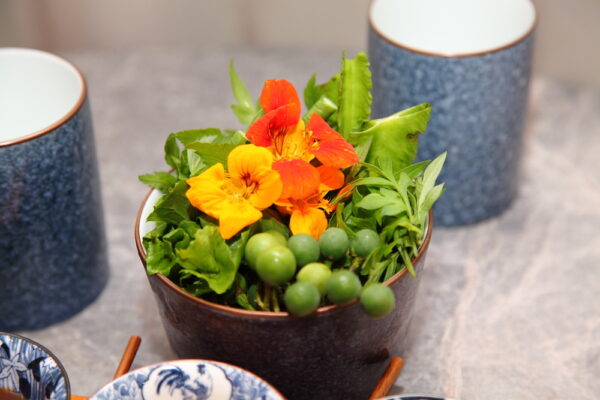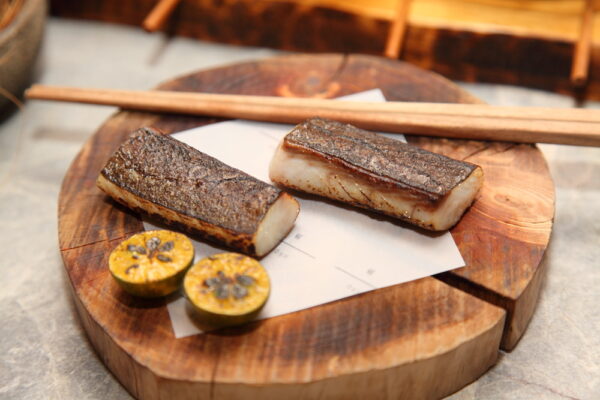 For snack, you will discover the Durian – it is deep-fried Chinese dough stick stuffed with durian sambal, pine nuts, and crab sticks. The dish which carries the light scent of durian with a hint of flavorful heat is further livened up with sweet tartness from the sundried tomatoes toppings.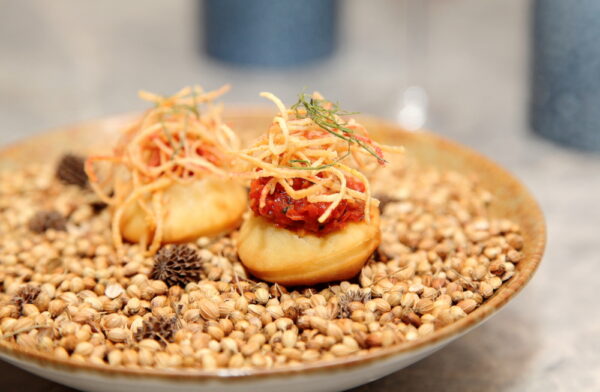 MAIN COURSE
The main courses showcased specialties like Pumpkin Porridge, Threadfin, and the Confit & Duck Herbal Soup. The first main was Pumpkin Porridge. We spooned our way around the bowl filled with pumpkin porridge, along with chicken floss, white fish, puff rice, kampung egg yolk, braised peanuts, and spring onions. The clever play of condiments so essential in Chinese porridge combined well to offer a light yet fulfilling dish.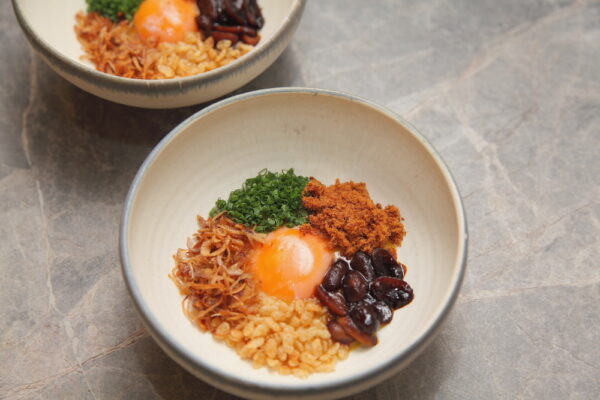 We then had the Threadfin with pickled daikon served in fermented cabbage broth. The seafood dish is elegantly simple, in presentation and taste. The light-flavored dish prepared us for the next savory poultry course.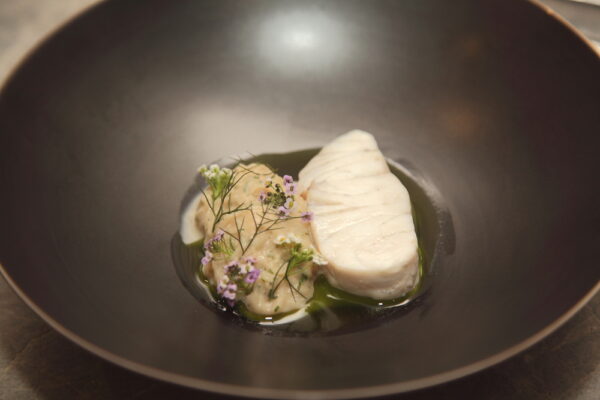 The last main was the poultry feast – duck served in two ways. The first was the Confit, with Chinese pancake filled with duck confit & crunchy cucumber, topped with glazed shitake mushroom. A good amount of Sarawak black peppercorn sauce accompanied the bold and rich Chinese pancake. Later added to the table was the second duck preparation – Herbal Duck Broth. The clear duck broth boiled with herbal ingredients plus a variety of mushrooms (oysters mushrooms, fermented enoki mushrooms, and Chinese artichoke tubers) gave the broth its rich flavor.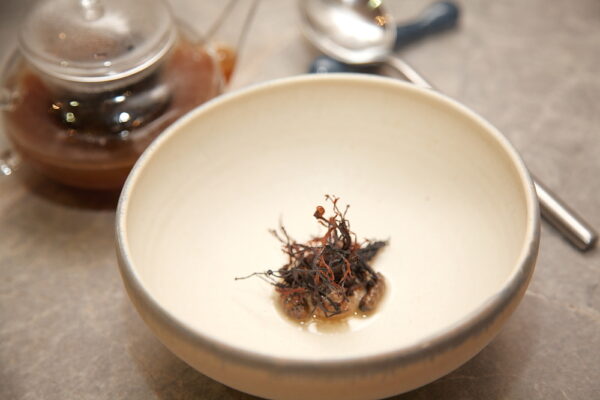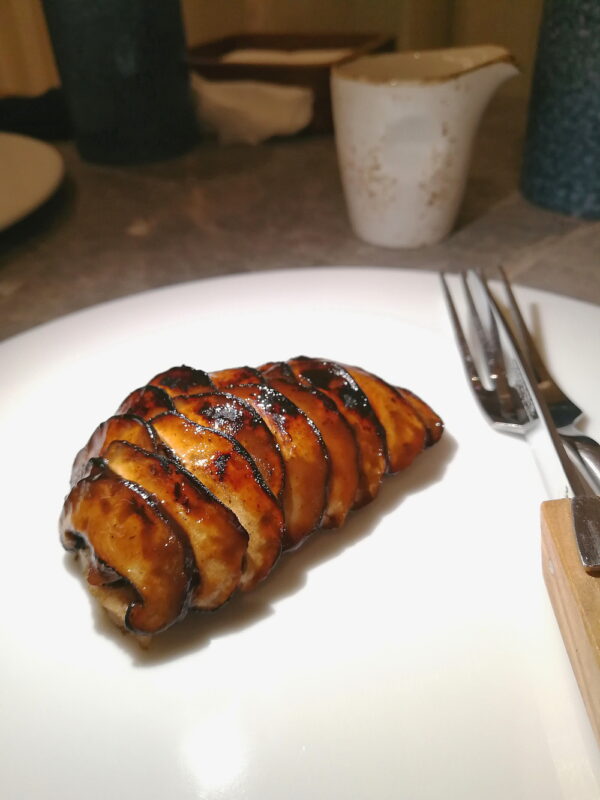 DESSERT
For desserts, there was the chef's favorite Pineapple and Chilies. The simple and elegant sorbet with soy sauce chili reduction awaits with spicy, salty, and sweet flavors.
Another dessert worth saving room for is the nourishing Bird's Nest. Cooked with goji berries, the bird nest with delicate sweetness is eaten with egg custard topped with caramelized brown sugar.
The dining experience was capped off with a selection of parfaits in flavors such as deep-fried Kaya Banana Ice Cream dusted with Chocolate Powder and Rose Parfait, as well as Guava Parfait with Sour Plum. The fruity Guava with Sour Plum parfait is a flavor combination that reminisces of the local guava fruit paired with sour plum powder.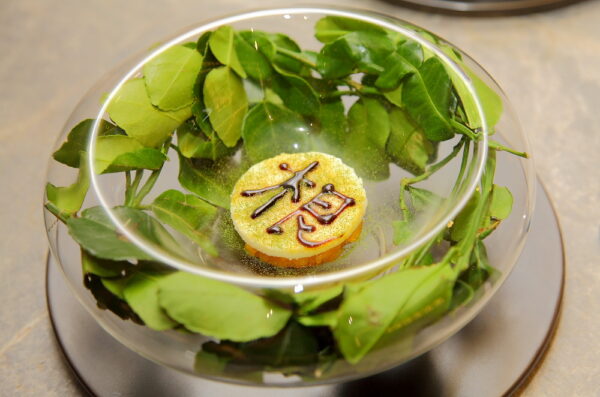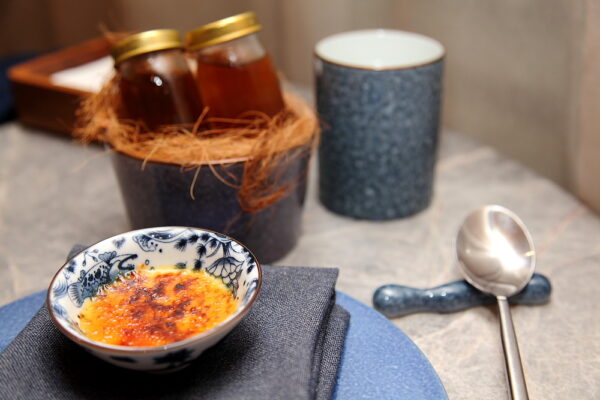 Our meal was paired with a glass of bubbly (Gamet Champagne), a red (Umamu) as well as a Japanese white wine (Gris De Koshu).
From now till 31st August 2020, guests celebrating their birthday at Gēn根 will enjoy the opportunity to redeem a birthday gift card up to RM30 for lunch & RM50 for dinner.
Diners are encouraged to make a reservation at 012- 511 3323. Business hours are from 12 pm to 3 pm and from 6pm to 11 pm.
Gēn 根
The Prestige Hotel
8 Gat Lebuh Gereja
10300, Georgetown
Penang

Closed on Wednesdays