The Wine Shop at Tanjung Bungah, Penang
The Wine Shop with three outlets in Penang is not offering just wine but also a plethora of delicious food. Patrons can choose to dine at their multiple locations at Olive Residency in Bayan Lepas, Lintang Burmah in Pulau Tikus, and Tanjung Bungah (Hillside).
We visited their Pulau Tikus and Tanjung Bungah outlets and have enjoyed many meals with a mix of snacks, appetizers, salads, pizzas, and mains from their a la carte menu.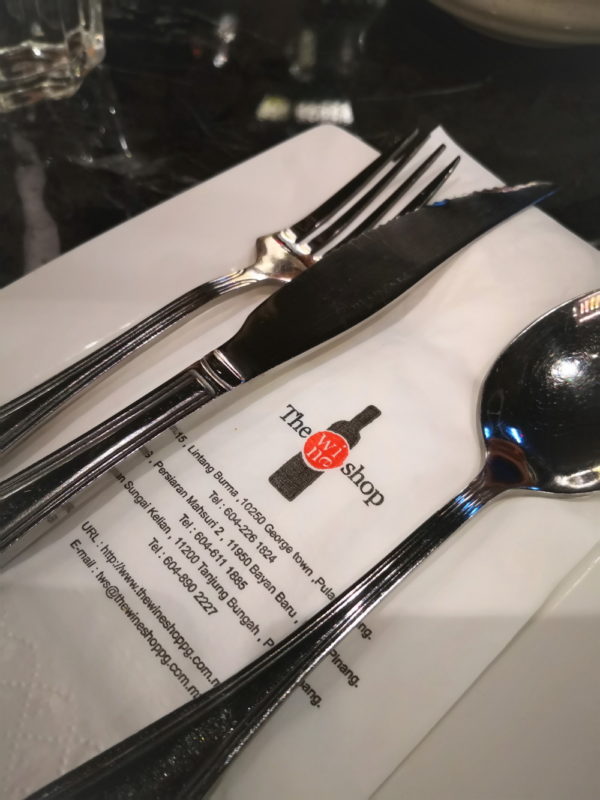 Start with a selection of snacks and starters, some choices including Cheese Platter, Nachos, and Caesar Salad. We enjoyed the Cheese Platter presented with soft, medium, and hard cheeses along with dried fruits, nuts, crackers, and grapes.
There is nothing quite like pairing the food with wine, and we chose the full-bodied Historia Taurasi 2012 (Aglianico grapes) and the Basilica Solatio 2013 (Sangiovese grapes).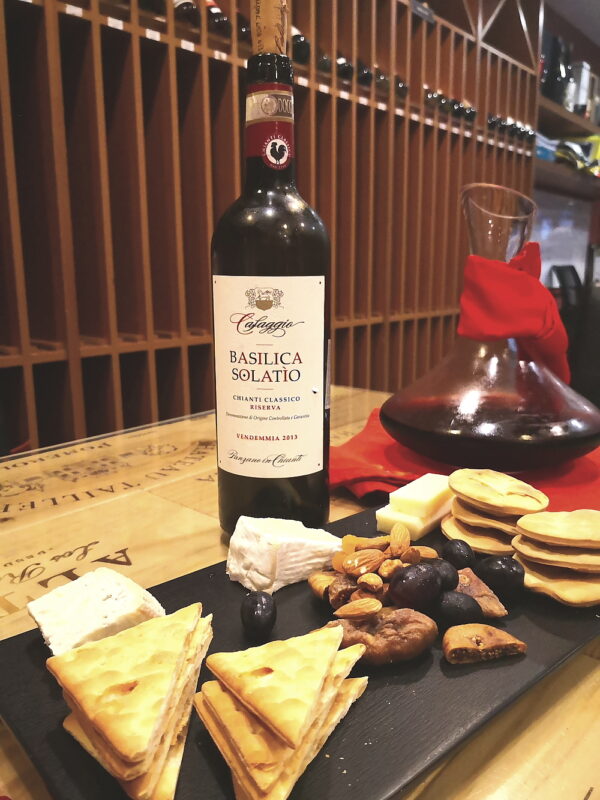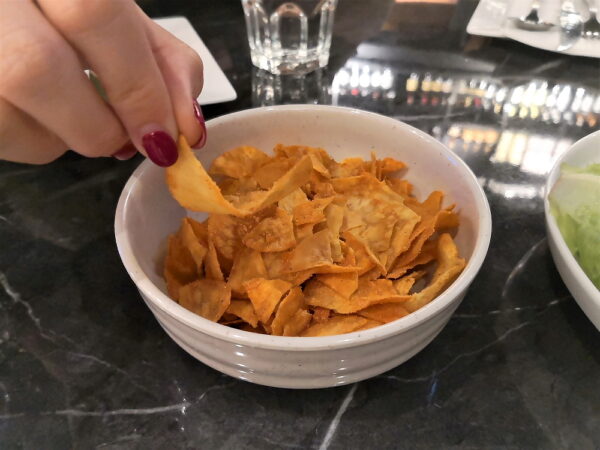 Pizzas are great for sharing and there is a handful of choices, all prepared with parmesan, mozzarella, and cheddar. Those craving for meat could opt for JV Sausage and Bacon Pizza. The crispy-edged pizza dressed with generous portions of sausage and bacon remains one of our favorites.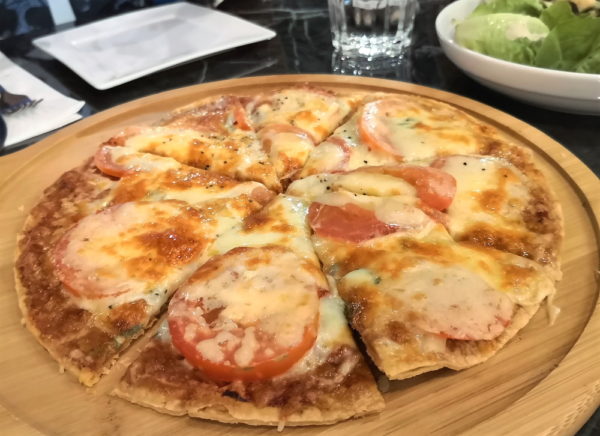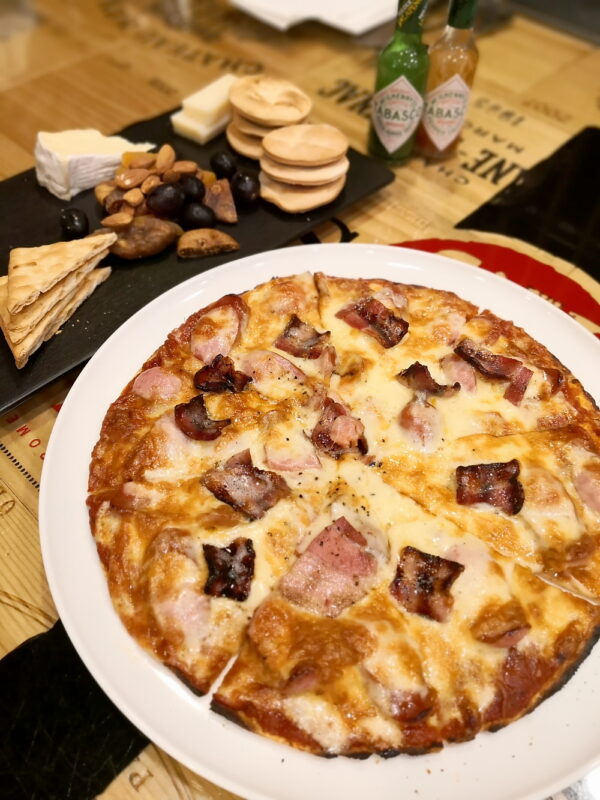 The Wine Shop's pastas are interesting. The Spaghetti Aglio Olio can be enjoyed on its own or diners can opt to have it with a medley of seafood. We wasted no time twigging in the pasta served with scallops, prawns, mussels, and Parmigiano cheese.
That's not all – there are also the Fried Korean Noodles with Caramelized Roast Pork. This dish with caramelized roast pork deliciously prepared with superior soya sauce has become wildly popular since. Interestingly enough, the menu has been amplified with a dish of Caramelized Roast Pork which gives diners a chance to enjoy the roast meat without the noodles. As we became enchanted with the flavors of the meat, we ordered a second serving.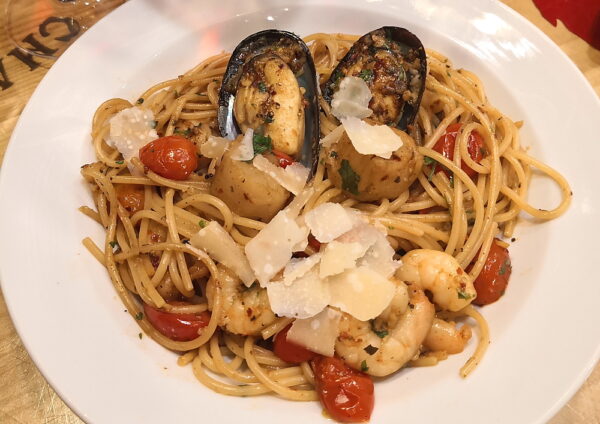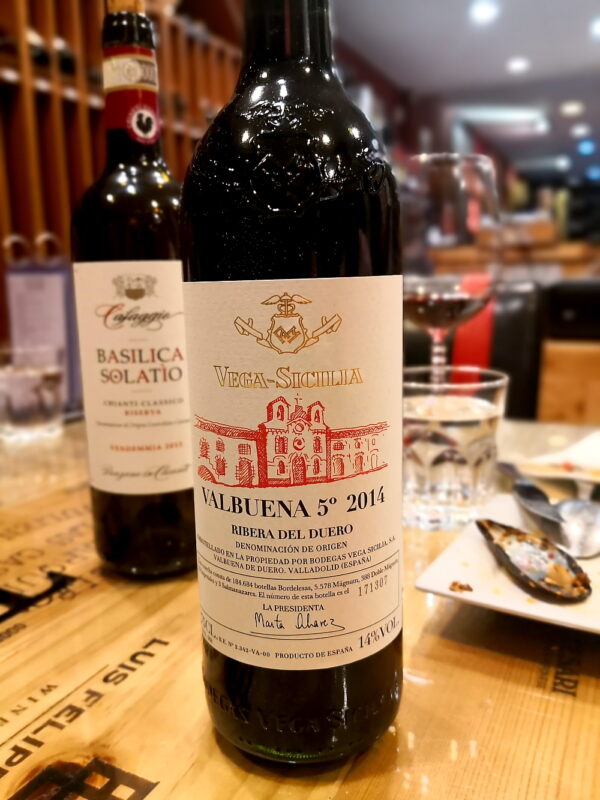 While one will find mostly European-inspired fare on the menu, there is also the new lunch menu offering main Asian choices like Tomyam Seafood Spaghetti, and Hainanese Chicken Chop. Available from noon to 3pm, the main costing between RM18 to RM21 comes with a dessert of the day and free flow of coffee/tea.
This outlet is also a one-stop place for gourmet meat and artisan cheeses. You can bring home a box of Hungarian Honeycomb (100gm) with complimentary Fourme D'Ambert Blue Cheese (50gm), Dried Fruit, Biscuit & Almond Nut for just only RM45 nett. Don't forget to pick up some bottles of wines too!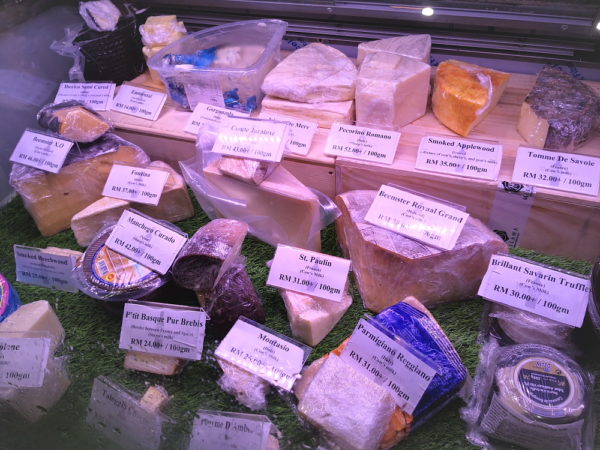 All the three outlets are open for dine-in from 12 noon till 11pm. The closing day is on Sunday.
The Wine Shop
1K Jalan Sungai Kelian
Tanjung Bungah
11200 Penang
Tel: 04 – 8902227
The Wine Shop
15 Lintang Burma
10250 George Town
Penang
Tel: 04 – 2261824