Grand Vege Creative Restaurant, Lorong Abu Siti, Penang
With the Nine Emperor Gods Festival just around the corner, many restaurants in Penang are preparing for the celebration. One vegetarian dining option is the newly opened Grand Vege Creative Restaurant 素膳. Located on Abu Siti Lane in George Town, Penang, the restaurant is fully focused on its creative vegetarian fusion cuisine prepared with a Japanese-Nyonya twist.
The interior of the double-storey house is a picture of intimate charm, with a blue dining hall on the ground floor and several dining rooms upstairs which exude warmth and coziness.
There is the a la carte menu of sushi, noodles and rice dishes and snacks, rolled out with inventive tweaks. According to the lady owner, the dishes are prepared without using any white sugar, white salt, preservatives, nor MSG.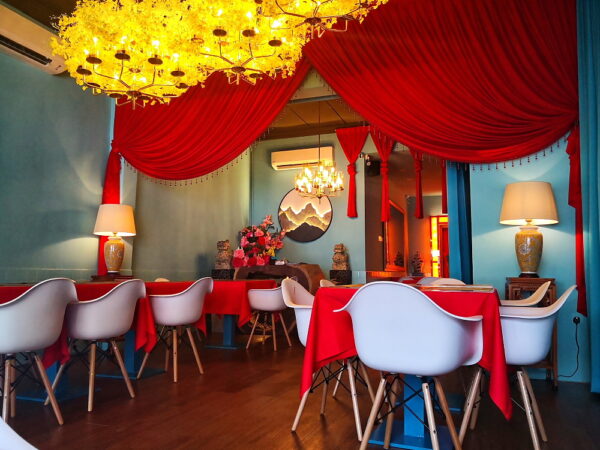 For snacks and treats, one can find an array of choices, ranging from simple items such as Japan Edamame to delightful bites like Chuka Wakame, India Papadom, and Yuba Roll.
The Yuba Roll made with bean curd sheet comes with four flavors – rendang, sweet & sour, ma la, and khumbu. We particularly recommend the rendang yuba roll. With light spiciness, this treat will make for a great starter to the meal.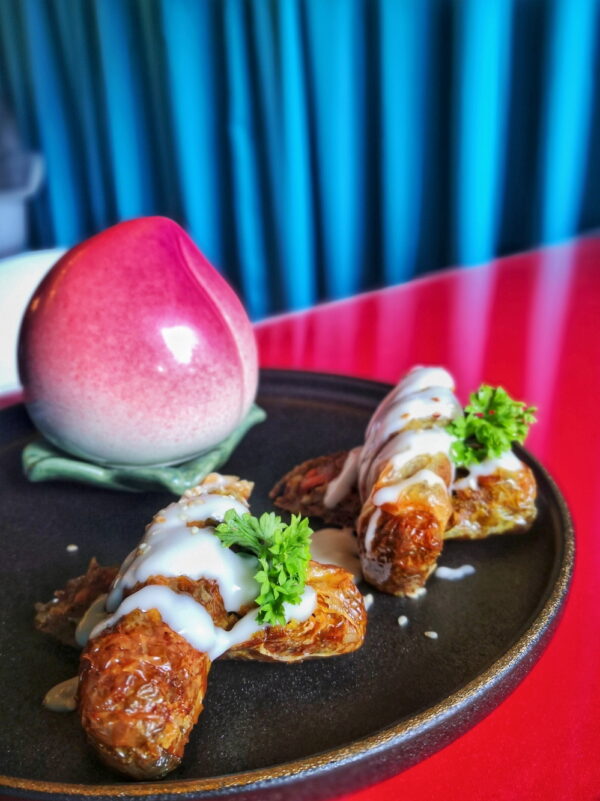 There are six types of sushi, with each order priced at RM18.90. We had the double sushi combination – fried Crunchy Sushi and Mango Sushi. The sushi here is done as well as most Japanese standards. We devoured it hungrily, putting the whole piece in the mouth.
For noodles, the restaurant is taking it to the next level, with variations being Khumbu Spaghetti, Ginkgo Claypot Noodle, Pineapple Pho, Bitter Bean Khumbu Soup, and Ma La Dry Pot with spicy and lip-numbing effect.
The Ginkgo Claypot Noodle with a mild nutty broth should satisfy noodle lovers or those looking for something unusual. Priced at RM12.90, the noodle is served in an aromatic broth with vegetables and ginkgo.
The kitchen veers successfully into Nyonya dishes with the serving of the Nasi Lemak. We devoured deep-fried veggie fish, and salted fish besides papadam and curry with warm rice boiled with coconut oil. This vegetarian version of the Malaysian favorite definitely sets a new standard for the nasi lemak dish.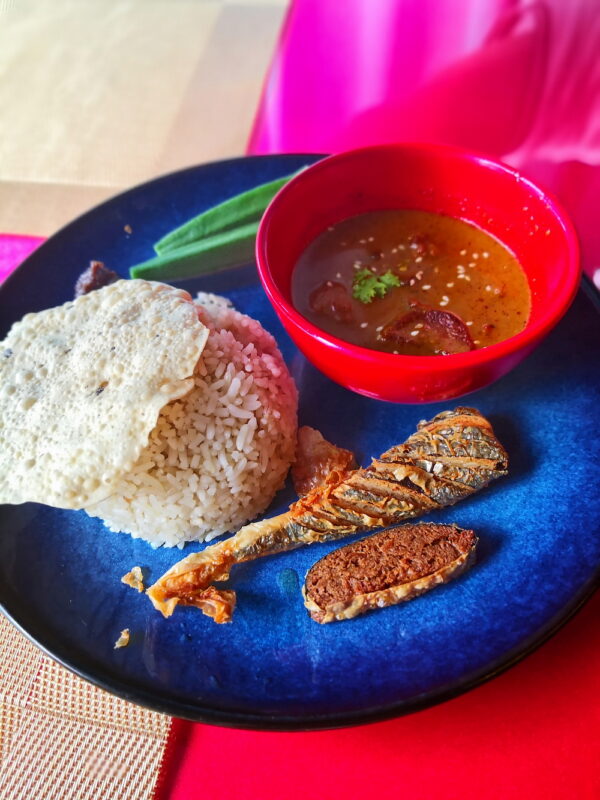 The visit to Grand Vege Creative Restaurant is without a doubt one satisfying vegetarian meal outing. There will be certainly more visits as the owner will be expanding the menu soon to include many more dishes.
Grand Vege Creative Restaurant 素膳 is open daily except for Wednesdays. Business hours for the restaurant are from 11am till 3pm and continue from 6pm till 10pm.
Grand Vege Creative Restaurant 素膳
11C Lorong Abu Siti
10400 George Town
Penang
Tel: 011 – 28749566