Mix-aMazed Afternoon Tea at JEN Penang Georgetown by Shangri-La
From now till 31st March 2021, JEN Penang Georgetown by Shangri-La is offering its Mix-aMazed Afternoon Tea Set at its Lobby Lounge. The hotel added the sets of RM90nett and RM60nett with a choice of beverage to delight diners. Available daily from 12pm till 6pm, both sets featuring modern twist to local flavours are to be shared, savored, and enjoyed by two person.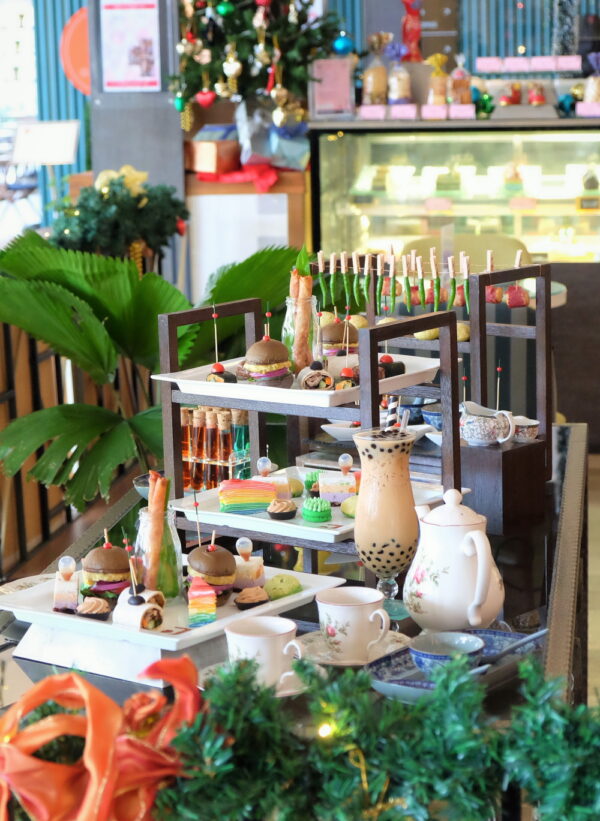 The RM90 set comes with tiered serving plate of fun savory and sweet selections inspired with local flavours. On the savory side you have bites like Crisp Baby Octopus Cigar, Otak-Otak Maki Roll, Mini Chicken Satay Burger with Charcoal Bun, and the classic Wrapped Peking Duck. The latter with generous lashings of duck meat and a blending of cucumber and carrot is very tasty indeed.
Then on the sweet side, you have a colourful selection of favourites Bubur Cha Cha Cake, Kuih Keria Salted Caramel & Boba Gula Melaka, Penang Hill Chocolate Cup, Pandan Choux Pastry with Red Bean Paste to bold flavor such as the Durian Macaroon Sandwich, and the meticulously-layered Rainbow Feuille Mille Crepe.
The Bubur Cha Cha Cake, a new take on the classic Nyonya dessert is quite divine. This updated creation is enjoyable with the accompaniment of a syringe of gula Melaka, making it easy for injecting your preferred amount of sweetness.
One must look out for the Kuih Keria Salted Caramel & Boba Gula Melaka – a spin on the traditional Malay kuih keria (deep-fried sweet potato ring). As mentioned by Chef Afifi, what would be a better way to celebrate the soft creamy kuih keira than with a layered of salted caramel and with toppings of boba gula Melaka.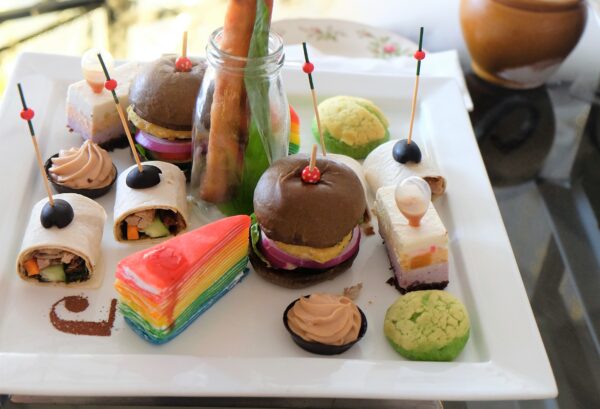 To enjoy the full Mix-aMazed Afternoon Tea experience, pair your savory and sweet bites with your favorite hot and cold beverages. You will be tempted by a huge drinks list of Iced Bubble with Gula Melaka, Local Favorites, Coffee, and Tea.
The Iced Bubble Tea tailored to suit the youngster palate boast indulgent creations of Bubble Earl Grey Milk Tea, Bubble Teh Tarik, Bubble Fresh Milk, and Bubble Hainanese Milk Coffee. The latter is one that pleases many.
As for the local favorites, there is Iced Soya Bandung, Ice Blended Red Bean with Cendol & Gula Melaka, and Iced Fresh Milk with Cendol & Gula Melaka as well as Iced Soya.
Most locals would definitely like the Ice Blended Red Bean with Cendol & Gula Melaka which is a take on Malaysia's favourite cendol dessert. Served in a tall glass with creaminess of blended red bean, along with toppings of green rice flour jelly and red beans, the cold drink is sweetened with gula Melaka syrup.
JEN Penang Georgetown by Shangri-La is offering Golden Circle members 15% savings on the Mix-aMazed Afternoon Tea Set. If you are not a member, fear not as you can still enjoy a 15% discount using this promo code MixaMazedWHAT2SEE upon reservation.
For reservations or enquiries, you may call
+604 262 2622 or send an email to fb.hjp@hoteljen.com.