Nyonya Palazzo Cafe at Pinang Peranakan Mansion, Church Street, George Town, Penang
Hidden in Pinang Peranakan Mansion in Penang is Nyonya Palazzo, a newly opened outlet where you can unwind and experience Nyonya charm and hospitality. Opened on 6th March 2021, the Nyonya cafe is conveniently accessible from both Church Street and also Penang Street.
The interior with a touch of modern elements and exquisite furniture and accessories from yesteryear exudes a warm welcome.
Diners can indulge in a spread of savory and sweet Nyonya Baba delights. Nyonya kuihs are to be found on the menu with choices like kuih bengka, pulut tai tai, kuih seri muka, and steamed miku with spread of pandan kaya and butter. All kuihs are priced between RM9.90 and RM13.90. The price point is higher as compared to street market prices but taste wise certainly worth it.
The pulut inti and the pulut tai tai are lovely renditions of steamed glutinous rice topped with palm sugar grated coconut, and fragrant pandan kaya (egg custard). Another interesting light bite is the kuih ubi kayu (steamed tapioca).
The Baba Nyonya High Tea Set (RM29.90) with an assortment of kuihs is now available, and is best to make reservations.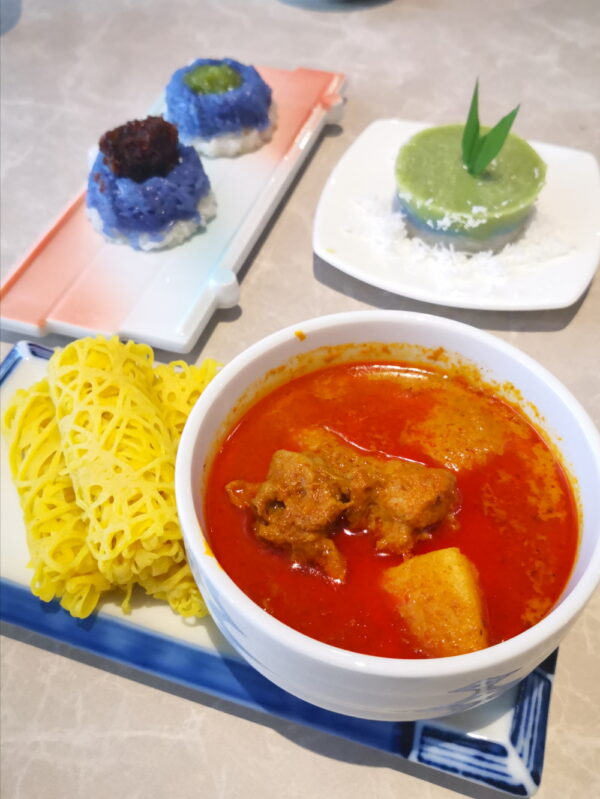 The food can be enjoyed with a selection of hot and cold beverages or sweet Chinese tong-sui. The servings of the warm tong-sui of bubur cha cha and pulut hitam are generous and best for sharing as they fill you up quickly. We particularly like the signature bubur cha cha, a medley of sweet potatoes prepared with fresh coconut milk and a nice sweetness of palm sugar.
Other than the Nyonya delights, there is also a lineup of Western desserts, including passionfruit and rapsberry cupcakes besides handmade mochi with fillings of durian, cempedak, and mango.
Besides dining in, visitors can embark on a tour of shopping in the retail floor space located downstairs. A selected collection of bags, jewelry, Nyonya kebayas, homewares, objects of art, and gifts can be found.
Do make your way over to Nyonya Palazzo and see what they have installed for you. Daily business hours are from 9am till 6pm. To make your reservation, call 012-6571068.
Nyonya Palazzo at Pinang Peranakan Mansion
29 Church Street / Penang Street
10200 George Town
Penang