SAITO Sake Dinner at G Hotel Gurney, Penang
Incorporating sake to the pairing of food came alive at the SAITO Sake Dinner, which was held recently in G Hotel Gurney, Penang. Organized by AsiaEuro Wines & Spirits, the event delights sake lovers with a variety of Saito sakes matched with a tasting menu prepared creatively by none other than Chef Alexander Chong.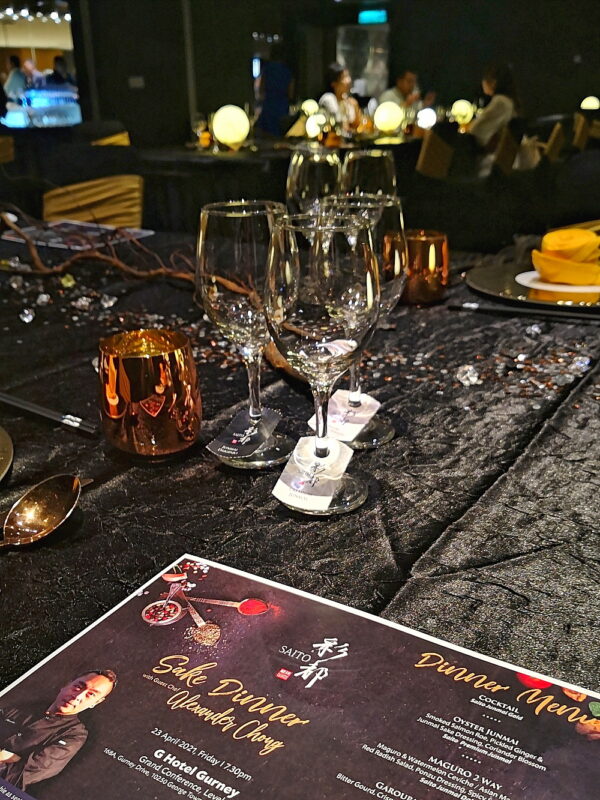 The Saito sake list contained a selection of Saito Junmai Gold, Saito Premium Junmai, Saito Junmai Daiginjo, Saito Junmai Ginjo Genshu, Saito Ginjo Aged, and Saito Yuzu Hikari. All six sakes are consumed cold.
The Japanese sakes are made from fermented rice and quality pure water, with each sake graded differently based on its rice polishing ratio. With different alcohol content, there are the full-bodied & rich taste sakes while there are also easy-drinking light-bodied and fresh taste sakes.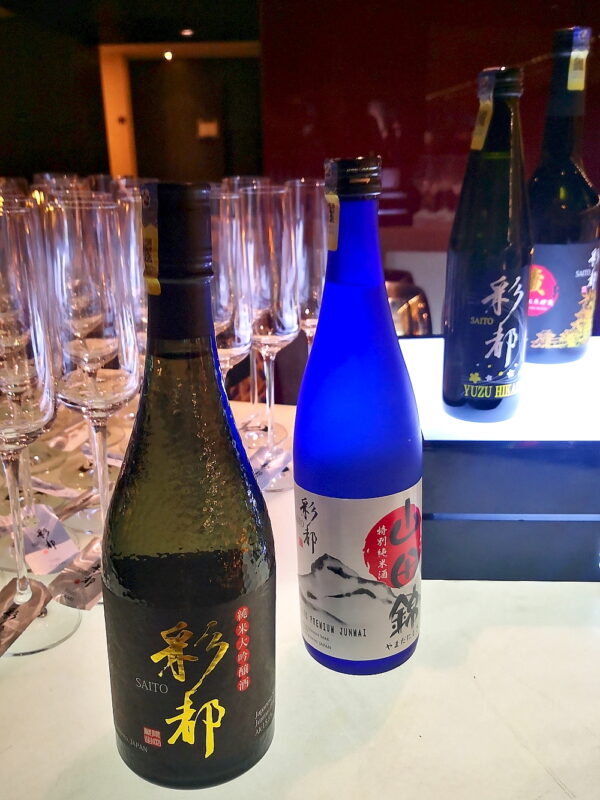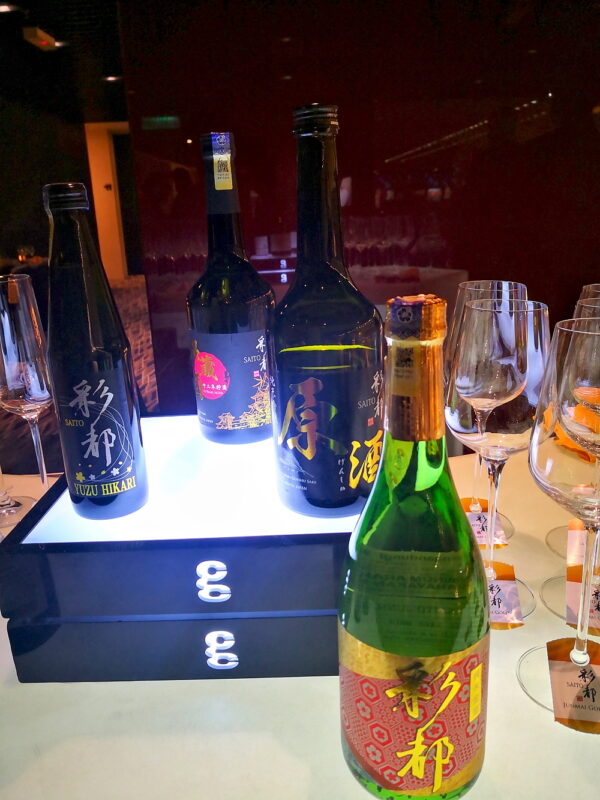 The atmosphere is very convivial, with guests being treated to the Saito Junmai Gold. This one contains gold flakes and is fruity. Dinner followed by dishes that offer aromatic, herbal, spicy, and tangy flavors.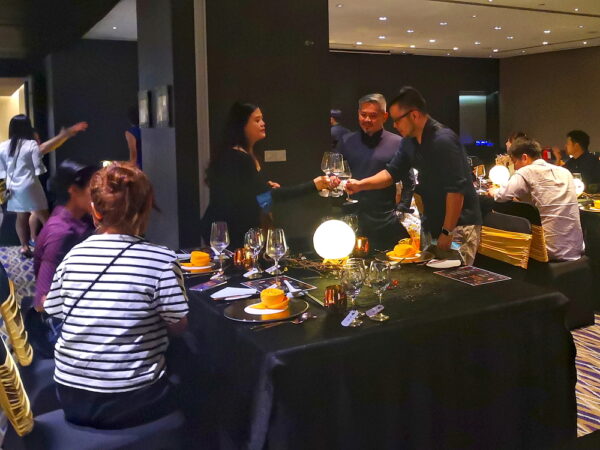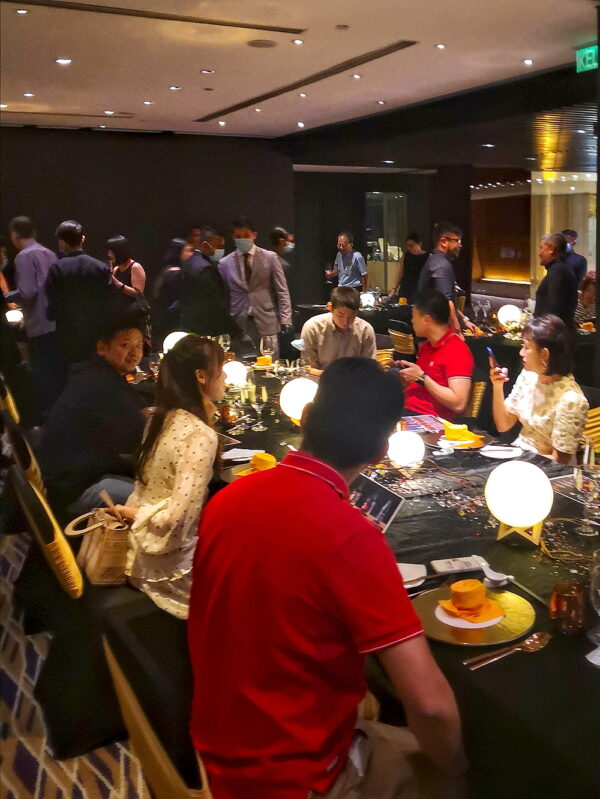 The meal begins with a welcoming plate of freshly baked warm buns along with miso butter, followed by a surprise amuse-bouche of nasi lemak sushi. This small interesting pick-me-up bite is a splendid ensemble of the popular Malaysian breakfast rice dish. It is a perfect mouthful and it packs a punch with a hint of sambal spiciness.
Oyster Junmai paired with Saito Premium Junmai
The appetizer of Oyster Junmai arrives in a shroud of smoke in a take-away (tapau) box. The presentation might be simple however, the flavor is absolutely delicious due to the freshness of the oyster and the combination of smoked salmon roe, pickled ginger & Junmai sake dressing. The Saito Premium Junmai with a boost of acidity enhances the flavors of the seafood dish.
Pairing: Saito Premium Junmai – a semi-dry sake brewed by the "Yamahai" brewing method (slow fermentation technique).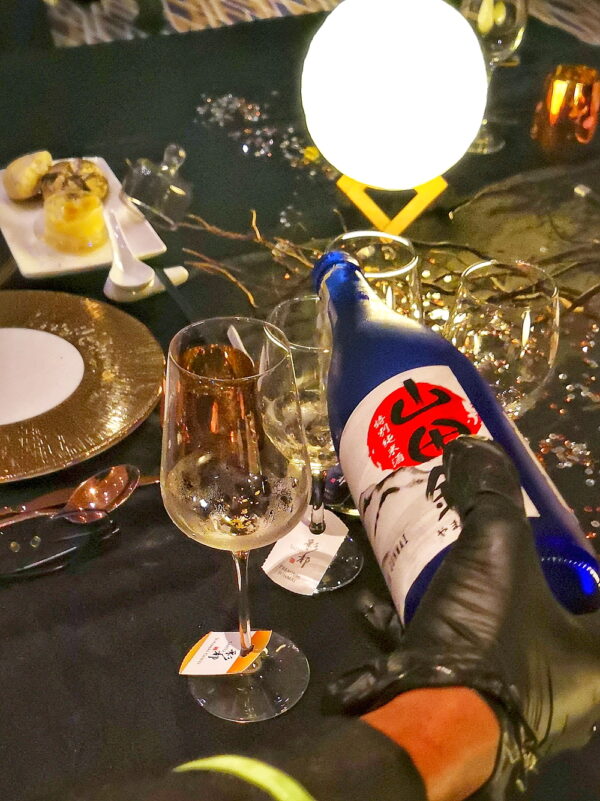 Maguro 2 Way paired with Saito Junmai Daiginjo
The dinner continued with the Maguro 2 Way. This light dish is a culmination of maguro. It comes in a riot of flavors: a selection of Maguro & Watermelon Ceviche and Asian Maguro Tartare with red radish salad, spicy seaweed, Saito caviar, and a citrus-based ponzu sauce. The complex fruity notes of the accompanying premium Saito Junmai Daiginjo produce a sensation of sweetness that compliments the dish perfectly.
Pairing: Saito Junmai Daiginjo – prepared with high-quality Yamada Nishiki rice, sake brewing skill, and without the addition of distilled alcohol are among the myriad of factors that determined the fruity aroma and smoothness finishing of this premium sake.
Garoupa Fish Superior Soup paired with Saito Junmai Ginjo Genshu
The main course of squid ink pasta beautifully prepared with Chinese herbs wolfberries and bitter gourd, besides crispy egg and deep-fried garoupa bestows love to the seafood. The chef had the dish elevated and innovated with ikura and a superior saito sochu foam. The dish itself is impressive but the full-body Saito Junmai Ginjo Genshu is definitely an acquired taste for me.
Pairing: Saito Junmai Ginjo Genshu is undiluted sake with a high 17.5% alcohol content. Its rich flavor and strong taste reach you first, then followed by a long finish.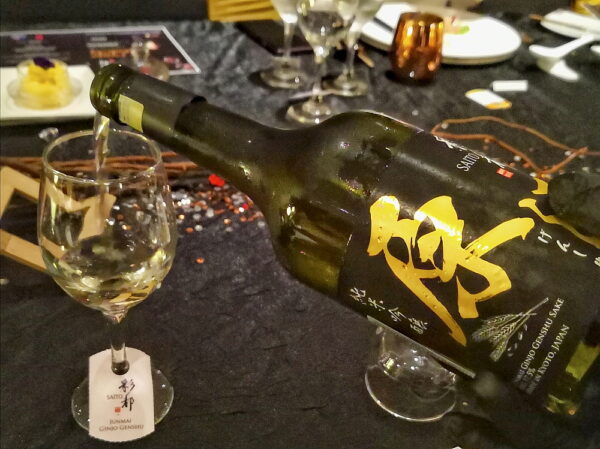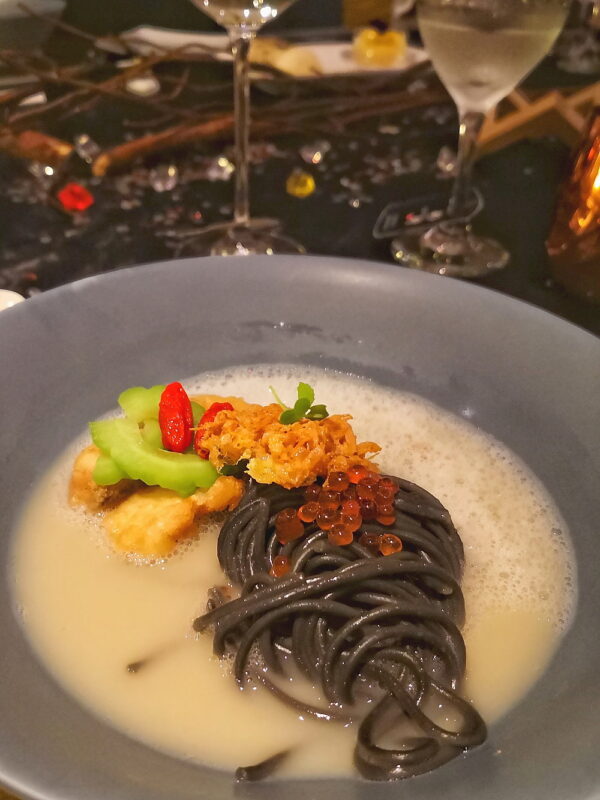 Palate Cleanser
Next in line is the pineapple sake shooter (pineapple sorbet with mint). The palate cleanser is a refreshing and light addition to the meal.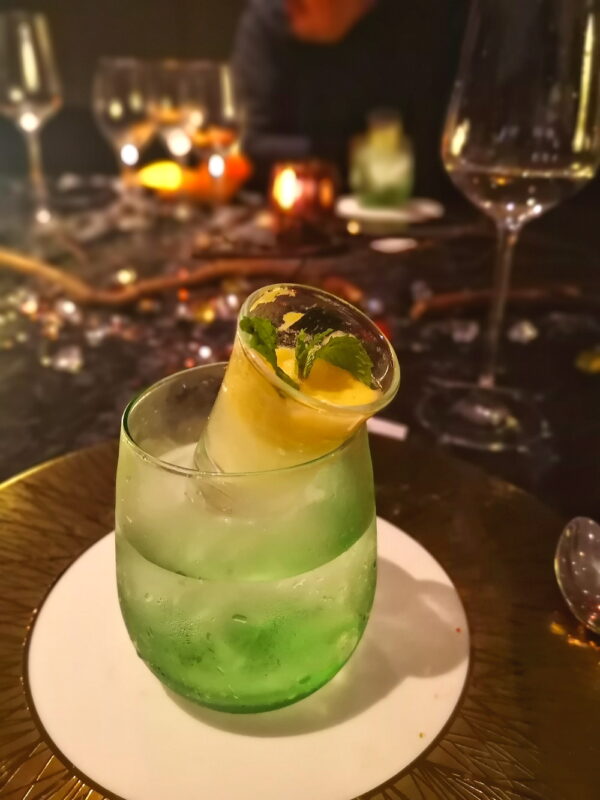 Braised Dried Tangerine Australia Beef Short Rib paired with Saito Ginjo Aged
We moved on to the main course of Braised Dried Tangerine Australia Beef Short Rib. The tender meat brimming with white radish confit and sauteed seasonal greens is served with a delicious hua tiao ginger jus. It is delightful to savor this heavy flavored meaty dish with the Saito Ginjo Aged.
Pairing: Saito Ginjo Aged – aged at low temperature for a longer time, the color of this full-body premium sake is gold and the flavor and aroma is especially rich such as aged whisky.
Guilinggao & Chill Mango Sago paired with Saito Yuzu Hikari
Last but not least is the sparkling Saito Yuzu Hikari, a low alcohol sparkling sake which is creatively paired with the Guilinggao dessert which most of us are familiar with! This cooling Guilinggao jelly with a slight bitterness of Chinese herbal taste is often served with honey, but Chef Alexander had the chili mango sago played on the plate for us instead. This version does taste good and goes well with the citrusy flavor of the Saito Yuzu Hikari. A perfect finish!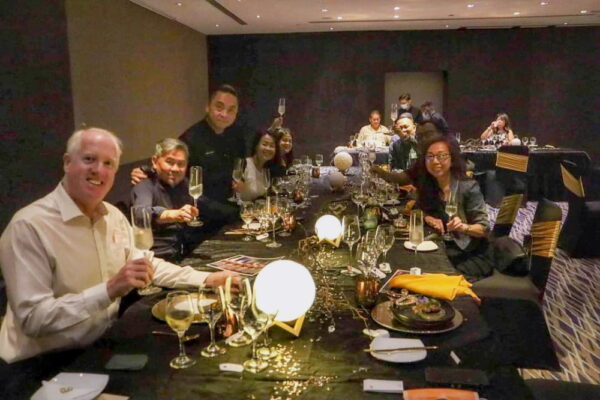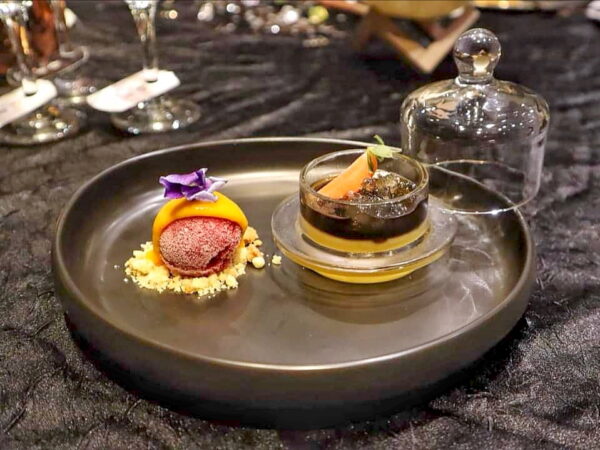 It is a memorable evening tasting the Saito sake heightened by the creations from Chef Alexander Chong. We hope to say hello to more food prepared by him in time to come.