Unknown Café & Bistro at Jalan Pahang, George Town, Penang
Unknown Café & Bistro is the newest dining destination on Jalan Pahang in George Town, Penang. With a spacious layout (occupying two shoplots), the interior decorations are minimalistic and filled with small clusters of tables.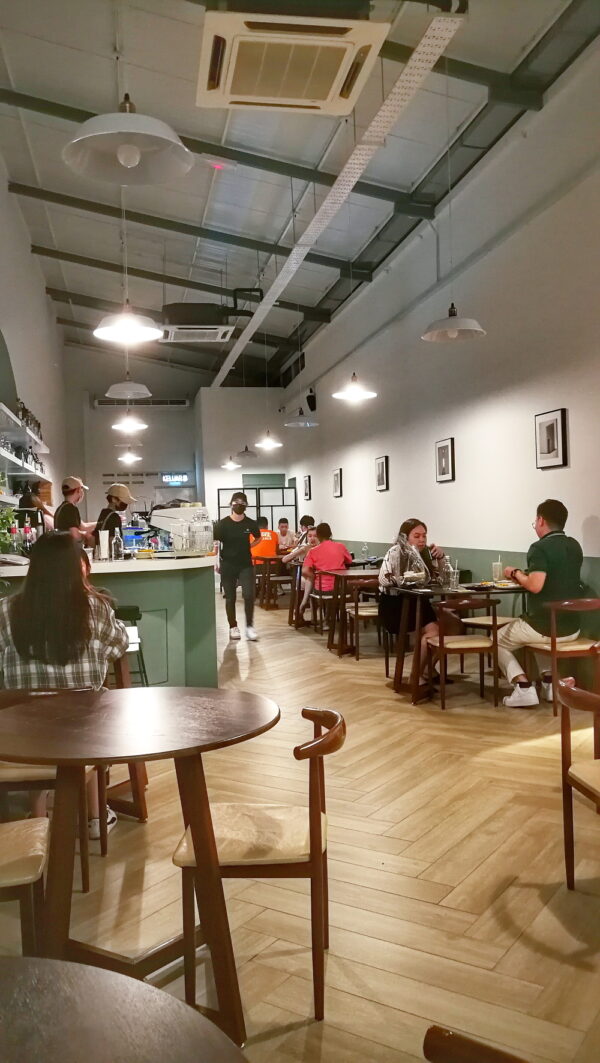 The menu at this cafe has a large variety of Western European comfort food for breakfast, lunch, and dinner – served at delightfully reasonable prices.
An all-day breakfast & brunch menu offering Big Breakfast Platter, tortilla wraps, quesadillas, and wholemeal baguette will be available. For quick bites, you'll find shareable plates like curly fries, chicken nuggets, chicken popcorn, hash brown, and waffle fries.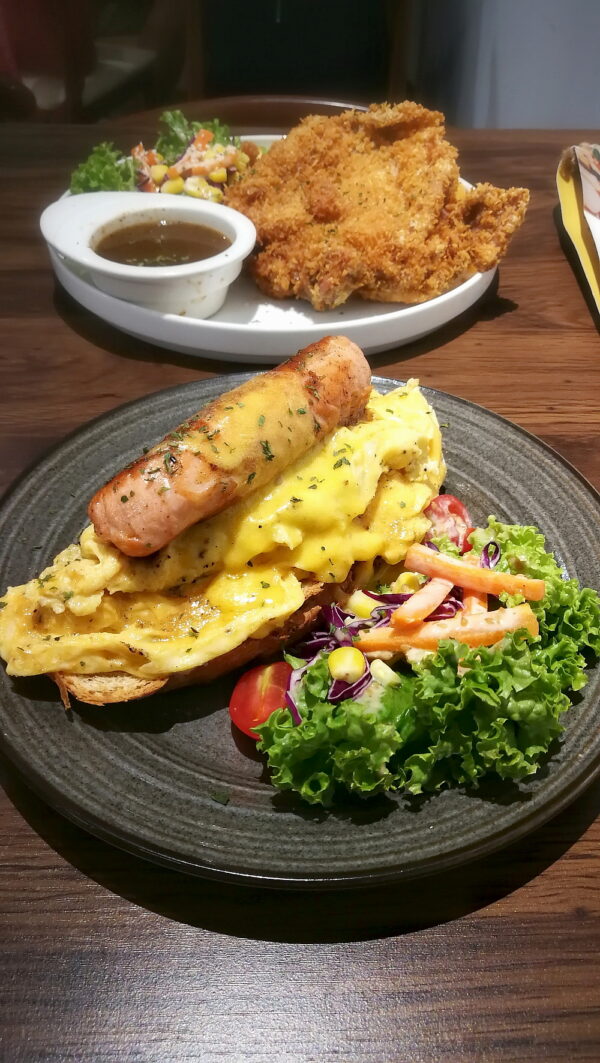 You might start with the Big Breakfast, a platter with a garden salad, mini-baguette, bake beans, scrambled eggs, chicken sausages, chicken bacon roll, sauteed mushrooms and hash brown. Choice of main includes chicken sausage, chicken breast, shrimps, and salmon steak, with prices ranging from RM18.90 to RM38.90.
Another best brekkie specialty is the Grill Salmon & Scrambled Egg. A surprise indeed as its visual does not prepare one's guests for the fish dish. The marinated salmon rolled into the shape of sausage goes through a grilling cooking process, and served with scrambled egg on top of a slice of wholemeal baguette. A tasty Hollandaise sauce prepared from egg yolks accompanies it well.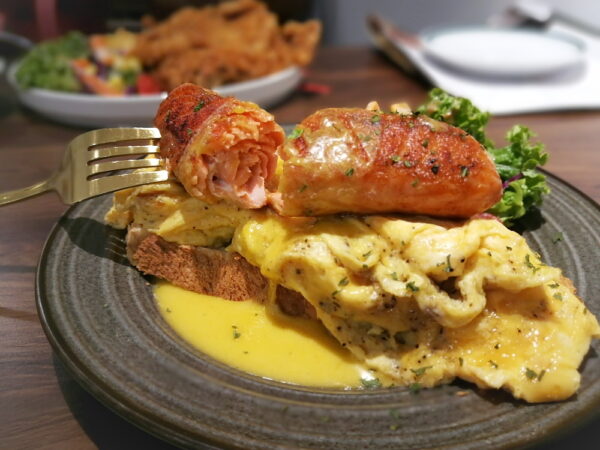 From the same menu, there is the quesadilla made with a choice of chicken katsu & egg, mushroom & egg, or chicken roll & egg. The Mushroom & Egg Quesadilla stuffed full of scrambled eggs, mushrooms, salsa, and melty mozzarella cheese is served with a garden salad and tartar sauce. This Mexican dish with its huge serving portion could certainly be a meal by itself, but we did share it.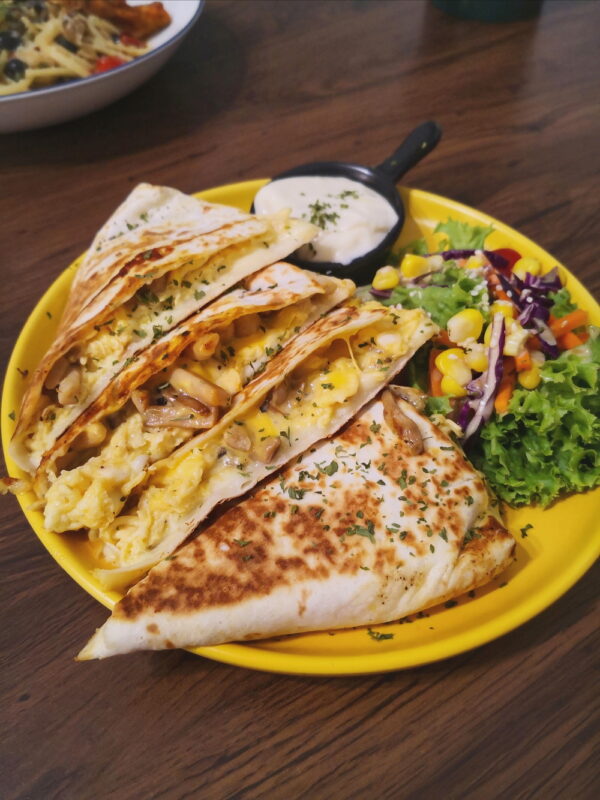 After the breakfast & brunch menu, expect to find more heavy dishes. Dishes like burgers, lamb shoulder chop, fish & chips, pasta, pizza, and crispy chicken chop are available. Deep-fried and crisp to the bite, the Crispy Chicken Chop comes with a choice of sauce – black pepper, bbq, salted egg, or garlic cheese sauce.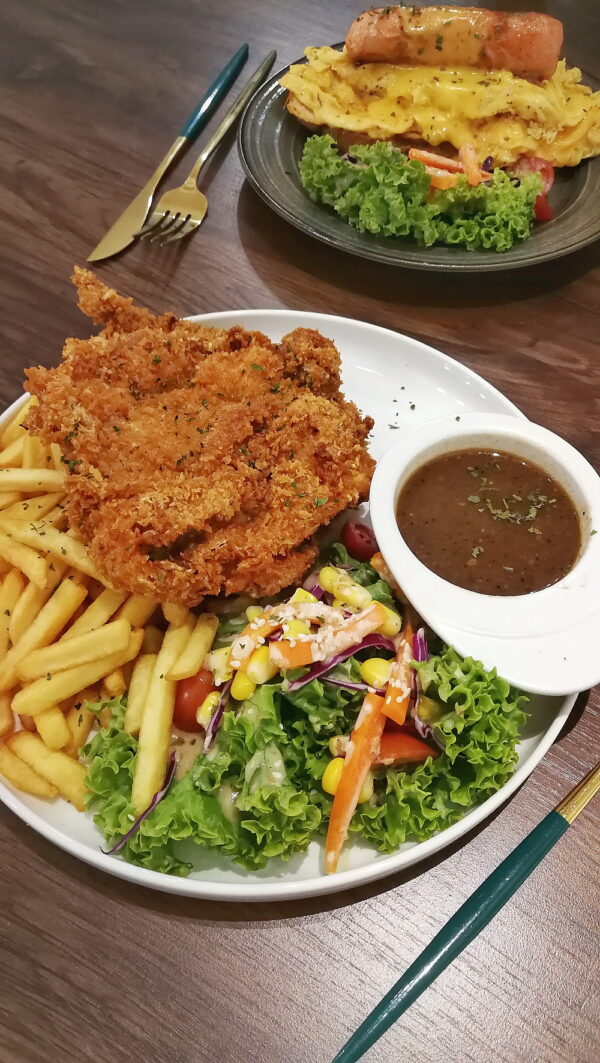 Don't miss out on the pasta. From the many choices, we had the Chicken Breast Aglio Olio. This slightly spicy simple dish has boiled noodles tossed in olive oil with cherry tomatoes, black olives, and red pepper flakes. With a hint of spiciness and creaminess of cheese toppings, the dish easily puts a smile on your face.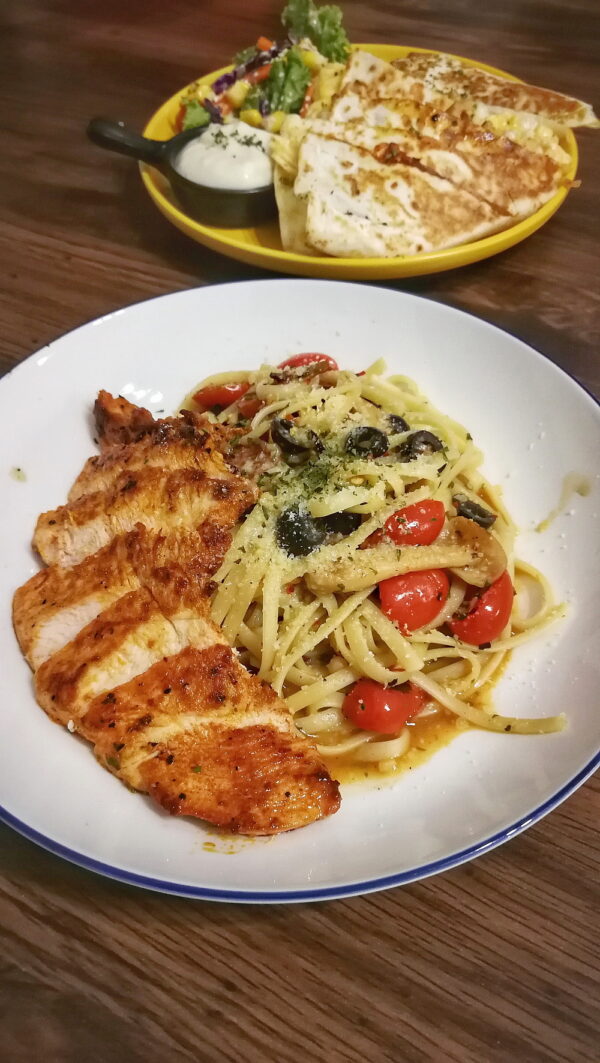 Pair the meal with an extensive range of beverages including choices of frappe, fresh juices, smoothies, tea, chocolate, and coffee freshly brewed using Arabica coffee beans. Interesting latte includes the Niko Neko Matcha Latte, Spiced Chai Latte, and the Kanna Chai Latte (secret recipe of Authentic Indian Masala Chai). There is also a selection of fruit cocktails & mocktails.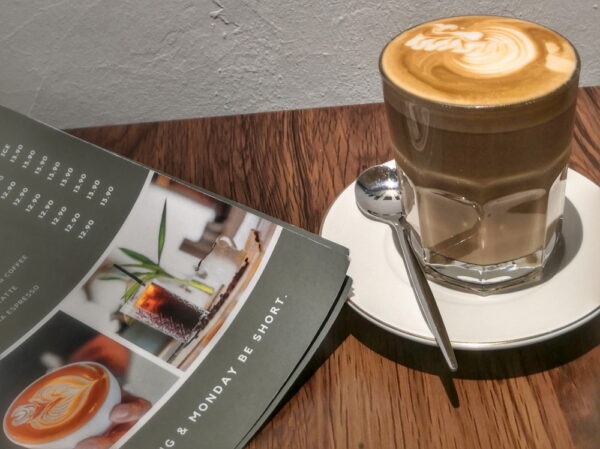 For dessert, no one resisits the choice of the Cempedak Cheese Cake. Many will be pleased with this creamy cake that is delicious with fragrant aromas of the local cempedak fruit. Scoured from the popular Passion Heart Cafe, this cake is quite an indulgence.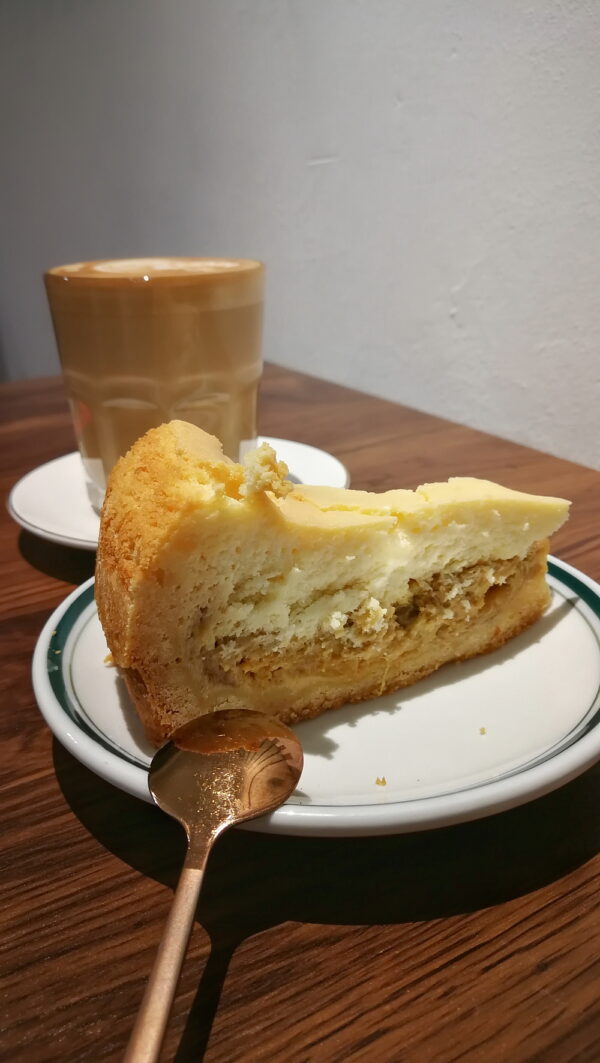 With long operating hours running from early 8.30am till 10pm (daily from Monday to Sunday), and a broad enough menu, Unknown Café & Bistro is a new place for your three meals a day.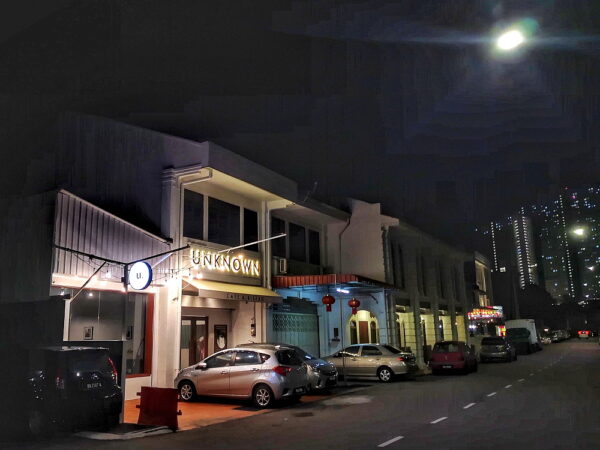 Unknown Café & Bistro
35 Jalan Pahang
10400 George Town
Pulau Pinang
Tel: 010-460 8701