Moshi Moshi Modern Japanese Restaurant at Vantage Desiran Tanjung, Tanjung Tokong, Penang
The Vantage Desiran Tanjung in Tanjung Tokong, Penang received a new food and beverage outlet addition with the opening of Moshi Moshi Modern Japanese Restaurant. The ground floor corner unit restaurant with simple and minimalist decor holds six tables and half was occupied on our visit.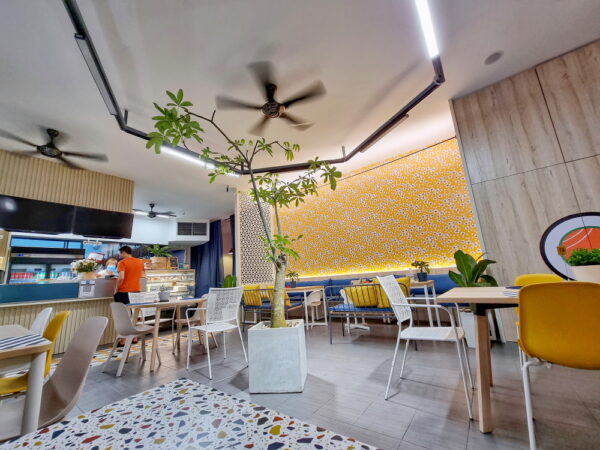 Take a little time in selecting your choices before you place your order and payment at the counter. The items on the menu are limited but enough to reassure you that this is a place where you can have a light meal of rice and noodle dishes.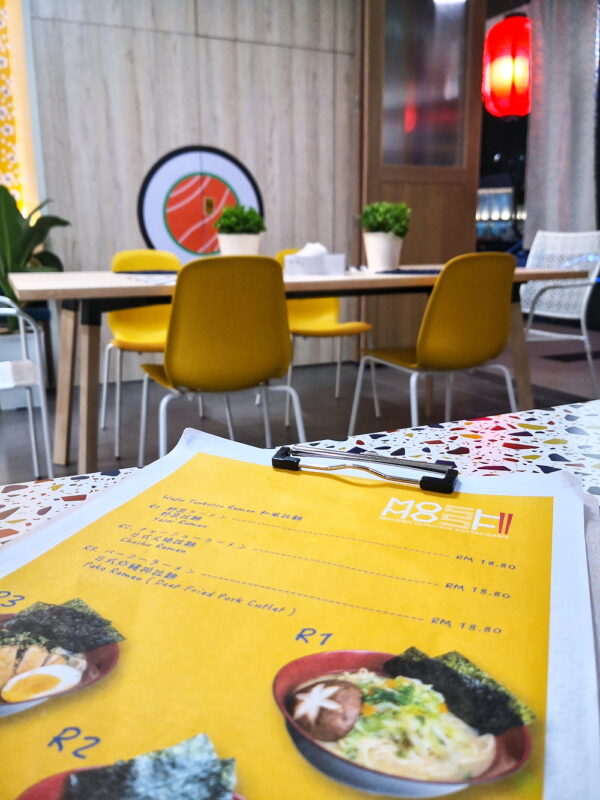 Three choices of tonkotsu ramen are making their appearance on the first page of the menu – Chasu Ramen, Yasai Ramen, and Pako Ramen. We chose the Chasu Ramen served in deeply flavored pork broth with miso. Besides the topping of three thick pieces of chasu pork (Japanese-style braised pork belly), there is also an egg and seaweed.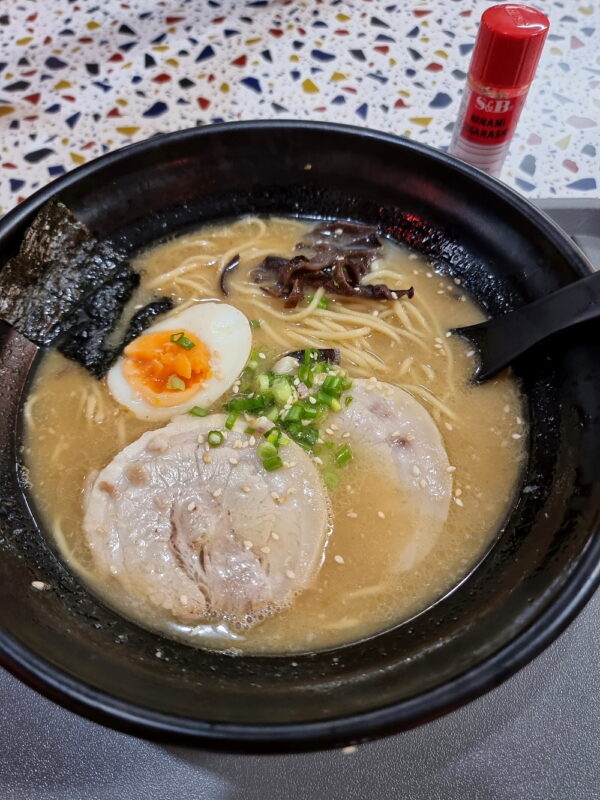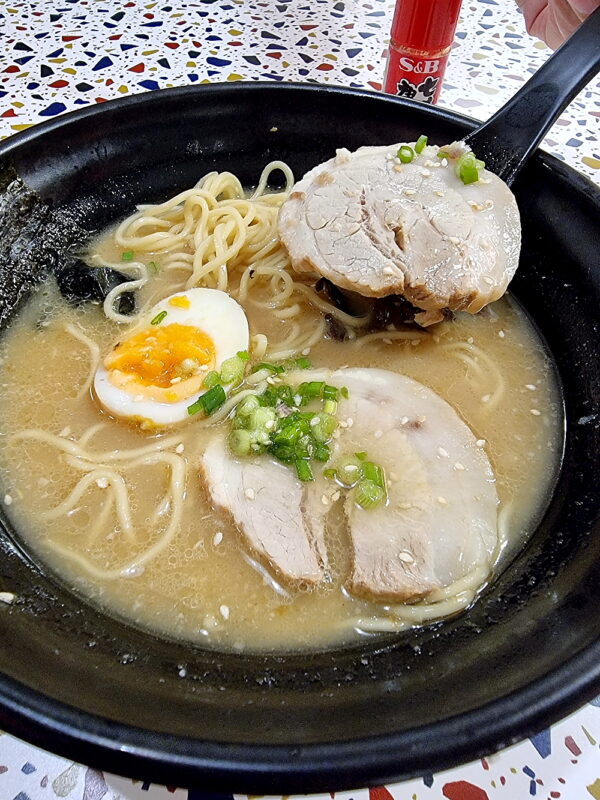 Lovers of donburi can check out the selection of dishes – Chicken Katsu Curry Rice/Don, Pork Katsu/Don, Unagi Don, Salmon Teriyaki Don, and the signature MoshiMoshi Don (pork rice). The bowl of Chicken Katsu Curry Rice has white rice and deep-fried breaded chicken cutlet smothered with creamy curry sauce. At RM16.80 (with a small bowl of miso), it is comforting indeed and the spiciness is kid-friendly.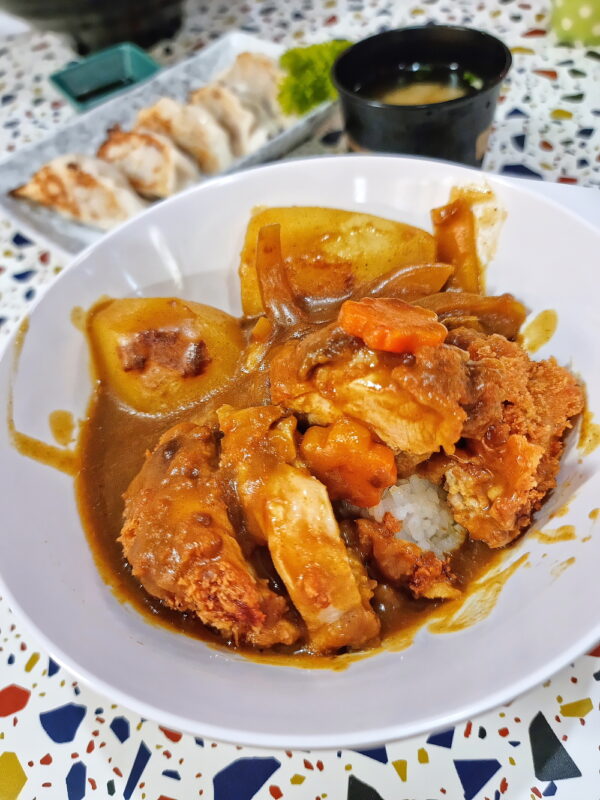 For side dishes, we shared an order of Gyoza which has five pieces of dumplings filled with a mixture of pork, vegetables, and seasoning. As prepared the Japanese way, the gyoza is crispy on one side and soft on the other. There is also the MoshiMoshi Cheese Ball, and for something meaty, the restaurant has come up with a dish of Iberico Ribs with French Fries.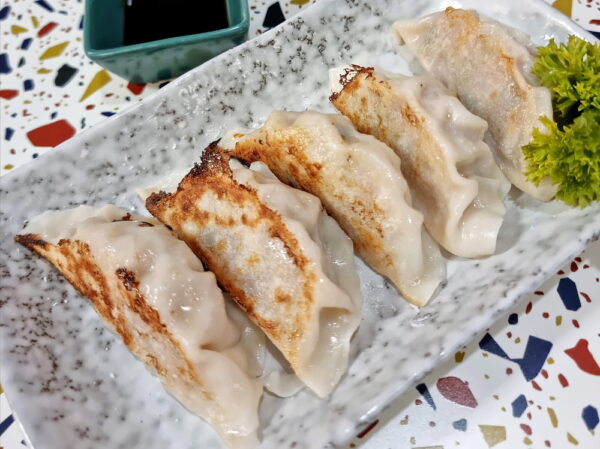 Make your meal complete with the handful choices of hot and cold beverages. The menu is a read of canned beers besides green tea, soft drinks, milo, and white coffee.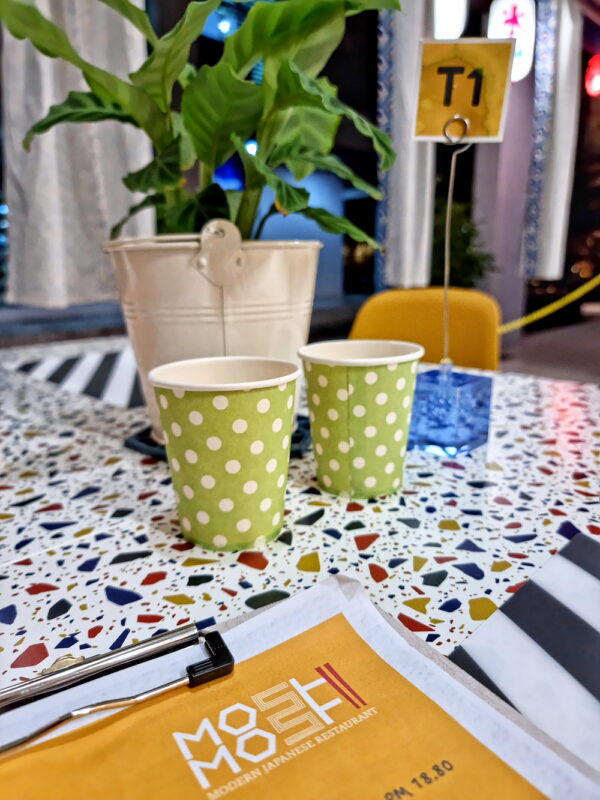 The restaurant operating hours are from 11am till 9.30pm and closes on Tuesday.
*However, due to the on-going COVID-19 pandemic, indoor dining has been temporarily halted and the restaurant is only doing takeaways. Do contact the restaurant at 012 – 4002362 for the options.
Moshi Moshi Modern Japanese Restaurant
B-G- Vantage Desiran Tanjung
Jalan Desiran Tanjung
10470 Tanjong Tokong
Penang