Mediterranean BBQ Buffet at Planters Lounge, Eastern & Oriental (E&O) Hotel, Penang
For a 'Mediterranean BBQ Buffet experience', a visit to the Planters Lounge in the Eastern & Oriental (E&O) Hotel in Penang is a must. The lounge on Level 6 of the Victory Annexe offers air-conditioned indoor dining area and a verandah area with sweeping views of the Penang channel and the mainland.
Enjoy the bold, bright flavors of Mediterranean cuisine prepared with aromatic herbs, exotic spices, and zesty citrus. The counters are brimming with aromas and colors from the spread of salads, dips, cold cuts, antipasto, soups, seafood on ice, grilled seafood, hot entree, pastries, and desserts.
For a warm dose of soup, tuck into the Roma Tomato Soup, and the Seafood Soup before heading for some antipasto and dips to go with bread or crackers. The spread of antipasto includes roasted capsicum, asparagus, artichokes and olives as well as halloumi and feta cheese in herb oil. From the dip options, what you will get are baba ganoush, hummus, toum, mint yoghurt, and tzatziki.
Cold cuts appetites will be sated with a list of salmon gravlax, smoked duck breast, beef Bresaola, chicken terrine, and seared ahi tuna.
Cold Cut Platter
Salads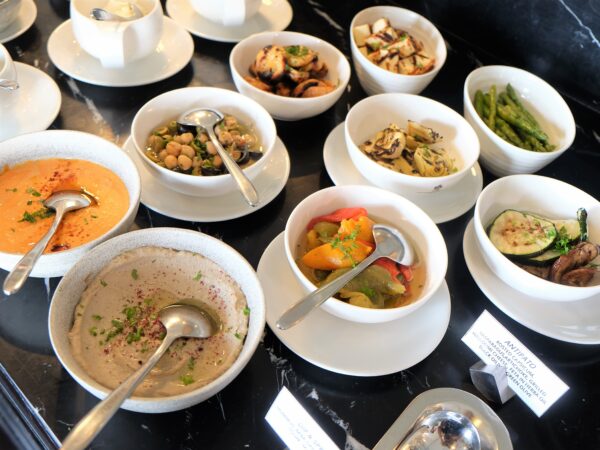 Dips & Antipasto
Cheese Platter – Grisini, Lavosh, Dried Fruits, Nuts, & Chutney
Bread selection -Focaccia, Herb Pita, Ciabatta, Garlic Bread & Bread Rolls
The menu also gave a sufficient variety of cold seafood choices. At the counter is a display of seafood on ice, and options include slipper lobsters, crayfish, scallops, prawns, and mussels.
Seafood On Ice
From the outdoor grill, the offerings are alluring. Pick your choice of cooked-to-order meats and seafood. Minute steak, lamb chop, lamb kofta, are pretty delicious. Similarly, the prawn skewers, slipper lobsters, salmon fillet and red snapper fillets as well as Seafood Cartoccio are also worth saving room for.
Pair all these grilled meat and seafood with hot entrees of Truffle Scented Mousseline Potato, Vegetable Lasagne, Butter Glazed Seasonal Vegetables, Corn on Cob,and Roasted Root Vegetables with Pesto.
Cooked-to-order seafood and meat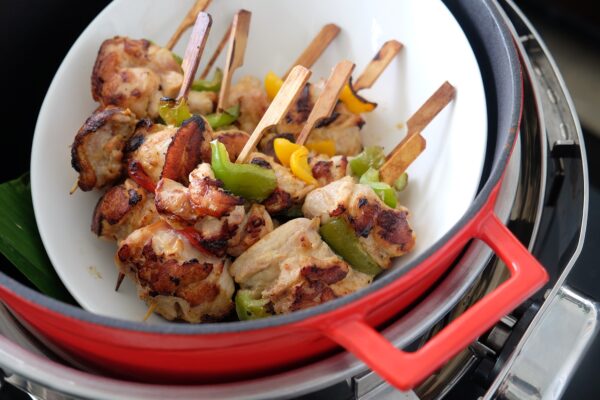 Chicken Kebab Skewer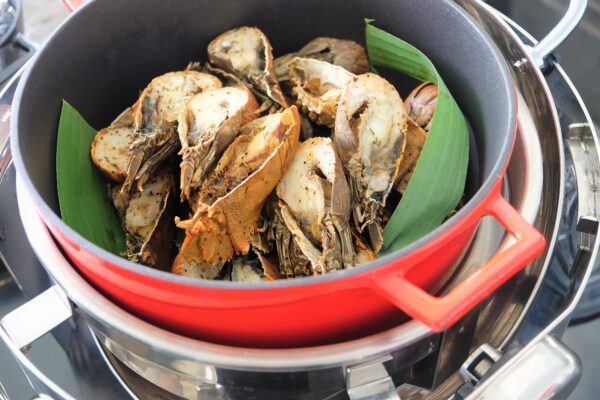 Slipper Lobster
For the sweet-toothed, the menu includes a selection of Baklawa, Strawberry Flan, Panacotta with Passion Fruit Coulis, Creme de Catalana, Mango Vacherine, Tiramisu and Ice Cream besides free flow of Fruit Punch.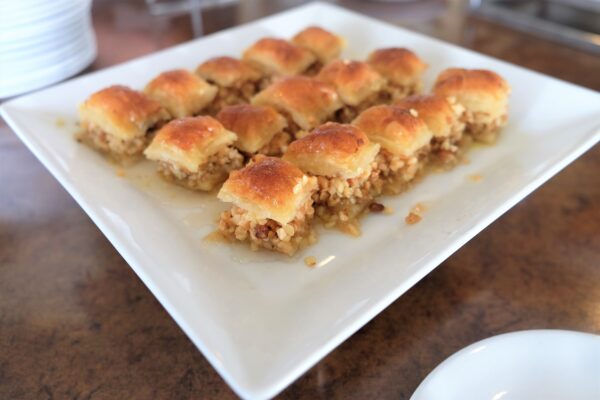 Baklawa
Berries Bread & Butter Pudding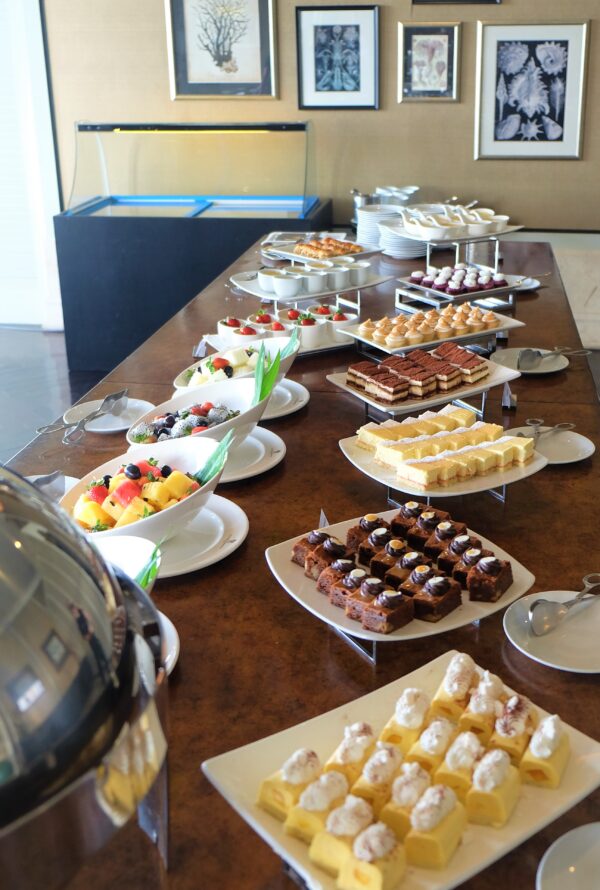 The Mediterranean BBQ Buffet served from 7pm to 10.30pm on every Friday and Saturday is priced at RM168 nett for adults and RM88 nett for senior citizens aged 60 and above, besides children aged six to 12.
You can also enjoy the buffet here with wine to pair:
Add RM108 nett for free flow of wines, beers, and house pouring spirits
Add RM208 nett for free flow of Prosecco
For reservations, call/whatsapp: +016 – 4198094 / +016 – 4198438.
Eastern & Oriental Hotel
10 Lebuh Farquhar
10200 Penang
Malaysia