Bottega Penang at Muntri Street, George Town
What's new in Penang?
Bottega Penang on Muntri Street in George Town, UNESCO World Heritage Site

Bottega KL in Bukit Ceylon which has made its mark in KL's culinary scene has finally set up an outpost in Penang. The newly opened Bottega Penang is set to delight with its location on Muntri Street in George Town, UNESCO World Heritage Site.
The handsome Italian cafe, pizzeria & grocer with its high ceiling and commissioned long concrete-top red brick table (facing the open kitchen) exudes a warm casual welcome.
The outlet serves all-day dining, wine & board platters, and daily happy hour. Expect to find a rather extensive menu with handmade pizzas, pastas, starters, mains, sandwiches, and desserts. The wine list includes bottles of wines from Italy, Spain, and France.
From the menu, we had an aperitif wine to start and a selection for sampling and sharing.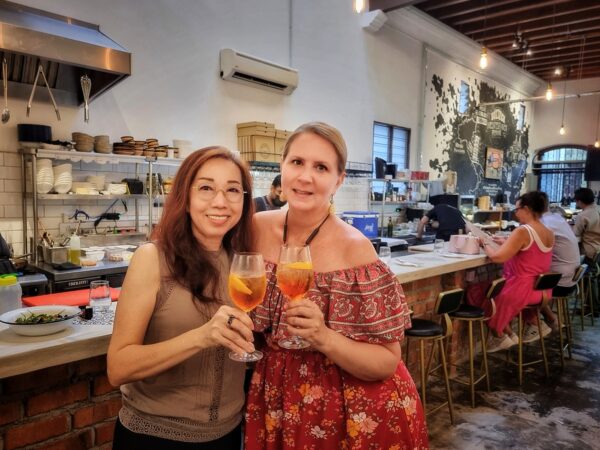 Cheese Board and the Charcuterie Board are always a must at every get-together. At Bogetta, the Charcuterie Board comes with many different kinds of imported deli meats and cheeses and one can find a variety of sizes to pick from – for 2, 4, 6 or 8 to 10 people.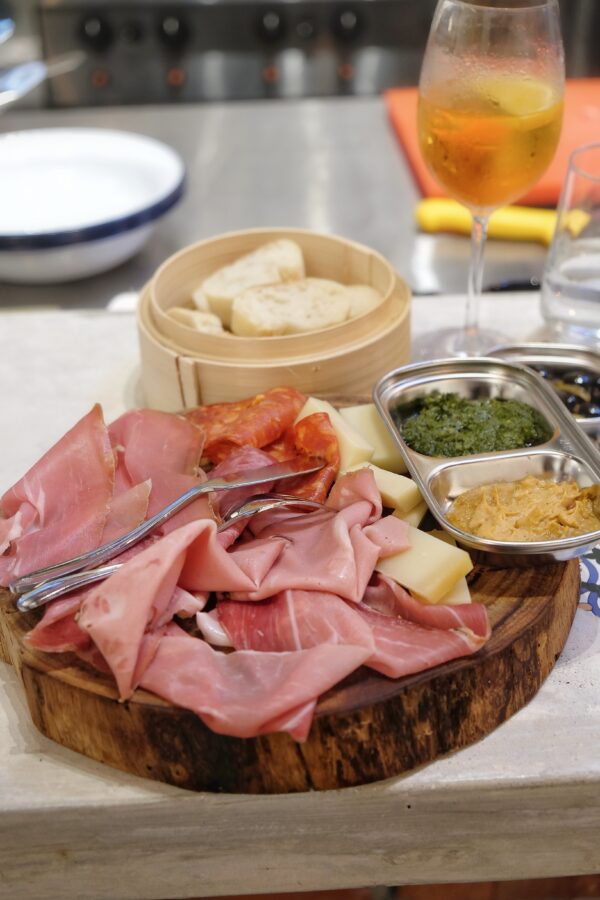 Preparing a charcuterie board
Lighter dishes turn to heartier ones, starting with the Insalata Mixta. The combination of rocket leaves, tomato, zucchini, piquillo, olives, onion, artichoke, bacon, and pumpkin seeds makes this mixed salad dish a refreshing pungent, and peppery delight to savor.
Insalata Mixta RM26
Freshly made pizzas are a specialty here and the Pizza Piadizza (folded in half) will be a wholesome choice. Concocted from delicate buffalo mozzarella, mozzarella, Parmigiano, heirloom tomatoes, and Parma ham, the flavorful dish is unique to Bogetta. The crust has a chewy texture with crispy charring spots. Best to eat it right after it is served.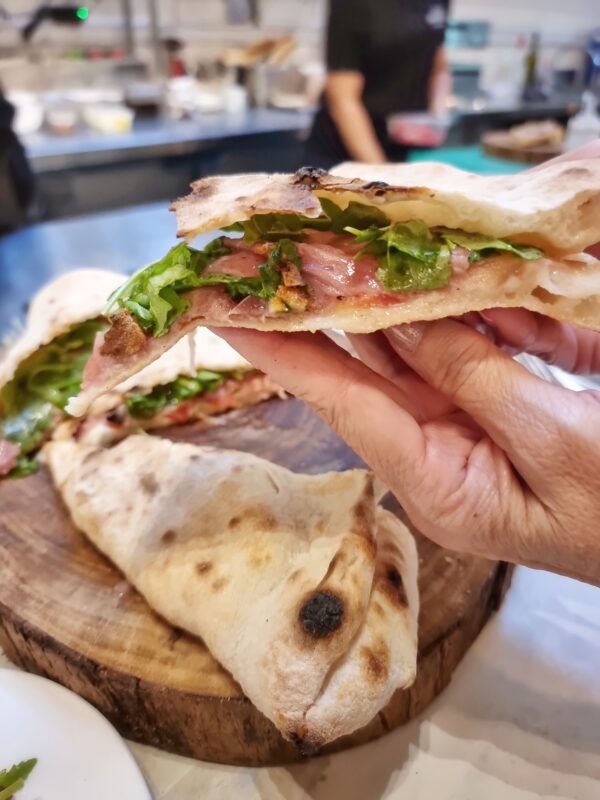 Pizza Piadizza RM40
Poulet has grilled bread with sauteed chicken liver pate spread, and a combination of salty punch from anchovies, capers, smoked speck, and red onion. The smoked speck crisps definitely add a distinct Italian flair of aromatic herbs, and rich porky flavor.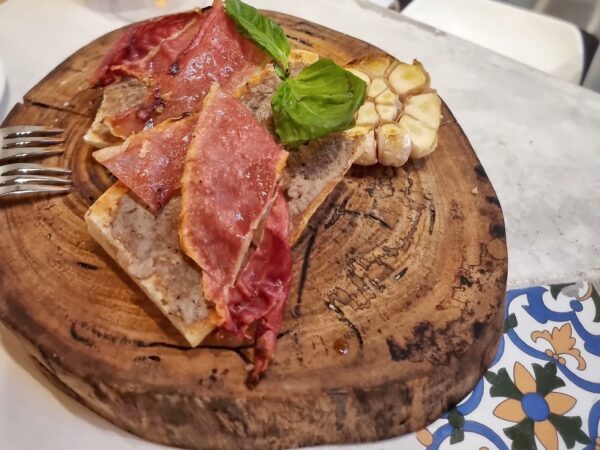 Poulet RM27
For something heartier, try the Succulent Pork Ribs. It features the succulence of pork ribs in a flavorful gravy (braised for seven hours with shallots, wine, celery, carrots, onion, bacon, and porcini mushrooms).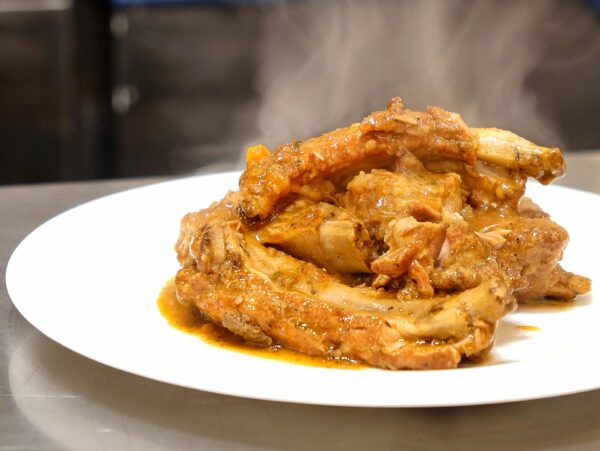 Succulent Pork Ribs (falling-off-the-bone ribs) RM44
If there is still room for dessert, the kitchen does turn out a few  – waffle with gelato, classic tiramisu prepared in a square form, and cheesecake.
Tiramisu & cappuccino
The food of premium quality and lively service definitely draws the crowds. If you can't make it, do note that they do deliver food, groceries, and wine to your doorsteps too. With the ingredients, you can conjure up a range of delicious dishes.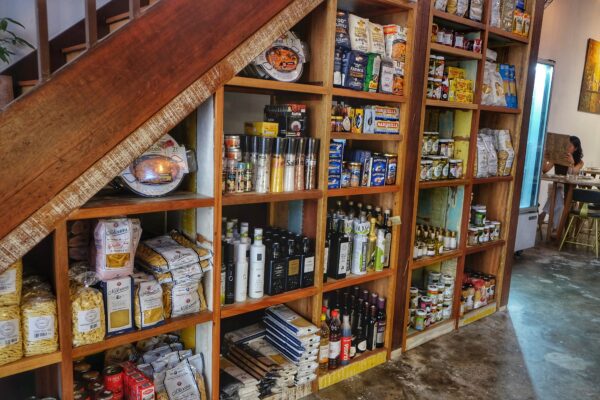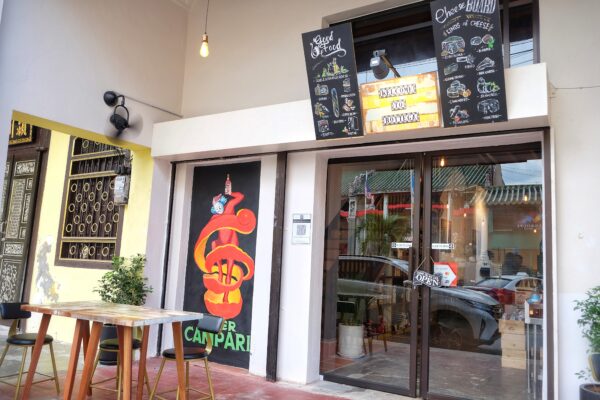 Bottega Penang
76 Muntri Street
10200 Georgetown
Penang
Business Hours: 11am till 10pm (Tuesday to Sunday)
Tel: 04-2281585