Restaurant Blanc at Macalister Mansion, Penang
Tucked away in the historical Macalister Mansion, the Restaurant Blanc (formerly known as the Dining Room) is one of Penang's finest restaurants. The welcoming restaurant with an award-winning interior and touch of glamour has Chef de Cuisine Benny Yeoh at the helm. Leading the team, the chef has curated Contemporary French fare with Asian influences using the best ingredients from Malaysia's top growers and specialist global produces.
Patrons can also choose to indulge in the elegant course lunch and dinners – like the Blanc Menu De Saison RM388+ per person, Blanc 4-Course Degustation Menu RM268+ per person, and the Hearty & Bubbly Father's Day Oysters & Champagne Lunch RM358+ per person.
Recently, we made a visit to experience the Blanc Special Courses Dinner Menu that is yet to be available to the public. The thirteen-course menu priced at RM438+ per person offers many surprises and delights.
Dinner starts off with freshly baked warm Homemade Bread & Butter: a velvety brioche bun enriched with eggs, butter, and a touch of truffle sauce. Following through is the Tomato Cornetto, and the fun snack is made with a combo of ingredients – plum, smoked tomato, and yuzu basil.
Homemade Bread – brioche bun served on a casserole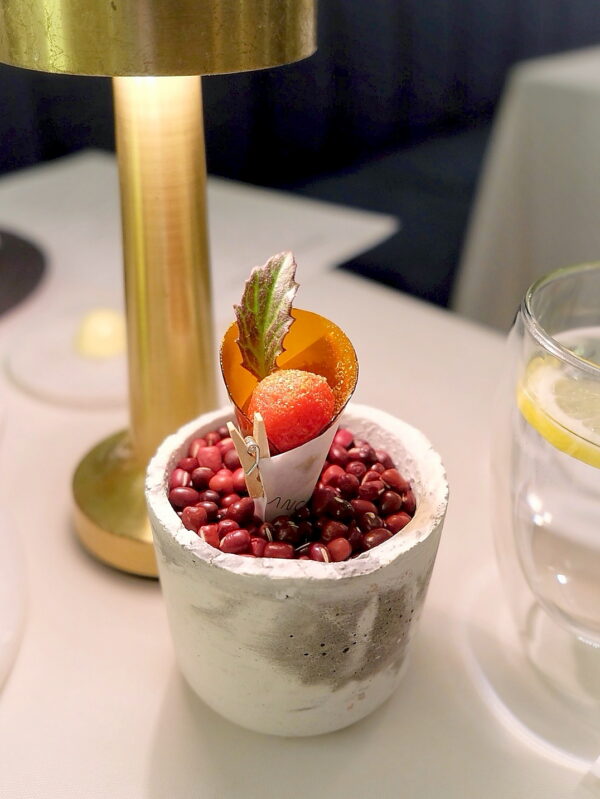 Tomato Cornetto
The next dish is Hamachi Mosaic, sitting on a light texture yuba-skin pastry tart (skin formed from boiled soya milk). Filled with a mixture of kelp puree and petit pois, the tart is crowned with a mosaic arrangement of steamed hamachi fish. With exquisite presentation and light flavors from the fish marination and kelp puree, this fish mosaic dish puts a smile on everyone's face.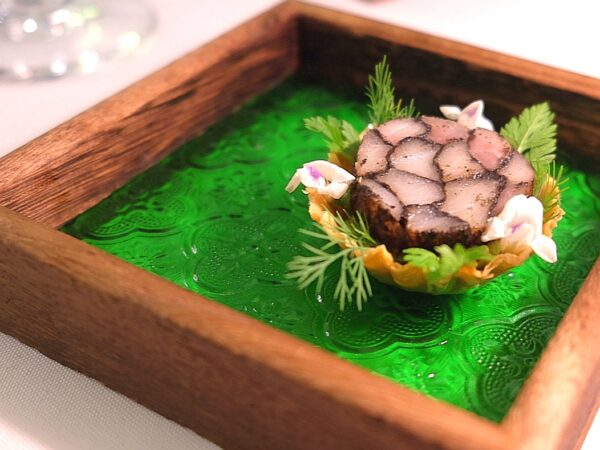 Hamachi Mosaic
The Ulam Pomelo Salad is composed of ulam raja, oba leaf, pomelo flesh, ginger flower, and a ball of plum & fish dressing. Break the ball, and tossed the salad to have the dressing evenly distributed before eating. Geared up with crunch, fragrance, savory, sweet, and tart tastes, the dish has a vibrant and refreshing feel.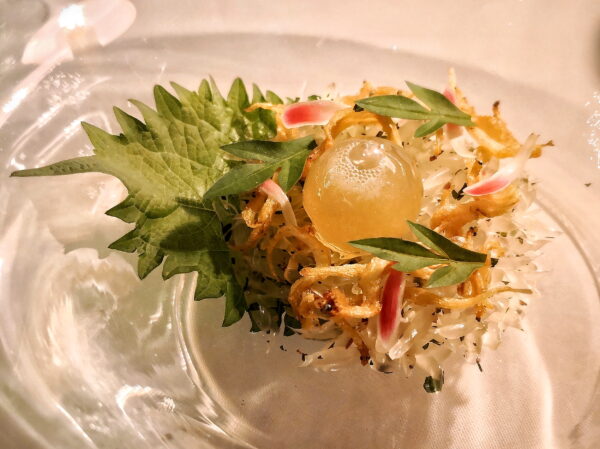 Ulam Pomelo Salad – best enjoyed with all ingredients mixed together
"Asam" Crab is next, a visually impressive dish with a strong flavour. Mud crab shells are grounded into powder and made into light crispy crab-shaped biscuits. Sandwiched with a filling of crab meat & pearls of Kaluga caviar, the biscuits get on well with the accompanying fennel and kesom cream.
"Asam" Crab
The next course is the Holland Green Asparagus (asparagus in season now) coated with prosciutto di Parma slices, and prepared with a variety of ingredients – buckwheat and scallions. This relatively healthy and simple dish shines with a crisp texture and slightly charred taste.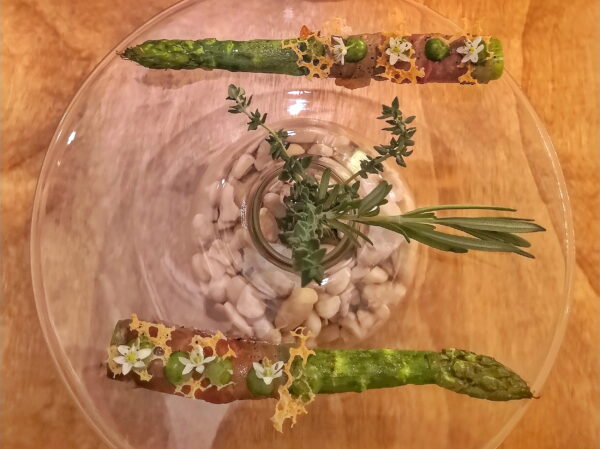 Holland Green Asparagus
The Charred Coral Grouper "Bamboo En Papilotte is a dish cooked in a folded leaf. Presented at the tableside on a charcoal fire, the tender grilled coral grouper is then placed on a plate just before the wakame beurr (with clams and ikura roes) is added in. The freshness of the fish, charred smoky notes imparted by cooking on the charcoal fire, and briny bursts from the ikura roes bring flavors to this dish.
Charred Coral Grouper "Bamboo En Papilotte
For the main course, we sampled the Iberico Pork Skewer; it is a display of liver and gamey flavor of quality Iberico pork paired with leek and sweet flavorful citrus peel. The right cooking timing results in tender and succulent meat. The dish is beautifully accentuated by sips of Chateau de Dracy Bourgogne Pinot Noir 2019.
Iberico Pork Skewer
Then came the Fugu Skin (skin of the Japanese pufferfish) – a light cleanser consisting of marinated fugu skin. With the fugu skin being the main ingredient, this dish is particularly popular among gastronomically adventurous diners. Additional crunch is provided by sea grapes, and Hasuimo (lotus yam).
Fugu Skin
Following up is the final savory course – Lobster "Pou Zai Fan" – a comforting rice dish boiled with crustacean bouillon and a flavoring of shoyu. Sitting on top of the rice is a plump crustacean glazed with gula Melaka, and a final touch of kale.
Lobster "Pou Zai Fan" presented in an earthenware casserole
The menu offers a trio of desserts with tantalizing textures and sweetness done with the lightest of hand. Our palates are sweetened with the first course – Korean Strawberry with acidic juices from juniper berries paired with yogurt and lime nitro.
The second dessert is the Forest Logs (Blanc). Resembling a miniature rainforest (with flowers, branches, soil, and log) the dessert is made from a combination of kurma, espresso, a medley of milk pebbles, and edible flowers. The colorful dessert is perfect with a freshly brewed cup of coffee.
Forest Logs (Blanc)
Finally, the last sweet dessert is the Blanc's Tau Sa Pia served with Raspberry Marshmallow Jelly. Be sure to start with the tau sa pia," says chef Yeoh. This timeless Penang classic biscuit buzzing with layers of biscuits and smooth bean filling is an innovative and delightful creation. 

Blanc's Tau Sa Pia & Raspberry Marshmallow Jelly
We enjoyed the beauty of the contemporary French meal from start to finish and it is a pleasurable and memorable Blanc dining experience. For a similar experience to the Blanc Special Courses Dinner Menu, do make a reservation at +6019 – 2399818. In-house guests of Macalister Mansion will get to enjoy the meal at a special price.
Macalister Mansion
228 Jalan Macalister
Penang