Canteen Cafe at Argyll Road, George Town, Penang
In Canteen Cafe 食堂 on Argyll Road, George Town, Penang, expect to enjoy a range of Thai street staples in an air-conditioned environment. This is the second site of its main outlet in Gelugor area and sits on the space that was once Petit Cafe.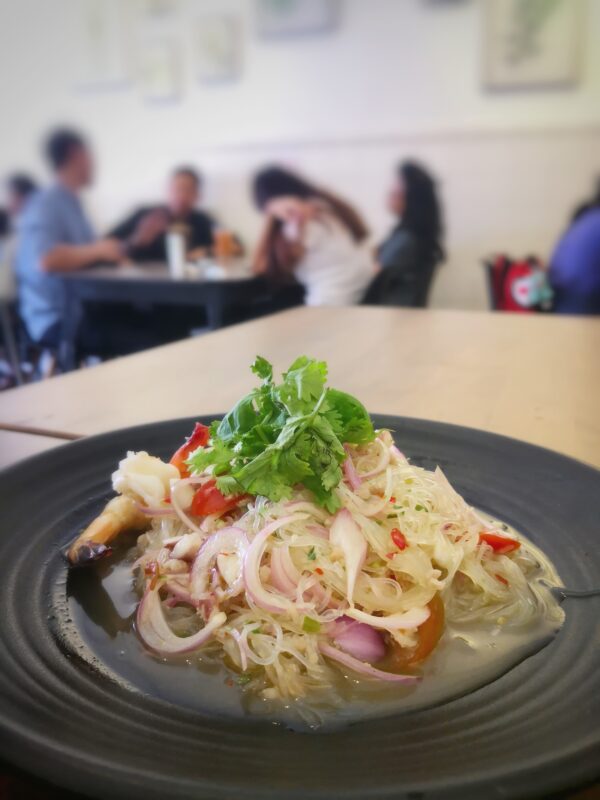 The cafe serves a menu of tom yum noodles, small bites, and a range of rice dishes. For the noodles category, the owner charms diners with its tomyam noodles which comes with a choice of ingredients.
For a first-timer, it is best to opt for the Signature Tomyam Noodle served with a combination of both seafood and meat. The ingredients are exceptionally fresh, from the squid to the prawns, roasted pork, and meatballs. The slightly spicy tom yam soup has a creamy coconut base and exuded the citrus fragrance of kaffir lime leaves. This tasty noodle dish comes in two sizes, – mini, and large which can be shared among two-person.
Mini Signature Tomyam Noodle RM15.90
Meatball Tomyam Noodle RM10.90
The Thai Stew Pork Knuckle Rice is a widely popular dish. With a base of fluffy hot white rice, it comes with slices of stewed pork leg complete with the skin, together with greens, egg, and taupok. Accompanying the dish is a bowl of braising gravy and another garlic chili sauce with mild spiciness.
Thai Stew Pork Knuckle Rice RM11.90
There are other side dishes like Seafood Kelabu Tang Hoon and bites like crispy pork skin, and Thai BBQ Pork (moo ping). Priced at RM10, the bbq pork on a stick is great to nibble over drinks. Served in quantities of threes, the pork is marinated with a pleasantly sweet flavor.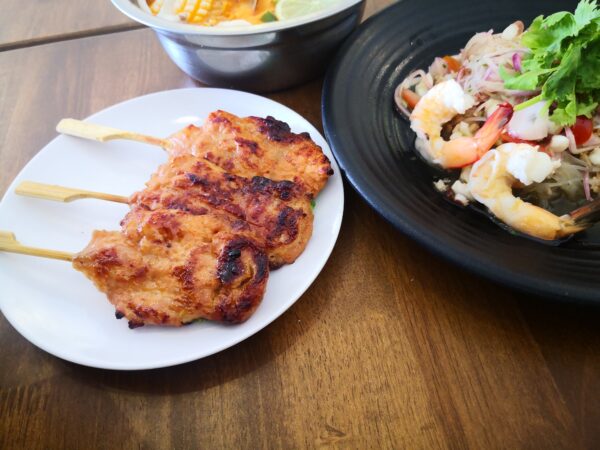 Thai BBQ Pork RM10
Seafood Kelabu Tang Hoon RM14.90
The meal won't be complete without the hot and iced Thai beverages. The Thai Kopi (with milk) is one strong coffee drink to sip on besides other choices like Thai Green Milk Tea, Thai Milk Tea and Thai Soy Milk.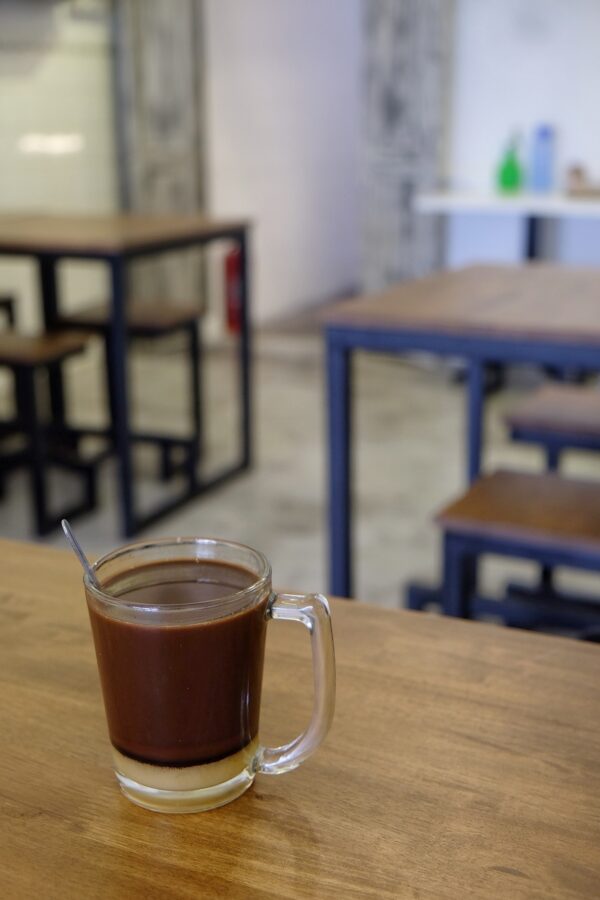 Thai Kopi
Thai Green Milk Tea
Canteen Cafe will nourish hungry diners day in and day out from 11.30am till 9.30pm daily except for Thursdays.
Canteen Cafe
86 Argyll Road
10050 Georgetown
Penang
Mobile: 012 – 4081617