Poseidon's Kitchen Seafood Buffet Dinner at Royale Chulan Penang
The Royale Chulan Penang has recently unveiled the Poseidon's Kitchen Seafood Buffet Dinner at the Sri Tanjung Café. The buffet gives diners the opportunity to enjoy the delectable offerings from the sea in the spacious café occupying the ground floor of the hotel.
Embark on your seafood feasting by sampling the varieties of seafood produce. Making an appearance on a bed of ice are huge tiger prawns, black and green mussels, scallops, flower crabs and more.
From the varieties of appetizers, start off with the light Crabmeat Salad, Jellyfish Salad, Yam Woon Sen or the Somtam Salad before tucking into the Japanese Octopus, Smoked Duck Breast, Smoked Salmon and Seafood Cocktail.
Sushi lovers may try the sushi prepared in many ways – Crabmeat, Tuna, Egg, Takuan and Cucumber from the Hosomaki Sushi corner. Cheese connoisseurs will also be pleased to find a selection of cheese like Brie, Edam, Cheddar, Emmental, Camembert, and Blue Cheese as well.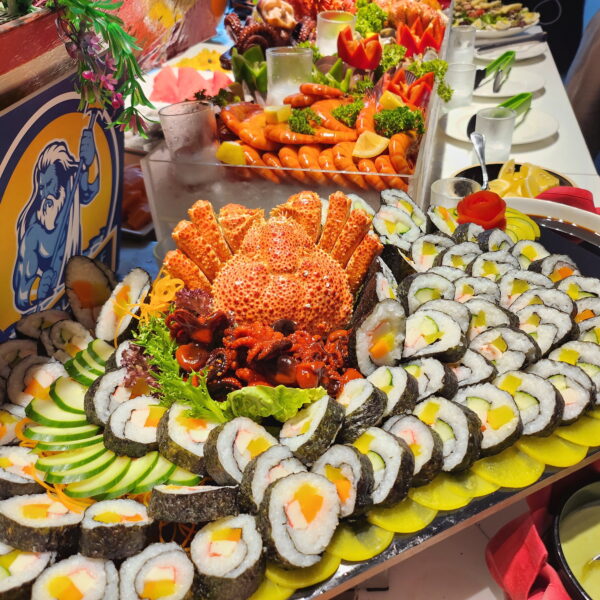 A regular fixture is the Carving Station where one can get a fix of the Roasted Lamb Leg.  Nicely cooked, the lamb is delicious paired with the accompanying vegetables. For seafood lovers, do try the Baked Barramundi, prepared with natural flavors and saltiness. Finally the Baked Oysters presented on half shells are coated with Citrus Sabayon.
At the Mongolian BBQ Station, the chef serves up a variety of grilled seafood and meat. Place your order and watch as he whips up dishes of mantis prawn, squid, clam, prawn, mussel, chicken and beef.
Don't miss out on the Asian Corner where you can request your plate of stir-fried Char Koay Teow to be cooked just the way you like it – with more bean sprouts or less noodles. There is a couple of other options, such as the Seafood Dim Sum, and the Stir-Fried Radish Cake with Mantis Prawns.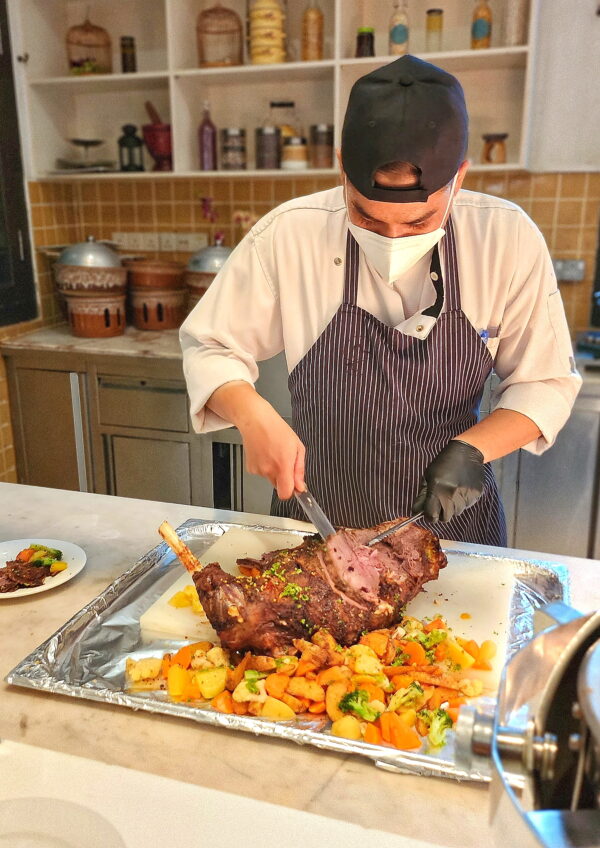 Roasted Lamb Leg at the Carving Station
Baked Oysters Citrus Sabayon
Several Italian dishes are presented at the Italian Corner and you will have a range of pasta choices such as Spaghetti, Macaroni, and Tagliatelle served with Marinara Sauce and Herb Cream Sauce. Alternative, enjoy the pasta dishes with a bowl of warm soup. The culinary team made comforting and creamy Asian and European soup.
The menu also features the popular classic Fish Head Curry, prepared with a selection of fish head such as Salmon, Red Snapper and Seabass along with okra, egg plant and tomatoes. This spicy dish would go great with a bowl of rice.
Besides the fish head curry, there is also a large number of seafood main courses to choose from which includes the Penang Style Chili Crabs, Salmon Teriyaki topped with sautéed vegetables, Authentic Balitong Masak Lemak Chili Padi, Fried Calamari Rings, Classic Stir Fried Kung Po Prawns and Mixed Vegetables with Pacific Clams.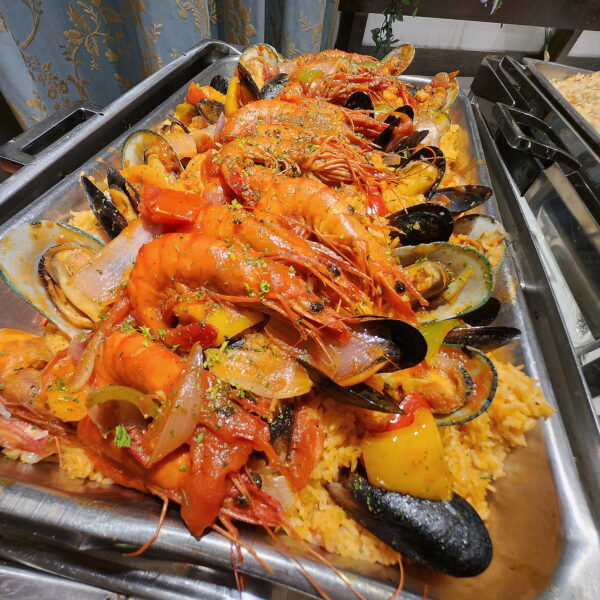 Penang Style Chili Crabs
Finally, for dessert, go ahead and spoil yourself with the lovely mix of local sweets, freshly cut tropical fruit and ice cream to French pastries and continental cakes. One winning sweet broth (tong sui in Chinese) is the boiled bubur kacang with coconut milk.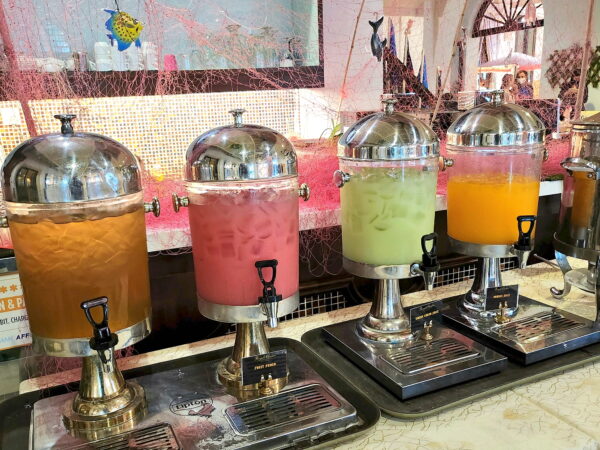 The Poseidon's Kitchen Seafood Buffet Dinner is available every Friday and Saturday from 6.30pm till 10pm, and comes with a comfortable price of RM98+ (adult), RM78+ (senior citizens) and RM68+ (children). If you feel like like having this weekend buffet seafood dinner, do reserve your seats by making reservations at 016 – 3303408.
Royale Chulan Penang
No 1 & 2 Pengkalan Weld
10300 Penang