Thai Cuisine at Thara Penang in Lorong Prangin, George Town, Penang
Newly opened Thara Penang has brought up the number of F&B outlets on Lorong Prangin in George Town, Penang. On the same row as Ichi Tong 一桐, this non-halal restaurant certainly does a well job in the atmosphere department. The same can be said about the food too.
A group of five walked in for lunch and were charmed by the interior of the restaurant decked out in a myriad of colors and a brightly lilted air-well area.
Front section of the restaurant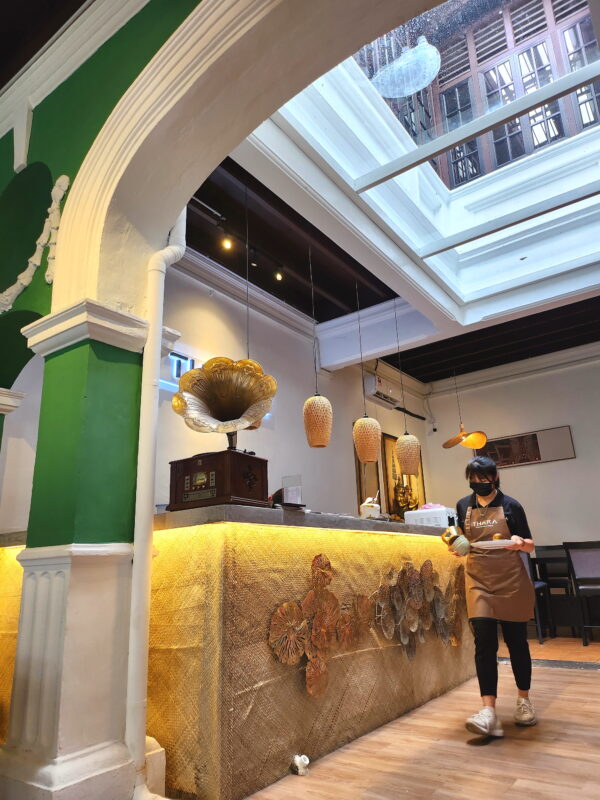 Brightly lilted air-well area
From what is mentioned in its Facebook Page, Thara Penang is associated with ThongLor Thai, previously located at Icon City in Bukit Mertajam. From the menu, one can find many Thai favorites. Priced on the slightly higher side, the choices are great for a full meal and light treats.
An indulgent dish we reveled in was the White Tomyum Seafood Soup. Priced at RM48, the dish was done with a nice sweet-sour flavor with hint of spiciness and natural sweetness of seafood. Another worthy mention is the Phad Phed Kai, a dish of chicken thigh cooked in red flavorful curry.
Phad Phed Kai – Red Curry Chicken RM22
White Tomyum Seafood Soup RM48
The Melindjo Leaves dish is an interesting flavorsome must-try. Stir-fried with egg, vermicelli, and pickled onions, it was tasty and simple with each ingredient enhancing the taste of the other.
The Gaeng Som – red snapper steamed with sour and spicy yellow soup. Flavors are delivered emphasising on the freshness of the ingredients. However tinged with a certain influence, the taste somehow is not a popular choice for us.
Gaeng Som RM58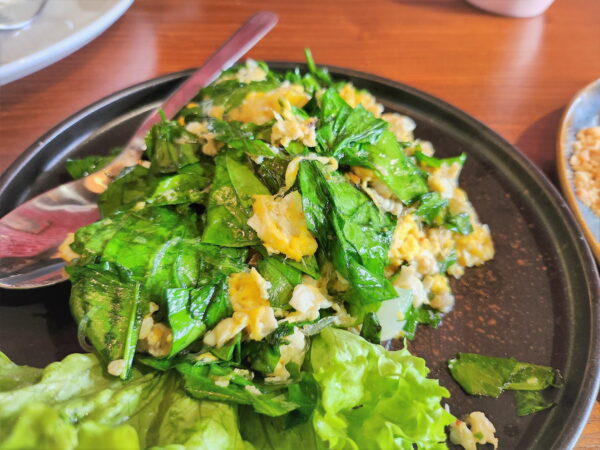 Melindjo Leaves RM24
Som Tam Papaya Salad RM18
Cha -Om omelette cooked with acacia leaves RM22
As for dessert, the kitchen does turn out a handful of choices –  Red Ruby RM8, Mango Sticky Rice RM12, and Coconut Ice Cream. The Red Ruby with water chestnut wrapped in tapioca flour is served along with jackfruit in coconut milk. With the right notes for sweetness and creaminess, the dessert is a favorite.
For beverages, the menu offers an assortment of Thai favorites which include Ice Milk Tea, White Coffee, and Iced Green Milk Tea.
Red Ruby RM8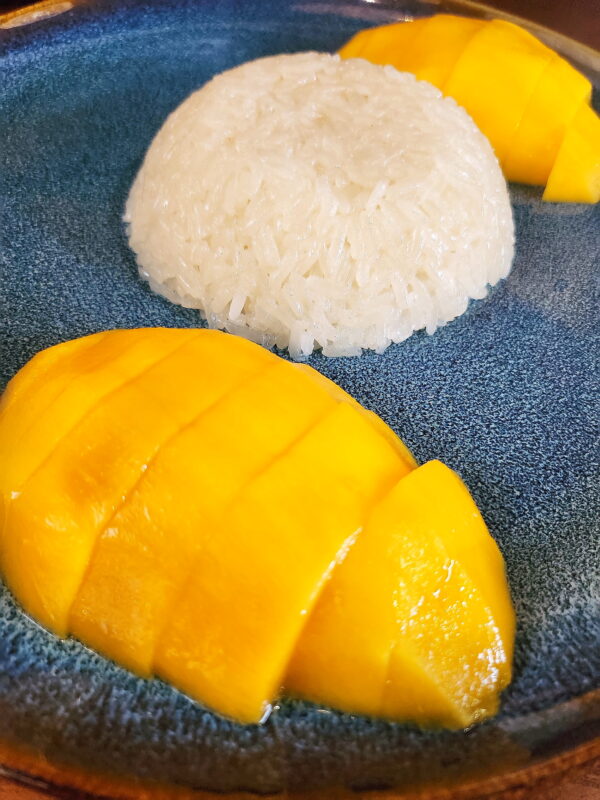 Mango Sticky Rice RM12
If you are looking for a place to have a Thai meal, do head over to Thara Penang. Daily business hours are from 12noon till 3pm & 4pm till 10pm. Diners visiting from Monday till Wednesday will be able to enjoy a 15% discount (do check for their latest updates on the validity).
Thara Penang
5 Lorong Prangin
10300 George Town

Penang