Christmas & New Year Buffet Dinner 2022 at Eastern & Oriental (E&O) Hotel, Penang
For this 2022 Christmas and New Year's Eve celebrations, head to Eastern & Oriental (E&O) Hotel in Penang with your family and friends for a wholesome meal at the comforts of Sarkies, Java Tree, Planters Lounge, Palm Court, and Farquhar's Bar.
Indulge in menus of English Afternoon Tea, Festive Roast Lunch, BBQ Dinner, Boxing Day Lunch, Christmas Set Dinner, New Year's Eve Lunch and New Year's Eve Dinner to welcome 2023.
Roast turkey – the highlight in most of the Christmas menus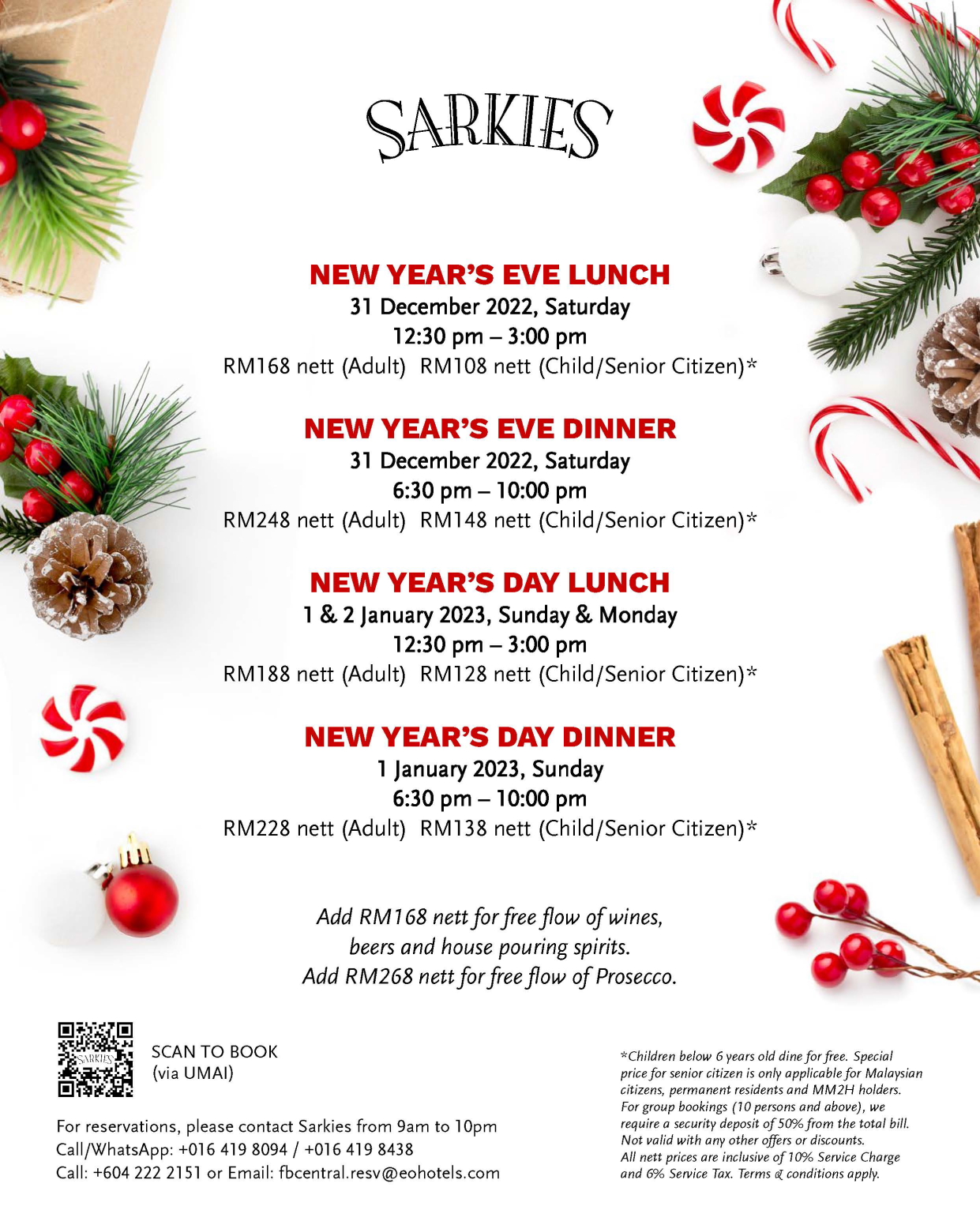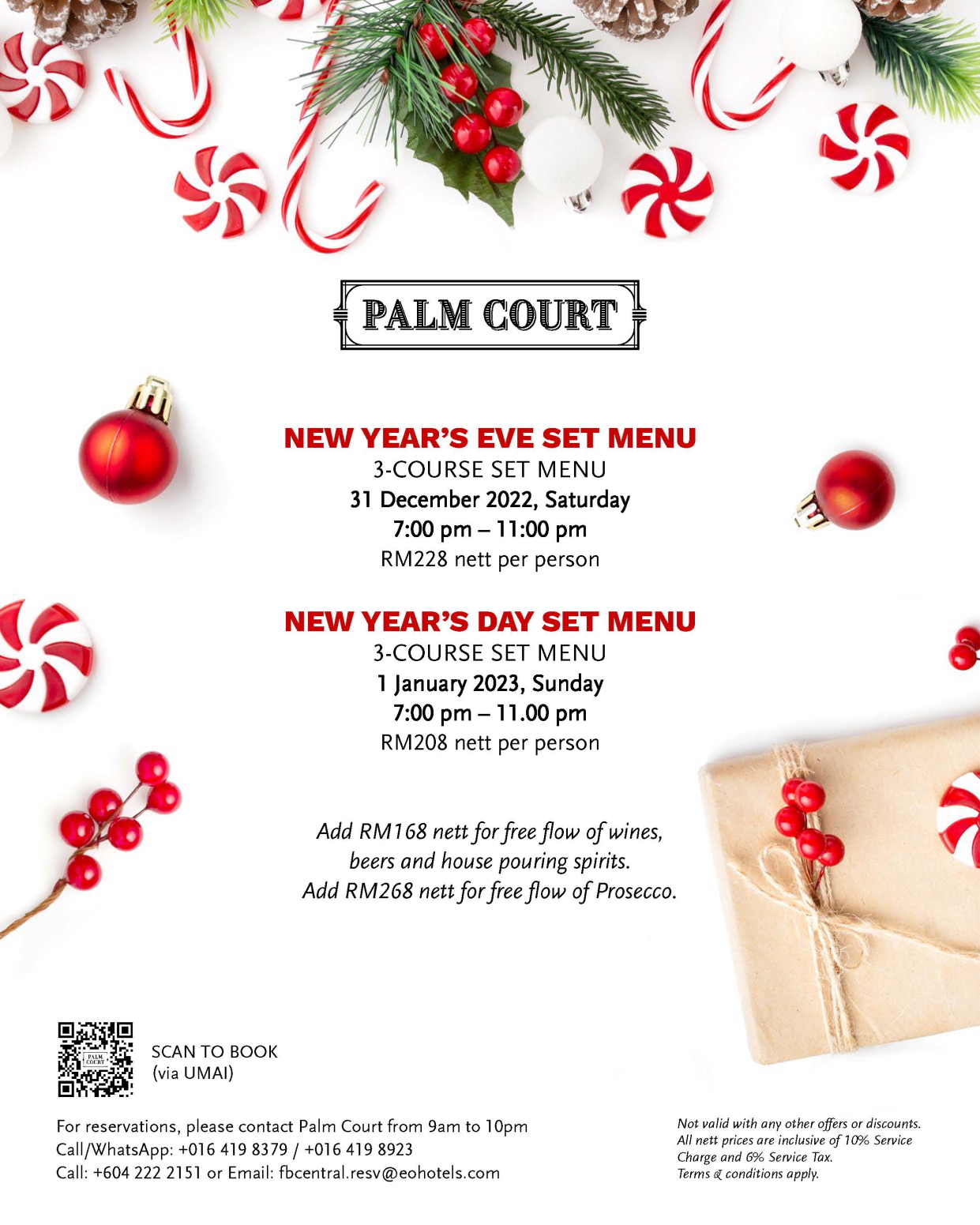 The menus will feature varieties of creative platter, warm soup, salad, besides traditional festive delicacies:
CHILLED SEAFOOD PLATTER
SNOW CRAB LEG, SLIPPER LOBSTER, SPANNER CRAB, CRAYFISH, SCALLOP, PRAWN,
GREEN MUSSEL, BLACK MUSSEL
Served with Lemon Wedges, Cocktail Sauce, Tabasco, Tartar Sauce
SIGNATURE COLD PLATTER
CHICKEN GALANTINE WITH APRICOT CHUTNEY
SEAFOOD TERRINES WITH REMOULADE
SALMON GRAVLAX PLATTER, HORSERADISH DIP
SHAVING OF BEEF WITH VEGETABLE PICKLES, GRAIN MUSTARD & HONEY SAUCE
CHEESE PLATTER
CAMEMBERT, BLUE, EMMENTAL Accompanied with Crackers, Grissini, Dried Fruits, Nuts, Seedless Grapes
HEALTHY SALADS
WALDORF SALAD
PEAR SALAD WITH WALNUT
MIXED BEAN SALAD WITH MINT DRESSING
TUNA NICOISE SALAD
ROAST PUMPKIN AND CHARRED ONION SALAD WITH PESTO DRESSING
MAIN ENTREE
CHICKEN PARMIGIANA
SHEPHERD PIE
WOK FRIED PRAWNS WITH BUTTER AND CEREAL
CHILLI CRAB
BRAISED VEGETABLES WITH MUSHROOM
FRAGRANT PILLAF RICE WITH DRIED FRUITS AND NUTS
CARVERY STATION
ROAST TURKEY
Comes with Chestnut and Apple Stuffing, Brussel Sprout, Roasted Baby Potatoes,
Braised Red Cabbage, Giblet Gravy and Cranberry Sauce
ROASTED PRIME BEEF
Baked with Herbs and Served with Roasted Baby Potatoes, Butter Herb Vegetables
and Mushroom Gravy
OVEN ROASTED LAMB LEG
Pickled with Garlic Cloves, Marinated with Rosemary and Sun-Dried Tomatoes
Served with Parmesan Roasted Potatoes, Butter Herb Vegetables, Mint Sauce and
Black Pepper Gravy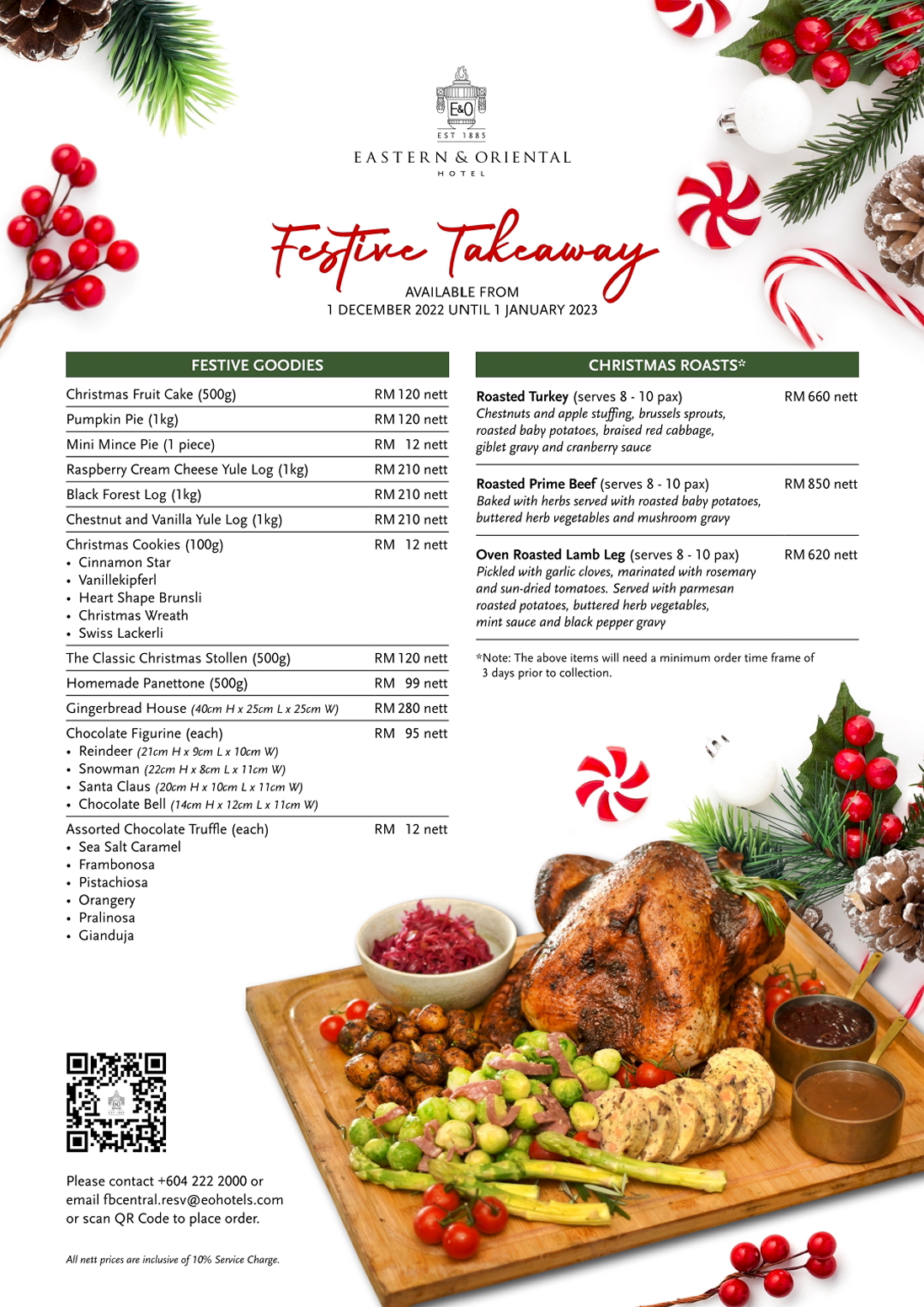 For dessert, you can have a decadent slice of Yule Log Cake, Christmas Fruit Cake, and Christmas Pudding accompanied by a dash of vanilla sauce. Of course, one must not miss out on the festive cookies – Vanillekipferl, Linzer, Cinnamon Star, and Basler Leckerli.
Besides the customary desserts, diners can look forward to the many petite cakes like Chocolate Mille Feuille, Pistachio Opera, Strawberry Bavarois, and an assortment of mini tarts and creme brulee. The Ginger Creme Brulee with a velvety texture present itself with hint of ginger.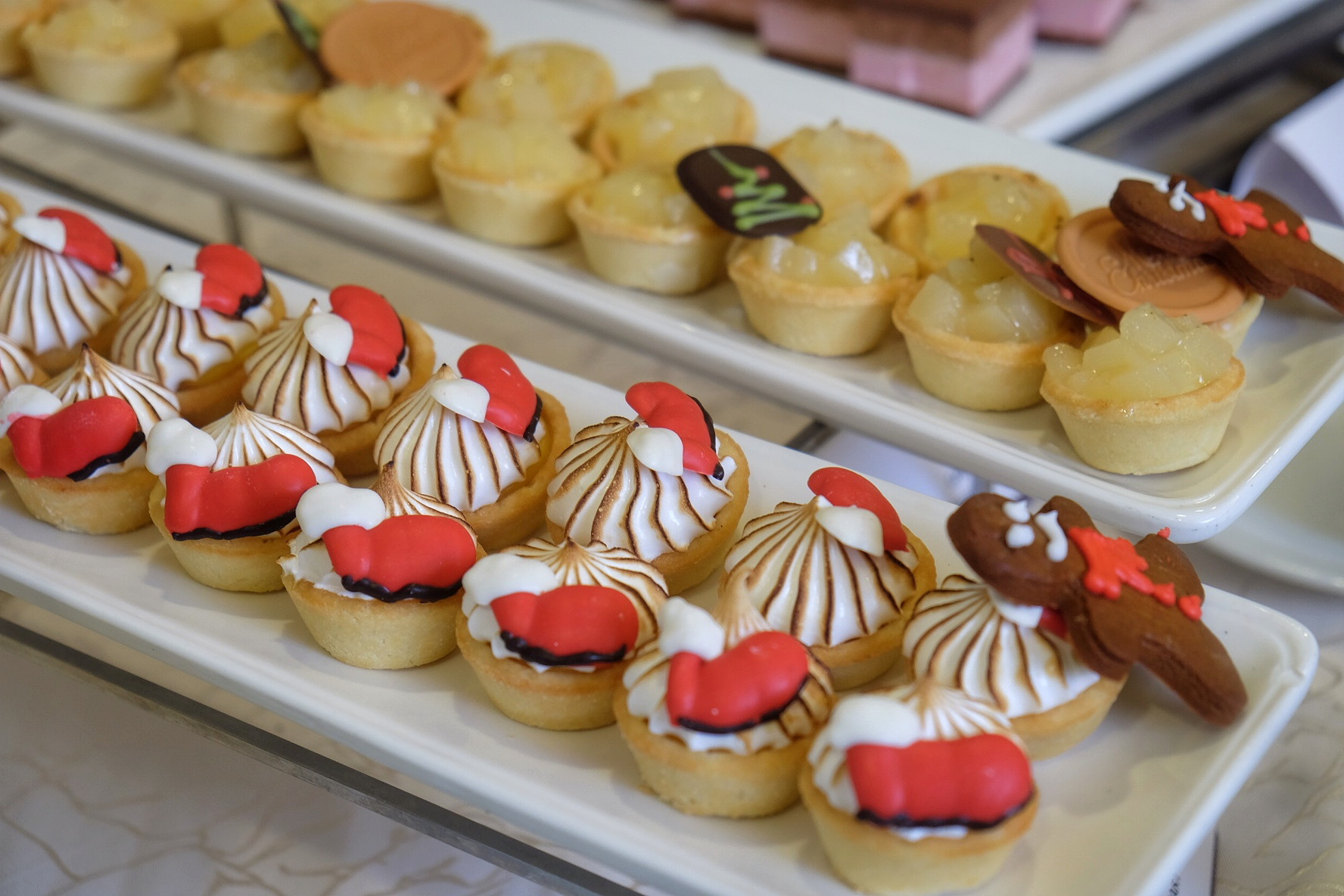 Eastern & Oriental Hotel
10 Lebuh Farquhar
10200 Penang
Malaysia
For reservations, call/whatsapp: +016 – 4198094 / +016 – 4198438.