Thor Corr Phou Zi Cafe at Sungai Pinang, George Town, Penang
Thor Corr Phou Zi 土庫鋪子 located on the ground floor of Taman Serendah flats behind the Sungai Pinang Food Court in Penang highlights flavors of Curry Mee and Lam Mee besides English breakfast and croissant.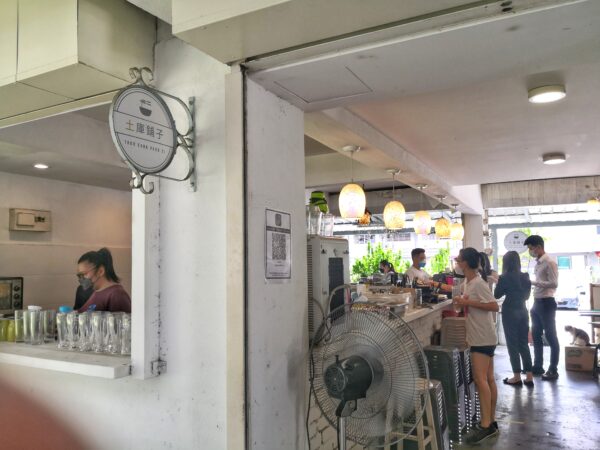 Situated on the ground floor of Block 5, the small eatery makes good use of the nearby motorcycle parking lot to maximize space and create a dining section ventilated by ceiling and stand fans.
The menu with a combination of local and Western dishes is available for breakfast and lunch. Noodle lovers will appreciate the selection of Fish Meat Curry Mee and the clear soup Lam Mee.
We arrived for lunch and sampled a selection of noodles. The Fish Meat Curry Mee is a bowl of noodles in a creamy subtly spiced curry broth, dressed with thick slices of fish, half a hard-boiled egg, okra, and tomatoes. The dish comes with a scoop of homemade chili paste which increases the level of spiciness besides enhancing the flavor. The combination of all the ingredients made it a flavorful dish.
Fish Meat Curry Mee RM10.90 with add-on okra for RM1
Another welcoming noodle choice is the Thor Corr Seafood Lam Mee – a bowl of yellow mee in a clear soup.  Priced at RM16.90, it comes with generous amounts of seafood consisting of a large prawn, cuttlefish, scallop, and thick slices of fish. The accompanying slight sourish chili sauce completes the dish.
Add-on ingredients are available and there is a choice of abalone, scallop, fish meat, and more.
Lam Mee Seafood RM16.90
Do save some space for their snacks. We tried the Loh Bah Gou – a white radish specialty, deep-fried and arrived hot on the table with a light chili dipping sauce. The preparation was spot on, with slight crunchiness outside and creaminess inside. Other snack options include Cheese Stick, Gyoza, and Fried Miku.
Loh Bah Gou RM7.90
The Western offerings include English breakfast, and croissant. Among the croissant choices, we had the 3 Mini which comes served with ham and cheese, egg mayo, and tuna. The plate of croissant got more appetizing with a variety of vegetables added in.
Finally, a range of beverages is available which include fruit juices, and a brew of local kopi. For kopi, the choice is many and include a well-loved favorite Thor Corr Signature Coffee with Nestum topping.
3 Mini Croissants RM15.90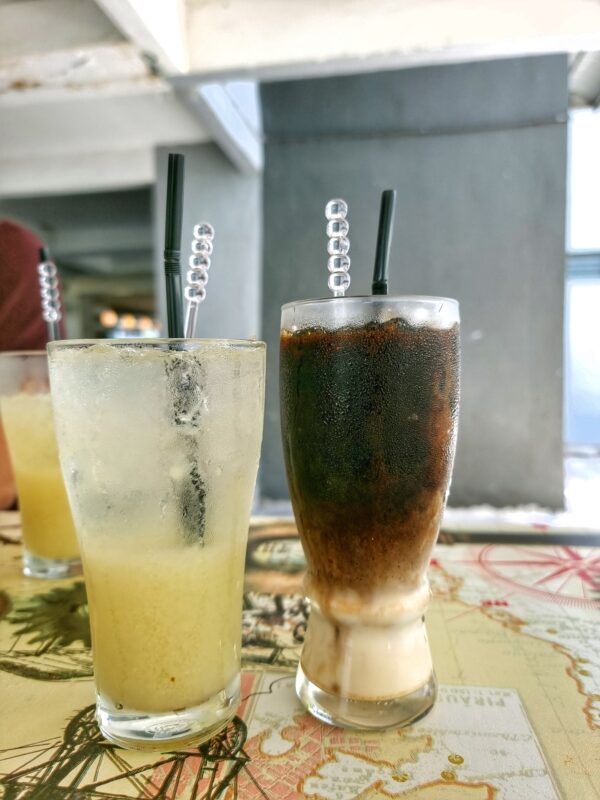 Beverages of Kopi-C and guava juice
Diners who have patronized this neighbourhood eatery regularly come back for visits. Business hours are from 7am till 2pm and the eatery is closed on Mondays.
Thor Corr Phou Zi 土庫鋪子
5-G-02 Solok Sungai Pinang 2
11600 Jelutong
Penang
Mobile: 019-5411661