Le Venue by Petr Fehér at Lebuh Tye Sin, Penang
During the Chinese New Year, a group of us sat down for a meal at Le Venue by Petr Fehér, a fine dining restaurant on Lebuh Tye Sin in Penang. The Mediterranean progressive casual fine dining restaurant is showcasing various delightful dishes specially prepared with a touch of reddish hue for the festive season.
Executive Chef Petr Fehér has been cooking up Le Venue's menus for years. Taking center stage this January onwards is the newly launched A La Carte Business Lunch Menu. Besides that, the restaurant also features The All Day Dining Menu, which is quite sizeable with an assortment of appetizers, a soup section, pastas, three seafood dishes, and a page full of meat choices.
For this Chinese New Year festival celebration, the chef uses ingredients like beetroot, and cherry to impart a reddish-brown hue to the dishes. The meal began with three appetizers:
Japanese Royal Miyagi Oyster
The huge oyster is just plain delicious – fresh, firm and juicy, and it had us revelling in with slightly sour hot flavours of Thai seafood sauce, and briny taste of the expensive beluga caviar. Priced at RM25 each, the oyster with an explosion of complex flavors is definitely worth a try.
Australia Abalone & Gold
The abalone delivered a clean flavour and the al dente squid ink pasta was enjoyable with the accompanying beet root sauce. The red color of the beetroot sauce beautifully matches the pasta besides pleasing with a refreshing taste.
Seared Foie Gras 'Rougie'
The buttery seared foie gras was well accompanied by the sweet and sour elements of fruits – red cherry sauce and pieces of caramelized apple.
Japanese Royal Miyagi Oyster RM25 per pcs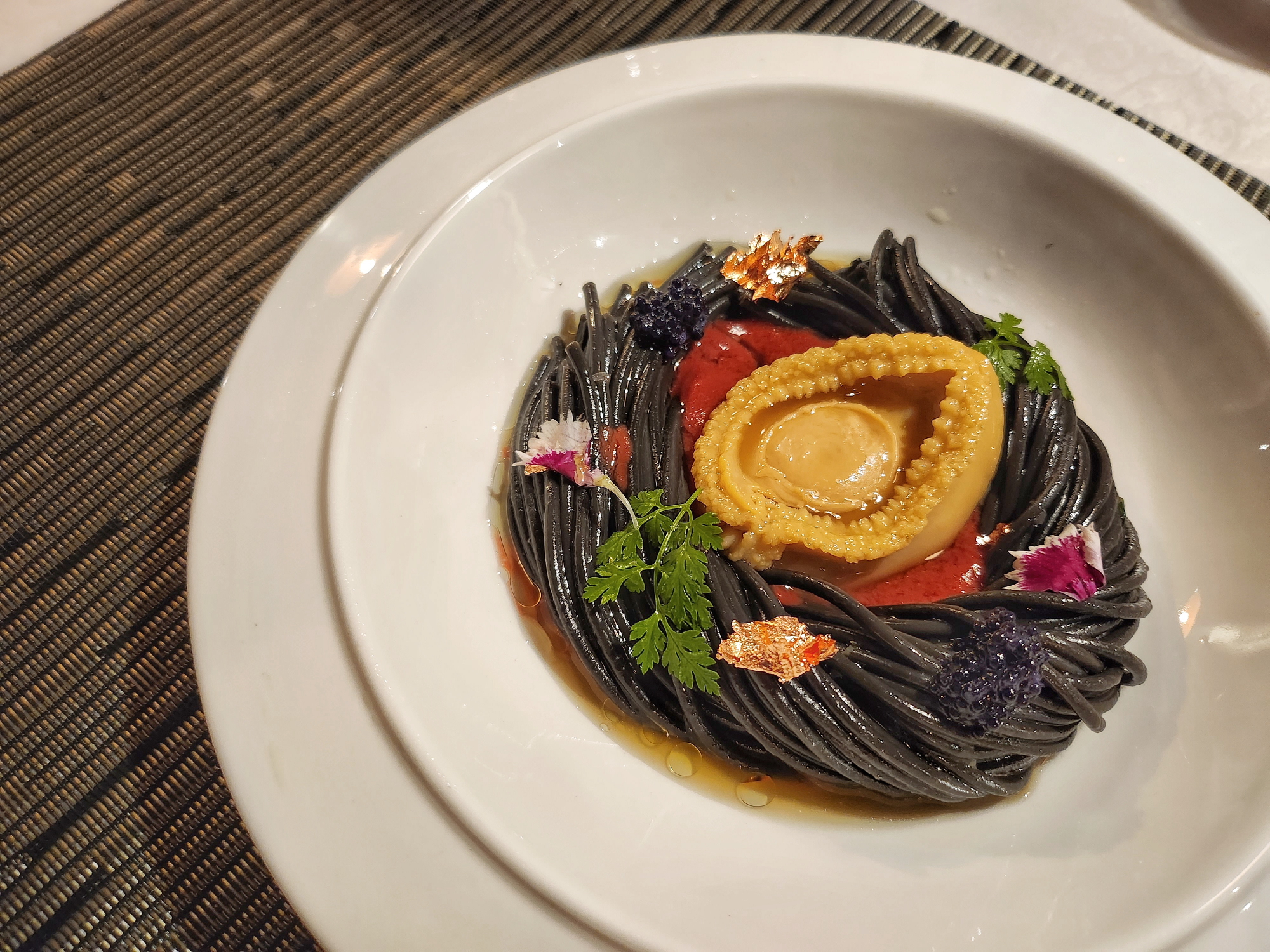 Australia Abalone & Gold, squid ink pasta, beetroot sauce RM68
Seared Foie Gras 'Rougie', cherry sauce, caramelized apple RM92
With appetites whetted, we moved on to the smooth creamy texture soup. Le Venue has a huge list to choose from and flavors include potato & leek, mushroom bisque, tomato & basil crema, French onion, broccoli crema, pumpkin ginger, to name a few. A heart-warming treat indeed with the accompanying bread.
For the mains, the first to arrive to the table was the seafood dish of French Cod Loin – a serving of cod fish complemented with Asari clams and chorizo. The piece of cod was cook just right, still moist, retaining the sweetness of the fish. The other two were the meat dishes – Whole Free Range Organic Chicken, and the Spanish Iberico Pork. The latter is a wholesome dish which focus on the gamey flavors and texture of the meat.
French Cod Loin RM128
Whole Free Range Organic Chicken RM82
Spanish Iberico Pork
With seats nearby to the open kitchen, one can nosey the chefs at work, whereby they assemble variations of vegetables, meat, and seafood on the plates.
From the SHARING DISHES, we had the Seafood Paella (pre-order a day in advance). The chef serves up the delicacy with snow crab leg, mussels, clams, and prawns. Prepared al dente, the rice with a depth of seafood flavor was a pleasure to savor. When it comes to eating the crab, we let loose our dining etiquette, and just dig right in with our fingers.
The serving for the Seafood Paella is portioned for two person and is priced at RM268.
Seafood Paella with Snow Crab Leg, Mussels, Clams, Prawns RM268 (for 2 pax)
Open daily for from 11.30am till 10.30pm, Le Venue by Petr Fehér provides a trendy place for one to indulge in well-made hearty meals paired with a variety of champagnes and wines. A private room is available as well and bookings can be made through +604-2519833 or WhatsApp on +6012-4002072.
A private room for diners
Le Venue by Petr Fehér
80 Lebuh Tye Sin
10300 George Town
Penang
Mobile: 012 – 4002072