Maple Palace Restaurant – Feast on Modern Chinese Cuisine in Penang
I've walked through the marble flooring and glass doors of Maple Palace Restaurant 美寶閣 countless times over the years, and time may pass but one thing remains consistent – the quality of dining and taste of the modern Chinese cuisine.
As an innovative and improvement-centric owner, Loy Tan and his wife Vivien has constantly pushed the boundaries of dining quality at the restaurant and this time was no different.
As a teenager, Loy was already working as a hotel part-timer, a butcher and learning to cook Western and Asian cuisine at Shangri-La, and going on a voyage with Star Cruise. The ten years working in Star Cruise instilled in Loy an undying love for Chinese cuisine.
After gaining an impressive wealth of experience across multiple disciplines, Loy went on to set up Maple Palace in 2009. The restaurant housed in a hundred-year-old heritage building offers exquisitely designed course set menus, and a la carte menu, with Cantonese and Szechuan specialties taking center stage.
On our recent visit, our meal was centered around some new creations and their signature Grouper Seafood Steamboat, and Superior Chicken. The Grouper Seafood Steamboat 海鲜杉斑鱼锅 available in two sizes -RM268 & RM598 comes with grouper fillet, huge white prawns, homemade cuttlefish balls, pork balls, mushrooms, treasure bags, greens, noodles, and condiments. Served in a flavorful milky soup boiled using a combo of grouper fish bones, chicken bones, sole fish and sweetness from sugar cane, this dish is a firm favorite with diners.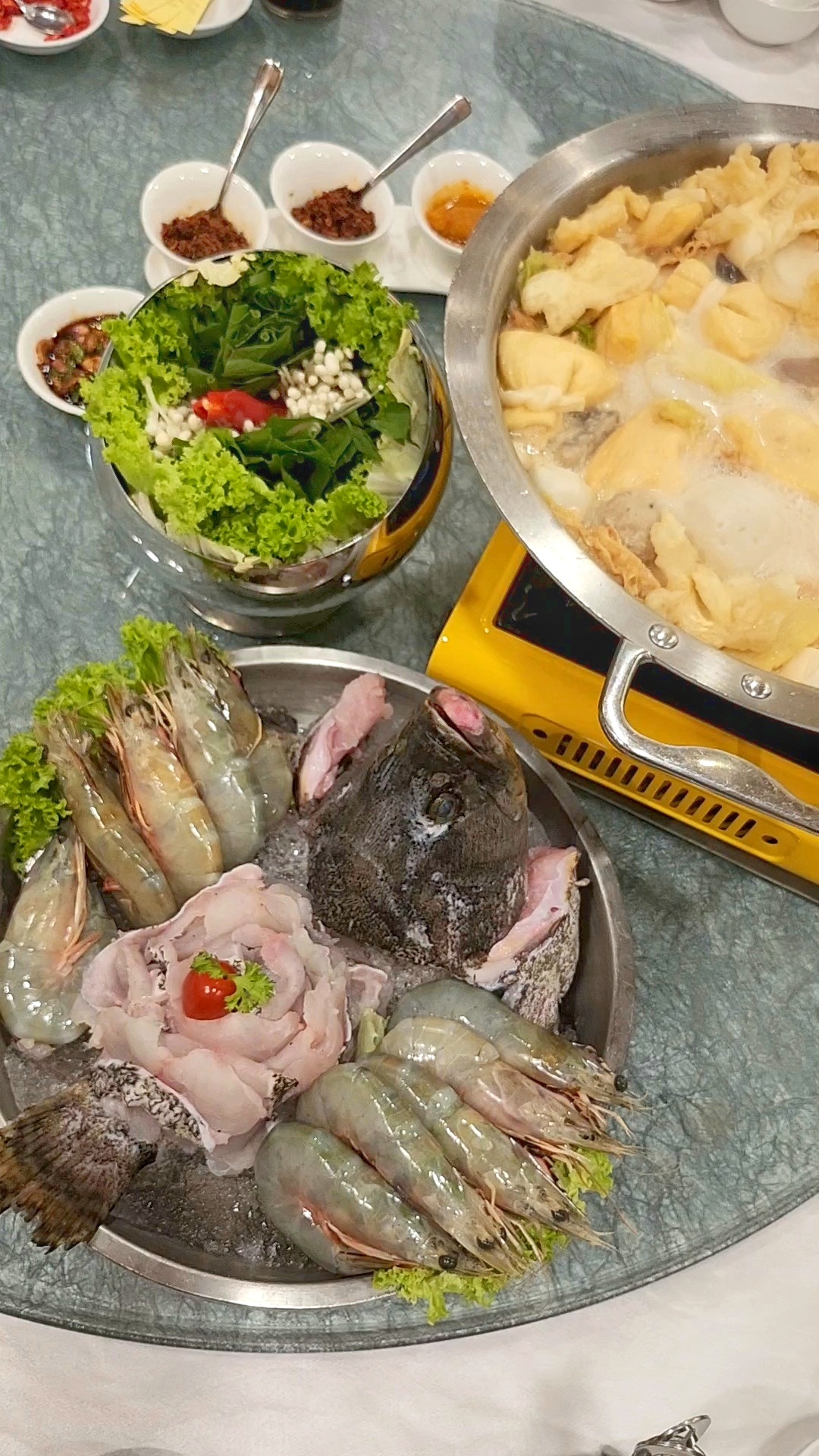 Grouper Seafood Steamboat
Maple Palace serves an incredible Hainanese Chicken Rice. Their version comes with the Boiled Superior Chicken 名鸡*黄油槽鸡王, which is a seven month old corn-fed farm chicken weighing approximately 3.5kg.
The big size chicken is gently steamed and served with fragrant Hainanese-style chicken rice boiled using Japanese rice, ginger, chicken fat, and chicken stock. With a diet high of maize, the chicken has a fuller color and is super tender and bursting in natural sweetness flavor. The three condiments of chili sauce, dark soy sauce and ginger made a perfect accompaniment to the dish.
The Boiled Superior Chicken is priced at RM298 per bird and each bowl of the rice is priced at RM5.  Do note that this dish needs to be pre-ordered a day in advance.
Boiled Superior Chicken (3.5kg seven months corn-fed farm chicken)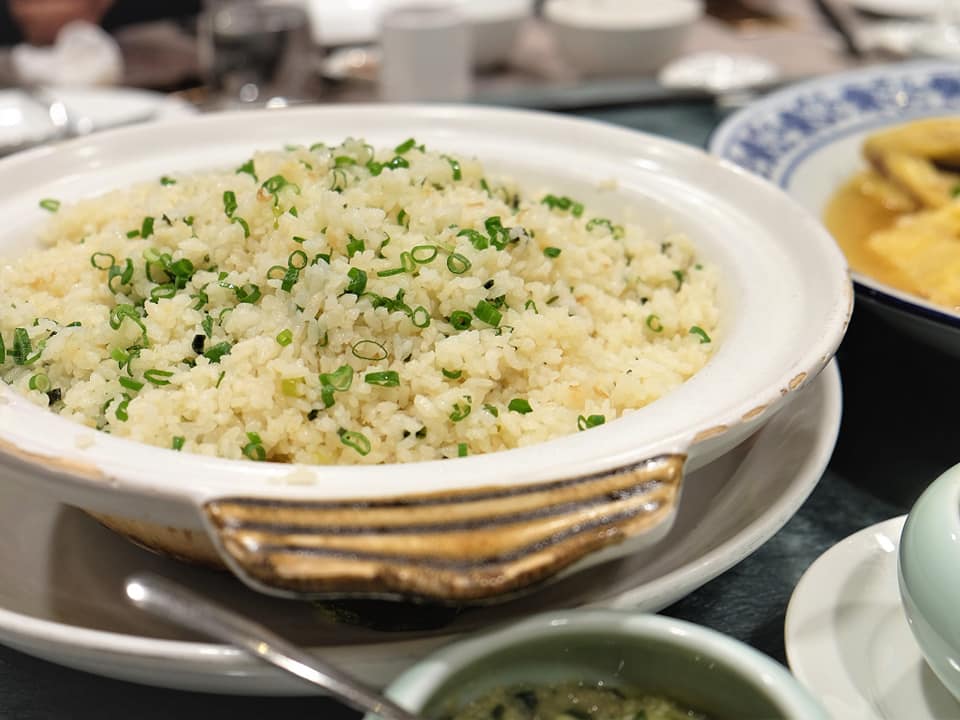 We savored the Silver Fish Pomelo Salad 银鱼仔柚子沙律. Served with a tangy twist, the dish satiates the taste buds with slightly briny fried silver fish and pomelo fruit.
Silver Fish Pomelo Salad 银鱼仔柚子沙律 RM28

Teochew Prawn Ball
We tucked into tender pieces of BBQ Iberico Char Siew 招牌蜜汁黑毛猪叉烧, imbued with flavors and aromas of the marinating ingredients and spices.
BBQ Iberico Char Siew 招牌蜜汁黑毛猪叉烧 RM68 Per Portion (每份)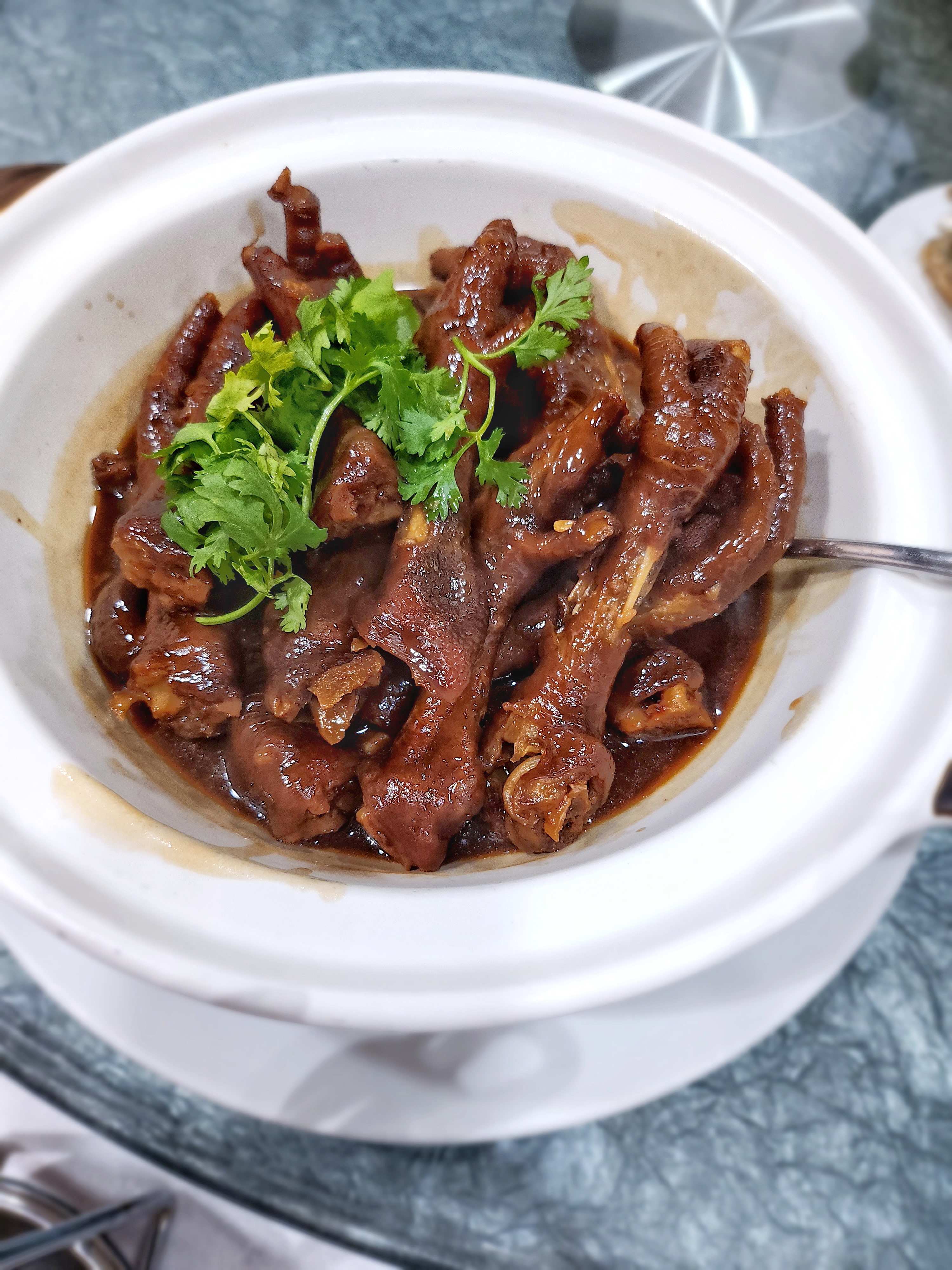 Braised Chicken Feet with Black Mushroom 阿婆冬菇鸡脚 RM50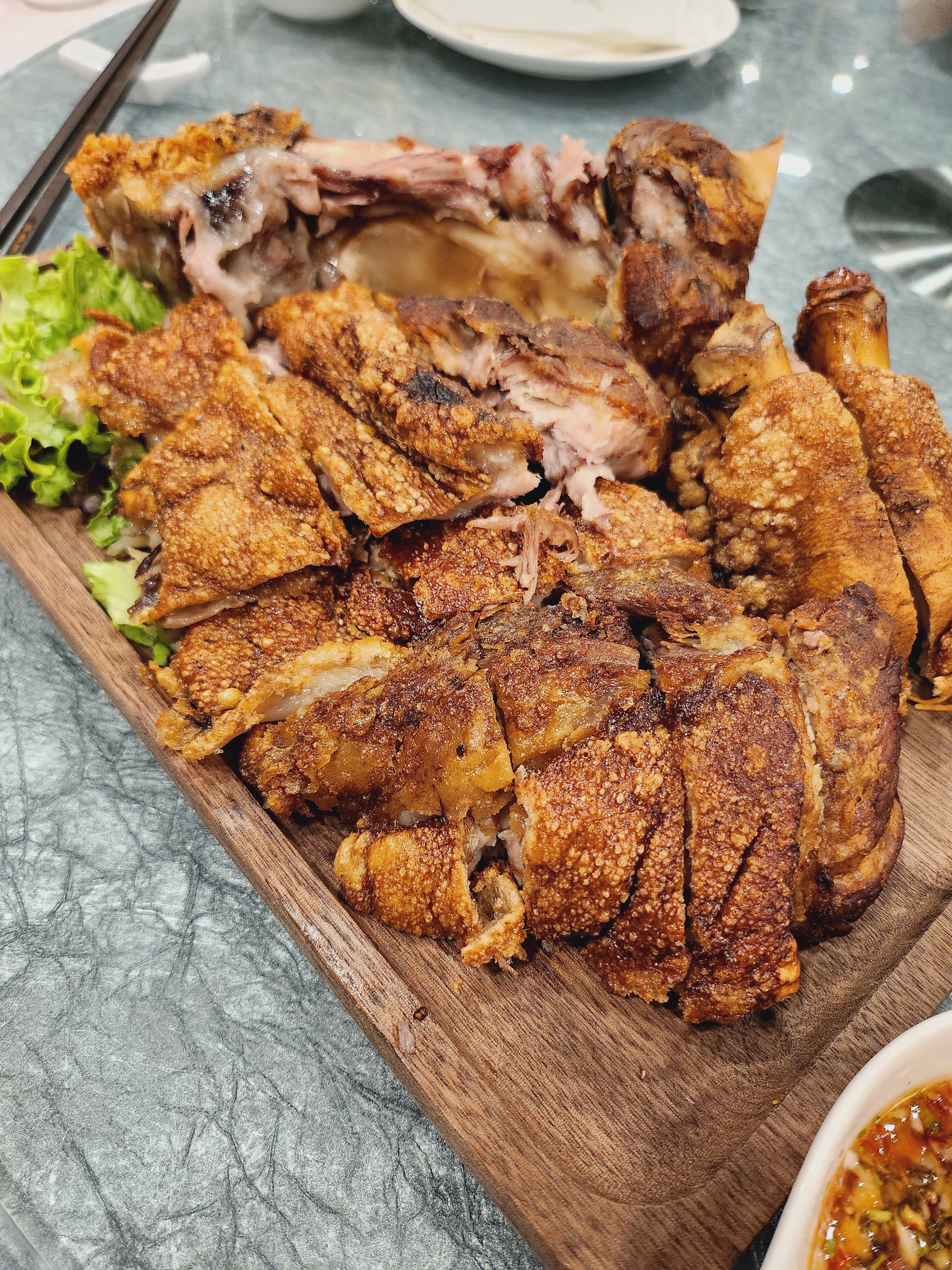 Crispy Pork Trotter RM98
On the menu are traditional Sichuan favorites which include the Sichuan Fish Fillet with Pickled Mustard 酸菜鱼片, and the Stir-fried Shredded Cabbage with Pork Belly & Vinegar 手撕包菜. The latter is tangy delicious, filled with succulent pork belly, and crispy cabbage. The process of shredding the cabbage by hand does provide much crunch and crispiness to the cabbage.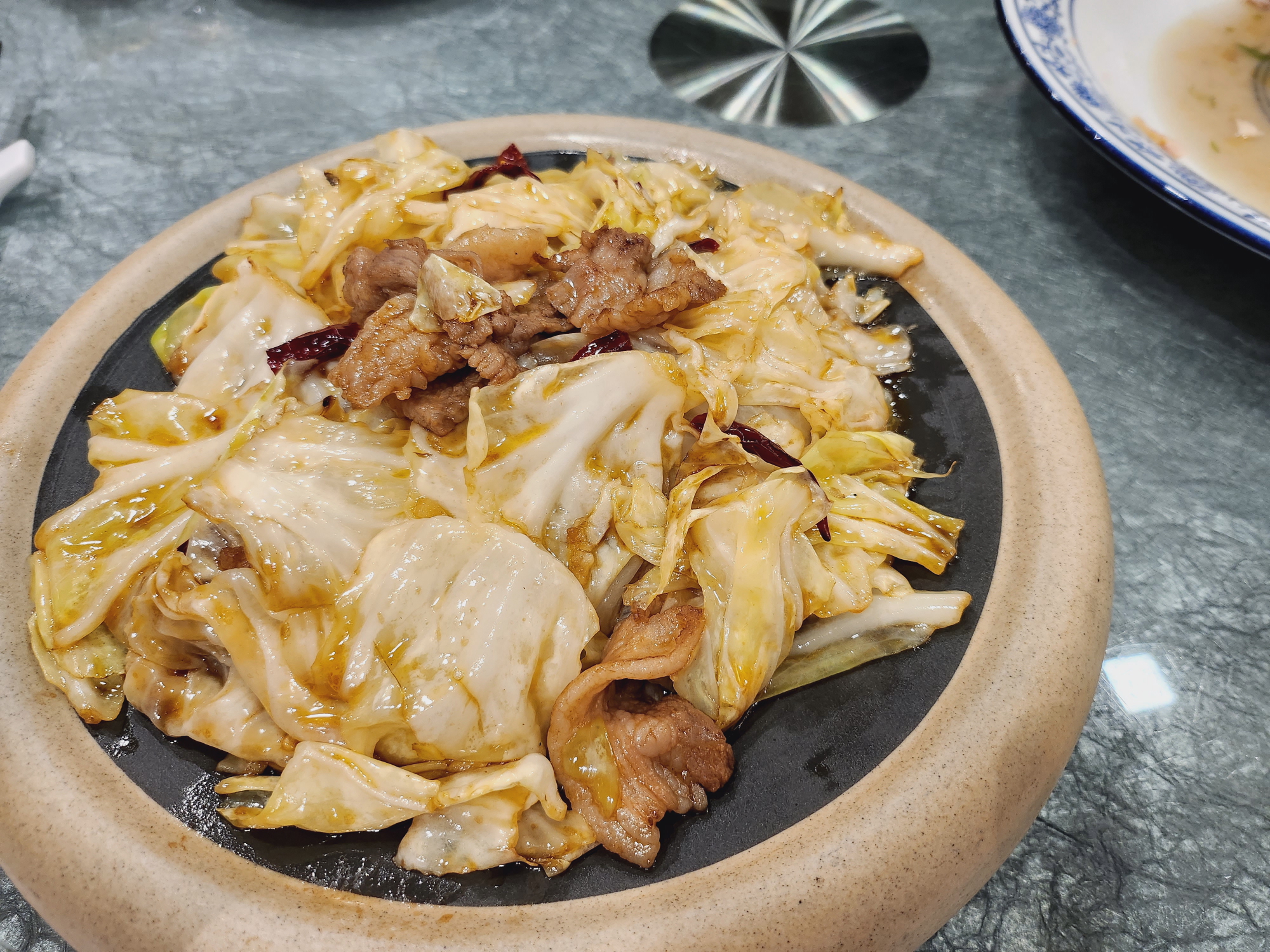 Stir-fried Shredded Cabbage with Pork Belly and Vinegar 手撕包菜 RM38
For desserts, there is a range of cold and warm sweet choices, and one personal favorite choice is Maple Palace Signature Chilled Healthy Green sweet soup 桃胶碧绿冻. The chefs are especially skilled in using vegetables and fruits for this dessert which included a concoction of choy sum juice 菜心, pineapple juice, and honey, along with slices of sea coconut and peach resin. This healthy and fresh combination was quite a surprise and would leave you wanting for more.
Chilled Healthy Green with Sea Coconut & Peach Resin 桃胶碧绿冻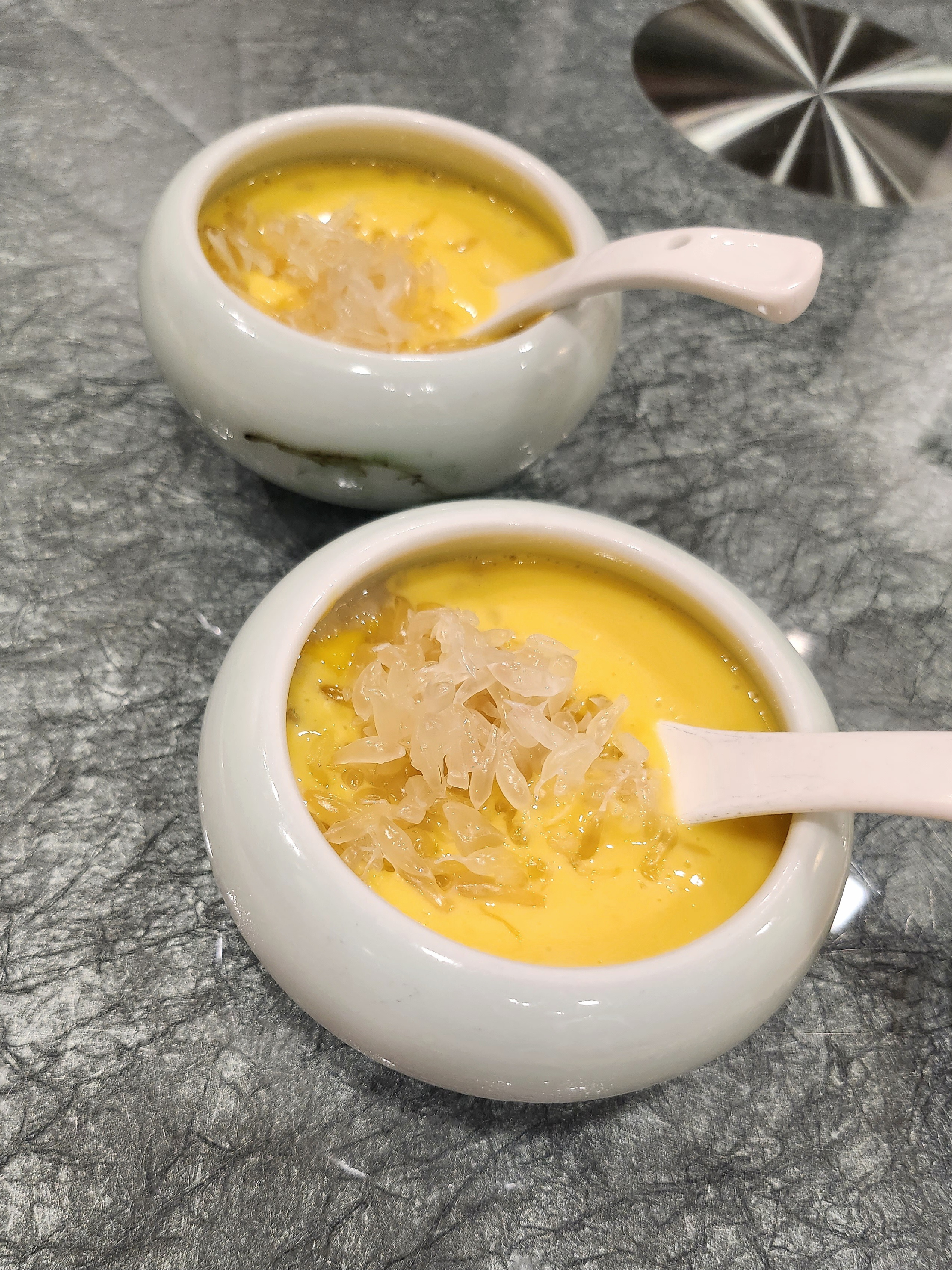 Chilled Mango Sago 杨枝美甘露 RM22
Glutinous Dumpling and Peach Resin in Hot Ginger Tea 姜汁元肉桃胶汤丸 RM18
Chinese Pancake with Lotus Seed Paste 莲蓉锅饼 RM18
With Maple Palace continuing to pull its weight, we are wondering what new creations the kitchen will churn out next? Definitely looking forward to it!
More information on the restaurant can be seen at www.maplepalace.com or call 04 – 2279690. Business hours are from 12noon till 2.30 pm & 6pm till 10pm.
Maple Palace Restaurant
47 Jalan Sultan Ahmad Shah
10050 Penang