Kyujin at Communal Table by Gēn 根, Penang
Kyujin at Communal Table by Gēn 根, Penang is a takeover dinner by Kyujin Restaurant from Kuching, Sarawak and the menu is all about showcasing foraging and preservation of native Sarawakian food by Chef Alexandrios Ting.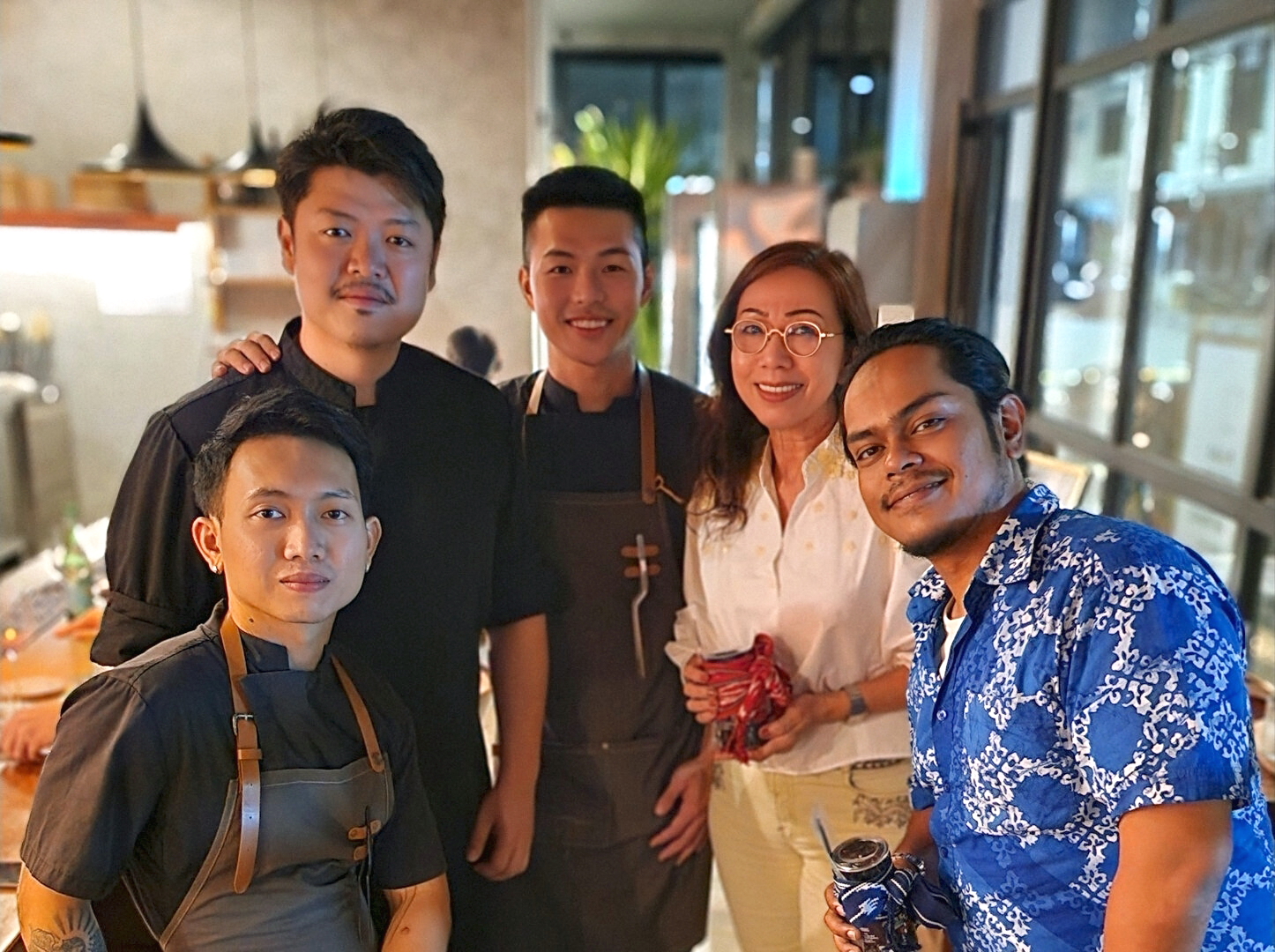 Chef Alexandrios Ting (second from left) and his team
Chef Alexandrios Ting was in residence for two days and I was invited to try out the menu. The tasting menu with snacks to start, and sweet treats to finish was a steal at RM250, and offers dishes prepared with many indigenous Sarawak produce. The ingredients are of fine quality and Chef Alexandrios's balanced use of the ingredients added soul to the seafood and poultry dishes.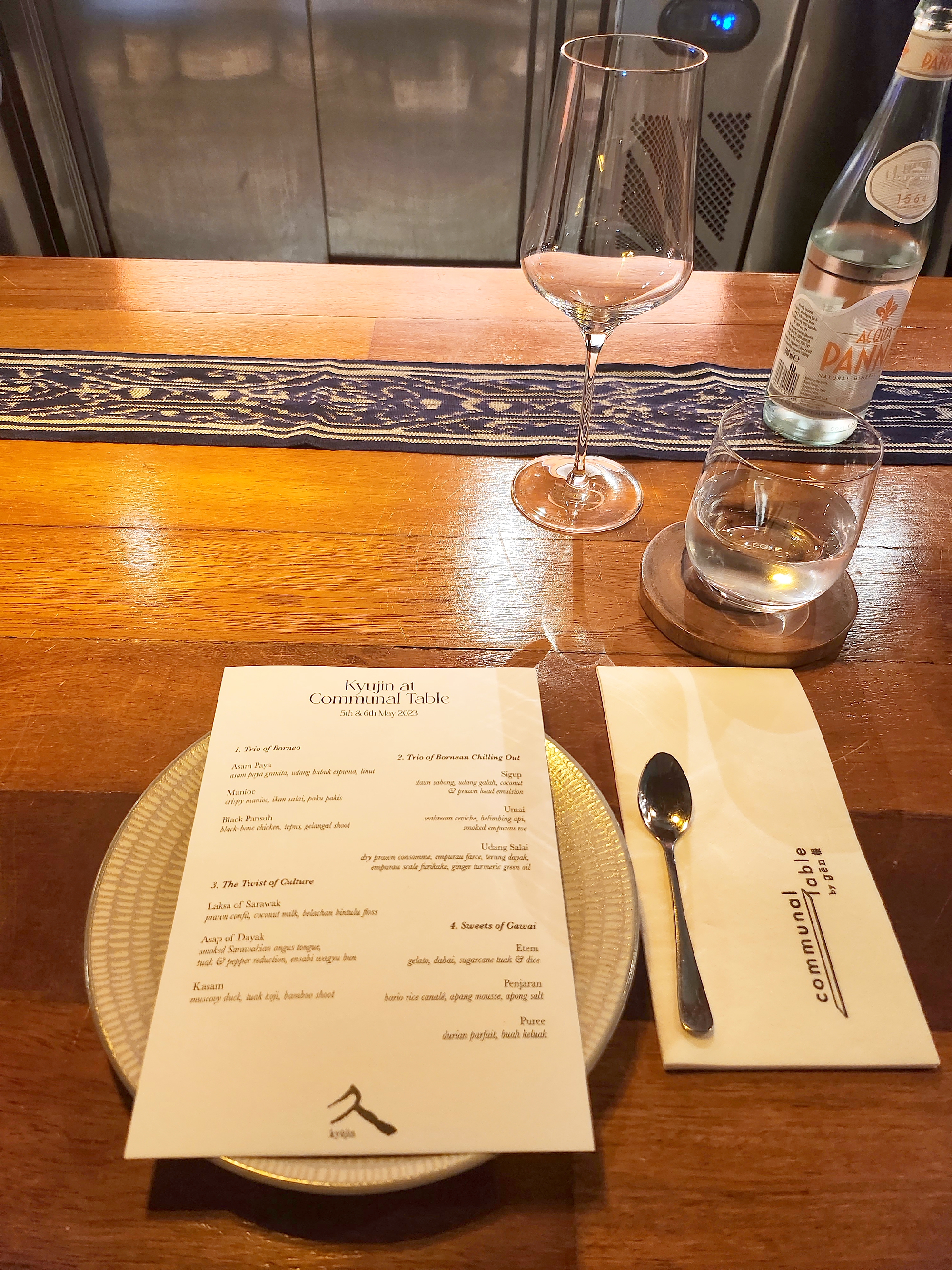 There's a long communal table facing the open kitchen where we watched the chefs at work.
For a start, there is the Trio of Borneo with three tempting 'snacks' served on two separate plates. To start off with is the Asam Paya fruit filled with udang bubuk espuma and linut (sago starch), and toppings of shaved asam paya granita.
It comes along with the Manioc, and Black Pansuh which are two good picks for a munch. The crispy deep-fried Manioc (cassava) is filled with smoked ikan salai and toppings of paku pakis soil while the Black Pansuh is a dish of black-bone chicken cooked the old way in bamboo stalk, and served with aromatic tepus (wild ginger) and galangal shoots.
Plates are introduced by the chef throughout the meal on the long communal table
Trio of Borneo – Asam Paya, Manioc, and Black Pansuh
Second in line was the Trio of Bornean Chilling Out offering the Sigup, Umai, and the Udang Salai. Chef Alex takes on the Sigup: an artwork of a daun sabong cigar with a filling of udang galah, coconut, and other ingredients, served resting on prawn head emulsion with salted fish and beansprout ash. Rolling the Sigup in the emulsion and ash, I devoured it in several bites. This dish was executed flawlessly and I wish I could have another roll.
Next was the Umai: prepared with seasonal (March & April) seabream ceviche on pickled belimbing api (fire starfruit), and served with belimbing api granita, crispy sago and highly prized shaved smoked terubok roe. Getting the filling of the raw seabream and combining it with the right proportions of the other ingredients is nicely executed, it's delicious with lots of umami, tart, sweet and sourness.
The other dish was the Udang Salai (cooking done with smoked dry technique), prepared with many elements – empurau farce, terung dayak (sour brinjal), empurau scale furikake, and ginger turmeric green oil. The dish is made special with dry prawn consomme, besides shavings of white engkabang butter (feed for the empurau fish), and crunchy empurau scale furikake. The cooking method is nicely done, adding extra layer of depth to the dish.
Sigup – daun sabong, udang galah, coconut
Umai – seabream ceviche, belimbing api, smoked empurau roe
Chef introducing the dish
Shavings of engkabang butter added on to the Udang Salai dish
Udang Salai – empurau farce, terung dayak, empurau scale furikake, ginger turmeric green oil
Third in line was the Twist of Culture – Laksa of Sarawak, Asap of Dayak, and Kasam.
Laksa of Sarawak (a popular Sarawak street staple) made with prawn confit, coconut milk, belachan bintulu floss, calamansi jelly, and laksa emulsion has that similar tangy laksa flavor, but here it is made less spicy but creamier.
The Asap of Dayak has smoked Sarawakian angus tongue with a tuak and pepper reduction, ensabi (fermented Sarawakian mustard leaf), lotus root, and a lovely jelly-like textured kulat mata babi (boar eye mushroom). The dish was accompanied with an ensabi wagyu bun. The textures interact with taste, and the newly discovered kulat mata babi definitely leaves its mark on my taste memory.
The Kasam (a preservation method using salt) has a serving of muscovy duck with tuak koji, and bamboo shoot. At first, the chef had the muscovy duck cured, marinade in tuak koji (rice wine), and then left to air-dried. After that, it is grilled. The marinade, smokiness of the grilling, and the sweet sour keranji sauce (made from the native keranji fruit) makes the duck fragrant and tasty. Toppings of deep-fried crispy midin (fern) and pickled ginger flower adds extra layer of depth and crunchiness.
Laksa of Sarawak – prawn confit, coconut milk, belachan bintulu floss
Asap of Dayak – smoked Sarawakian angus tongue, tuak & pepper reduction, ensabi wagyu bun
Kasam – grilled muscovy duck, tuak koji, grilled bamboo shoot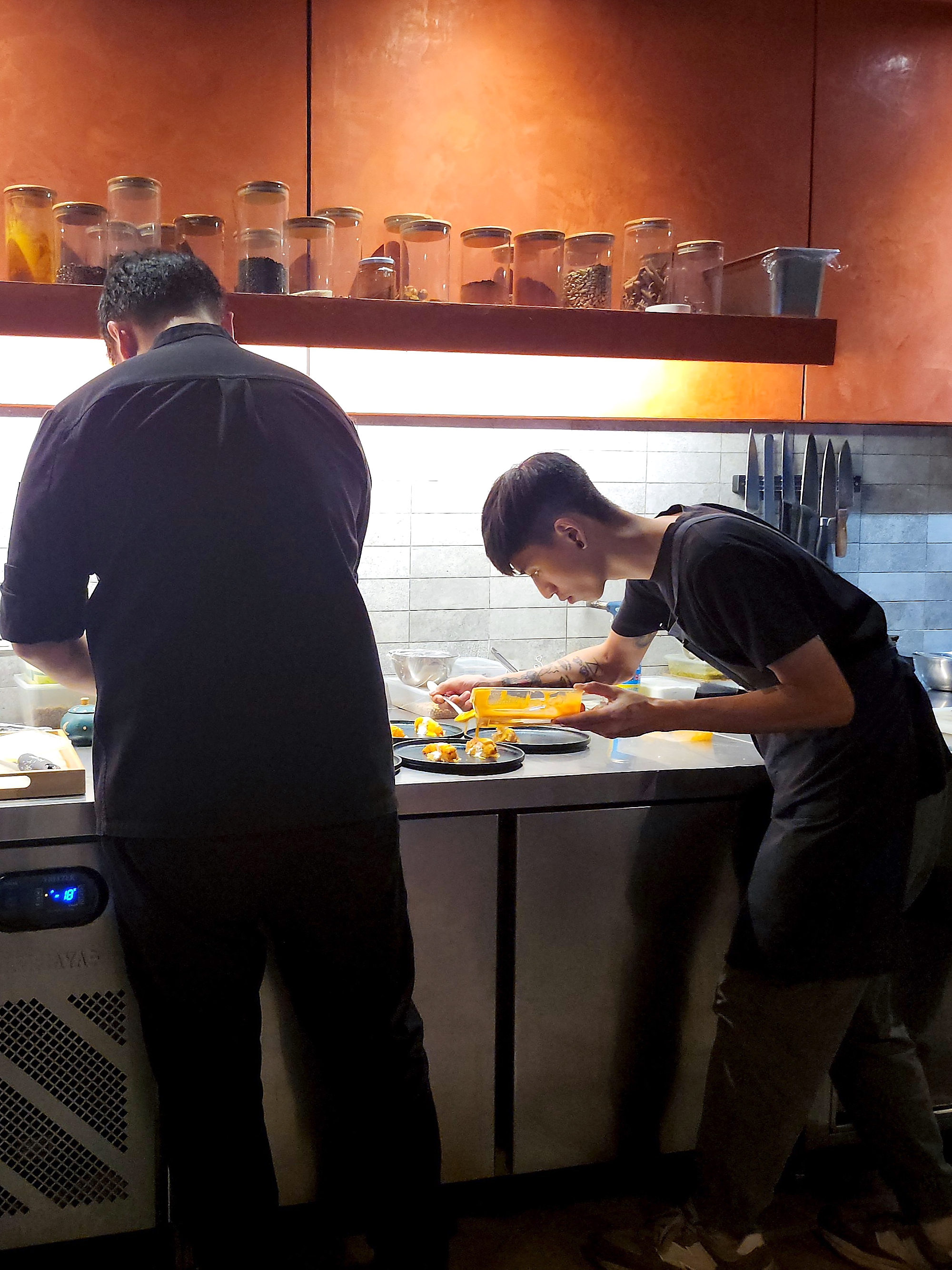 The meal concluded with the presentation of the Sweets of Gawai – Etem & Dice, Penjaran, and Puree. With Etem (gelato with dabai & sugarcane tuak), crunchy dice of Sarang Semut (sweet rice vermicelli), Penjaran (bario rice canelé) with creaminess of apang mousee topping, and bitter pungent Puree (durian parfait) with buah keluak, the desserts definitely had me lost in a lovely sweet moment.
Sweets of Gawai – Etem & Dice, Penjaran, Puree
The food curated by Chef Alexandrios and the team made me happy and I left the restaurant with a smile. It was an educational gastronomic experience.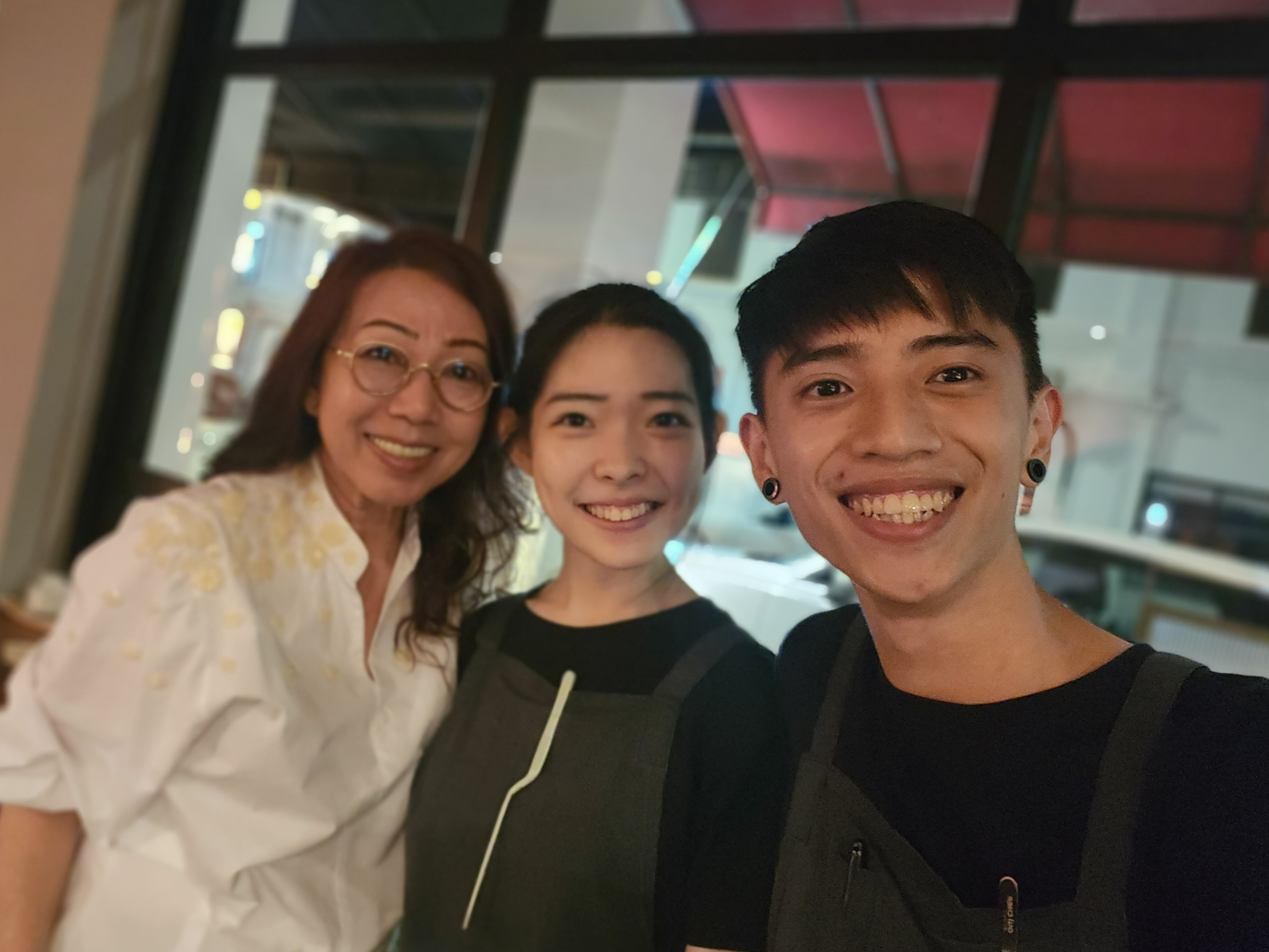 With the friendly folks of Gēn – Serene and Wagyu
Communal Table by Gēn 根 located on Lebuh Presgrave was awarded the Bib Gourmand in the first edition of the Michelin Guide Kuala Lumpur & Penang 2022. Reservations can be made at: +6012-5783323.
Communal Table by Gēn 根
68 Lebuh Presgrave
10300 George Town
Pulau Pinang
If you are heading over to Sarawak anytime soon, do head over to Kyujin Restaurant to sample the range of Chef Alexandrios's repertoire. Reservations can be made at: +6012-6003836.
KYUJIN
Lot 313 Stampin Ammo Depot Road
93350 Saradise
Kuching
Sarawak