PROFILE OF THE PENANG FOOD WRITER
CK Lam, food writer, food columnists and editor of http://www.what2seeonline.com ; featuring the Best of Penang Food. She constantly combs Penang for the best gastronomical delights and loves promoting Penang Cuisines, Culture, Heritage and Events.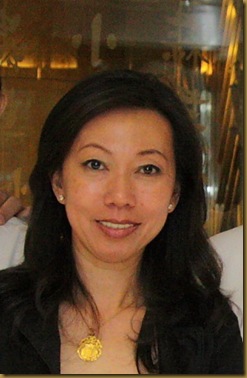 I am just an ordinary next-door lady with a wonderful caring husband and two loving sons. The food blog http://www.what2seeonline.com was created for my two boys, who weren't at home at that moment of time, keeping track with them the happenings at home and also the nice Penang food that they are missing out.
The blog was named What2see : Best of Penang Food. My love to try out various cuisines got me into actively promoting the food in Penang as this state had always been known as a famous 'food' state in Malaysia. Over the past years, I have reviewed many restaurants and food outlets. My website has since grown from a basic blog with amateur photos into a popular guide for foodies from all over the world looking for the Best of Penang Food! My articles have since been published online and on printed materials.
I was called upon by the media to share my experience in the world of blogging. My website was featured in Guang Ming newspaper on 27th September 2008. Six month later, my work also garnered the blog to be listed into The Edge article of "65 Malaysian Websites That We Like + 1? for 2009.
This was followed with another article of me being featured in Guang Ming "we eat" on 29th March 2009 for a dining experience at the heritage dim sum eatery, Aik Hoe. A month down the road,  there was an interview write-up of me being interviewed by Kwong Wah Yit Poh on 9th April 2009.
I wrote for publications like the I.M. Magazine and the Inflight Magazine of Tiger Airways and Hong Kong Express Airline Inflight UO Magazine.
Besides that, I am presently contributing freelance articles about food and travel  to on-line portal and publications :
Time Out Penang magazine
Penang Tourist Information Portal, http://www.visitpenang.gov.my.
'Life & Times'  &  'Northern Streets' section of the New Straits Times Newspaper
I believe that Penang is blessed with a rich diverse culture through its history. This has intertwined into the cooking of the different races to come out with a diversity of cuisines unlike anywhere else in the world. I love trying out all the various cuisines and believed in sharing the experience with everyone. A Day In My Life, dining experience together with behind the scenes moments and all what's good (and bad) can be seen in this blog of mine.
Together with my family, I constantly combs Penang for the best gastronomical delights and loves promoting Penang Cuisines, Culture and Heritage.

EXPERIENCE
Freelance Writer for Penang Tourist Information Portal
2009 – 2016 (7 years) Penang, Malaysia
Freelance Writer for Foodsion Magazine 食尚
2016 – 2017 (1 year) Penang, Malaysia
Freelance Writer for Penang Global Tourism
2015 – 2016 (1 year) Penang, Malaysia
Freelance Writer for Mongoose Publishing – Time Out Penang
2011 –  2015 (4 years) Penang, Malaysia
Freelance Writer for The New Straits Times Press (M) Berhad
2010 – 2015 (5 years) Kuala Lumpur, Malaysia
Freelance Writer for INK – connecting with travellers
2014 – 2014 (1 year) Singapore
Freelance Writer for Makansutra
2011 – 2016 (5 years) Singapore
Editor for my on-line website: www.what2seeonline.com
June 2007 – Present (11 years) Penang, Malaysia

JUDGING COMPETITION

The role also involved judging food competitions which include:
Star Cruises Nasi Kandar Cooking Competition 2013
Durian King Competition 2013
Battle of Penang Hawker Masters Competition 2012
District 308B2 Region 1 Leo Cooking Competition 2012
KDU Powerchef Competition 2012
KDU Powerchef Competition 2011
Asia Media Corp Cooking Competition 2011
PARTICIPATING

Giving some talks :
"Writers Digest: Food Writing Today event" organized by Penang Global Tourism.
"Food Photography and Blogging event" held by Dell DRC Shutterbugs.
Featured in food videos:
"Penang Food Program" – broadcast in early 2012 on SF 1, first channel, national broadcaster in Switzerland & also 3 sat, national broadcaster in Germany.
"The Food Surprise" – three episodes of TV show aired on TLC Channel on 7th May 2012.
"Taste of Malaysia" – on board in chef Martin Yan's, food and travel programme in May 2015.
"Pacific West Mother's Day" – video shooting done in February 2016.

OTHER PROJECTS

I do host food tour. The clients that I have worked with include celebrity chef Todd English, C.B. Cebulski from Marvel, Chris Dwyer (formerly from CNN), and writer Carey Jones.
Besides Penang, I worked with hotels, tourism boards and accommodation providers from other countries too. My reviews include Ayana Resort and Spa Bali, The Fullerton Bay Hotel Singapore, Renaissance Hotel Kuala Lumpur, Prince Hotel & Residence Kuala Lumpur, Golden Palm Tree Sea Villas in Sepang, InterContinental Kuala Lumpur Hotel, The Banjaran Hotsprings Retreat, Traders Hotel Kuala Lumpur by Shangri-La, and Dusit Thani Bangkok, at the invitation of the Royal Thai Consulate-General.
QUOTED IN PUBLICATIONS

Unreserved Issue 112
Essenze Magazine Vol. 34-14
The Malay Mail "Penang Pioneer Blogger"
The End Of Char Kway Teow Book
The Edge Magazine "65 Malaysian Websites That We Like"
Kwong Wah Yit Press Berhad
Guang Ming Daily "We Eat"
CONTACT
Facebook – https://www.facebook.com/ck.lam.180
Email – cklam99@gmail.com
Twitter –  https://twitter.com/cklam88
Instagram – https://instagram.com/ck_lam/
I would like to express my utmost appreciation to all readers & bloggers who has been supportive of What2seeonline. For without all of you, this food blog would not have come this far. Do drop a comment or an advice as everyone of them is highly appreciated and I see all of them as an opportunity for me to improve myself.