3rd Penang Floggers Gathering – Potluck
On Saturday, December 6, 2008, the Penang food bloggers had their third gathering with a potluck theme whereby everyone brought along their own food. With all the food laid on the table, it indeed look like an international buffet spread. There was a wide selection of delicious and addictive food which will definitely please every palate.
This nicely decorated and unique dish was prepared by Criz Lai. It has a combination of Spicy Chicken & Abalone Salad, stir fried Jack Fruit Pork Strips and Sambal Prawns which were very tasty and appetizing. He also gave out to each of us a pair of chopstick as a souvenir.
Lilian Chan brought with her the ingredients for her specialty Smoked Salmon with homemade Focaccia bread, and prepare the dish there and then. Do check out the recipe for this yummy bread at her blog.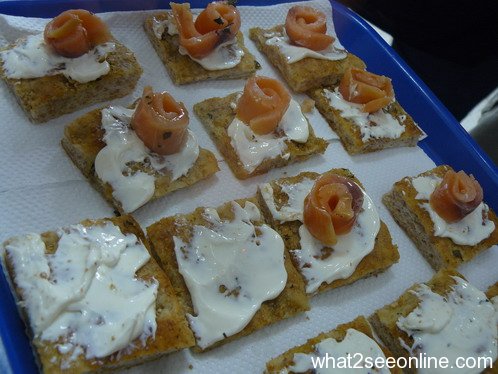 Allen Ooi with a creamy pot of Mashed Potatoe which is laid along with the ingredients for the cheese fondue.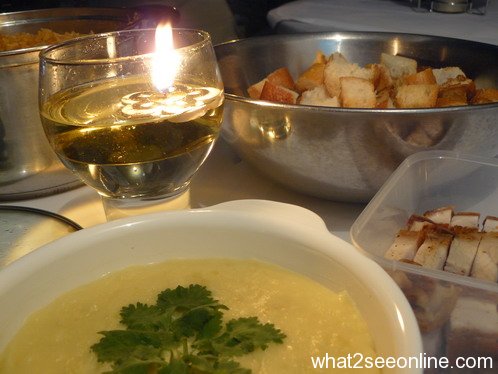 Jason & Gill, the couple prepared the Salsa Salad, Lemonade Drinks and the Cheese Fondue. Indeed nice experiencing dipping pieces of Baguette and Roast Pork in the homemade cheese fondue.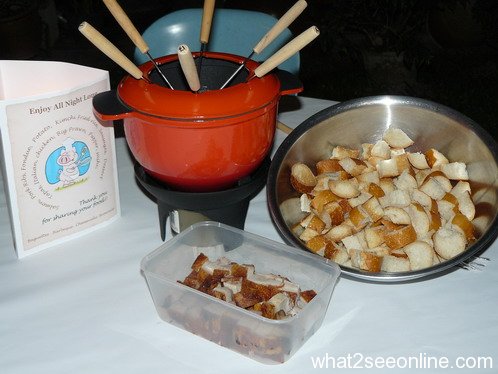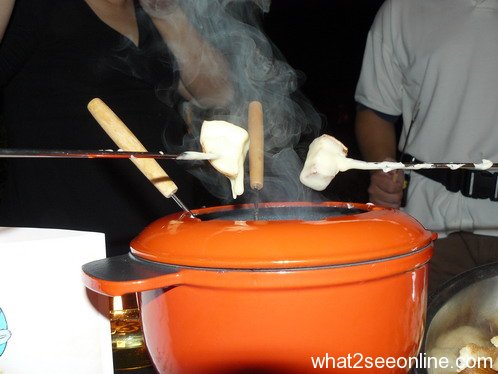 Steven Goh – brought along a pot of flavorful Kimchi Fried Rice which easily goes with any dishes.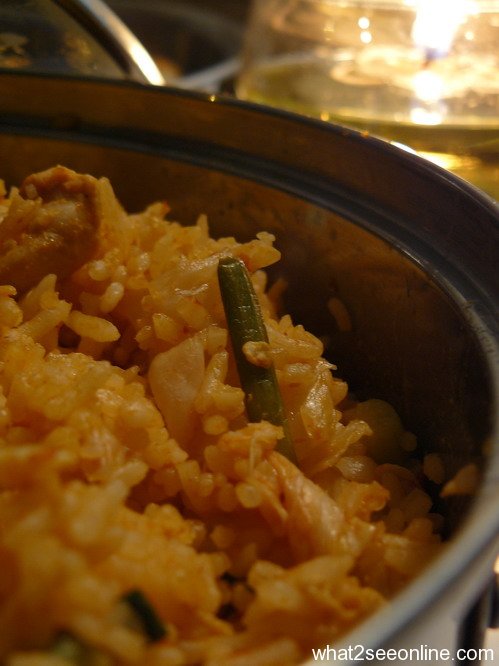 CK Lam contributed a colorful palate of Sushi Rolls with varieties of  Chopped Baby Octopus Sushi, Fish Roe Sushi, Crab Stick Sushi and Unagi Sushi.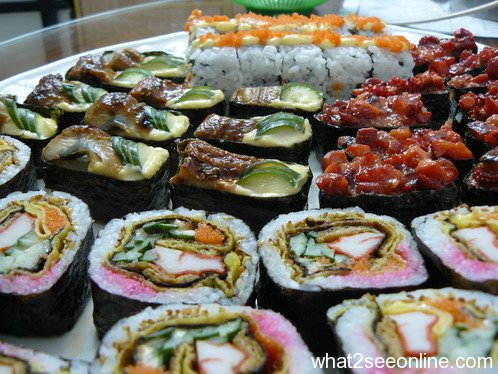 Cheesecake Brownies and Lime Pie prepared by Lingzie. I like the chocolate cheesecake brownies which was rich in chocolate, definitely is the cake for a chocolate lover like me.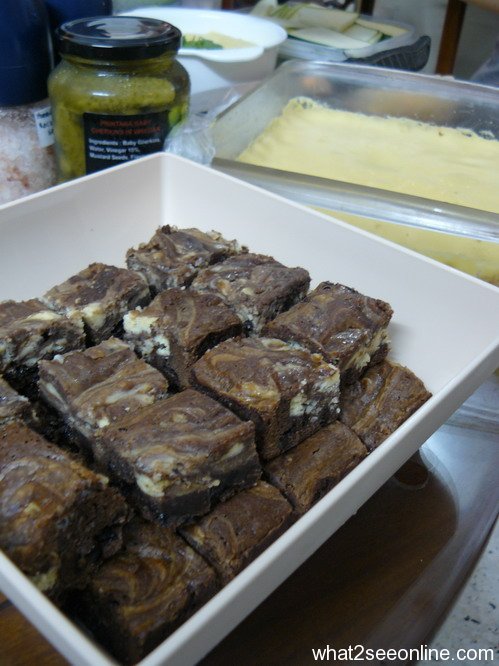 We were lucky to have bloggers that took the time to travel back from KL to join us in this gathering. This time around, we have Ken Chan, Rebecca and Min.
Ken Chan with his Cantonese style of Stew Pork Ribs, German Sausages and Stuffed Roast Chicken. The bird was roasted on the spot.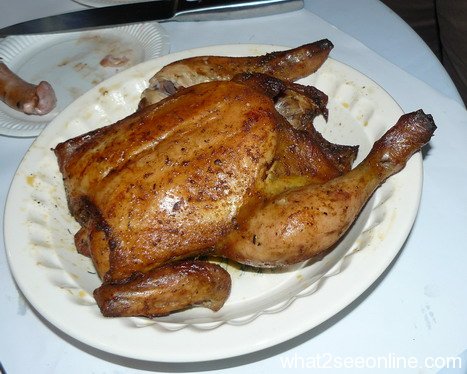 Marinating spices and freshly cut capsicum and vegetables for the bbq. There are variety of sausages bought by Ken and prawns by Lingzie for the bbq.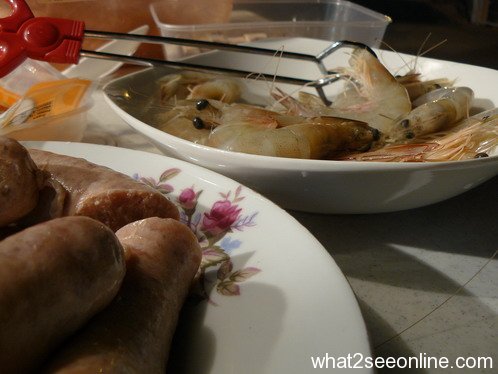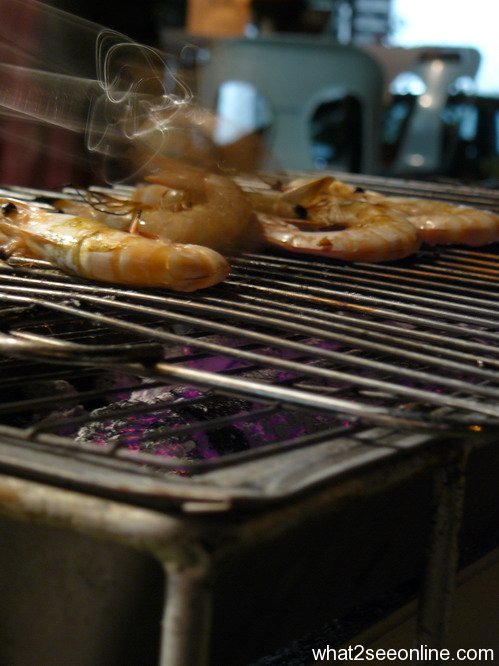 Min aka 550ml Jar of Faith came with a Hakka dish known as Stir Fry Sohn Pan Tzai. Its a type of noodle which is hardly found in Penang. It was tastefully fried with many types of ingredients. This particular photo – courtesy of Ken Chan.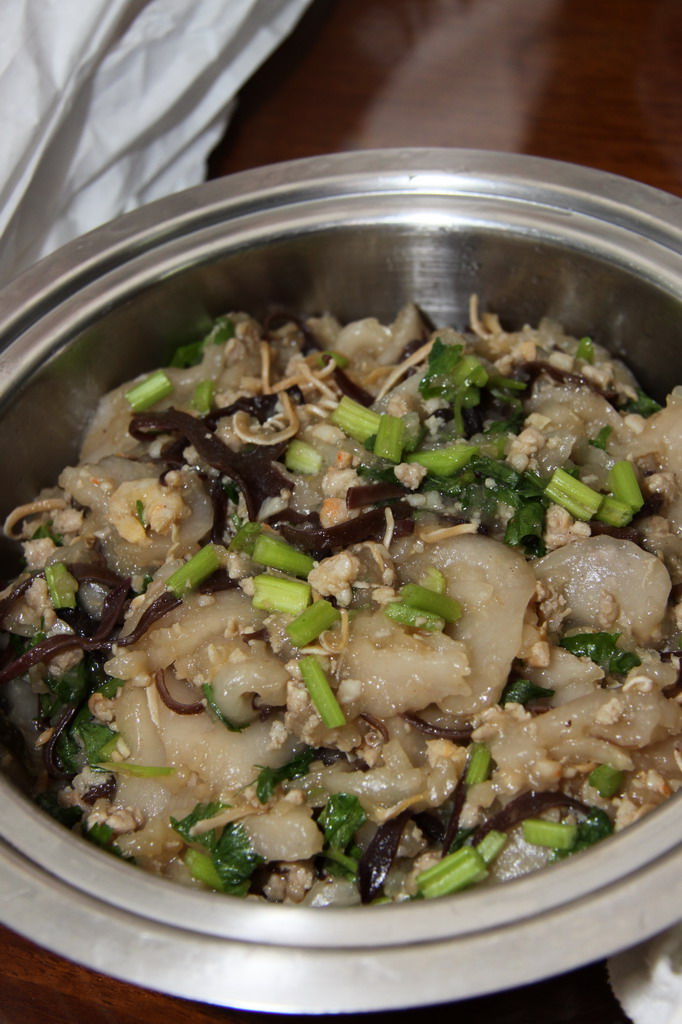 Rebecca provided us with generous supply of fresh fruits of mangoes, dragon fruit, watermelon and jambu air. These juicy fruits was a good accompaniment to this dinner.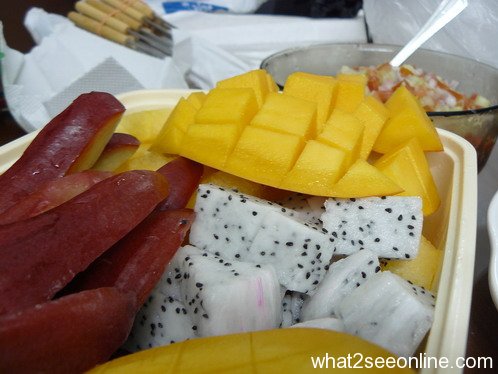 We had a great time catching up with all the bloggers and of course enjoying the wide spread meal. Thanks to Lingzie for arranging  this gathering, Gill & Jason for providing the space and also thanks to all the bloggers that took the time whipping up such yummy food.